List Price: $19.98 [Buy now and save at Amazon]
---
Entertaining, at times even brilliant little noir "B" programmer. M-G-M's M.O.D. (manufactured on demand) program, the Limited Edition Collection, has released Vice Squad, the 1953 United Artists police procedural from celebrated producers Levy-Gardner-Laven, starring Edward G. Robinson, Paulette Goddard, Porter Hall, Adam Williams, Edward Binns, and Lee Van Cleef. Setting out to portray one hectic day in the life of a L.A. Captain of Detectives, Vice Squad expertly juggles several storylines, creating quite a bit of suspense―and humor―as old pro Robinson sets those lazy reptilian eyes in a perpetual squint, sneering at the various criminals, lawyers, and politicians who make his impossible job all the more difficult. No extras for this good-looking transfer.
Los Angeles Police Department Captain of Detectives Barnaby (Edward G. Robinson) has his hands full today. A cop (William Boyett), investigating a routine car theft, was shot and killed by con Pete Monty (Lee Van Cleef), while Monty's partner, newly paroled Al Barkis (Edward Binns), looked on. What Binns doesn't know is that philandering mortician Jack Hartrampf (Porter Hall) saw the whole thing...but he doesn't want to get involved at all, on the advice from his slick, politically-connected lawyer, Dwight Foreman (Barry Kelley). Barnaby has some ideas on how to, um...convince Hartrampf to finally testify, but it isn't going to be easy, particularly since Barnaby's day becomes increasingly complicated by new cases: socialite Miss Easton's (Christine White) belief that Italian Count Alfredo Giovanni de Montova (John Verros) is scamming her mother; an unwanted appointment with the local TV station for a P.R. interview promoting the police department; budgetary constraints he needs to address; headcase Mr. Jenner (Percy Helton) believing the "shadows are all over him;" and two-bit crook and stoolie Frankie Pierce (Jay Adler), who swears he has some inside dope on an upcoming bank robbery, a robbery that might have something to do with Barkis and Monty and high-strung hep-cat Marty Kusalich (Adam Williams).
Beautifully designed, from the dense, juggling, funny script to the evocative framing to the clockwork-like editing, Vice Squad is one of the best of the 1950s police procedural noirs, ranking right up there with He Walked By Night and T Men. Produced by Arthur Gardner and Jules V. Levy, along with director Arnold Laven (the previous year's cult noir, Without Warning!, and 1954's equally successful noir, Down Three Dark Streets), Vice Squad's script by Lawrence Roman (director Gerd Oswald's brilliant A Kiss Before Dying, McQ) from Leslie T. White novel, Harness Bull, manages to be amusingly cynical while still delivering a surprisingly tense police actioner. Aided by Arthur H. Nadel's metronome-precise editing, Roman's script ping-pongs back and forth, picking up various subplot strands with ease as the weight of Robinson's commitments increases, racheting up the suspense not only by us wondering how he'll connect up the cop killing and the bank robbery (and subsequent kidnaping), but also how he'll keep his own job, considering the threats that come at him from all sides.
Some of those subplots are played for laughs, such as the brief scene of the "underwear thief" (the film stays mum on this nicely perverted moment) or John Verros's phony count...even though you can read a level of arm-twisting in it (Miss Easton's sensitive problem is sent to Barnaby by a judge, so Barnaby is "persuaded" to help out...by eventually rousting the phony right out of town). And some are quite sad, such as Percy Helton's screwball who believes the "television shadows" are "all over him" (Barnaby handles what we initially laugh at, with sensitivity and genuine concern). Liberally sprinkled throughout the movie are wisecracks and mocking, sarcastic, throw-away moments that show the weary contempt (and sanity-saving humor) that the L.A. cops have adopted. When a group of tough broads are put in a show-up, the presiding officer calls out, "This ain't no modeling agency," to Marie, who objects to her stated age and weight. When an officer brings attorney Foreman back to Hartrampf's empty cell (Barnaby is playing musical cells with the uncooperative witness), the officer deadpans, "Well what do you know...jail break." And when Barnaby needs info from madam Mona Ross (a tad overemphatic Paulette Goddard), he calls her on the phone and deliberately keeps putting her on hold, waiting for his men to arrive to roust her, just so he can hear her squawk over the phone as he chuckles.
Indeed, the attractively conflicted and outright arbitrary message of Vice Squad is: the cops need to do their job, and if a fellow cop is gunned down, or a murderous bunch of bank robbers are planing to strike, you the citizen better cooperate...or else. The movie makes it easy to laugh at the unfair treatment Hartrampf suffers by casting deliciously weasely, shifty, milquetoast Porter Hall as the philandering mortician. Building almost like a bedroom farce, Barnaby finds one vaguely illegal way after another to harass and detain Hartrampf time and time again until he breaks, going so far as to use a female plant to charge him with assault on the steps of the police station (director Laven gets a creepy shot of that woman's eyes as she stares down Hall). Of course today we'd be asked to hate this kind of police illegality, but here, in this context, it's humorously exhilarating, frankly (and no more "immoral" to root for than all those countless other films in our collective pop culture that ask us to cheer on illegality at the hands of charismatic criminals―it all depends on your perspective...and your sympathies). What's clear, though, is that Vice Squad doesn't seem to care if it offends 1950s sensibilities, either, showing a police captain who regularly deals (sympathetically, I might add), with criminals and whores if it gets the results he needs (when asking for Goddard's help in finding Marty, Robinson offers "as much as the budget will allow" to pay off the hooker who brings him the dope―what upstanding local F.O.P. civilian auxiliary wanted to believe that happened back in 1953?). And if Barnaby has to risk his job to buck the threats of higher-ups quashing his tactics, so be it; as he states to a threatening, politically-connected Foreman, "It wouldn't be the first time."
Visually, Vice Squad is clean and tight, with director Laven keeping the procedural scenes low-key and the action scenes exciting (his staging of the gang moving along the street prior to the robbery, aided enormously by composer Herschel Burke Gilbert's bold martial music, is terrific). Cinematographer Joseph Biroc (The FBI Story, Hush...Hush, Sweet Charlotte) orchestrates some nice noir accents throughout the movie (the "X" shadows on Robinson's face when he learns of the police officer's death), saving the heavy shadowing for the tense finale where Binns chases Mary Ellen Kay through a scary, deserted warehouse (the movie uses its location work judiciously and well). The cast is filled with veteran performers who score in their small parts (only Goddard seems a tad arch and overly melodramatic), while Robinson, temporarily reduced to appearing in low-budget efforts like Vice Squad because of the blacklisting efforts, gives effortless authority (and quite a bit of sleepy humor) to his harried Captain of Detectives. Vice Squad may not immediately come to mind when viewers think of top-flight 1950s noirs...but it should.
The DVD:
The Video:
The full-screen, 1.33:1 black and white transfer for Vice Squad looks good, with solid-enough blacks (perhaps a bit dark overall, though), an acceptable gray scale, a sharpish picture, and few imperfections like scratches and dirt specks.
The Audio:
The English mono is adequate; the original source material has some hiss, which isn't too noticeable. No close-captions or subtitles.
The Extras:
No extras for Vice Squad.
Final Thoughts:
Terrific little "B" noir police procedural that hasn't shown up often-enough on TV. Vice Squad stays neat and trim as it juggles several subplots in the air, all anchored by the quiet, funny authority of the great Edward G. Robinson. One of the best of the low-budget 1950s police noirs. I'm highly, highly recommending Vice Squad.
---
Paul Mavis is an internationally published film and television historian, a member of the Online Film Critics Society, and the author of The Espionage Filmography.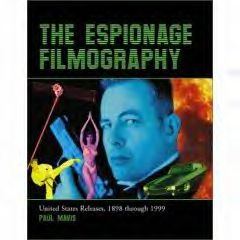 ---
C O N T E N T

---
V I D E O

---
A U D I O

---
E X T R A S

---
R E P L A Y

---
A D V I C E
Highly Recommended
---
E - M A I L
this review to a friend
Sponsored Links
Sponsored Links