List Price: $19.95 [Buy now and save at Amazon]
---
Delightful, quirky, satiric college sex comedy. Warner Bros.' M.O.D. (manufactured on demand) Archive Collection of hard-to-find cult library titles has released Tall Story, the 1960 Joshua Logan-directed comedy starring Anthony Perkins and Jane Fonda, based on the minor Broadway hit from celebrated playwrights Lindsay and Crouse. Combining and spoofing all sorts of subgenres―the college comedy, the sex comedy, the sports comedy, the teen comedy―Tall Story didn't click with audiences or big city critics when it first appeared, but now it plays as one of the better studio comedies from that transitional period. An original trailer is included in this superior-looking remastered black and white widescreen transfer.
Custer College, a small liberal arts institution in California. Cutie-pie Chemistry and Physics Professor Charles Osman (Marc Connelly) sniffs the wind on the first day of class and catches a whiff of kreplach coming from the kitchen of new neighbors Myra Sullivan (Anne Jackson) and her husband, Modern Ethics Professor Leo Sullivan (Ray Walston). Strolling out on campus as the two professor become acquainted, Leo and Charles are plowed into by the delectable bike-riding Home Economics major June Ryder (Jane Fonda). The sexy, sweet, and completely calculating June has a big problem: she has to figure out exactly how she's going to get popular Custer basketball star and brilliant science student Ray Blent (Anthony Perkins) to notice her, because her ultimate college goal is simple and unshakeable―marriage to Ray. Both Leo and Charles are floored by June's brazen, deceitful pursuit of naïve Ray (June sets out to take every advanced course on Ray's schedule, passing herself off as a brain rather than a M.R.S. major), but innocent Ray doesn't stand a chance against the high-caliber sex appeal of determined June. Trouble for the quickly-engaged couple comes, though, with Ray needing money to buy a fellow college couple's (Tom Laughlin, Barbara Darrow) tiny little trailer...and a convenient―and completely unethical―anonymous offer of some serious money for Ray to throw a crucial Cold War publicity stunt basketball game with a visiting Russian team.
It's always tough to try and decipher why a particular movie failed with audiences and critics, even more so if we're looking back over 50 years' time. Did big audiences stay away from Tall Story because of its lack of big stars (would it have done better with say, Sandra Dee and Troy Donahue)? Black and white comedies were going out of style fast by 1960; maybe that contributed to its low-budget and therefore "low must-see" feel. Sports movies and especially sports comedies were always tricky propositions at the box office, with women ticket buyers generally staying away (the very audience that may have responded best to Tall Story). Or perhaps Tall Story's marketing, which seemed to sell the picture to young audiences, disappointed kids who may have wanted something more straightforward and "simple" like Gidget or Tammy, while it turned off potential adult audiences who could have enjoyed Tall Story's quirky, sophisticated humor...if only they didn't think they were buying a ticket to Gidget Goes to College.
As for the so-called "high-brow" critics who disparaged Tall Story when it was released, a perceived "mismatch" between director and project seems the best bet. Although Tall Story's pedigree was certainly reputable―a minor 1959 Howard Lindsay/Russel Crouse Broadway play (of Anything Goes, Life with Father, State of the Union, and The Sound of Music fame), based on a novel, The Homecoming Game from celebrated poet Howard Nemerov―it apparently wasn't the kind of package that critics were expecting director Joshua Logan to deliver in 1960. Logan, one of the few directors at that time who could lay claim to top ranking not only in Hollywood but on Broadway, as well, was a co-Pulitzer Prize winner for the play, South Pacific, and the director of original Broadway productions such as Annie Get Your Gun, Mister Rogers, and his own South Pacific (for which he won a Tony, as well). He was also the director of such "important" Hollywood hits as Mister Roberts, Picnic, Bus Stop, Sayonara, and South Pacific. With that kind of heavyweight critical reputation, top-tier critics were probably unable or unwilling to see such an artist "squander" his time and effort on such a seemingly lightweight piece of fluff like Tall Story (someone could get a term paper out of contrasting Perkins starring in two low-budget, low-expectation black and white movies in 1960 for two heavyweight directors―Psycho for Hitchcock―with wildly different results at the box office and with the critics).
"Fluffy" Tall Story certainly is, and it's far from a perfect comedy, either, particularly in screenwriter Julius Epstein's structure and somewhat bumpy third act exposition (the whole mechanics of the anonymous game fixing is off, as is its resolution). But it is consistently charming and quirky and quite funny, and I would imagine had anyone else's name been on it (and had it come out of nowhere from a cheapie outfit like AIP), it might have garnered more "pleasantly surprised" reviews than it did. Aside from the bright, amusing performances, Tall Story's best surprise is how easily Logan switches from parodying his jumble of subgenres, into celebrating them with a (bemused) straight face. I've always been a fan of those silly Dick Powell/Bing Crosby college musicals/comedies from the 1930s, so it's fun to see Logan carry over a few of the genre's conventions, such as the seemingly square-but-lovably-"hip" professor, in Marc Connelly's hilarious Professor Osman. Introducing himself as professor of "chemistry, physics, all that jazz," Connelly, of the Algonquin Roundtable fame, pretty much steals every scene he's in, delivering his deadpan one-liners with ease (his best moment comes when congratulating the ultra-smooth, persuasive college President Harmon Nagel, played by Bob Wright, for pressuring Ray Walston into giving Perkins a make-up exam: "No wonder you're president, you son of a b..." before he's cut off). Logan gives us a couple of set-ups right out of one of those Crosby movies, including Perkins' rah-rah entrance on the shoulders of seemingly the entire campus body, and later treating us to an incredibly sweet, un-selfconscious duet between Fonda and Perkins on Cuddle Up (a Little Closer) (the critics probably couldn't decide if Logan was kidding or not with each scene...without granting him the right to have it both ways).
Reviewers and viewers of a certain P.C. outlook could probably have a field day with a surface reading of Tall Story's central plot line―Fonda using her considerable feminine wiles to ensnare fumbling Perkins and earn her M.R.S.―while ignoring the counter-argument that Fonda's character is a strong, independent young woman with considerable skills, who sets her mind on doing something without being deterred from it (for the P.C. crowd, it's her goal that's suspect, I suspect). If the point of the original play was to spoof such obsessed girls, Logan mutes that by frankly admiring her efforts, made evident by the almost swooning, loving care that Logan uses when shooting the gorgeous Fonda. While Logan is quite adept at tastefully setting up the movie's physical gags, such as the funny, sexy camper sequence where Perkins decides on marriage immediately after an encounter with Fonda in a too-small shower stall, or the chemistry lab explosion―which amusingly happens off camera―with Logan framing a hilarious close-up of Connelly's ear, eavesdropping, before we see that same ear bandaged from the blast, he's remarkable in creating a panting, moist, erotic charge when filming Fonda's and Perkins' love scenes (which is highly ironic...since Logan apparently blamed those very scenes for scotching Tall Story's success).
Obviously today, you can read a lot into Perkins' terrified reaction to Fonda's seduction during the "babysitting" scene, but read within the context of the times, his "scientific distance" is a beautifully-delivered series of trembles and gulps and wide-eyed stares as Fonda lets her sexuality speak for itself. As for Fonda, she always presents a problem for me just on a personal level...but there's no denying she's nothing short of sensational here in her first movie role: funny, bright, with perfect choices dramatically and comedically, and from minute one, devastatingly sexy. She and other critics may disparage these early "sex kitten" roles she played, but the combination innocent/wanton carnal voltage she creates in the "babysitting" scene―through acting chops as well as her own sexuality―is noteworthy by any standard (Logan's and cinematographer Ellsworth Fredericks' close-ups of her will drive you insane). In the end, Logan's curious combination of sweet/carnal romanticism is what stays with you from Tall Story. Yes, the rest of the cast is quite funny (Murray Hamilton's ambitious coach is a highlight; when he looks at star athlete Perkins and sees his ticket out of small-time Custer College, his, "This boy means more to me than my own son," gets a big laugh), and yes, the one-liners are surprisingly sophisticated for this kind of romp ("You're a fun group of red-blooded...Reds," Connelly tells the Russian players). But in the end, Logan's sympathetic feel for Fonda's pursuit of Perkins creates Tall Story's oddly effective mixture of spoof and charming, light, romantic seriousness. Everyone else may think June Ryder calculating and contrived, chasing her basketball player ideal, but she believes in that chase...and Fonda makes us feel that inescapable pull of almost delirious sexual attraction.
The DVD:
The Video:
The anamorphically-enhanced, 1.85:1 black and white widescreen transfer for Tall Story looks terrific, with deep blacks, good gray scale, a crisp, clean image and little or no grain.
The Audio:
The Dolby Digital English mono audio track is clean, too, with little or no hiss, and all dialogue neatly presented. No subtitles or closed-captions available.
The Extras:
An original trailer is included for Tall Story.
Final Thoughts:
No wonder the critics didn't like Tall Story: director Joshua Logan was far too "important" for such fluff...they thought. We know better, though. Tall Story is sweet and charming and always funny, with Logan having his cake and eating it, too: he spoofs all those old college films, while giving us one sweetly straight-faced with a surprisingly hefty (and sexy) central core, thanks to Jane Fonda's remarkable movie debut. A delight. I'm highly, highly recommending Tall Story.
---
Paul Mavis is an internationally published film and television historian, a member of the Online Film Critics Society, and the author of The Espionage Filmography.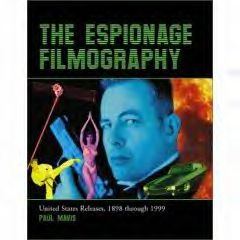 ―

---
C O N T E N T

---
V I D E O

---
A U D I O

---
E X T R A S

---
R E P L A Y

---
A D V I C E
Highly Recommended
---
E - M A I L
this review to a friend
Sponsored Links
Sponsored Links