Pussycat, Pussycat, I Love You
List Price: $19.98 [Buy now and save at Amazon]
---
Pussycat, pussycat...I don't hate you. I just find you rather desperate and completely unfunny. So please go away. M-G-M's own M.O.D. (manufactured on demand) service, the Limited Edition Collection, has released Pussycat, Pussycat, I Love You, the ersatz "sequel" to Woody Allen's What's New, Pussycat?, released by United Artists in 1970, starring Ian McShane and a godawful Severn Darden, with equally ridiculous John Gavin and Joyce Van Patten inexplicably along for the ride. Anyone who has read even a handful of my other reviews of movies in a similar vein and from the same time period as Pussycat, Pussycat, I Love You knows that it doesn't take much in a movie like this to make me happy. So when I write that Pussycat, Pussycat, I Love You made me very unhappy...you can believe it. No extras for this good-looking transfer.
The plot is as falsely "whacky" and disjointed as the supposed comedy is. Playwright Fred C. Dobbs (movie lovers: you just got a taste of the level of humor here...), played by Ian McShane, is living in Rome with his pretty, boring wife Millie (Anna Calder-Marshall), his gorgeous mistress Ornella (Beba Loncar), and every other chick he can lay inbetween. Dobbs' biggest fear (other than E.D., apparently), is that he's losing his hair, so he hangs out at scalp specialist Doctor Fahrquardt's (Severn Darden) house, fully aware that Fahrquardt's first name is "Doctor," and that he holds no medical license. What horny Fahrquardt does hold is an obsessive desire to hear all about equally randy Dobbs' sex life, which Dobbs recounts, along with his nightmares (including the one about the sex-mad male gorilla that loves him), in hopes that his hair won't fall out (do you believe this garbage?). Trouble appears on the horizon, however, when Dobbs' openly hits on his maid Flavia's (Gaby Andre) niece, the breathtaking Angelica (Katia Christina), right when Millie decides she's not in love with Dobbs and right when she decides she needs an affair...preferably with matinee idol Grant Granite (John Gavin).
Just...absolutely awful. And that's saying something for me. One of the reasons I like watching and reviewing many of these marginal, hard-to-find, or cult M.O.D. titles is that I can enjoy them for what they are―even for the worst titles (which are few and far between) there's at least one thing in these forgotten movies that can spur a half-way decent, enjoyable movie-watching experience. Well...I failed to find that with Pussycat, Pussycat, I Love You. With the exception of one paltry little joke, I didn't laugh once during its interminable 100 minute run. Just that one time. And no, it wasn't because I was in a bad mood (I was actually looking forward to seeing this more than most of the other new release M.O.D. titles I was assigned). It's just that Pussycat, Pussycat, I Love You is terrible, and no amount of wishing that ain't so is going to change it. Released in 1970, Pussycat, Pussycat, I Love You was about three years past the sell-by date for these so-called "whacky sex" romps. What seemed funny and hip and fresh in 1965 (I don't care what screenwriter Woody Allen says, I love What's New, Pussycat?), with big stars like Peter O'Toole and Peter Sellers acting silly and sexy in jumbled-up, faux-nouvelle vague blackout sketches, was already pushing it with audiences in 1967 (I don't care what screenwriter #17 Wood Allen says, I love Casino Royale), and by 1968, they had had enough, with all-star romps like Candy bombing big with a fast moving-on audience (I actually enjoy the weirdo Candy...).
So when Pussycat, Pussycat, I Love You begins and it's immediately inept, with poor Ian McShane fumbling around with a big-breasted girl in a small car, that lightly whistled refrain of Burt Bacharach's What's New, Pussycat? theme song doesn't put a smile on our faces, reminding us of that funny movie―it just pisses us off that we're not watching that one instead of this one. From the very start the tone and pacing is noticeably "off" (could it have been that Italian crew working with American writer/director Rod Amateau, of The Garbage Pail Kids Movie infamy?), with the so-called jokes and set pieces just lying there, dying. The spoofy material ranges from a lame Mission: Impossible joke about a self-destructing typewriter (oh, how outrageous!), to Darden getting shot with a crossbow (oh, how outrageous!), to a Laugh-In-style party, complete with feeble blackout sketches/jokes (oh, how outrageous!), to a shot of the Hindenburg burning when McShane sets some drapes on fire (oh, how outrageous!), to a male gorilla that wants to rape McShane (oh, how outrageous!). But once John Gavin shows up, you know the movie can't go any lower (if there has ever been a worse actor for farce than 2x4-up-his-ass Gavin, I'd like to see him).
But he's John Gavin; you don't expect him to be any good in comedy...so what's comedy regular Darden's excuse? Actually, I've never bought his shtick, which always comes across to me as labored and too self-satisfied, but here in Pussycat, Pussycat, I Love You, he's downright embarrassing, shouting and mugging and posing without a funny bone in his body, while throwing out "jokes" to his battling wife, Joyce Van Patten (how the hell did she get hired for this?), like, "May the student riots reoccur in your stomach." (I've got a better joke, Darden: your line reading of that joke). Not only is Darden nowhere near as funny as Peter Sellers, his counterpart in What's New, Pussycat?, he's not as funny as Ish Kabibble. It's a truly wretched performance from an inexplicable "comedic" actor. As for Ian McShane, well, he can do no wrong in my book...except here, where he goes very, very wrong. McShane just doesn't "play" as anxious and peripatetic and manic; he's much better at cool and sardonic and even a little dangerous. In Pussycat, Pussycat, I Love You, he flails around pathetically, flashing his pearly whites (or his naked rear) in a cheeky smile while around the corners of his desperate-looking eyes, you can tell he's saying to himself, "There goes all the good will from If It's Tuesday, This Must Be Belgium." I can never not like McShane himself, but in Pussycat, Pussycat, I Love You, as with every other element in this abysmal failure, I can turn away from him with sad embarrassment.
(Oh, the joke that made me laugh?: the Italian movie director who even when he's off-set, has everything he says translated by three different interpreters yelling into megaphones. Funny.)
The DVD:
The Video:
The anamorphically-enhanced, 1.85:1 widescreen transfer for Pussycat, Pussycat, I Love You looks quite good, with solid color, true skin tones, minimal screen anomalies, and a sharp image.
The Audio:
The Dolby Digital English split mono track is acceptable, with little hiss, no fluctuation, and a strong re-recording level. No subtitles or closed-captions.
The Extras:
No extras for Pussycat, Pussycat, I Love You.
Final Thoughts:
Abysmal. Having grown up on movies like Pussycat, Pussycat, I Love You, I'm predisposed to liking them even if they only hit a few low-bar criteria: a sense of self-mocking fun, a bit of good-looking tail running around, one or two funny jokes, and some nice photography. Well, Hammer's Veronica Carlson has a rather startling body, but that's about it here for Pussycat, Pussycat, I Love You, a desperately unfunny farce that had to have embarrassed everyone associated with it when it debuted. You can safely "Skip" Pussycat, Pussycat, I Love You.
---
Paul Mavis is an internationally published film and television historian, a member of the Online Film Critics Society, and the author of The Espionage Filmography.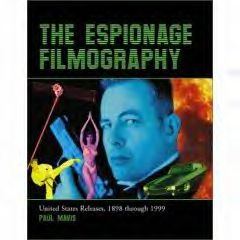 Sponsored Links
Sponsored Links