List Price: $19.98 [Buy now and save at Amazon]
---
A "nudie cutie" that's only so-so cutie...and not at all nudie. M-G-M's fun M.O.D. (manufactured on demand) service, the Limited Edition Collection, has released Diary of a Bachelor, the minuscule-budgeted indie released by American International Pictures in 1964, directed by famed exploitation producer Sandy Howard, written by Freddie Francis (under a well-advised pseudonym), and starring William Traylor as "The Bachelor." A breezy little dirty joke with just a smidgeon of dirt in it, Diary of a Bachelor could have been a lot more fun had it fully embraced its latent nudie cutie urges, or if it had concentrated on a more interesting bachelor here, played by the marvelous Joe Silver. Still...Diary of a Bachelor moves along quickly enough, it's racier than anything Doris Day was doing at the time, and some of the performances are quite bright―a curiosity piece for anyone interested in indie filmmaking from that period. No extras for this razor-sharp black and white transfer.
New York City real estate agent and notorious man-about-town Skip (William Traylor) has finally decided to end his life: he's going to get married. Forget all the fun, the money, the free time, and the women―the endless parade of women―it's time to knuckle down and marry someone, and that someone is gorgeous, cultured Joanne Burns (Dagne Crane). Joanne stops by Skip's nicely-appointed bachelor pad for an evening out with friends, but Skip gets a call from his co-worker Charlie Barrett (Joe Silver) asking him to stop by the office, so Joanne cools her heels at Skip's pad. Chancing upon a diary book by Skip's bed, Joanne opens it up and begins to read...and to her horror she finds that Skip has documented his many (unsuccessful) conquests. And brother she is not happy about what she reads, particularly when it comes to Skip's predatory, "user" attitude towards women, and his decision to settle for one "witch"―Joanne.
Set up just like one of those nudie cutie exploitationers where we're primed to enjoy the dirty recollections of a soon-to-be married bachelor, Diary of a Bachelor teases us at the beginning, but after the first couple of chaste, no-skin encounters between Skip and his dates, we're pretty sure nothing "good" is going to happen, so we settle down to concentrate on the story and characters. Amid the tepid, sometimes awful jokes (explain to me how Skip getting married is like "Jack the Ripper becoming an interior decorator"???), some mild commentary on the then-popular stereotype of the Playboy® stud-about-town is thrown out. The problem with this so-called "commentary," though is...it has no context. It is interesting that the movie makes Skip out to be a total schnook (although this convention can be found in a lot of nudie cuties, too) who can't seem to score with the women he snags...but those jokey scenes don't make much sense when we're constantly told that Skip is a notorious player: where did the rep come from, if he's always unsuccessful with women? The movie is fairly straightforward in addressing some realities of sex in 1964 America, realities that you wouldn't see in the average big studio sex comedy at that time. Skip's mother openly acknowledges her husband plays around just like Skip (she doesn't seem too bothered); young women have no qualms being seen as playthings for older, successful men; Skip winds up falling in love with a girl who turns out to be a hooker (the movie cheats, though, by having her not ask him for any money); and when it looks like Skip has impregnated former girlfriend Jennifer Watters (Jan Crockett), he calls a friend about setting up an abortion...and finds out the friend's friend got two years in jail (Rock Hudson never did that with Doris Day).
What good is that commentary on modern-day lotharios, though, when it's in the service of a lead character who is almost completely one-dimensional? We never discover what makes Skip tick, why he likes his bachelorhood, or why he can't connect with women. He apparently just wants to get laid, which is fine if this were a nudie cutie, but it's not, so we have to have some reason for Skip being Skip, for Skip striking out all the time. But we don't. He's a cipher, really (and no, the movie isn't making a commentary on that), a dirty joke set-up without any payoff. Making matters worse is the simple fact that character actor (and quite celebrated acting coach) William Traylor simply can't pull off one of New York City's most desirable bachelors. I've seen Traylor pop up in dozens of productions, my favorite being his tiny little part in the disaster epic, The Towering Inferno, where as a security guard he gets the single funniest line in the movie: "There's no fire." (he's probably better known now for his small role as uptight rich guy Ted Underhill in the Fletch movies). It's bad enough that he approaches the character in a leaden, colorless way, but no matter what guidance he may or may not have received from producer/director Sandy Howard (he produced a few laudable efforts like A Man Called Horse and 1982's Vice Squad, while churning out a ton of likeable schlock like Meteor, Jaguar Lives!, City on Fire, The Island of Dr. Moreau, Embryo, The Devil's Rain), undistinguished-looking Traylor just doesn't have the "X" factor appeal that would make us believe that all those gorgeous women would be instantly attracted to him. He's not handsome enough on the surface to pull those birds, and his on-screen personality is weirdly smarmy and drab.
As I was watching Diary of a Bachelor, lamenting that it wasn't going to be either particularly sexy or particularly funny, I began to wish that Howard and screenwriter/horror movie director icon Freddie Francis (what is he doing here on this project?) had focused instead on the Charlie character, enacted by Broadway actor Joe Silver (lots of TV, too, particularly commercials in the 70s, where I remember him most). With just a few short, sure strokes, he draws a character that actually feels like it has some depth, some meaning. In one small scene, we discover he's a schnook who's known he doesn't have "it" with women ever since he was young, and he's sad about it. Not maudlin, just believably, realistically...sad. And in another telling little moment, we hear him defend Skip's pregnant girlfriend, telling the scheming, cowardly Skip that his fears of losing his independence are nothing compared to her fears as she faces motherhood alone (of course the movie undercuts this sympathetic scene by turning the situation into a bad, pointless joke, having Jennifer pregnant by another man). You could go one step further by wishing the filmmakers had dropped pretty but vapid Dagne Crane, too, and instead beefing up Eleni Kiamos's role as the energetic, anxious hooker Angie Pisano, who immediately jolts the movie whenever she briefly appears, creating, like Silver, a viable character out of almost nothing (and why not have more scenes like that believable poker game, where the men let their hair down about women, instead of too many scenes of Traylor grimacing through another stupid date?) It's too bad Diary of a Bachelor couldn't have ditched the silly pseudo-nudie cutie crap, and concentrated instead on a Two for the Seesaw-like story about these two lonely, interesting people.
The DVD:
The Video:
The anamorphically-enhanced black and white transfer for Diary of a Bachelor has been side-matted to a correct 1.66:1 ratio. The image is remarkably sharp and clear, with little or no damage and inky, creamy blacks and grays and whites.
The Audio:
The Dolby Digital English split mono audio track is also quite clean (a little hiss), with all dialogue heard cleanly. No close-captions or subtitles.
The Extras:
No extras for Diary of a Bachelor (that's a shame; I would have liked to see how they marketed this in the trailer).
Final Thoughts:
Diary of a Bachelor is a tough call. Star William Traylor is miscast as an irresistible bachelor, and screenwriter Freddie Francis and director/producer Sandy Howard want to hint at a nudie cutie...without going all the way. However, Joe Silver and Eleni Kiamos shine here in brief supporting roles as two lonely people looking for love in the Big City. Location work here in New York City is fabulous, too, in this surprisingly good-looking transfer (that alone might spur you to watch). I'm going to recommend a rental for Diary of a Bachelor.
---
Paul Mavis is an internationally published film and television historian, a member of the Online Film Critics Society, and the author of The Espionage Filmography.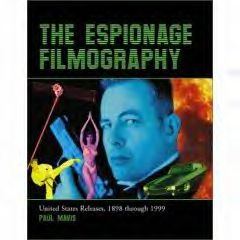 Sponsored Links
Sponsored Links