List Price: $19.98 [Buy now and save at Amazon]
---
Another Aubrey Schenck-produced sweaty he-man action adventure, ripped from the pages of Argosy and For Men Only. M-G-M's own M.O.D. (manufactured on demand) service, the Limited Edition Collection, has released Impasse, the 1969 actioner from United Artists starring Burt Reynolds, Anne Francis, Miko Mayama, Lyle Bettger, Rodolfo Acosta, and Jeff Corey. With evocative Philippine location work and a no-nonsense approach to the straightforward heist plot, Impasse delivers pulpy genre work that's entirely respectable. No extras for this good-looking transfer.
Zamboanga Marine Traders' owner Pat Morrison (Burt Reynolds) isn't satisfied with hawking pearls stolen by his married mistress, Mariko (Miko Mayama). He's sitting on a big score, and all of the pieces are finally coming together. Like everyone else in the Philippines, Pat knows that U.S. soldiers hid over $7 million dollars worth of melted-down gold in the labyrinth concrete tunnels under Corregidor, only half of which the Japanese were able to find when the island was overthrown during WWII. Having befriended Trev Jones (Clarke Gordon), who was one of the blindfolded G.I.s who helped stash the gold-stuffed 37mm shells, now Pat has the names of two other vets who helped with that mission, twenty-five years ago: wild Apache Draco (Rodolfo Acosta), and racist sailor Hansen (Lyle Bettger). Flying the men in, Pat plots his next move to first find and then move out the 6,000 pounds of gold from the guarded tunnels. But he doesn't count on meddling gossip hound Wombat (Jeff Corey) spiriting away Trev Jones, or convincing Jones' lovely tennis pro daughter, Bobby Jones (Anne Francis)―who up to meeting Pat believed her father was dead―that he has her father's best interests at heart.
I reviewed another Aubrey Schenck (T-Men, Robinson Crusoe on Mars) overseas adventure flick, Kill a Dragon, a few months back, and while I certainly enjoyed Jack Palance's hammy performance in that otherwise marginal actioner, Impasse comes across better. Directed by Richard Benedict (tons of episodic TV) and written by hard-boiled noir scripter John C. Higgins (He Walked By Night, Raw Deal), Impasse only needs a sewer full of flesh-ripping weasels and a beautiful female S.S. concentration camp guard to complete its men's adventure magazine quota. Featuring a two-fisted American adventurer in a strange land, who regularly skirts the law to earn a hard buck (and who grins as he cuckolds his friend and sometime partner Vic Diaz―pretty much wasted here―with his beautiful, exotic wife), Impasse's story elements certainly aren't new (you can add in the troubled, grizzled WWII vets looking for personal salvation through treasure hunting, lots of head-thumping action along with a hint of illicit, "foreign," exotic sex, to further fulfill the "armpit slicks" conventions). However, they're tried and true story elements, and they work here because Benedict and Higgins are neither sending up the material, nor overblowing it.
Impasse is a rather straight-ahead effort that keeps its character development on the down-low. We get some brief insight into Pat and his crew―Pat respects the kind of man Jones is, the kind of man who would willingly take himself out of his daughter's life after recognizing his own debilitating foibles; Draco is an unhappily married drunk, living on an Arizona reservation who pines for a woman from his WWII days in the Philippines; Hansen is a racist who self-destructively lives among the very kinds of people he hates―but nothing too heavy-handed or obvious is put out there for us. This is male-centered moviemaking, for what I can only assume was a largely male-dominated target audience (despite the rather superfluous addition of Francis' character to the story). The dialogue is nicely terse and always cynical ("You shouldn't hate so much, Jesus―it's bad for your glands,"), the men use the women for their own needs ("Come on: unfinished business," Pat offers to Mariko before they resume lovemaking―which earns him a slap to his smiling face), and the personal problems of the characters are put off to the side to get the job at hand done (Pat knows Hansen is a racist, but he'll use him because he needs him for the job). If some of the story doesn't make sense (if everyone knew about the gold being somewhere in that tunnel...wouldn't everyone be looking for it?), or seems tacked on for no good reason (that whole stupid hippie groupie thing with Francis...who's way too old to be a tennis pro), it doesn't matter: Benedict is going to move smartly along to the next set-up before you have time to think about it. There isn't a lot of time spent on getting deeper into their motivations; it's the doing of the characters that counts here, not really the why.
Benedict and Higgins lighten the mood now and again to keep us guessing as to where the movie is going (Burt and Acosta have a brief but funny fight), before they take full advantage of shooting on unfamiliar ground to most U.S. viewers, capturing the grimy, seedy, dangerous feel of Manila quite well. The action scenes, considering the limited budget, go over well, particularly a spiffy central chase scene by foot and taxi cab involving Reynolds and Eddie Nicart as Kuli that culminates in another nasty fight at the tax car garage, with Reynolds offing Nicart in a exceptionally brutal, fun way. As with most testosterone-sweaty he-man pictures that drag in a woman character to diversify the audience, pretty Anne Francis' presence here seems completely arbitrary (only Hawks seems to have mastered this trick: he'd just turn the woman into one of the guys), and as for Joanne Dalsass' asinine, annoying hippie character, Penny, the less said the better. Lyle Bettger doesn't have much to do here but act pissed off (he always does that well), while Acosta is amusing as the tough Indian Draco.
As for Burt...he's Burt, and that's just fine with me. After toiling away in episodic television for over a decade, including stints on series as diverse as Riverboat to The Twilight Zone to Flipper, Reynolds had finally broken through into "B" and "lower A"-list moviemaking by this point, with Impasse being one of four movies he had in release in 1969 (Caine (Shark!), Sam Whiskey, and 100 Rifles). Neither these or subsequent entries (Skullduggery, or even TV movies like Hunters Are For Killing and Run, Simon, Run) did much for Reynolds except push him back into a TV series (Dan August, which failed, too), so it's interesting to see him here caught in limbo between stints on the networks and looking for his breakthrough role on the big screen. I can't believe he thought Impasse would be that "big one," but he performs well enough here, looking young and tough and handsome, handling the action set pieces well (he's leaping all over the place during that foot chase), and giving us glimpses at the soon-to-be internationally famous "Burt the Laughing Charmer" whenever interacting with sexy Mayama or game Francis. In many ways, it's a performance that mirrors Impasse as whole: clean, to-the-point, and reasonably effective.
The DVD:
The Video:
The anamorphically-enhanced, 1.85:1 widescreen transfer for Impasse looks quite sharp, with balanced color values, a sharpish picture, and only minimal screen anomalies (I saw a couple of nasty scratches now and then, but certainly nothing that will distract you). Grain is present...but it's expected here. No big problems with edge enhancement.
The Audio:
The Dolby Digital English split mono does highlight some low-to-moderate hiss, but you quickly tune it out (especially if you're used to watching these prehistoric films). Otherwise, the re-recording level is strong. No closed-captions or subtitles available.
The Extras:
No extras for Impasse, not even a trailer (too bad).
Final Thoughts:
Knows what it wants to do...and does it. Nobody involved with Impasse probably thought it was going to compete with the bigger budgeted action films of 1969 like On Her Majesty's Secret Service or Where Eagles Dare, but to their credit, the filmmakers and performers here go through their paces quickly and proficiently, just as the pulpy script does. Good location work in the Philippines, and Burt looks the part as a lovin', fightin' man of adventure, right out of the pages of Swank. I'm recommending Impasse.
---
Paul Mavis is an internationally published film and television historian, a member of the Online Film Critics Society, and the author of The Espionage Filmography.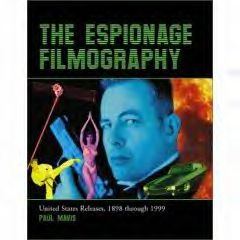 ---
C O N T E N T

---
V I D E O

---
A U D I O

---
E X T R A S

---
R E P L A Y

---
A D V I C E
Recommended
---
E - M A I L
this review to a friend
Sponsored Links
Sponsored Links