List Price: $19.98 [Buy now and save at Amazon]
---
Watchable exploitation actioner...but only just. M-G-M's own cool M.O.D. service, the Limited Edition Collection, has released A Small Town in Texas, the 1976 American International flick starring Timothy Bottoms, Susan George, and Bo Hopkins, and helmed by Race With the Devil's Jack Starrett. A cleanly-directed, straightforward revenge story...with almost no context, A Small Town in Texas sported some wowzer car stunts (for 1976, at least), and a good turn by evil Hopkins...but that's about all, disappointing drive-in fans then and now who expect some hard-core action and a little T & A from this kind of set-up. No extras for this good-looking transfer.
Former high school football star and now ex-con "Poke" Jackson (Timothy Bottoms), is on a bus back to his small hometown in Texas after spending five years in the pen for drug possession. Anxious to see his pretty wife, Mary Lee (Susan George), and his five-year-old boy, Kevin (Mark Silva), Poke is met at the bus depot by Sheriff Duke (Bo Hopkins), a sly, vicious law enforcement officer who puts Poke on notice that he isn't welcome back in town―with Poke putting Duke on notice that he's going to get him for falsely sending him to prison on that bogus possession rap. What Poke doesn't know yet, after swinging by his friend Boogie's (Art Hindle) garage where he's also welcomed back by old friend Cleotus (Hank Rolike), is that Duke is "with" Mary. Polk just wants to get his family back and leave for California, but after he witnesses a shocking political assassination, he may never leave his small hometown in Texas alive.
There's more "wrong" than "right" with A Small Town in Texas, which is too bad because the production elements are there for a potentially memorable little drive-in revenge exploiter. Director Jack Starrett (known to a lot of viewers as the big lout who flips out Sly Stallone by trying to shave him in First Blood, or as "authentic frontier gibberish"-speaking Gaby Johnson in Blazing Saddles) was no stranger to turning out well-crafted, entertaining "Bs" for the drive-in and grindhouse trade, scoring with such hits as Don Stroud's Run, Angel, Run in 1969 and 1974's Cleopatra Jones. The year before A Small Town in Texas came out, he had his biggest success with the crossover PG-rated hit, Race With the Devil, starring Peter Fonda and Warren Oates, a beautifully-crafted drive-in genre hybrid that scored extra millions at the box office due to a savvy marketing campaign and one of the first instances of a super-wide theater release. A Small Town in Texas's screenwriter, William Norton, had a long string of really eclectic critical and box office successes behind him by 1976, including Burt Lancaster's The Scalphunters, Gene Hackman's violent Western The Hunting Party, the superior WWII escape actioner, The MacKenzie Break, and John Wayne's British "Dirty Harry," Brannigan, as well as equally entertaining "low brow" Bs (and that ain't a pejorative to me) like Burt Reynolds' Sam Whiskey, White Lightning and Gator, I Dismember Mama, Angie Dickinson's Big Bad Mama, and the upcoming Day of the Animals. Clearly, these guys were a one-two exploitation punch who knew how to deliver superior drive-in fare.
Unfortunately, you can tell A Small Town in Texas is "off" right from the movie's first hesitant scene, with director Starrett's ill-advised appearance as a drunken wildman shooting up his truck failing to register as anything other than self-indulgence, while ironically foreshadowing the impotency of the violence that is to come in the movie: when offered a chance, Bottoms shoots the truck, as well―but not anyone else. I guess most moviegoers that went to A Small Town in Texas weren't looking for classical dramatic structure and fully-shaded characterizations (I know I wasn't when I saw it as a kid). They wanted action and lots of it. But considering the talent involved behind the scenes here, there are just too many loose plot threads and underdeveloped characters and their motivations, for my comfort. Absolutely central to the plot is Duke sending Polk off to the pen on a trumped-up possession charge...but we never know exactly how he did it, or more importantly, why. Mary tells Duke that Polk didn't do anything Duke didn't do when it came to his "crimes," but then...we don't know what those "crimes" were, if any. Did they both do drugs? Or sell them? Did Duke send Polk off so he could get Mary, or did something else happen, such as both of them getting caught? How can I have a satisfying revenge story, when I don't know why the hero is vengeful?
And what exactly is the nature of Duke's and Mary's relationship? Is she sleeping with him? We're told she is, in so many words, but when we see them together, she doesn't act like it at all (she acts disgusted with him for grabbing her while doing her chores). When Polk confronts Mary about her sleeping with Duke, he asks no questions, and she offers no answers, further confusing us: he just immediately forgives her (for what, we scream). Characters do things or don't do things in A Small Town in Texas without any pretext or context, leaving us to guess at just what is, exactly, the hell going on in the story. If Polk is so worried about connecting with his kid...why doesn't he say, "Hi, I'm your daddy?" when they meet (we never believe they're actually a couple or a tentative family, further hampering the story's base line)? Or how about the conflict set up in numerous scenes between Duke and his hapless deputy, Lenny (the perfectly hapless John Karlen of Dark Shadows and Cagney & Lacey fame)? Norton and Starrett really prime us for a blow-up between the two, emphasizing Duke's lawless, dominating behavior at the expense of easy-going, probably moral dolt Lenny...before they drop that angle almost entirely. Or how about who, exactly, is Cleotus to Polk, that Polk would come to him for help? Why are they such tight friends (we're never told; we're just to assume they had some kind of mentor/pupil relationship)? And what the hell is going on with that silly political assassination plot involving evil C.J. Crane (Morgan Woodward, completely wasted here in a nothing role) and his control of Duke? Absolutely no context is given for this subplot, other than to have it serve as a convenient plot point of giving Duke reason to zap Polk, since Polk witnessed Duke letting the assassination happen. When you start to look at the movie carefully...you see that almost none of it is properly grounded; if it makes sense, it's only through the straightforward storytelling skills of the director, and our own "fill-in-the-genre-blanks" guessing (perhaps major post-production tampering gutted the movie?).
But hey, this is a low-budget drive-in actioner: who needs a plot or believable characters. Just get to the sex and violence, right? Well...half-right, here. A Small Town in Texas does serve up a few tasty (if superficial) motorcycle and car chases and stunts from time to time, but anyone hoping for some skin after seeing exploitation queen Susan George's name in the credits should walk right on by A Small Town in Texas. Unless George specifically stated in her contract that she was to be presented as "not sexy," I can't for the life of me understand why the producers didn't correctly use her here. You have Susan George at the absolute prime of her exploitation career―at this point, high-brow moviegoers were still confused at Peckinpah getting them aroused during her rape scene in Straw Dogs, while drive-in hits like Dirty Mary, Crazy Larry and Mandingo showed off her corrosive sexuality―and you can't even get her nipples erect in a clingy blouse? The reader may think that a crude sentiment―and it certainly is―but it's no different than expressing dismay at having Bruce Lee in a film that doesn't utilize his martial arts skills. George made a name for herself expertly playing erotically-charged women, so to downplay that here, in the type of movie that is specifically designed to exploit those, um..."standout qualities," isn't only thoughtless to the expectant audience, it's downright dumb for producers looking to make a buck. Even worse, George, who also happens to be an excellent actress, is given nothing to do outside of staying tightly buttoned up. If you're not going to show off her spectacularly sexy body and her heated, erotic sensuality, then give her something to actually do in the picture, because she's a hellava good performer. But no, she's merely window dressing here, serving no function at all other than as a referenced plot function to get Bottoms and Hopkins into gear against each other.
But at least she's correctly cast here for this type of story, along with Hopkins (who could turn out this kind of slow-to-burn psycho in his sleep)―something that can't be said for Bottoms. Nearing the end of his headlining cycle that began with a bang after Johnny Got His Gun and The Last Picture Show came out in 1971, and when he scored again with critics in 1973's The Paper Chase, Bottoms failed to find A-list projects that might have pushed him into the front ranks, with A Small Town in Texas a perfect example of his off-track career choices. Worse, the wooly-headed, sweet-faced Bottoms is completely unsuited for his role here. If there's one thing that Bottoms, a solid actor, can't project, it's sexy rebelliousness (he was letter-perfect the next year as the crisply-preppie Vietnam vet psycho in the underrated Sensurround® disaster flick, Rollercoaster). Polk is supposed to be the small town's wild child, a former gridiron great who inspires eager anticipation at what he's going to do when he blows back into town. However, Bottoms doesn't even try for any of that swagger and charisma necessary to grab our attention with the underdeveloped Polk; in fact, he doesn't even look like a "Polk." He looks like a "Porter." Or a "Preston." Or a "Prescott." But no way a Texas "Polk" (in fact, he looks just exactly like what he is: a "Timmy"). And without a sexy, dangerous anti-hero at the center of A Small Town in Texas, you don't have a center at all. And that just leaves the stunts, then, which are nicely executed (Starrett knows how to stage improbable, fun car chases and smash-ups), but at the same time, thoroughly familiar and even routine―none of the weirdly-wired excitement of the similar stunts in his masterpiece, Race With the Devil, are to be found here. So in A Small Town in Texas, we have a drive-in exploiter that doesn't really exploit its potentially interesting revenge story, or sex, or violence, or even straight action. A Small Town in Texas is watchable, to be sure...but it never really excites you, and you forget it the moment it ends.
The DVD:
The Video:
The anamorphically-enhanced, 2.35:1 widescreen transfer for A Small Town in Texas looks quite good, with correct, nicely valued colors, minimal grain, a sharpish picture, and no compression issues to speak of here.
The Audio:
If the dialogue comes over a little muddy here in this Dolby Digital English split mono audio track, I would suspect that's a product of the original materials (almost the entire movie seems to have been looped in post-production). Subtitles or close-captions would have helped...but they're not here.
The Extras:
No extras for A Small Town in Texas.
Final Thoughts:
It's Bobbie Jo and the Outlaw...without the sex, the violence, and a lot of the fun. You can certainly sit down and watch A Small Town in Texas and get through it without any pain, but I suspect hard-core drive-in fans like myself will find it disappointing, considering how many punches it pulls (how the hell did this get rated "R"?). Timothy Bottoms is miscast; Bo Hopkins is perfect, and Susan George frustratingly stays clothed: big mistake. It pains me, because it's the kind of title you want to like so much more than you do...but a rental is about the best I can recommend for A Small Town in Texas
---
Paul Mavis is an internationally published film and television historian, a member of the Online Film Critics Society, and the author of The Espionage Filmography.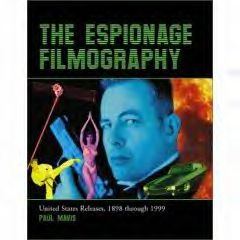 t="70">
Sponsored Links
Sponsored Links