List Price: $19.98 [Buy now and save at Amazon]
---
Shorthand 70s international heist comedy: completely improbable, often dopey...but entertaining for that hapless breeziness. Warner Bros.' Archive Collection, the M.O.D. (manufactured on demand) service that puts out hard-to-find, library, and cult titles, has released Inside Out, the 1975 heist comedy from Warners starring Telly Savalas, Robert Culp, James Mason, and Aldo Ray. A sometimes shaky, lower-budget international "deal picture" production if I ever saw one, Inside Out doesn't bother to explain a lot of things about its plot to snatch long-buried Nazis gold in East Germany, but somehow you don't seem to mind because the pace is swift, while actors look thoroughly bemused at the ridiculousness of the enterprise. No extras for this okay-looking transfer.
High-living, London-based American "businessman" Harry Morgan (Telly Savalas) may put on a devil-may-care façade for his pretty wife, Meredith (Lorna Dallas), but he is in trouble. His Rolls is about to be repossessed, and his home sold for bills. A chance invitation for lunch from Ernst Furben (James Mason), the former German commandant of the prisoner-of-war camp where Harry spent WWII, may offer a lucrative lifeline. The erect, proper Furben has an idea: boost a notorious Nazis war criminal, Reinhard Holtz (Wolfgang Lukschy), out of internationally-controlled Siegfried Prison. The reason? In 1941, when Furben was in the German Quartermaster Corps, he ordered Corporal Schmidt (Gunter Meisner) to take a truck and two guards for a routine transfer of cargo. Schmidt's detail, however, was commandeered at the railroad station by an S.S. officer, with orders signed by Holtz, for special transportation of several heavy chests from the Balkans, along with the four Polish prisoners. While Schmidt watched this transfer, one of the cases was dropped, and he secretly spotted its contents: gold bars (over six million dollars' worth in 1975 money). What Schmidt didn't know was that detail was later zapped by an S.S. squad, the Polish prisoners shot, the German guards shot by the S.S....and the gold spirited away to an undisclosed location. Furben is sure that Holtz knows where the gold is, even after all these years, but he doesn't have a plan for springing him out of prison. That's where Harry comes in, or rather Harry's chess-playing friend, Sly Wells (Robert Culp), a former jail bird with a penchant for intricate planning, and Harry's ex-camp roomie, Master Sergeant Prior (Aldo Ray), who just happens to pull duty at Siegfried Prison.
1975's Inside Out was Telly Savalas' first film that had a chance to capitalize on his new-found popularity as TV's Kojak, but if it succeeded internationally, where Savalas was an even bigger star, it didn't fly here in the States (contrary to some unintentionally amusing new reviews out there, Inside Out was not a made-for-TV movie; Warners picked it up and released it to little fanfare in 1975, before it was sold to television, retitled as Hitler's Gold, in 1978). Moviegoers must have smelled the then-slightly low-rent desperation of second tier "international coproduction" on Inside Out and gave it a pass. Indeed, it has the look and the sound and the feel of one of those smaller-budgeted (aside from the star salaries) "deal" pictures where filmmakers' tax-shelter considerations and quick pay-offs for a couple of non-strenuous weeks of filming in glamorous European locations, were probably the chief incentives for everyone signing on (I was mildly surprised not to see Sir Lew Grade's name stuck somewhere in the credits). The framing and cinematography has that "caught on the fly" look of quick set-ups without a lot of time spent on mise-en-scene strategies, with sometimes skimpy production values (the WWII flashbacks are bare-bones), and that weird, indescribable feeling that these cost-conscious 70s co-productions produce where you can feel the hundreds of onlookers, just out of camera range, watching the hastily-arranged shots out on location.
Scripted by producer Judd Bernard (Point Blank, The Marseille Contract) and Stephen Schneck (High-Ballin'), and directed by English television director Peter Duffell (The House That Dripped Blood, The Far Pavilions), Inside Out honors most of these 70s hallmarks, while including a couple of my other favorites: the unnecessary romantic montage with Culp and German looker Doris Kunstmann (he, um...wears his high school letterman jacket), and the hideous cheapo synth soundtrack (this one has a particularly offensive cue, played at the most hilariously inappropriate times, that sounds like the theme to Telly Savalas in La Cage aux Folles). I don't see those clichés as negatives, though; if you like "bad" movies, those kinds of mile-markers are fun to have around. You expect them, and they reassure you that pleasures in "the cinema" (yeech) don't always have to be aesthetically correct ones. What I do mind with Inside Out is its rather lazy way around the heist plot itself. In short: there's too much shorthand here.
Part of the fun of a traditional heist movie is the filmmakers giving us details of the plan, and then bringing on the conflict when parts of that plan go hopelessly wrong. Here, we have no idea what's happening from one part of the plan to the next―which would be okay if the plan was particularly dazzling or puzzling for the audience. Here, however, it's rather routine in design (the old switcheroo and then the "blow a hole" recovery), and worse, the plot holes and continuity problems become more glaring because of this familiarity. What kind of drug did they give Holtz to make him semi-conscious enough to walk out of the cell as someone else...but not enough for him to be able to quite logically call out to his jailers, "Err, who are these strangers and where the hell are they taking me?" And for that matter, why doesn't somebody suspect something is up...when they're practically dragging the half-asleep guy around by his armpits? What about the later trip into East Germany? The guards on the East German/West German border crossing take turns checking in people crossing? Don't they both check the I.D.s of the cars going through? Or the worst (and funniest) of all: you're telling me $6 million dollars in gold (now mind you: we're talking when gold wasn't 2K an ounce) would comfortably ride in the trunk of that fully-loaded Ford sedan...without dipping down the backend a millimeter? That must be some reinforced Ford (and let's not even discuss the gigglingly inept 36 Hours take-off involving Meisner as Hitler).
It's easy to nitpick a movie like Inside Out, and get ticked off at its ineptitude, but if you grew up on these kinds of dopey "all-star" efforts that seemed more like off-screen vacations for their slumming stars rather than legitimate attempts at moviemaking, a movie like Inside Out can be a fun trip back in time. And don't forget that with heist movies―and Inside Out is no exception―the actual scenes of pulling off the job almost always work, regardless of the rest of the movie's worth. Goofy or not in construction and plausibility, when Savalas and crew are bullsh*tting their way into Siegfried Prison and putting on fake moustaches and watching for the guards, the suspense is there. It may not be Hitchcock quality, but we respond in a tried-and-true genre manner: we wonder if they'll get caught, and we want them to succeed. I suppose you could say the same thing for the performances in Inside Out, especially Telly's, since he's the whole show here. It's not an "artful" job at all; in fact, it's hammy as hell, with Savalas blowing up even the most insignificant lines into scene-chewing showiness. But as all Savalas fans know...that's exactly how we like our Telly: playful and glib and loose and smart-assed. During the climax of the film, when the gang finally reach the boxes of gold after numerous "impossible" setbacks, Culp begins to flail away at the box, trying to get to the loot inside. But a reverent, turned-on Telly stops him, breathing sensuously, "Don rush it," in the smarmiest, most delicious manner possible. I hit the floor laughing at that marvelously funny line-reading; luckily, Inside Out has enough of those overripe moments to make it just tasty enough for some nostalgic movie-watching.
The DVD:
The Video:
The anamorphically-enhanced, 1.78:1 widescreen transfer for Inside Out looks okay, limited by the original materials used here. The image, on the medium sharp side, is a tad gloomy at times, with a dark tinge that may have been the original look of the film. Colors can be murky at times, and grain is evident.
The Audio:
Considering the budget, I'm pretty sure the muddy, hissy soundtrack here is again from the original elements used for the Dolby Digital English mono track. Dialogue can get swallowed up from time to time; subtitles and closed-captions, not available, would have helped.
The Extras:
No extras for Inside Out.
Final Thoughts:
A dopey "all-star" international coproduction heist movie that pleases in spite of itself. Not believable for a second, and with plot holes big enough to bury $6 million dollars worth of gold in, Inside Out still makes you smile whenever Telly sneers at his costars, or when the never-fail conventions of the heist genre kick in. I'm recommending Inside Out for lovers of the genre.
---
Paul Mavis is an internationally published film and television historian, a member of the Online Film Critics Society, and the author of The Espionage Filmography.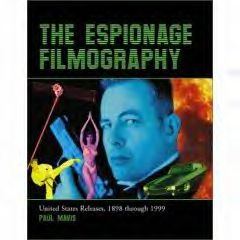 ---
C O N T E N T

---
V I D E O

---
A U D I O

---
E X T R A S

---
R E P L A Y

---
A D V I C E
Recommended
---
E - M A I L
this review to a friend
Sponsored Links
Sponsored Links