List Price: $19.98 [Buy now and save at Amazon]
---
Entertaining, gorgeously-photographed nature "docudrama." M-G-M's own M.O.D. (manufactured on demand) service of hard-to-find cult and library titles has released The Savage Wild, the 1970 documentary released by American International Pictures, and narrated, produced, directed and lensed by famed nature photographer and outdoorsman Gordon Eastman (who also stars here and writes a song if that isn't enough for you). Nothing too savage happens here in this relatively straightforward look at some cute (but vicious) wolf cubs in the Yukon territory, so kids and families will be the best bet for this enjoyable, informative indie from way, way back. No extras for this terrific-looking transfer.
The Savage Wild's "story," if you will, concerns naturalist Gordon's (Gordon Eastman) 2-year trip up to Far Cry Lake, 100 miles below the Artic Circle, where he intends on capturing and studying several wolf cubs for study. Along for the ride is fellow naturalist John (John Payne); unfortunately, circling above in the skies is bounty hunter Red (Carl Spore) and his drunken assistant Arlo (Arlo Curtis). Red wants that $50 bounty on all wolf hides...even if it means killing Gordon's wolves. Gordon's little daughter, Maria (Maria Eastman), comes up from the Eastman base in Wyoming for the summer months, helping to care for not only the older wolves cubs that Gordon captured with the help of Indian Cha-Lay (Charles Abou), but also the abandoned wolf pups that trapper Charley (Charley Davis) brings by. Will the wolves ever come to accept Gordon as one of their pack?
Watching an old nature "documentary" like The Savage Wild immediately takes me back to long-past years, when these kinds of films were regularly shown in my elementary school classes on those old noisy 16mm projectors, or when I'd catch these "four-walled" indies or the more mainstream Disney True-Life Adventure shorts at our local movie house's Saturday afternoon matinees ("ONE day ONLY! You MUST see The Savage Wild! At THIS location!"). Now, if the cover art on The Savage Wild disc has been taken from the original theatrical poster, you should be forewarned that nothing nearly as exciting as what you see in that comic book-styled drawing happens in the movie. But seeing as how AIP was the distributor for this informative indie, it's not surprising that Sam Arkoff would recommend luring the punters in with an action-filled poster depicting savage wolf attacks on man and beast, as a little girl looks on in terror.
I don't know very much about The Savage Wild's auteur, Gordon Eastman, other than seeing one of his other big-screen efforts, Free as the Wind, at the drive-in when I was a kid, and that his family spawned a fairly successful outdoor magazine venture (there just isn't much concrete info on the net about him that I could find). So I can't give this review of The Savage Wild much context in terms of his career as a wildlife photographer, or its relative success at the box office or with the critics. I can discuss its strategies, though, in terms of other wildlife "docudrama" efforts from that time period―strategies that now unfortunately have been demonized in some circles. A couple of years ago, I had the pleasure of reviewing those spectacular collections of Disney True-Life Adventure shorts (you can read those reviews here), and in those reviews I may have discussed how those old shorts and others like them are now frowned upon by uptight scientists, "educators" (hee hee!), and headcase groups like PETA who say these old docs harmed animals, or anthropomorphized them, or trivialized them for entertainment purposes (I still get an email or two every year about those Disney ones, along with my pro-Wild Kingdom review, calling me antediluvian or worse a murderer for not denouncing them). I like my righteous indignation served up with a little panache, so I'm never too sympathetic to any argument that comes from a pedantic drone. Therefore, in a preemptive strike: I have no problem with Gordon Eastman pulling a couple of wolf cubs from a den with the intent of "studying" them...right after he just finished discussing how sacred family togetherness is to wolf packs (at least he was pulling them out for "study"...not $50 bucks bounty). Indeed, if environmental hypocrisy is your bag, you can find much more deserving targets right here, right not (it's an...inconvenient truth), rather than complaining about a 40 plus-year-old doc that not only entertained and informed its audience, but may well have inspired someone to further study.
No question, the slim attempts at "story" in The Savage Wild are completely bogus, and after decades of watching, reviewing, studying (and even making a few) docs, you understand that even the simplest, most unobtrusive method of filming a "real" event involves "selection," and "selection" equals "alteration." So again, I don't care that what Eastman purports to show here is in reality "reality" or not: there's no such thing as a completely objective documentary. I don't know if Eastman really thought that viewers would buy that whole "Red in an airplane shooting at wolves" subplot as real, but clearly it's not. That subplot feels tacked on and bogus, giving the movie a little bit of artificial juice when Red and Arlo crash and (apparently) die in a snow storm (fairly nice stuntwork here). Is the framing device of having Eastman's real-life daughter coming up for the summer months "real?" I don't know, but it seems plausible enough (she's there, feeding those wolf pups). Are they alone there, though? No...because obviously someone is filming them (the credits list five cameramen).
The Savage Wild succeeds best when it isn't trying to be a "movie" (that dopey nightclub sequence with Chris Quesada singing the theme song, written by...who else, Eastman)―when it's just filming those beautiful wolves, and showcasing the spectacular Yukon scenery in gorgeous full-color Techniscope® (another drawback of that b&w cover art), that's when it works perfectly. Eastman and his crew's framing is impeccable, whether they're catching action on the fly, or giving us stunning, painterly vistas that bring home the raw beauty and splendor of the Yukon (composer Jaime Mendoza-Nava's score helps, too). The spare, lovely narration, written by Earl E. Smith (no stranger to iconic exploitation titles, including The Legend of Boggy Creek, The Town That Dreaded Sundown and delivered with sensitivity by Eastman, is thoughtful and informative (lots of info on wolves), while also remaining admirably focused on the realities of Eastman's appraisal of these animals. No attempt is made to soften the view of these wolf pups: they're wild and dangerous, and Eastman often says so, even going so far as to admit he made a terrible mistake, taking away seemingly "tame" wolf Yukon's dead squirrel...with Yukon then turning with sickening speed and almost snatching little Maria (Eastman shows this remarkable shot twice so we can see just how close she came to tragedy).
The opening shots of the Yukon Winter carnival are fascinating (it looks so bare-bones), and that old Skidoo® jumping over the snow banks is pretty cool. There's some remarkable footage of Eastman getting within 20 feet of some high-mountain sheep, as well as an unstoppable grizzly bear coming within the same distance to the unprotected cameraman (are you listening, Timothy?). Some kids might be disturbed by the sequence where Eastman's half dog/half wolf Brownie "teaches" the grown wolf cubs to bring down a caribou (Eastman doesn't shy away from showing it), but as the old saying goes, "this is nature, this is life," and it's hard to argue it isn't mesmerizing. Building to a satisfying conclusion, when Eastman must release the grown wolves into the wild, a lone wolf, Yukon, stays behind to watch over the younger cubs, until he participates in that caribou attack, and he reverts to the wild. One day, Yukon returns, and Eastman sees that the last, faint remnants of taming and training that he grafted onto this striking creature have melted away, revealing a wild-eyed, skittish, gleaming-coated predator. It's a beautiful, true moment in this effective documentary.
The DVD:
The Video:
I don't know who stored this print of The Savage Wild, but it is choice. The anamorphically-enhanced, 2.35:1 widescreen color transfer is sharp and clear and beautifully valued, with minimal screen anomalies from time to time, and no compression issues.
The Audio:
The Dolby Digital English mono audio track is serviceable, with some hiss. No subtitles or closed-captions available.
The Extras:
No extras for The Savage Wild (too bad: I would have liked to see how AIP sold this).
Final Thoughts:
Outdoorsman and nature photographer Gordon Eastman likens what he achieves here in The Savage Wild with what a painter does: showing people things they would otherwise never have a chance to see. The "drama" part of this "docudrama" is stiff and generally unbelievable, but when the cameramen just sit back and record Eastman and those wolves, The Savage Wild works. I'm highly recommending The Savage Wild.
---
Paul Mavis is an internationally published film and television historian, a member of the Online Film Critics Society, and the author of The Espionage Filmography.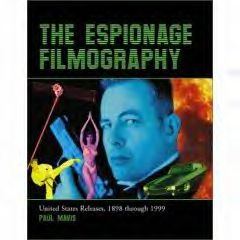 ---
C O N T E N T

---
V I D E O

---
A U D I O

---
E X T R A S

---
R E P L A Y

---
A D V I C E
Highly Recommended
---
E - M A I L
this review to a friend
Sponsored Links
Sponsored Links