List Price: $19.98 [Buy now and save at Amazon]
---
Innocuous, forgettable "coming of age" dramedy featuring two of the Eight Wonders of the World in 1969: Niagara Falls, and a heartbreakingly beautiful Jackie Bisset. M-G-M's own M.O.D. (manufactured on demand) service of hard-to-find cult and library titles, the Limited Edition Collection, has released The First Time, the 1969 programmer from the Mirisch Company, released by United Artists, and starring Jacqueline Bisset, West Stern, Rick Kelman, and Wink Roberts. Some good (but excessive) location work in Canada pushes The First Time dangerously close to travelogue status, but the dirty-minded-but-spotlessly-clean script may prove mildly agreeable if you want to spend an hour and a half in the company of lovely Jackie. An original trailer (with a different title) is included here on this terrific-looking transfer.
Normal, horny 16-year-old Kenny (Wes Stern) has one thing on his mind: girls. Unfortunately, he and his friends Mike (Rick Kelman) and Tommy (Wink Roberts), as they tool around their neighborhood on their bikes, can't get anywhere with the girls who see them as too young. It doesn't help moody Kenny that his mother died recently and that his father, Charles (Gerard Parkes) is carrying on with his hot secretary, Pam (Sharon Acker). Even worse, Charles has a business opportunity that necessitates even more travel, so Kenny is to be uprooted again and sent to Buffalo to live with his grandparents. Writing home to his friends, lonely Kenny lies about all the fun he's having...as well as about his non-existent experiences at the non-existent whorehouse "Rosie's" on the Canadian side of Niagara Falls. Too bad, then, when insistently horny Mike and timid, nice guy Tommy show up unannounced in Buffalo, expecting a stunned Kenny to take them there. Once over the border, scrambling to cover his lies, Kenny meets the breathtaking Anna (Jacqueline Bisset), whom the boys mistake for a hooker. Anna, however, doesn't want a party, she needs an escort over the border....
I can't imagine anyone seeing The First Time back in 1969 and not comparing it to 1967's The Graduate, another "coming of age" movie that helped redefine how adult sexuality was then presented on American screens. You, um...won't get any "redefined sexuality" here in the sweet-but-exceedingly tame The First Time, however―just as sure as viewers conjured up the image of The Graduate's Dustin Hoffman when similar-looking nebbish Wes Stern pops up on screen here, it seems clear that no one involved in The First Time's production saw fit to update this watered-down filler from Sir magazine with some up-to-date Graduate sexuality. Despite the completely arresting vision of Jackie Bisset in her white bra (and an oh-so-brief glimpse of her "side boobage," to use the technical term of movie creeps), the depiction of teen lust in The First Time could very well have come from the studios of recently deceased Walt Disney.
And that's not at all surprising when you see who the director of The First Time was: James Neilson, who made a name for himself directing lots of delightful, scrupulously clean Disney family features like The Moon-Spinners, Bon Voyage, and Summer Magic. The First Time's producers, actor Roger Smith, who also co-wrote The First Time (Auntie Mame, TV's 77 Sunset Strip), and future Can't Stop the Music and Where the Boys Are '84 impresario, Allan Carr, weren't exactly known for being involved in projects of corrosive, searing, unflinching dramatic honesty, either (Smith's co-writer Jo Heims, on the other hand, would go on to script two memorably unpleasant features: Play Misty For Me and You'll Like My Mother). Add to that mix three young, unremarkable, exceedingly pleasant and polite leads who could be poster boys for The Young Americans, and it's tough to figure out just what the producers of The First Time were going for here: a too-cleaned-up dirty joke made icky safe for the drive-in Gidget crowd, or a laughably sexed-up TV episode of My Three Sons Go to a Whorehouse.
Now, I don't want to come down too hard on The First Time's sweet side. Quite a bit of the movie's first half is low-key effective, depicting a group of young boys straining to be men, and yet deep down scared to death at what that really entails. How the boys act during their summer vacation, and their goofily hungry need to "score" may seem quaint and idealized even from a 1969 context...but I didn't see anything here that rang all that false for nice, polite, middle class suburban kids at that age, in that time period (I know it's hard to believe now, after the saturation of the counterculture stereotypes that have flooded all forms of media for the last 40 years, but not every kid was building bombs for the Weather Underground in 1969). The scenes with them riding their bikes (and being ignored by the girls who flock to some other boy's boss Mustang), or pushing each other around just because they're bored out of their minds, or lonely Kenny wandering around his new home, or him staring with numbed disbelief at his sedentary grandparents as he spends yet another stultifying afternoon at their house, had a quiet, reflective quality that I wish The First Time had maintained (particularly disappointing was the effective build-up of Kenny's sad relationship with his traveling salesman father, and his relationship with his secretary, played by the silky, sexy Sharon Acker, a build-up that is completely dropped without further mention).
No, the sweetness of The First Time was fine, and I didn't even mind too much all the travelogue nonsense at Niagra Falls, because it only seemed to emphasize, nicely, that these were still young men caught in that terribly awkward, anguished limbo period where the pleasures of being a young boy still held unexpected allure (in their relief at not having to go to "Rosie's, Kenny and Tommy show real kid-like enthusiasm for all the touristy stuff they do). The big problem with The First Time comes with the arrival of Bisset's character (and I don't mean all the nonsense about her being "smuggled" over the border―a plot machination that doesn't make any logical sense). Here is where the movie needs to get a little tough, a little more honest with its development. What seemed like a slight but sweet little slice of adolescent adventure then turned into a scrubbed-clean dirty joke that bore little resemblance to reality. SPOILER At least the scenes showing Tommy's and Mike's failure to "make it" with Anna are scripted with a bit of sensitivity (blowhard Mike doesn't even have the nerve to wake up sleeping Anna, and shy Tommy immediately begs to be let off by paying Anna to lie about their encounter). But why blow the whole deal by having Anna "bravely," inexplicably give herself to Kenny, knowing that he thinks she's a hooker doing it for free? Did Kenny touch her that deeply during their few hours on The Maid of the Mist that she would do such a thing? Sleeping with a 16-year-old boy she hardly knows is the realistic antidote for her discovering that she's been dumped by her married lover? The resolution of The First Time doesn't play like its quiet, observant opening―it turns out to be just another puerile adolescent male fantasy that isn't even redeemed by some honest erotic heat (Bisset's and pole-axed Stern's love scene is brief and G-rated murky). When Anna kisses off Kenny with a couple of moldy, crackerbarrel signposts about "love" and "conquest" and "young men," with Kenny just walking off and the movie ending, the viewer is left with nothing really original or meaningful. After all...it's hardly the first time we've seen this sort of thing.
The DVD:
The Video:
Shot by pro Ernest Lazlo near the end of his string, The First Time's primary color-bland cinematography looks good in this anamorphically-enhanced, 1.85:1 widescreen transfer. Image is sharp, and compression issue negligible.
The Audio:
The Dolby Digital English mono audio track is acceptable, with no subtitles or closed-captions available.
The Extras:
An original trailer for...You Don't Need to Wear Pajamas at Rosie's is included here; since trailers are usually cut during or right after principal photography ends, I'm assuming this was the film's original title (I couldn't find any info that The First Time was re-released with this even dumber title).
Final Thoughts:
Sweet at first, and even a bit observant...but then it quickly spirals down into predictable male fantasy...and dishonest fantasy, at that. Worthwhile, though, for some great location work at Niagra Falls, and that other wonder of nature, Jacqueline Bisset: gorgeous, knee-weakening Jacqueline Bisset. The First Time is recommended for Bisset fans.
---
Paul Mavis is an internationally published film and television historian, a member of the Online Film Critics Society, and the author of The Espionage Filmography.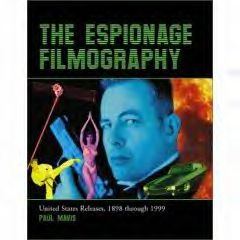 ---
C O N T E N T

---
V I D E O

---
A U D I O

---
E X T R A S

---
R E P L A Y

---
A D V I C E
Recommended
---
E - M A I L
this review to a friend
Sponsored Links
Sponsored Links