List Price: $19.98 [Buy now and save at Amazon]
---
Captivating, offbeat WWII adventure. M-G-M's own M.O.D. (manufactured on demand) service of hard-to-find cult and library titles has released Hannibal Brooks, the 1969 Michael Winner-directed charmer from United Artists, written by Dick Clement and Ian Lafrenais (purportedly based in part on a true story), and starring Oliver Reed, Michael J. Pollard, Wolfgang Preiss, Helmut Lohner, Peter Carsten, Karin Baal, and Aida the Elephant as Lucy. Part animal picture, part WWII spoof, part anti-war film, part pro-war film, Hannibal Brooks puzzled audiences and critics back in '69; its gentle, even quizzical attitude about the horrors of war is as effective as its farcical spoofing and its genuinely touching love story between a soldier and an elephant. An original trailer is included in this good-looking widescreen transfer.
English soldier Stephen Brooks (Oliver Reed) is captured by the Germans and sent to a prisoner-of-war camp outside of Munich. The senior officer there, Padre (James Donald), is the epitome of stiff upper-lip sanguinity concerning the superiority of the British fighting machine, and he loftily lets Brooks and his compatriots know that aiding the enemy by volunteering for work details in Munich, will be frowned upon. This warning isn't for American Paky (Michael J. Pollard), of course; he's not under the command of Padre, and besides, he's gung ho, in his squirrelly, soft-spoken way, to escape from the Stalag―a dangerous act of rebellion with which the peace-loving Brooks wants no part. Of course, anti-authoritarian Brooks immediately volunteers for the forbidden work detail and is assigned to the Munich Zoo, where he's taken underwing by elephant keeper Kellerman (Ernst Fritz Furbringer). There, Brooks soon begins to regard the sweet-tempered Lucy (Aida the Elephant), a Ceylonese elephant, as his beloved friend. When the Zoo is bombed by the Allies, with Kellerman killed and Lucy injured, the director of the Zoo, Sterne (Eric Jelde), swings it so Brooks can take Lucy to Insbruck, Austria, where she'll be safe―a quick ride by train that turns into an arduous walking trip thanks to train-commandeering S.S. officer, Colonel von Haller (Wolfgang Preiss). Good-natured, friendly German soldier Willi (Helmut Lohner) is along for the trek, as is pretty Polish prisoner Vronia (Karin Baal)...but so is vicious, drunken guard Kurt (Peter Carsten), who would like nothing more than to kill Lucy and the smart-assed Brooks.
Watching the original trailer for Hannibal Brooks included on this disc, you can tell United Artists was positioning the film in a mocking, post-Bonnie and Clyde, pre-M*A*S*H mold, emphasizing the counter-culture, iconoclastic presence of Michael J. Pollard as a "Super Soldier" who fumbles along as he wins WWII single-handedly (at this point in the States, supporting player Pollard was a "hot" commodity and a far better bet for exploitation than lead Oliver Reed). That element is present in Hannibal Brooks, but there's more going on here than just mere spoof. Hannibal Brooks has such a weirdly gentle vibe going for a purported "big action" WWII movie, with Winner and scripters Clement and Lafrenais hitting all sorts of pleasingly contradictory notes, that it's not surprising a lot of critics and viewers didn't know what to do with it when it was released.
Certainly the easiest part of Hannibal Brooks to grasp is the scripters' spoofing of all those Rover Boys WWII escape films. Just as they did in the previous year's marvelous spy farce, Otley, scripters Clement and Lafrenais have a lot of fun here sending up classics like The Wooden Horse, The Great Escape and Von Ryan's Express, while at the same time creating their own viable, legitimate version of a gung ho WWII actioner. In Otley, nervous lad-about-town Tom Courtney was a most unenthusiastic, unwilling espionage agent who failed his way upward through a series of byzantine crosses and double crosses. Here, "Hannibal" Brooks is an anti-authoritarian anti-hero who thanks god when he's captured by a German soldier who tells him that the war is over for him, and who completely rejects all the "toy soldier" heroics and poster-board rah-rahing of would-be commando Paky and P.O.W. camp C.O. Padre. He disobeys Padre's lofty plea not to volunteer for work detail (I'm sure Winner cast James Donald as the twitish C.O. here as a direct reference to his iconic work in The Bridge on the River Kwai and The Great Escape), knowing he'll get better grub and have something to actually do rather than waste away in camp. And Brooks has no problem befriending the Germans, soldiers and zoo keepers, who are friendly to him (as opposed to say, The Great Escape's Steve McQueen's cheeky, thoroughly "American" refusal to "play ball" with his fair, decent German commandant, precisely because he's the enemy). He wants nothing to do with Paky's and Padre's so-called war glories (he mockingly references Paky to Beau Geste, Errol Flynn, and The Sands of Iwo Jima), and yet he's stubborn enough in his love for Lucy the Elephant that he'll continually, bravely risk his life to save her, including his constant baiting of vicious guard Kurt, and refusing to back Lucy up on a narrow bridge for the likes of Nazi officer von Haller.
A lot of Hannibal Brooks' comedy comes from the Paky character, where Winner and the scripters create a most unlikely commando whose nebbishy, diffident, goofy mannerisms contrast hilariously with a bloodlust to escape and then kill as many German soldiers as possible. Winner delights in showcasing the amusingly unprepossessing Pollard in various action poses from other famous WWII films, before he pulls the rug out from under him and the viewer, such as Paky trying to escape in a wooden vaulting horse (a fat soldier smashes it), or popping his head up out of railroad box car, a la Frank Sinatra in Von Ryan's Express, only to immediately get shot at by a sentry. Pollard's Paky doesn't always set his explosive charges correctly (that never happened to Burt Lancaster), and he incorrectly holds his Sten machine gun cross-armed. He can't jump off a wall without hurting his leg (how many war movies have you seen where someone drops twenty feet off a wall, only to land in the next shot like he stepped off a street curb?); he can't even catch a set of keys thrown to him during a raid to rescue Brooks (Pollard may have flamed out early, but nobody was doing what he was doing at this time; his performance here is delightfully quirky and funny).
And yet...Winner and the screenwriters eventually begin to twist everything in Hannibal Brooks, beginning with sympathizing and even rooting for the silly Paky. Brooks is disgusted by escapee-turned-Resistance leader Paky's vicious zapping of an entire German squad when he discovers their cargo was only canned beef, but Paky comes back at the pacifist Brooks, telling him that he may be successfully hiding from the war by traipsing around fairy-tale Austria en route to neutral Switzerland, protecting of all things, an elephant, but that the war is real, and the enemy has to die. Brooks, unattached to the macho, patriotic posturing that drives Paky, has no moral or idealistic trouble at all with forgiving Willi, whose family was threatened with death, for turning Brooks into von Haller's custody, and when Brooks learns that pretty Vronia, whom he fell in love with, had a choice―either willingly give herself sexually to von Haller, or be raped by all his men―Brooks again forgives her. But he soon discovers his moral equanimity goes too far when he includes the treacherous von Haller into his band of escaping renegades, finally discovering that when SPOILER Vronia is killed trying to warn the group, his hands-off approach is no longer justified, and that's when he finally understands Paky's actions and engineers the destruction of the mountain outpost, their final obstacle for crossing over into Switzerland.
That final action sequence is smartly designed and engineered by director Winner, beguiling us again with Hannibal Brooks' facility in effortlessly switching tone from an anti-war film to a rousing WWII actioner, and then back again when amiable Lucy bears wounded commando Paky over the Swiss border (Winner also films a completely hairy cable car stunt that creates socko suspense, as well as all those amusing bone-crunching deaths via Lucy pushing over logs onto Nazis). Just as Winner facilely orchestrates the anti and pro-war elements of Hannibal Brooks, along with the comedy and serious drama, he braces the movie's framework with a love story between Brooks and Lucy that is notably tender and touching...notable particularly if you only know Winner from his exercises in cold, violent sadism, such as The Mechanic or the later Death Wish entries. When one thinks of "tender" actors, Oliver Reed is not a name that immediately springs to mind, but he's quite effective here, interacting playfully and protectively with Aida (enhanced by the stunning widescreen shooting in Austria, and A Man and a Woman and Love Story composer Francis Lai's beautiful, lyrical score), creating a believable emotional bond with this charismatic pachyderm that holds the whole film together. After all, if I didn't believe Reed really cared for that cute elephant, nothing in the film would have made sense. The fact that Winner, through Clement and Lafrenais' script, was able to successfully juggle all of these disparate elements, creating not only an entertaining movie out of that seeming mishmash of opposing elements, but also a thoughtful, beguiling one, as well, makes Hannibal Brooks one of his best films, and a most unusual example of the big-scale WWII action genre.
The DVD:
The Video:
M-G-M has side-matted this anamorphically enhanced widescreen transfer to 1.66:1, which looks right. Colors and skin tones are correctly valued, grain is minimal, and the image is sharp. Slight edge enhancement doesn't distract here.
The Audio:
The Dolby Digital English mono audio track is re-recorded at a good-and-loud level, with all dialogue clean and crisp. No subtitles or closed-captions available.
The Extras:
An original trailer is included for Hannibal Brooks, and it's quite funny.
Final Thoughts:
A most unusual conglomeration that successfully combines comedy, drama, romance (between a man and his elephant), satire and straightahead, big-scale action. Oliver Reed is touching as pacifist Brooks who will do anything to save his elephant...even if that means becoming a war hero, while Michael J. Pollard, the most inept bloodthirsty commando you ever saw, provides big laughs here. An overlooked gem from the late 1960s. I'm highly, highly recommending Hannibal Brooks.
---
Paul Mavis is an internationally published film and television historian, a member of the Online Film Critics Society, and the author of The Espionage Filmography.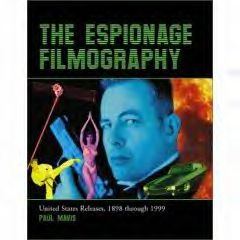 ---
C O N T E N T

---
V I D E O

---
A U D I O

---
E X T R A S

---
R E P L A Y

---
A D V I C E
Highly Recommended
---
E - M A I L
this review to a friend
Sponsored Links
Sponsored Links