List Price: $19.99 [Buy now and save at Amazon]
---
"We'll just have to keep going."
"What for?"
"We're British."
Alternately hilarious and quite chilling (and finally depressing) ultra-black sci-fi comedy. M-G-M's own M.O.D. (manufactured on demand) service of hard-to-find cult and library titles has released The Bed-Sitting Room, the 1969 United Artist release directed by Richard Lester, based on the play by comedian and co-star Spike Milligan and John Antrobus, and starring Ralph Richardson, Michael Hordern, Arthur Lowe, Rita Tushingham, Peter Cook, Dudley Moore, Mona Washbourne, Harry Secombe, Roy Kinnear, and Marty Feldman. A notorious flop during its original release, The Bed-Sitting Room has developed a minor cult following, perhaps more for the appearance of so many iconic British comedy stars (Cook and Moore are probably the main drivers of that here), rather than for the frequently uncomfortable material. A trailer is included for this nice transfer.
The two minute and twenty-eight second "nuclear misunderstanding" ("including signing the peace treaty") three or four years ago that ushered in World War III, has left England a total wasteland, with a sum total of 20 survivors. Penelope (Rita Tushingham), riding around on the still-functioning Circle Line underground with her family, has been pregnant now for 18 months. Father (Arthur Lowe) isn't too sure about her boyfriend, Allan (Richard Warwick), but kindly Mother (Mona Washbourne) wants him to give the lad a chance. Lord Fortnum of Alamein (Ralph Richardson) wanders around the ash pits and mud slides and tells anyone who will listen that he's quite afraid of mutating into an actual...bed-sit apartment. Occasionally, the BBC (Frank Thorton) will come around for "televised" updates (he sticks his head into an empty TV shell and talks), including the latest news on Mrs. Ethel Shroake of 393A High Street, Leytonstone, the deceased Queen's last remaining servant and therefore next in line of succession. Postman Mate (Spike Milligan) pops up now and again to deliver a pie in the face, while Captain Bules Martin (Michael Hordern), holder of the Defeat of England medal for failing to catch the falling nuke that obliterated Buckingham Palace (distracted by one of the Queen's corgis biting him), searches in vain for food, before spotting the pretty Penelope. Regional Seat of Government Shelter Man (Harry Secombe) wants Mother to recreate his marriage to his first wife...by her throwing cups at him, and all the while, Inspector (Peter Cook), hovering overhead in a makeshift balloon with a Morris Minor Panda as a gondola, and Sergeant (Dudley Moore), cranking along in a mobile wrecking ball, order everyone to keep moving to avoid becoming easy targets for the next nuclear assault.
The Bed-Sitting Room was adapted for the screen by playwright and screenwriter Charles Wood (The Knack...and How to Get It, Help!, The Charge of the Light Brigade), from a successful 1963 play of the same name written by The Goon Show icon Spike Milligan and writer John Antrobus (The Goon Show, Carry On Sergeant, Idle on Parade). What succeeded on the stage in England, however, didn't translate into box office returns elsewhere (including England, for that matter), resulting in a career downturn for many involved in the project. American director Richard Lester, ironically one of the directors responsible for the internationally popular "British Wave" of cinema in the 1960s with his smash hits The Mouse on the Moon, A Hard Day's Night, The Knack...and How to Get It, Help!, and A Funny Thing Happened on the Way to the Forum, had subsequently ridden out two commercial failures, 1967's How I Won the War with John Lennon and 1968's masterpiece, Petulia, with Julie Christie and George C. Scott, before the utter rejection by the critics and the public for The Bed-Sitting Room knocked him out of directing for four long years (his 1973 comeback was huge: The Three Musketeers).
I suppose it's not hard to see why The Bed-Sitting Room didn't exactly have them rolling in the aisles back in 1969 (not a "fun" year for the world, anyway; the U.S.' number one movie for the year was the silly, innocuous Disney slapstick, The Love Bug―that should tell you what people wanted to laugh at in '69). While it's certainly true that international audiences have embraced that sometimes dry, sometimes loud, irreverent British humor in its various permutations (everything from the sophistication of Oscar Wilde and Noel Coward, to the silliness of the Monty Python group, to the naughty, bawdy adolescent leering of Benny Hill), the black-as-coal, surrealistic comedy of The Bed-Sitting Room effectively did its job of commenting sardonically on the chilling after-effects of nuclear holocaust...but at the price of thoroughly depressing its meager audience. I would guess that if that summation was put forth to Antrobus and particularly Milligan, they might have agreed that such an audience reaction was just what they were looking for: a Beckett-like surrealism that challenges an audience out of their complacent outlook. For noted eye-poker Milligan, anyone buying a ticket to The Bed-Sitting Room in the hopes of seeing Cook and Moore do a bit of Pete and Dud or some genial Arthur Lowe Dad's Army comedy―only to exit the theater looking for the nearest bridge to jump off of―got just what they deserved.
I've seen The Bed-Sitting Room several times over the years, and after my initial disappointment with it (I was one of those viewers expecting another Bedazzled or something), I find it quite powerful now. Of course the jokes are fine and plentiful: why wouldn't they be coming from the brilliant Milligan and the two gifted screenwriters? The cast being listed by order of height in the opening credits, or a lone man on a bicycle powering the London Circle Line are Goon silliness distilled. Those stealth British double entendres are always amusing ("How's your water?" Hordern asks transformed bed-sit Richardson, who feebly replies, "Hasn't run properly for years."), while those dreamily funny evocations of British reserve that are so gigglingly funny pop up constantly (an exchange about nuclear retaliation goes, "Has England struck back?" to which the languid reply is, "I suspect we have...these things take time."). And frankly, it wouldn't be a Richard Lester film without some slapstick, including the "romantic montage" sequence where Hordern courts Tushingham (he skips stones...and hits an inexplicably submerged Milligan, and then draws a heart in the beach...and sinks into quicksand), or maybe the film's funniest gag, when Lowe good-naturedly commands his prospective son-in-law Warwick to treat him just as he would his own father...which prompts the gentle Warwick to immediately strangle him with homicidal rage. Some stuff doesn't work, including those transformations; it's not so much "funny" as it is "obvious" when Hordern "enters" Washbourne-as-cupboard and she cries out, "Rape!" (I suspect this worked better on the stage). But on the whole, The Bed-Sitting Room is consistently amusing...in a deeply unsettling way.
I've found that The Bed-Sitting Room's real impact comes, though, in those moments that aren't funny at all. I've never been a huge fan of those pious, self-serious, self-serving "message" movies about nuclear disarmament, where preaching to the choir is considered an end unto itself (On the Beach is dishy only for Ava and Greg, while the political aims of junk like The Day After are laughable). The Bed-Sitting Room is adept at creating a nightmarish world of jokes and subdued horror precisely because it bounces back and forth from gags to unexpected moments of stillness, where characters suddenly realize where they are, and why. The effect is at first numbing (you feel like you can't get your bearings), but then it becomes quiet poignant. Director Lester is careful to sprinkle these moments throughout the film, bringing us up short anytime we start laughing a bit too much at the silliness.
Other than the fantastic lunar wasteland landscape that Lester and his team create (the effect of that St. Paul's dome in the water is similar to the Statue of Liberty ruins on the beach in Planet of the Apes), Lester doesn't show any grotesque signs of the apocalypse (no dead bodies, only the image of a melting doll face at the beginning). The real horror, the real madness, comes from the interior as characters continually try and rely on "stiff upper lips" and the daily orderliness of the British way of life as the only way left to survive. When Lowe gets off his safe subway train and is left behind, like a lost little boy he draws himself up into a fetal position on the platform to wait and hope for it to come back. Richardson, saddled with the ridiculous proposition of transmuting into an entire bed-sit apartment, believably trembles and goes lost in his eyes as he contemplates the terror of such a bodily transformation. When Washbourne is summarily issued with her own death certificate, she adds it to her pathetic little collection of school certificates, admitting that it wasn't much of a life as she sniffles over them. As everyone tries to find potable water, a (nuclear?) fog rolls in, with the film's funniest-looking character―Marty Feldman in a nurse's uniform―plaintively stating, "Please, God, not again." And saddest of all, SPOILER Tushingham's mutant baby, with its thin, weird cry, dies unnoted in her arms. Even when The Bed-Sitting Room gives us a faux-cheery, deliberately cynical "happy" ending, it's impossible to get those earlier moments out of one's mind. And just to drive home the point that nothing has changed since the dropping of the bomb, as Peter Cook extols the virtues of an England reborn, he announces that the people have a new leader: "Here I am...so watch it."
The DVD:
The Video:
The anamorphically-enhanced, 1.85:1 widescreen transfer for The Bed-Sitting Room looked sharp, with reasonable color (washed out at times, but I would assume that was the original look), a crisp image, and only minor screen anomalies from time to time.
The Audio:
The Dolby Digital English mono audio track was serviceable, with low hiss and clean dialogue. No closes-captions or subtitles available.
The Extras:
There's an original trailer included...which makes the film look rollicking compared to how it plays.
Final Thoughts:
Funny, undoubtedly...but in the end, quite sad and disturbing. Co-author Spike Milligan turns his surreal, jaundiced view to the end of England via a "nuclear misunderstanding," creating a nightmarish world of unending jokes, silliness, and blunted, dazed, uncomprehending pain. Far better than it's usually given credit for, I'm highly, highly recommending The Bed-Sitting Room.
---
Paul Mavis is an internationally published film and television historian, a member of the Online Film Critics Society, and the author of The Espionage Filmography.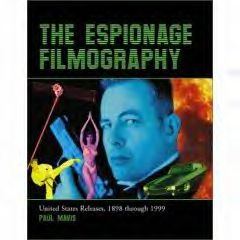 ---
C O N T E N T

---
V I D E O

---
A U D I O

---
E X T R A S

---
R E P L A Y

---
A D V I C E
Highly Recommended
---
E - M A I L
this review to a friend
Sponsored Links
Sponsored Links