List Price: $26.99 [Buy now and save at Amazon]
---
"You can make up songs, but you can't make up life!"

Not as snappy as you'd expect from the Brothers' Warner...but you do have all that marvelous Gershwin music. Warner Bros.' fabulous M.O.D. (manufactured on demand) service, the Archive Collection of hard-to-find library and cult titles, has released Rhapsody in Blue, the 1945 biopic of composer George Gershwin starring Robert Alda, Joan Leslie, Alexis Smith, Charles Coburn, Albert Bassermann, Morris Carnovsky, Rosemary DeCamp, and playing themselves, Oscar Levant, Paul "The King of Jazz" Whiteman, Al Jolson, George White, Hazel Scott and Anne Brown. At two and a half hours (including an unusual-for-then overture), Rhapsody in Blue is chock-full of Gershwin's driving, jazzy songs and compositions...and overflowing with bogus, trumped-up dramatics and bathos in an attempt to make its subject more "interesting." Hard to dislike from a musical standpoint, but it's a slog in-between. An original trailer is included for this good-looking transfer.

According to this fictionalized mish-mash of Gershwin's life, in his cramped, lively (and carefully "indeterminately ethnic") New York City neighborhood, young George Gershwin (Mickey Roth) is obsessed with music and specifically the piano. As luck would have it, George's tradesman father, Morris (Morris Carnovsky), has acquiesced to his culture-seeking wife, Rose (Rosemary DeCamp), and bought a piano for their apartment, with the intent of eldest brother Ira (Darryl Hickman) taking lessons. It's George, however, who shows himself to be an immediate prodigy on the instrument, and soon young man George (Robert Alda) is plugging songs while taking music lessons from European exile, Professor Franck (Albert Bassermann). Professor Franck's classics, however, must vie with the popular sounds of Tin Pan Alley and jazz for George's attention, and soon, George scores a bit hit with Swanee for kindly, sympathetic music publisher Max Dreyfus (Charles Coburn), who gives Swanee to superstar Al Jolson (himself). George's career as a popular composer is launched, and success follows success, particularly when he writes for lovely performer Julie Adams (Joan Leslie), who's clearly in love with the ambitious yet seemingly oblivious composer. Soon, however, George tires of just making money; he wants to fulfill his "serious" artistic ambitions, and after the stunning success of his jazz concerto, Rhapsody in Blue, the internationally-known composer is off to Europe in the hopes of learning from the greats, such as Ravel (Oscar Loraine). However, the classical composers of Europe love Gershwin's uniquely American style, and encourage him to stay true to his roots, resulting in more serious pieces like An American in Paris and the avante garde opera Porgy and Bess. Too bad that Gershwin isn't so successful in his love life, what with Julie jealous of his half-hearted love for cool, distant, socialite/artist Christine Gilbert (Alexis Smith).

Years in pre-production on the Warner lot, with a tortured storyline worked over (to death?) by numerous studio hands before it was produced on a lavish scale and directed by then-hot Now, Voyager director Irving Rapper (only to sit on the shelf for almost two years...music rights difficulties, or the war, perhaps?), Rhapsody in Blue was a huge hit with the 1945 public who either didn't know or didn't care that most of its plot was fictitious. The music was the primary draw, then and now, and if for nothing else, Rhapsody in Blue is a success in that not-inconsiderable range. Opening with that unmistakable Warner vibrancy and dash, as the Gershwin boys navigate the cleaned-up rough 'n' tumble Warner NYC backlot, once Robert Alda is quickly slotted into the role through a fast "growing up" montage, the actual biography of Gershwin necessarily takes a backseat to screen time devoted to 22 of his songs and five of his longer pieces, including reproducing Rhapsody in Blue and An American in Paris almost completely intact. The musical numbers are fairly lively in that coarser Warner Bros. style (as opposed to Metro's gilded, ultra-smooth execution), with Al Jolson's spirited Swanee, the lovely Joan Leslie's socko number, Somebody Loves Me (with an animated Johnny Downs tapping away alongside), beautiful Hazel Scott's mesmerizing rendition of The Man I Love, and Anne Brown's stirring selection from Porgy and Bess, standouts, as well as the almost complete rendition of Rhapsody in Blue conducted by Paul Whiteman (viewers more attuned to the outdated special effects will want to check out the then-state-of-the-art slash matte of Alda's head on Oscar Levant's piano-playing body). When Rhapsody in Blue sticks to the music―which is often―it's hard to beat.

As for the corn, though, it's not egregious by the accepted standards of studio biopics of the time...just obvious and unfortunately rather turgidly played out here. No doubt the WWII context of the movie's production enabled credited screenwriters Howard Koch (The Letter, Sergeant York, Casablanca) and Elliot Paul (A Woman's Face, New Orleans) to emphasize the angle of Gershwin's passionate desire to create music that reflected the pulse of "New World" America, mixing its various influences (from its various immigrants) to fashion a sound that expressed its irrepressible moxie (of course with this being 1943, the movie stays away from directly discussing Gershwin's Jewish heritage or the cultural influence of African-American jazz idioms on his music). I've never hated that immediately recognizable dramatic "shorthand" the studios usually employed for these biopics, where the same basic two or three subplots show up time and again―inevitably anchored by a fictitious romantic triangle involving a "good girl" sweetheart and a psychologically more threatening "temptress." It's all rather comforting, really, because it's so predictable and reliably melodramatic (scenes like George ominously commenting on his long life-line, or Dr. Franck conveniently dying on the night of George's big premiere, are the stuff that routinely made up these studio dreams).

It's just that even with those obvious semiotics, Rhapsody in Blue is in short supply of dramatic conflict that can really hold us. I'm certainly no expert on Gershwin, but from what I can gather, he was successful from an early age...and he kept right on being successful until he died tragically at the early age of 38. With the standby biopic obstacle of "guy makes good, gets a big head, fails, and then learns humility" inconveniently eliminated from Gershwin's real-life story (and without the benefit of a great deal of time passing in-between the audience's first-hand knowledge of the composer and the debut of this movie, to allow for more spirited invention of life events from the screenwriters), Rhapsody in Blue is stuck with playing up Gershwin's obsession to create ever-more successful music...when he was already wildly successful from the start. Ominous foreshadowings of an early death hanging over his efforts provide a little heavy-handed atmosphere over the uneventful storyline (apparently, Rhapsody's unintentionally amusing message is: don't exert yourself...or you'll get a brain tumor), while fleeting stabs at trying to wrest some kind of argument over the conflict of commerce (his popular music) and "true" art (his desire to do more than write successful ditties) are bandied about before the movie throws up its hands, states America loves both...and then abandons the discussion entirely.

And the romance angle ain't any more successful, either. From what I've read, Gershwin's love life wasn't exactly troubled (lots of affairs with beautiful women, as one would naturally expect for a popular, talented celebrity/artist). Again, that reality doesn't fit into the standard Hollywood biopic mold, so two fictitious women are invented for the story, and presto, a doomed romantic triangle is invented. Unfortunately, perhaps due to the filmmakers' reverence for their subject, Gershwin is portrayed here as little more than a chaste, plaster saint who missed out on love because he was either too busy being a genius (Leslie), or because he was too much of a genius for the envious, jaded socialite artist who somehow manages the neat trick of being blasé and tortured at the same time (Smith, never an actress I cottoned to, is perfectly cast here: she's as removed from her character's so-called submerged passions as the plotline is from the subject's real history). Leslie's character is a complete cipher...but it doesn't really matter because Smith's more intriguing character is handled in such a vague, unsatisfying way that we never for a moment care if George lands either one of them (at the film's end, when Gershwin keels over after blank, boring Julie agrees to come see him at last, one might be forgiven in thinking that Gershwin finally took the easy way out). Balancing out all this dramatic folderol, it's a good thing that Rhapsody in Blue is suffused with the music of Gershwin―otherwise, the impatient viewer might be forgiven for keeling over, as well.

The DVD:

The Video:
This "remastered" 1.37:1 full-screen black and white transfer for Rhapsody in Blue looks quite dishy, with deep blacks, nice contrast, and only minor image imperfections (some scratches now and then).

The Audio:
The Dolby Digital English mono audio track is acceptable, with low hiss and a decent-enough re-recording level. No subtitles or closed-captions available.

The Extras:
An original trailer is included here.

Final Thoughts:
Good thing they didn't screw around with the music, too. I personally love the phoniness of a typical golden age studio biopic (contrary to the usual statements to the contrary: real life is never as much fun as the movies), but Rhapsody in Blue, under the steady, boring hand of British technician, Irving Rapper, is far too dull whenever it decides to invent Gershwin's off-stage life. Luckily, Rhapsody in Blue is crammed wall-to-wall with most of Gershwin's biggest hits, so one can just go along with the tired, lifeless plot while waiting for the next number or song to be cued up. I'm recommending Rhapsody in Blue for lovers of Gershwin's music...biopic fans, however, are forewarned.
---
Paul Mavis is an internationally published film and television historian, a member of the Online Film Critics Society, and the author of The Espionage Filmography.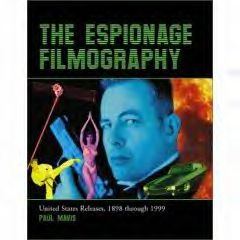 ---
C O N T E N T

---
V I D E O

---
A U D I O

---
E X T R A S

---
R E P L A Y

---
A D V I C E
Recommended
---
E - M A I L
this review to a friend
Sponsored Links
Sponsored Links