List Price: $19.98 [Buy now and save at Amazon]
---
Workaday WWII adventure. M-G-M's own M.O.D. (manufactured on demand) service of hard-to-find library and cult titles, the Limited Edition Collection, has released Hell Boats, the 1970 WWII naval actioner from Mirisch Films' Oakmont Productions and released by United Artists, starring James Franciscus, Ronald Allen, Elizabeth Shepherd, and Reuven Bar-Yotam. Directed by talented Paul Wendkos, Hell Boats' romantic triangle is languidly, hypnotically trite, but the sporadic action is okay in this junior-grade Guns of Navarone. No extras for this nice-looking widescreen transfer.
Lieutenant Commander Jeffords, R.N.V.R. (James Franciscus), an American fighting with the British Royal Navy since 1937 (his mother was English), has cruel-but-necessary Rule #1 of M.T.B. ("motor torpedo boat") warfare down pat: don't turn back. When his convoy is attacked by German "E-boats," the equivalent of the M.T.B.s, in the English Channel, he orders his men not to come back for him or the few other survivors when his boat is blasted out of the water. Despite strafing by the approaching German sailors, Jeffords survives and after a month in the hospital recuperating, he's given his new orders by Vice Admiral Ashurst (Moultrie Kelsall)―orders perfectly suited for such a brave-but-cold, uncompromising officer. His mission? Report to Malta and base Commander Ashurst, R.N. (Ronald Allen), the Vice Admiral's son, where Ashurst will turn over his motley group of shot-up M.T.B.s to Jeffords. Once equipped, Jeffords is to somehow take out a converted submarine base in Augusta, Sicily, where Jerry is keeping all his glider bombs that are proving so devastating against Allied shipping. Jeffords requests and receives the services of his old Chief, Chief Petty Officer Yacov (Reuven Bar-Yotam), but he'll have difficulties with his new subordinates, including disobedient Lieutenant Barlow (Mark Hawkins). British malcontents and Nazis are the least of Jeffords' worries, though: he's got a hankering for sexy, um...unfulfilled snot, Alison (Elizabeth Shepherd), who just happens to be Ashurst's wife.
I like this movie: everyone is clean and tanned and thin. It's been years and years since I've seen Hell Boats, but I remember enjoying it as a kid because it played well on TV: the commercial interruptions punctuated the spare dialogue scenes well, and the small-scaled action fit nicely on my black and white portable. Watching it today, in its proper color widescreen, Hell Boats has a rather curious, cool detachment to it that should have annoyed me. After all, a movie entitled Hell Boats should deliver just that: hellish action on the war-torn seas. Instead, this low-budget affair from scripters Anthony Spinner (a remarkably diverse amount of TV work, from The Man From U.N.C.L.E. and Cannon to The Banana Splits Adventure Hour), Donald Ford (Brit TV like Z Cars and The Saint, and his brother Derek (cult exploitation items like Groupie Girl and the classic The Swapper) devotes as much screen time to its hackneyed romance (if not more) than to its half-speed fireworks, pushing Hell Boats dangerously into tedious "thwarted wartime romance" waters rather than the "impossible wartime mission" subgenre.
Not surprisingly, there's nothing remotely new or intriguing about this wartime romantic triangle, either. Disgraced Allen hates Shepherd because she called Daddy to spare Allen combat duty; Shepherd hates Allen because he's not man enough to "take" her anymore and prove his love; Franciscus wants Shepherd because she's bold enough to skinny dip in the Mediterranean and it would screw over Allen nicely; and Shepherd wants Franciscus because he's as cold and distant and hard as she'd like to think she is. It's all so tiresome, with the leads' impenetrable neurosthenia―Franciscus' picture-perfect Yalie handsomeness and Shepherd's icy eroticism―perfectly capturing that feeling of exhausted sensuality. Tiring, too, is the way that good director Paul Wendkos (Gidget, Cannon for Cordoba, The Mephisto Waltz, and 1973's The Legend of Lizzie Borden, one of the best made-for-TV movies ever produced) times everything half-a-beat slower than real life, with long pauses and lingering stares moving the story from "deliberate" to "dawdling." Curiously, though, once you accept that Wendkos is either shooting a script that's deliberately demure and enigmatic when it comes to this supposedly passionate war-torn romance, or you decide he's made a conscious choice to numb everything down to a strange, languid, romantic torpor, you begin to enjoy it on some weird subconscious level, going along with the pretty pictures good-looking Franciscus and Shepherd make in cinematographer Paul Beeson's (To Sir, With Love, The Lost World) careful framing. It's like flipping through a picture magazine you have absolutely no interest in: it eventually becomes a pleasant experience to just look at the pretty ads.
As for the action in Hell Boats, it's acceptable on a low-budget, small scale. Wendkos can stage effective action scenes (check out his better-than-expected Western, Cannon for Cordoba), and here, his clean, uncluttered style is apparent once again. You always know where everyone is in relation to who's shooting at whom, and the set-ups are moderately exciting (the model work isn't half-bad, either, considering the budget, but some of the blue-screen is embarrassingly bad). Watching Hell Boats on my big monitor, in its proper scope, did bump it up a bit from my tiny b&w, pan-and-scanned memories...but not too terribly much. It's not that the action sequences here are anemic as they are entirely familiar and perhaps stunted a mite because of budget constraints. It doesn't mean they aren't enjoyable, it just means they're...acceptable, in a "I've heard this story a hundred time before...tell it to me again, Daddy" sort of way (as is the romance). That may seem like I'm damning Hell Boats with faint praise, but that's too simple an explanation for its anti-anti-appeal. It could have been more passionate, more exciting, more interesting, but it's not, and yet, it works because its romance is strangely indolent, its action is careful, and it's very pretty to look at when the handsome, tanned leads stare at each other for awhile before mouthing their inconsequential lines. Sometimes a little inexplicable reserve is welcome...especially when it's not expected.
The DVD:
The Video:
The anamorphically-enhanced, 1.85:1 widescreen transfer for Hell Boats looks quite good, with a sharp image, good-for-the-most-part color (a few muddy spots here and there), and acceptable enhancement.
The Audio:
The Dolby Digital split mono audio track is re-recorded at a healthy level, with little hiss. No subtitles or closed-captions.
The Extras:
No extras for Hell Boats (would have liked to see how they sold this).
Final Thoughts:
Weirdly attractive in spite of (or because?) its narcoleptic romance and its carefully small action scenes. No one would list Hell Boats alongside big-scale contemporaries like Where Eagles Dare or Kelly's Heroes, but it is watchable in a mildly baffling way: it's like unobtrusive TV without the commercials. If, like me, you find curious, oddly-paced little efforts like this attractive, you'll enjoy Hell Boats. Recommended.
---
Paul Mavis is an internationally published film and television historian, a member of the Online Film Critics Society, and the author of The Espionage Filmography.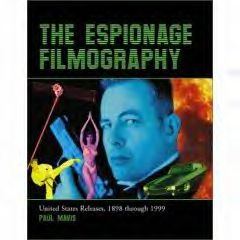 ---
C O N T E N T

---
V I D E O

---
A U D I O

---
E X T R A S

---
R E P L A Y

---
A D V I C E
Recommended
---
E - M A I L
this review to a friend
Sponsored Links
Sponsored Links