List Price: $19.98 [Buy now and save at Amazon]
---
"Everybody pays!"
Interesting, little-seen mid-scale WWII actioner with some disturbing themes. M-G-M's own M.O.D. (manufactured on demand) service, the Limited Edition Collection, for hard-to-find library and cult titles, has released Hornets' Nest, the 1970 United Artists release starring Rock Hudson, Sylva Koscina, Sergio Fantoni, and Mark Colleano. Directed in typical tough-guy fashion by Phil Karlson, Hornets' Nest provides the usual quota of late-sixties WWII action, along with some intriguing asides about the psychological effects of brutal, no-holds-barred warfare. An original trailer is included in this good-looking transfer.
Reanoto, Italy, 1944. Cold, calculating S.S. Major Taussig (Jacques Sernas) has lined up the men, women―and a few remaining children―along the tiny village's main street. His question is simple: where are the Resistance partisans? The citizens refuse to talk, and while a group of watching boys hide out in the fields, the Nazis open fire, massacring the entire village. Weeks later, commando leader Captain Turner (Rock Hudson) is flying overhead, ready to jump with his team of saboteurs to blow up the massive Della Norte Dam, thereby flooding the valley and stopping all Nazi activity in the area for months to come. However, German troops are waiting at the drop zone, and the American force is wiped out, save for Turner, who is badly injured. The little rag-tag band of boy partisans, led by angry teen Aldo (Mark Colleano), spirit Turner away with the idea of patching him up so he can teach them how to shoot their cache of stolen machine guns. However, Turner is badly injured, and needs medical attention, so they lure German doctor Bianca (Sylva Koscina) to their hideout and demand she treat him―something she only does once Turner saves her from Aldo's gang rape. The deal for Turner then is: help the boys avenge the deaths of their parents in Reanoto, and then they'll help him blow the dam, an idea that sickens Bianca. Not only will Turner have to deal with hot-headed group leader Aldo, he'll have to dodge German Army Captain Von Hecht's (Sergio Fantoni) expert efforts to hunt the group down.
A suspenseful WWII action movie with some intriguing (and disturbing) ideas, Hornets' Nest wasn't the big success that United Artists probably hoped it would be when it was released in 1970. Borrowing bits and pieces from various other big-scale WWII hits like The Guns of Navarone and The Dirty Dozen, with a little bit of classic Warner Bros.' fare like the Dead End Kids' Angels With Dirty Faces updated to the counter-culture to get the angry teens out there buying, and starring Rock Hudson, recently coming off Ice Station Zebra, one of his biggest commercial hits, Hornets' Nest must have seemed like a sure-fire money-maker. However, those very themes that make Hornets' Nest so intriguing are probably why it didn't have the impact it should have with audiences: straight action fans were most likely turned off by seeing "hero" Hudson turned into an angry, bullying rapist, and viewers who might have cottoned to the movie's complicated themes stayed away from what the marketing promised would be a big, noisy (and perhaps grotesque) shoot-'em-up (the trailer hilariously describes the boy partisans: "Give them a ball, and they'll make up a game...give them a chance, and they'll blow up the world! But if you push them too far, they'll kill you!")
Written by S.S. Schweitzer (Change of Habit, tons of episodic television), and directed by Phil Karlson (Kansas City Confidential, The Silencers, the original Walking Tall), Hornets' Nest first and foremost gets its WWII action priorities straight, with a nicely-plotted "men-and-boys on a mission" structure that allows for several quite credible scenes of suspense, particularly Karlson's meticulously choreographed raid on Fantoni's headquarters by Rock and the boys (his framing, with Terry Williams' pinpoint editing, always keeps us clear as to the geography of where everyone is in relation to each other, while ratcheting up the tension), and the long, complicated final assault on the dam, featuring several levels of visually impressive action (Rock and the boys scaling the wall of the dam and setting the charges, while Aldo and his "men" blast away the Nazis up on top). In-between these well-mounted, exciting sequences, there are plenty of the near-misses of exposure to the searching Nazis, the silent stabbing of sentry guards, and other forms of mayhem that even the most jaded WWII action fans come to expect in this type of movie, all orchestrated by Karlson with a cool, detached sadism.
Leaving these successful conventions aside, what makes Hornets' Nest quite absorbing are the disturbing themes that propel the movie's rip-snorting adventure construction. As the psychologically damaged Aldo cries out several times, "Everybody pays!" and Karlson seems to want to drive that point home with every character here, showing how their ideals have been twisted and subverted by the effects of this brutalizing war. Everyone here is changed by the war...for the worse. At the beginning of the movie, Hudson's character is set up to be the hero for the audience, saving Koscina from Colleano's angry rape (when she refuses to give Hudson medical treatment). Soon after, we're encouraged to think that big, strapping Hudson is simply going to bark at or smack around the boys and whip them into shape as a fighting unit; he's the "big Americano" and when he yells, the boys will follow. However, almost immediately, scripter Schweitzer shows him at a distinct disadvantage to the cunning Aldo, who fights to keep leadership over his group by first hiding Hudson's detonators, and then denying Hudson the now-trained group's help unless he first aid their revenge assault against Reanoto's occupiers. Fatalistically resigned to allowing Colleano's private war to continue, marginalized Hudson is pushed too far by Koscina, who, unable to convince him to help the two young children tagging along, tries first to murder him and then alert a Nazi patrol to his presence. In a rage, he viciously tears away her clothes and rapes her ("You can heal me now, Doctor!" before the scene cuts away). Hudson the rape victim savior becomes a rapist himself (no doubt another reason the movie underperformed: nobody wanted to see good-guy Hudson take so much angry pleasure in assaulting a woman).
Koscina doesn't escape the war's debilitating effects, either. She's a doctor, a healer, dedicated to helping the children, but she'll take a life (Hudson's) when finally driven to despair by Hudson's intractability, and later zap a German patrol with a handy machine gun. Regular Army professional Fantoni doesn't come out of this clean, either; he despises the S.S. and their murdering tactics, and yet he commits murder by arbitrarily zapping Taussig when Taussig refuses to give up his command and go after Hudson. Most changed of all is Colleano, a teen who has seen his mother and sisters raped by the Nazis and then massacred, and who then is willing to become a rapist himself to get what he wants (the doctor's cooperation), before he becomes an avenging killer of German soldiers. SPOILERS This mania to kill warps him to the point where he deliberately kills his own best friend who gets in the way of his line of fire. Colleano was right all along: everybody pays.
Hornets' Nest tries for redemption at the end, with Colleano begging for forgiveness from Hudson, who grants it, but tellingly, there's no such offer from Hudson to Koscina (who, the movie uncomfortably implies, has "learned her lesson" due to her silent, bowed demeanor after the rape). SPOILERS Even though the mission is a success (the assault on the dam is impressive, but the actual special effects of the dam breaking up are only so-so), and Colleano's war-twisted virtue is "redeemed" by Hudson, I doubt there were too many audience members going home whistling Ennio Morricone's jaunty little theme song, considering the bad taste left in their mouths by Schweitzer's morally compromised, downbeat story, lead hero Hudson's rather brutal, sullen performance (he looks pissed-off and mean most of the time), and Karlson's cold, uncompromising approach. What looked to be a routine mid-scale WWII actioner from the trailer and poster art, headed up by a star who always played the hero, with cute little killers as an added interesting hook...turned out to be quite a grim and uncomfortable exercise in the end.
The DVD:
The Video:
The anamorphically-enhanced, 1.85:1 widescreen transfer for Hornets' Nest looks very good, with solid color (fleshtones look right), a sharp image, and very little print damage. No compression issues to speak of. Nice.
The Audio:
The Dolby Digital English mono audio track is acceptable, with some minor hiss barely noticeable, and a decent-enough re-recording level. No subtitles or closed-captions are available.
The Extras:
An original trailer―which is absolutely hilarious―is included ("Captain Turner's Baby Brigaide. When they get hurt, they cry. When they get mad...they kill!").
Final Thoughts:
An unexpectedly disturbing mid-level WWII actioner. Director Phil Karlson directs with cold, efficient sadism, and hero Rock Hudson looks believably surly, in this action-filled tale that has a distinctly unsettling undertone. Little seen, Hornets' Nest is a real find for war movie aficionados. I'm highly recommending Hornets' Nest.
---
Paul Mavis is an internationally published film and television historian, a member of the Online Film Critics Society, and the author of The Espionage Filmography.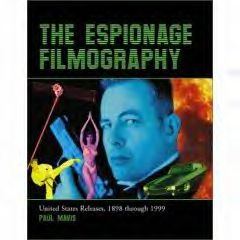 ---
C O N T E N T

---
V I D E O

---
A U D I O

---
E X T R A S

---
R E P L A Y

---
A D V I C E
Highly Recommended
---
E - M A I L
this review to a friend
Sponsored Links
Sponsored Links