All In The Family: The Complete Series
List Price: $199.99 [Buy now and save at Amazon]
---
I don't care if it ticks off some collectors: it's the best TV release of the year on content alone. Shout! Factory, the single most important releasing company for vintage television, has brought out All in the Family: The Complete Series, a twenty-eight disc, 208-episode collection that gathers together every single episode of arguably the greatest sitcom in television history. Period. Most of the bonuses here have been released before in All in the Family's...complicated DVD history, but again, I don't want to hear about it: the series is presented in totum, giving the fan, the television student, the historian, and anybody else a complete picture of one of a handful of series in TV history that you can firmly point to and say, "television fundamentally changed" once it premiered.
This isn't going to be a long review (all six of my readers just let out a collective "yeah, right"). I've written about All in the Family before (I'll incorporate and edit some of those past reviews here), and again, the extras in All in the Family: The Complete Series are mostly repeats. A little background on the series for those who don't know the set-up, though, is required...although...can there really be TV viewers today who don't know about the Bunkers? Sadly, I would say that's more and more likely, considering the increasingly splintered audiences out there as once-mighty-but-now-ancient shows like it are shuffled off to fringe cable outlets. Anyway...704 Hauser Street, Astoria, Queens, New York, 1971. All-American White Anglo-Saxon Protestant bigot Archie Bunker (Carroll O'Connor) looks about the world and simply can not understand what has happened. Besieged by the real horrors of life in 1970s New York City (crime, inflation, overcrowding, no job security, the breakdown of civility), and the imagined ones of his prejudices (anyone who isn't exactly like him in gender, race, religion, political and esthetic outlook is a threat), Archie is in a perpetual slow-burning fire of anxiety and quick-to-surface impotent rage. His "dingbat" wife, Edith (Jean Stapleton), is the soul of kindness and understanding...when she does manage to understand what's going on around her. Subservient to her husband, Edith will occasionally stand up to Archie whenever his actions or opinions become too outrageous even for her Christian allowances. The Bunkers' daughter, Gloria (Sally Struthers), lives with her husband, ultra-liberal college hippie, Mike "Meathead" Stivic (Rob Reiner), in the Bunker household, creating an explosive situation day after day, night after night, as Archie rails against Mike and everything he seems to stand for...and indeed the world, too, which increasingly presents a picture to Archie that he can neither fathom nor navigate.
Archie Bunker (as created by Lear and the writers but most importantly, actor Carroll O'Connor), a crass, ignorant, prejudiced, frequently insensitive but well-meaning man, is one of the few truly original creations, as indeed is All in the Family, of that largely maligned medium called television,. A 1970-1971 mid-season replacement for a clearly nervous CBS, no one expected All in the Family to survive its initial 13 episode order―particularly after ABC had already passed on two different pilots for the show. As well, if one factored in the potential controversy that could come from having a television series that featured a loveable bigot as its lead, All in the Family's chances for success seemed remote indeed...let alone its eventual canonization as one of the most popular and influential shows in television history (it wasn't just controversial; it also became the first show to stay at number 1 in the Nielsen's for five straight years). How, then, could anyone have predicted that not only would All in the Family become a massive audience favorite, but also irrevocably change the face of television? By fixing its sitcom storylines firmly within a controversial issues-driven framework, and then letting its lead character, Archie Bunker (Carroll O'Connor) rail against those issues as he scrambled to adapt to times that were far outpacing his ability to understand them, All in the Family tapped into a zeitgeist of overwhelming societal change that was roiling America back in 1971. And leading that revolt within the formerly safe confines of the network TV sitcom structure wasn't a revolutionary with a gun, or a hippie with a flower...but a lower-middle class hard hat bigot with a penchant for insulting anyone who didn't look or act exactly like him.
Today's viewers can watch All in the Family and still marvel at the power and humor of TV's greatest situation comedy, but you may have had to experience the show first-hand, during its original run in the 1970s, to fully appreciate the cultural shockwaves it sent through America when it premiered. The last of the "Big Three" network series to truly engage a sizeable majority of the TV viewing audience, All in the Family electrified a nation of satisfied tube watchers who only had three major channels to choose from (not counting local independents if their aerials captured them). "Electrified" is not too strong a word to use for All in the Family's effect on American television audiences. I can remember quite clearly evenings where relatives or friends would stop by specifically to watch the show, with the resulting loud discussions almost drowning out the dialogue―what network show does that today? And no matter where you went the next day, if chitchat presented itself, it would invariably involve the latest outrageous sayings of Archie Bunker. People in the 90s talked about Seinfeld as the ultimate "water cooler" show, but it didn't achieve anywhere near the impact that All in the Family had on not just viewers, but educators, politicians, organized religion, and just about every other group you can name. Everybody watched All in the Family at some point during the 1970s; it was the most talked about, written about, argued about, championed and vilified show that American television had ever known.
Considering how P.C.-obsessed network television is today, I would imagine anyone not familiar with All in the Family would be shocked today to see a white character spew out racial and minority-oriented epitaphs with wild, ignorant abandon...and get 65 million people to tune in and laugh along (on the other hand...no one seems troubled in the least that an obvious double standard exists today for comedians of different races). In the first few seasons of All in the Family, Archie lets those zingers fly in a symphony of hilarious bad taste (even liberal Mike and goodness-personified Edith get theirs in, too). No one was safe from Archie's stupidity, not the "hebes," "spics," "spades," "polacks," "spooks," "gooks," "chinks," "jungle bunnies," "fairies," "fags," "dagos," or any other minority or social group Archie could senselessly denigrate. Not even his own family was safe, with his wife almost exclusively referred to as a "dingbat," his daughter dismissively called "little girl," while his son-in-law would forever be known as "meathead." Of course, All in the Family's humor didn't rest solely (or even largely) on outrageous racial humor; its focus on controversial issues, often argued at shouting level, was more noteworthy and shocking for people accustomed to the good graces of previous television families like the Andersons and the Nelsons and the Petries and the Bradys. Most perverse of all, All in the Family's secret sin―the delightfully taboo sin of all well-done racial humor, regardless of what race is doing the insulting (just ask Richard Pryor when he parodied his own culture)―was that it was funny. We laughed first, then we were embarrassed, and then we couldn't wait for the next one (for those young enough to be knee-jerk offended by that thought, try listening to the absolutely hysterical screams of delight from audiences listening to Redd Foxx's Fred Sanford or Sherman Hemsley's George Jefferson defiantly calling out epitaphs like "honkey," "Whitey," "zebra," and of course, "nigger" in their enormously popular Norman Lear sitcoms of the day).
This is the kind of no-holds-barred television that was an absolute shock to viewers back in the spring of 1971, a vision of America that was not at all unfamiliar to viewers in their own real worlds, but a threateningly alien one coming from "the Box" that heretofore had been a relatively soothing, comforting window on the world. And that clashing of expectations―the Tube giving us a decidedly messy, unfavorable view of ourselves when previously, it had only, by and large, shown our best intentions―was All in the Family's lightening rod that galvanized the nation's attention. If you didn't live through those first few years of the show, having experienced first-hand the previous TV world populated by polite Moms and Dads and boys and girls like the Cleavers and Mary Richards and Ricky and Dave Nelson, it's impossible now to fully feel the effect All in the Family had on television viewers in 1971.
With today's fractured viewing audience sampling hundreds of channels from all over the world―if they can even be bothered to watch television before they surf the net or play a video game―that kind of single-event phenomenon is unlikely to happen again, at least through "the Tube." Watching All in the Family now, after experiencing decades of programming that it directly influenced, the shock and awe of All in the Family has necessarily faded...but now one can concentrate on the absolute precision timing of the celebrated cast (in particular, Rob Reiner's and Sally Struthers' contributions stand out more clearly), along with, of course, the genius of Carroll O'Connor's turn as Archie. Had Archie been drawn as nothing more than a outlet for shock-inducing racial epitaphs, he and All in the Family would have either never gotten off the ground, or flamed out after the initial impact wore off (Mickey Rooney was originally sought for the role―a bad fit, I think, because of the Mick's need to consciously "entertain" and "please"). Instead, through O'Connor's shrewd performance (as well as, critically, Lear's and the writers' insistence right from the start that Archie's good points equaled his faults), Archie's plight becomes one we eventually feel sympathy for: a man out of his time, totally flummoxed by the demands of a rapidly-changing society he can't understand...or hold back. Once Archie was shown as essentially a caring, loving father and husband, particularly during the later seasons (O'Connor excelled as portraying a man practically incapable of expressing the tender emotions he genuinely felt towards his family), the die was cast: Archie may have been a bigot, but eventually, in the end, he only wound up hurting himself. In the end, we felt sorry for him, hoping he might eventually change...while we laughed anyway at his outrageous comments. And to Lear's and O'Connor's credit, Archie was allowed to grow and evolve and change. It's an iconic, indelibly etched portrait (with the lion's share of the credit going to the multi-faceted O'Connor)―one that is equally hilarious and poignant.
And now, briefly for this boxed set. I've already heard some rumblings from a few crazies collectors who are angry at Shout! for bringing out this boxed set. A few collectors who bought the earlier Sony sets (seasons 1 through 6) have made up their minds that they're not going to support this release because, in a nod, apparently, to the current sitting regime, they don't like companies that make money. To those collectors I simply say...don't buy this set. You don't need to. You already have all the seasons, and most of the bonus features here are already out there (a few are in 2009's The Norman Lear Collection set). Better yet: embrace the free market capitalist system and trade up. Sell your season sets on Ebay before the Supreme Court outlaws that kind of thing and get yourself this nice, new boxed set. You'll sleep better at night. I'd rather not be facetious...but I have a hard time sympathizing with any zealot, no matter what their beef, when it comes to television on DVD (and I've had my moments on that side of the fence, too, believe me). I grew up during the Punic Wars, when television was snowy, aerial-driven black and white, where if you were even lucky enough to see a specific episode again years later, it was most likely cut anyway for more commercials. And nobody made documentaries and commentary tracks and still galleries and 40-page booklet with essays on your favorite series. TV came and went without regard to "history" or VCRs and DVRs. Except for the stalwarts, it was as transient as a buttercup in a hot, dusty field. So for me at least, vintage television on DVD is all gravy, even in an imperfect form. If you had told me back in 1971 that one day, I could literally own every single episode of All in the Family on a couple of tiny little 45 records or something, and play them back any time I wanted...I would have called Marcus Welby, M.D. for you, son. If Shout! wants to put a few little extra goodies in here to get people to buy this set, so they can make a profit (how evil!), so they can make their payroll this month, so that more people can get hired at Shout! who will seek out other vintage TV titles to get released on DVD next year, I say god speed and more power to them, and to hell with your whining and your bitching and your pissing and your moaning. Life's too short, pal. Watch TV.
The DVD:
The Video:
As far as I can tell, these are the same transfers as the previous releases. The discs are spread out two seasons per hardcase, three discs per season (the 9th season's hardcase has the single bonus disc), in a surprisingly small overall hardboard slipbox. Since Lear's intention all along was for All in the Family to look...crappy, these fullscreen, 1.33:1 transfers give the best representation of the original materials as you're likely to get, outside of prohibitively expensive remastering and digital "boosting." Vintage TV fans won't be fazed, while newcomers will be too busy laughing to care about the limitations of the original elements.
The Audio:
Same with the Dolby Digital English mono audio track: serviceable within the limitations of the original elements. Closed-captions are available.
The Extras:
First, there's a new interview with Norman Lear; it runs 11:27 (well-spoken, as usual). Next, four bonuses from The Norman Lear Collection boxed set from 2009 are included here. Two documentaries, Those Were the Days: The Birth of "All in the Family", running 27:00, and The Television Revolution Begins: "All in the Family" is on the Air, running 30:39, have the cast discussing the show. Also, the two original ABC pilots for the proposed series are included. Justice For All, featuring O'Connor (in a weird Archie wig) playing opposite Stapleton, with Tim McIntire and Kelly Jean Peters as Mike and Gloria (which could have been an interesting pairing, with Gloria much more loose and sexy) runs 35:09 while Those Were the Days, featuring O'Connor and Stapleton co-starring with Chip Oliver and Candy Azzara as Mike and Gloria (hopeless), runs 27:31. In addition, three pilots for All in the Family spin-off shows are featured: Gloria, Archie Bunker's Place (not technically a "spin-off" but a continuation), and 704 Hauser. In addition, there's a full-color, 40-page booklet giving episode run-downs, as well as two articles by Marty Kaplan and, um...Tom Shales. Not an overwhelming number of bonuses...but nice.
Final Thoughts:
Simply put, All in the Family is one of the single most important series in the history of TV. And one of its funniest. And it's all here in one set. Even if it didn't have one bonus (which it does and more), I'd give All in the Family: The Complete Series our highest award here at DVDTalk: the DVD Talk Collector Series award. On content alone, it's the best TV release of 2012.
---
Paul Mavis is an internationally published movie and television historian, a member of the Online Film Critics Society, and the author of The Espionage Filmography.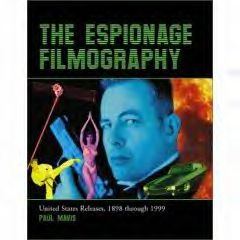 ---
C O N T E N T

---
V I D E O

---
A U D I O

---
E X T R A S

---
R E P L A Y

---
A D V I C E
DVD Talk Collector Series
---
E - M A I L
this review to a friend
Sponsored Links
Sponsored Links