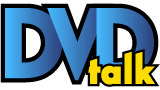 List Price: $29.99 [Buy now and save at Amazon]
---
[click on the thumbnail to enlarge]

Frozen in a sauna.



...wait, that didn't come out right.



In a lot of ways, 247°F is a muddy reflection of Adam Green's claustrophobic thriller from a couple years back. Three twentysomething-year-old friends? Check. Stranded? Cramped? Inescapable ? Check, check, and check. Subjected to punishingly extreme temperatures? Well, yeah, that's spelled out right there in the titles. Frozen's set on one end of the thermometer, leaving its handful of characters frostbitten on a ski lift for the better part of a week. 247°F, meanwhile, locks its ensemble inside a sauna. Frozen is a startlingly well-acted character piece and one of the most unnervingly intense thrillers I've ever endured, while 247°F...errr...isn't.



On paper, 247°F gets a lot right. With its ticking clock, a clear and present danger, the threat of physical trauma that pretty much anyone watching the movie can relate to on some level, and an intensely claustrophobic backdrop, it has the makings for a hell of a thriller. There are a few familiar genre vets on the bill, including scream queen Scout Taylor-Compton, the currently reigning Michael Myers, and one of the guys from the Friday the 13th remake. First-time director Levan Bakhia makes some inspired choices, kicking off the film with some breathtakingly gorgeous, expansive shots of crystal blue water and lush, green grass before locking the camera in a small, wooden box. Unlike lazier genre films, the story isn't propelled by stupid people doing stupid things. At least up to a point, the way they react...the way they think through things

(or don't, whatever the case may be)

...feels grounded in reality.



You might've noticed that I skipped the usual plot summary, and...well, that's because 247°F doesn't really need one. "Three pretty people trapped in a sauna" just about covers it. There's not even a lot of setup for me to spell out here, and that's deliberate; they don't know why they're locked inside. Is it a prank from one of their drunken, douchebag friends gone wrong? A freak accident? Deliberate torture or something even worse? That uncertainty is meant to contribute an additional level of tension. 247°F doesn't immediately barricade these kids inside, though, instead spending quite a lot of time getting to know its cast of characters. In concept, that's absolutely the way to go, and that emphasis on characterization is a key part of why I found Frozen so wildly engaging. That's also why, despite the best of intentions, 247°F sputters and stalls.



The movie's littered with tics and archetypes but is woefully low on characters. Ian

(Travis Van Winkle)

is the philosophical writer who has washboard abs and thinks through everything logically. Renee

(Christina Ulloa)

is a sexpot who's tired of cleaning up other people's messes and is all exposed nerves and kneejerk reactions. Jenna

(Scout Taylor-Compton)

is still reeling
[click on the thumbnail to enlarge]

from a tragedy years ago and is just trying to hold it together. None of them have any real dimension or personality beyond those capsule summaries, and neither do the one-note cariactures on the other side of the sauna door. The dialogue tries so hard to sound natural and off-the-cuff that it winds up coming across as uncomfortably labored instead. The performances are earnest enough, but they're so exaggerated that it always feels acted. Scout Taylor-Compton has the chops to pull off Jenna's tortured soul well enough, but otherwise, the acting feels so artificial and constructed that I'm never really able to escape into any of these characters...to lose myself in the movie. Travis Van Winkle has it the worst, saddled with such fauxlisophically clunky dialogue as "I don't know. I don't know if people change. I mean, not on the core level...not on a soul level. I think we're all born with an inherent wholeness. I think because of our circumstances and situations, maybe we appear different on the surface." Urgh. One character has a complete psychotic break in 247°F's final moments, and it's the most jaw-agape, howlingly absurd, deliriously over-the-top scenery-chewing this side of Nic Cage in The Wicker Man.



247°F doesn't have the confidence to make the most of its confined setting, cutting away too often to wholly uninteresting things going on with the rest of the cast. I get that the point is to tease the possibility of rescue or potentially reveal something ominous, but when it repeatedly cuts back and forth from a tiny room to wide-open settings, all of a sudden that homemade sauna doesn't seem so cramped anymore. The suspense is strictly room temperature, with dramatic misfires like the three of 'em pounding on the wall, desperately trying to get the attention of a barking dog, set to the sounds of soaring strings in the score and the cast shouting "Bo!" over and over and over and over. That leads into a whole Lassie thing that I refuse to acknowledge. The lights go out at one point, and that winds up obscuring the sense of heat that earlier scenes had more skillfully established. 247°F delights in explaining the mechanics of saunas and how the human body copes with extreme temperatures, too often sounding overly expository. As an excuse to heap out all that exposition, characters like Renee have to be written dimly enough to have never heard the term "heatstroke" before. The marketing copy may cacklingly tease at boiling blood and scorched lungs, but nothing remotely like that actually happens in 247°F.



So, yeah: the title may be 247°F, but the movie itself is awfully tepid. Skip It.






Video



---

I'm not all that much a fan of the overly digital photography in 247°F. No matter how wide an aspect ratio it may have, that sort of look just doesn't strike me as cinematic, y'know? If you can look past that, though, this high-def presentation hits all the right marks. The image is consistently crisp and detailed throughout, bolstered further by robust contrast and substantial black levels. No intrusive noise reduction or edge enhancement ever creep in, and I couldn't spot any hiccups in the AVC encode either. The palette is understandably limited, considering how much of the movie is set in a homemade sauna. 247°F uses that to its advantage, though, and its more colorful moments are much, much more impactful as a result. Aesthetically, 247°F doesn't completely play to my tastes, but on the strictly technical side of things, this Blu-ray disc delivers.



247°F is dished out on a single layer disc at an aspect ratio of 2.39:1.






Audio



---

247°F's 24-bit, six-channel Dolby TrueHD soundtrack is ambitious; I'll give it that. Beqa Jguburia's score is rendered with spectacular clarity, roaring from every speaker and reinforced by a thunderous low-end. There are a couple of really great pans across the soundscape, particularly the savage car wreck that opens the movie. The sound design throughout much of the first act is lush and organic...larger than life so that vivacity would be missed when the setting shifts to the claustrophobic confines of the sauna. To cement
[click on the thumbnail to enlarge]

a sense of place when they're trapped, there's even a good bit of directionality to the dialogue. This is a movie mixed with the surround channels expressly in mind, and it takes full advantage of the lower frequencies while it's at it. On the other hand, the surround channels feel uncomfortably loud. There are a few times when the dialogue is clearly meant to be drowned out, but I found myself straining to hear several lines outside of those. A handful of early scenes are mired in hiss, and the dialogue as a whole sounds kind of flat and canned. I respect what 247°F is trying to do here, but the end result is uneven.



Subtitles are served up in English

(SDH)

and Spanish.






Extras



---


Audio Commentary: There really isn't any dead air in this commentary by producer/director Levan Bakhia. Among the highlights are notes about filming in Georgia

(the country, not the...yeah, you know)

, an intended setting on a ski resort that would've opened up even more comparisons to Frozen, subtle splashes of atmospheric color in the sound design, and how some key scenes were drastically reshuffled in the editing room. Bakhia does have kind of a tendency to ramble, though, so it's not exactly the tightest discussion I've ever heard.




Deleted Scenes (4 min.;

HD

): Rounding out the extras is a reel of three deleted scenes. You get an extended look at the kids hopping on the boat, Uncle Creepy

(Tyler Mane)

pitching the sauna to Jenna, and a heart-to-heart about letting go of the past between BFFs Jenna and Renee. I think that last one actually would've fit really well into the movie; one of the gripes I left out of the meat of my review is that we're told repeatedly that as strained as things are between them now, Jenna and Renee are longtime friends, but I never really felt that.

The Final Word
---

247°F is kind of a hot mess. Skip It.



Sponsored Links
Sponsored Links