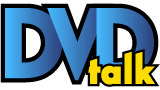 List Price: $29.98 [Buy now and save at Amazon]
---
THE FILM:
When Nicole Barlow goes to her newly deceased mother's house to make final preparations for her funeral, she makes a Skype call to her daughter from the seemingly empty house. "What's that behind you?" her daughter asks. Several days later, Annie Barlow comes looking for her sister. Produced on a shoestring budget, The Pact is an expansion of Director Nicholas McCarthy's short film that drew screams at the 2011 Sundance Film Festival. The story doesn't completely hold up in the final act, but the film is anchored by an appealing Caity Lotz and McCarthy's excellent direction keeps the tension high.
Before Nicole's disappearance, Annie (Lotz) planned on skipping the funeral, as the girls' mother made their childhoods miserable. Annie is not shocked to learn Nicole, a recovering addict, is off the grid, but begins noticing strange things inside her mother's house, like Nicole's cell phone on the floor in a closet. Annie begins having vivid nightmares, and has trouble distinguishing her dreams from reality. An unseen presence literally throws Annie about the hallway, but no one at the local police station takes her story seriously save a gruff Officer Creek (Casper Van Dien), who thinks Annie is hiding information about her sister.
The Pact plays out like a mystery as Annie tries to figure out what the hell is wrong with her mother's house. McCarthy scares a lot with very little on screen, and there are plenty of genuine jolts as Annie encounters increasingly violent disturbances. The scares usually are not the cheap kind, and The Pact is refreshingly free from obnoxious audible stingers and cheap jump cuts. The film is not overly violent, but its bloodletting is shocking and effective. McCarthy uses intense images throughout, and viewers should be on edge as Annie combs through old photographs and artifacts inside the house.
Lotz, who has appeared on "Mad Men" and "Death Valley," exhibits a wide-eyed curiosity and natural beauty perfect for the role of Annie. Her character is no pushover, and spends the first half of the film angry that Nicole has once again selfishly disappeared. The Pact is well written, and the familial strife adds unexpected depth to the story. Annie stays cool when things get spooky, and takes a proactive approach to regaining control of her life. The film's final act is somewhat convoluted, and I still am not 100 percent sure I understood the implications of several late-game revelations. Even so, The Pact is an effective, tightly wound thriller with smarter-than-average characters and solid direction.
THE BLU-RAY:
PICTURE:
The 1.85:1/1080p/AVC-encoded transfer looks good but displays the anomalies of its digital source. The image is appropriately sharp, with good detail and texture. Close-ups reveal plenty of facial detail, and wide shots have some decent depth. Blacks are often inky, but digital artifacts start to spike during darker scenes. This creates some noise and shakiness to the image, but I noticed only minor aliasing. I saw no edge enhancement or digital noise reduction, and the image is left with a nice, film-like appearance despite its digital roots.
SOUND:
The 5.1 DTS-HD Master Audio mix is understated but effective. Dialogue is clear and well balanced with effects and score. Ambient effects and action beats do hit the rear speakers, but this mix is largely front-loaded. The subwoofer responds to the bass-heavy score. English SDH and Spanish subtitles are available.
EXTRAS:
In the Commentary by Director Nicholas McCarthy, the director reveals how he created the original short film and his reasons for adapting it into a longer feature. McCarthy is a chatty, informative host, and he covers everything from casting to location scouting and the film's effects. A Haunting in San Pedro: The Making of The Pact (20:03/HD) is a nice making-of peace that also discusses the original short, which is shown in bits and pieces, and reveals how the filmmakers created the impressive effectives with a limited budget. The disc also includes the film's trailer (1:52/HD).
FINAL THOUGHTS:
The Pact excels as a thriller despite its limited budget thanks to its talented director and lead actress. A young woman goes to her recently deceased mother's house to find her missing sister and begins encountering unexplained, violent phenomena. The Pact is more mystery than horror, but the scares are genuine and the writing impressive. The film's final act is not as tightly wound, but The Pact is successful as a whole. Recommended.
William lives in Burlington, North Carolina, and looks forward to a Friday-afternoon matinee.
---
C O N T E N T

---
V I D E O

---
A U D I O

---
E X T R A S

---
R E P L A Y

---
A D V I C E
Recommended
---
E - M A I L
this review to a friend
Sponsored Links
Sponsored Links