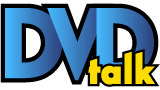 List Price: $19.98 [Buy now and save at Wbshop]
---
"Oh piss off, Brahms!" - Franz Liszt in Lisztomania





About 20 years ago I attended a fascinating lecture-demonstration tracing the evolution of motion picture sound technologies. It was held in a restored movie palace, where film clips were shown and heard, everything from Fantasia's Fantasound and four-track magnetic stereo to Dolby SR.



One of the clips shown that evening was a reel of Lisztomania (1975), the very first movie released in Dolby Stereo. It was an indescribable sequence and while I'd heard that the movie was pretty terrible, I was quite taken with that particular sequence, and determined some day to see the whole thing, especially in its original Dolby Stereo.



Warner Archive's new manufactured-on-demand release of Lisztomania now makes that possible. Director Ken Russell wasn't exactly known for his restraint, but even by his anarchic standards the film is unusually bizarre. As Spinal Tap might say, visually it's an "eleven," starting there and never dropping below, say, a nine. But this dazzling stylization throughout doesn't add up to very much. Although the screenplay touches on some interesting concepts - Beatlemania-like fame from a 19th century perspective, with Franz Liszt (The Who's Roger Daltrey) as proto-pop star, the perversion of classical compositions into vehicles for racist propaganda, etc. - it seems more a movie to be experienced organically, like the sensory-depravation tanks in Russell's later Altered States (1981).



Lisztomania was made back-to-back with Tommy (1975), Russell's adaptation of The Who's rock opera, which also starred Daltrey and made by much the same crew. Lisztomania has many of the same flaws as that film while lacking some of its attributes. While Daltrey's characters in both are pretty vacuous (though Daltrey's singing is good), Tommy at least had something resembling a story and characters. Oliver Reed and especially Ann-Margret gave good, even revelatory performances as Tommy's parents and there were several great vignettes, most notably Tina Turner's "Acid Queen" solo.



Lisztomania certainly has its share of audacious moments, and some may be swept away by its visual and aural flair, but personally I quickly found it wearying and eventually was quite bored by most of it, though it gains a certain momentum during the last 20 minutes and I became interested in it again.



Warner's Archive Collection release features a good 16:9 enhanced presentation of this Panavision production, and the original Dolby Stereo mix is intact and extremely impressive, even today. There are no extras, not even a trailer, but the disc is region-free.






The film breaks far from the conventional narrative model and, especially near the end, is crammed with anachronistic references, props, costumes, etc. Instead, the movie is composed of long, disconnected episodes with Liszt usually at the center of things. It opens with Liszt and his lover, Marie (Fiona Lewis) discovered in bed by her husband, the Count d'Agoult (John Justin). After a brief saber duel, the Count forces the young lovers into the body of a piano which he nails shut and then has placed on some railroad tracks where it explodes on impact.


Next is a backstage scene with Liszt cavorting with various 19th century composers and other artists, including Richard Wagner (Paul Nicholas), Frederic Chopin (Kenneth Colley), Felix Mendelsohn (Otto Diamant) Hector Berlioz (Murray Melvin), Rossini (Ken Parry), and even Lola Montez (Anulka Dziubinska) and George Sand (Imogen Claire). Then to a screaming auditorium filled with young girls in green bonnets, Liszt exhibits much crowd-pleasing showmanship at the piano, but it comes at the expense of Richard Wagner's Rienzi arrangement, which Liszt constantly interjects with bits from Chopsticks. (Characters from Russell's The Music Lovers and Mahler are in the audience.)


A dull and clichéd sequence follows showing Liszt's unhappy domestic life with Marie and their three children, which he's all too eager to flee when requested to perform for the Tsar in St. Petersburg.


In Russia, after being fumigated in a room where sculptures of buttocks emit gas from their anuses (and attended to by Oliver Reed, uncredited), Princess Carolyn (Sara Kestelman) and her ladies-in-waiting, including Olga ("Little Nell" Campbell, looking just like her Rocky Horror character) seduce Liszt. The women so arouse him in fact that he has a colossal erection, his penis literally the size of a canoe, which the women threaten with a guillotine.


After an audience with the Pope (Ringo Starr), the movie becomes even more outrageous and nonsensical. Anti-Semite Wagner sings about the raping of Germany's flowering youth by "the beast" (who has a Star of David tattooed on his forehead), promising a Master Race and a "new messiah" who will rid Germany of its Jews. To this end Wagner creates a mechanical Viking Siegfried while Wagner himself becomes a blood-drinking vampire and, later, transforms into a half-Frankenstein's Monster/half-Adolf Hitler, whose machine-gun electric guitar guns down Jews in a war-ravaged Berlin. Liszt, meanwhile, returns to earth from heaven in a laser-shooting spaceship resembling a pipe organ.


Did I mention that Lisztomania is not a conventional film biography?


Visually and aurally - the music score is by Yes's Rick Wakeman, who appears briefly as Thor - Lisztomania undeniably overflows with outrageous imagination and, for some, these excesses are central to its appeal. Such films tend to not sustain my interest, in the same way that today's excessive reliance on big CGI-driven set pieces bore me. There's clearly a lot of wit and intelligence behind the film but, while entertaining on a certain level, I found it all pretty frivolous and, after the first 40 minutes or so, tiresome.


Video & Audio


Lisztomania is presented in 2.40:1 enhanced widescreen. The transfer struggles a bit to keep pace with Russell's bombardment of color and detail, but generally the transfer looks fine and sounds great throughout. The audio, remixed to Dolby Digital Stereo, is among the best I've experienced in the MOD format. The region free-disc runs 103 minutes, and is in English only with no subtitle options. No Extra Features.


Parting Thoughts


While not exactly a good movie, like Tommy Lisztomania is a film the more adventurous movie-watcher should sample at least once. For its exhaustively wild imagination and groundbreaking use of Dolby Stereo audio, it comes Highly Recommended.



Stuart Galbraith IV is a Kyoto-based film historian whose work includes film history books, DVD and Blu-ray audio commentaries and special features. Visit Stuart's Cine Blogarama here.
---
C O N T E N T

---
V I D E O

---
A U D I O

---
E X T R A S

---
R E P L A Y

---
A D V I C E
Highly Recommended
---
E - M A I L
this review to a friend
Sponsored Links
Sponsored Links