Ernie Kovacs: Take a Good Look
---
Bonus fun for Kovacs addicts. Shout! Factory, the go-to place for vintage TV fare, is definitely the place you want to go if you're ordering their latest Ernie Kovacs disc set: The Ernie Kovacs Collection: Volume 2 (read that review here). With your order of that must-have collection, you'll receive as a free bonus, Ernie Kovacs: Take a Good Look, a single disc gathering of seven more episodes of his hilarious 1959-1960 ABC panel game show, Take a Good Look (three episodes are featured on Volume 2). This bonus disc isn't offered anywhere else, and supplies are limited according to Shout!'s page, so skip all those other sites and support Shout!'s vintage TV preservation efforts by ordering The Ernie Kovacs Collection: Volume 2 today...and get yourself an extra helping of klassic kapusta Kovacs komedy.
The set-up for Take a Good Look is simple...only the clues are impossible. The jobs of the three celebrity panelists (semi-regulars over the two seasons included Hans Conried, Cesar Romero, Edie Adams, Ben Alexander, and Carl Reiner, along with other guest panelists), are to ask questions of the contestants, a la What's My Line? and I've Got a Secret, to discover what that contestant did in real life to wind up in the newspapers (these bits of celebrity ranged from a man who chained himself to his wife to witness the birth of their child, to once-famous celebrities then out of the spotlight, such as fan dancer Sally Rand, or comedy icon, Mack Sennett). To "aid" the panelists, humorous filmed "clues" are shown that, buried somewhere in the jokes and visual gags, give just the tiniest hint of a nudge to whom the contestant might be (Ernie stars in each one, along with funny little Bobby Lauher and sexy-as-hell Peggy Connelly). The degree of obscurity of the clues is proportional to host/baiter Ernie's delight and the panelists' frustration, with the contestants almost always assured of the full $300 prize money for successfully stumping the panel.
Quite a few writers and TV historians (unfairly) place Take a Good Look somewhere near the bottom of Kovacs' television career in terms of what they deem "worthwhile" projects, singling out the inventive, funny Dutch Masters® sponsor commercials Ernie wrote and shot as the only noteworthy byproduct of the show. It wasn't exactly a secret that Kovacs initiated Take a Good Look as a quick money fix for his growing troubles with the IRS (as well as a way to keep his television profile front and center), and as such, others have latched onto that old canard about "art versus commerce" that plays all-too-neatly into discussions of artists like Kovacs. Kovacs himself had complained about game and panel shows proliferating on television...while his own show was on the air (you can see that CBC interview on Shout!'s second volume), and it's clear that no matter how much fun Kovacs was having doing this innocuous, silly panel show, he viewed it as a necessary evil to pursue his one-off video specials for ABC, as well as his big-screen acting career.
Premiering in 1959 on the ABC network, Take a Good Look had one major plus in its column: a more-than-enviable timeslot immediately following Desilu's The Untouchables, a monster hit for success-starved third runner ABC, and the harbinger of the "action/adventure" format that was soon to become a TV staple. On the downside, though, the quiz show scandals that were soon to explode put a taint on even peripherally connected panel series and "anti-game shows" like Take a Good Look, where no fixing was possible (the contestants did nothing to earn their money), and where, in Take a Good Look's instance, the concept of the show and the demeanor of the host conspired to eliminate most of the gaming elements of the contest, anyway. Add to that the late time slot (10:30pm, which aced out the kids―always a core element of Kovacs' fan base), the then-chronic lack of station clearance for ABC, and the network concentrating its promotional resources on their burgeoning "action/adventure" and sports programming, and it's not surprising that Take a Good Look limped along for two years before being quietly yanked.
Despite its reputation, I find these Take a Good Look episodes absolutely hilarious, not only for the devilishly obscure, wonderfully silly "clues" that Kovacs filmed for his guests―all of them beautifully obtuse and indecipherable―but also for Kovacs' complete, disdainful disregard for the game itself (in line with Kovacs' treatment of TV's conventions, right from the start of his career). The panel, unless they already know the guest, usually never get anywhere near guessing who the person is, as Kovacs has their timer bells ringing in faster and faster until the whole enterprise is finally taken for what it is: an elaborate spoof of the panel shows on the air at that time. It's terrific to see Kovacs so loose and informal with his guests and panel, laughing and ad-libbing without a care since his "clue" spots are already in the can. All he has to do is sit back and bait his panelists, taunting them with their inability to read the clues, and laughing at their frustration, while peeks at the artistry Kovacs was bringing to his ABC specials can be seen in his wonderfully inventive (and frequently hilarious) filmed clues.
Highlights for this exclusive Shout! Factory bonus disc of Ernie Kovacs' Take a Good Look episodes include Ernie dubbing in a St. Bernard's thoughts, including perfectly-timed slobbering, to the audience's delight, in the opening December 17th, 1959 episode. Also quite funny is Ernie refusing to explain the game, despite a cue card demanding he do so, before he gets mock-peeved with his panelists for talking past their time buzzers ("Shall we observe the rules of the game as they were carefully explained?"). The December 31st, 1959 episode opens with sexy Jolene Brand offering a heartfelt New Year's greeting before she's bombed with a huge cake. Ernie has a triumphant moment when Edie, ticked-off at the obscurity of the clues for actress-turned-journalist Elaine Shephard, asks the sexy Shephard if the clues made sense. Miss Shephard tactfully says they were amusing, to which Ernie stands up and lets out singular "Ha Ha Ha!"s to the audience, completely vindicated. April 14th, 1960's episode has one of Ernie's best put-downs when quick, smart Ben Alexander bombs out: "Actually, you're quite warm...you have people involved in all of those [questions], and he's [the contestant] a person." Returning semi-regular Cesar Romero (genuinely handsome and funny and well-spoken) offers, "I'm sorry I came back," when Ernie ribs him mercilessly, and Edie is again (rightfully) annoyed at the clues' indecipherability.
The May 19th, 1960 episode features Ernie's Percy Dovetonsils in the filmed clues, briefly discussing the U.S. space program's use of two monkeys per capsule ("Whatever do they do? They're both named Sam?") Ernie states he never knew Cesar worked a fan dance before ("You don't know what you missed!" a game Cesar replies), before Ernie kills in one of his clues as a little girl falling over in a dead faint after eating a poisoned pizza with anchovies (not enough is written about how funny Kovacs was physically). Percy returns in the May 26th episode, rhapsodizing over the return of summer ("June is busting out all over pretty soon...I told her not to wear those tight toreador pants,") before Ernie executes an elaborate full-scale gag with Luigi as a bell clapper (his A Star is Born filmed clue is a classic: Ernie in drag always scored). The December 1st, 1960 episode is probably the best one in this collection, from Hans Conried (very bright and cutting) marveling about Ernie ("From this he makes a living?") to one of Ernie's funniest bits as Budd Saturday Evening Post, peripatetic host of game show Beat Your Wristwatch! (check out the contestants, the Cosnowskis: he's a housewife and she's a sandhog). Percy returns to share a secret: he has his own cameraman at ABC ("He's all mine!"), and Ernie, with obvious sincerity and quiet, deep feeling, announces the weekly destination of donated cigars from Dutch Masters®: "This week, Dutch Masters® is sending a case of Dutch Masters® panatelas to the patients at the Veterans Administration hospital in Tucson, Arizona. Good smoking, fellas." Amen, Ernie. And finally, February 7th, 1960's episode has Ernie fielding a call from General Sarnoff ("I told him I already worked at NBC,") before a pre-crazy 17-year-old Bobby Fischer shows up, followed by Ernie as Zorro knock-off, El Stupido ("Enchiladas to you!").
The DVD:
The Video:
The full-frame, 1.33:1 black and white video transfers for Take a Good Look look quite good, considering, with a relatively sharp image, little noise, and the occasional, expected anomalies, like video roll (a few times, you can hear what sounds like Edie reacting to these rolls, so I wonder if they were present in the original materials?).
The Audio:
The Dolby Digital English mono audio tracks are adequate, with slight fluctuations and clear dialogue. No subtitles or closed-captions.
The Extras:
This is an extra, you silly.
Final Thoughts:
Far from being minor Kovacs, Take a Good Look combines the loose, ad-lib fun of his early live TV appearances, with the inventive video artistry of his later masterworks for ABC. It's a winner...but to get these bonus episodes you have to order The Ernie Kovacs Collection: Volume 2 at the Shout! Factory website. So get going! I'm highly, highly recommending Ernie Kovacs: Take a Good Look.
---
Paul Mavis is an internationally published film and television historian, a member of the Online Film Critics Society, and the author of The Espionage Filmography.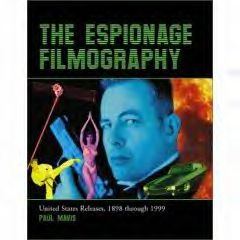 ---
C O N T E N T

---
V I D E O

---
A U D I O

---
E X T R A S

---
R E P L A Y

---
A D V I C E
Highly Recommended
---
E - M A I L
this review to a friend
Sponsored Links
Sponsored Links