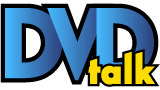 List Price: $29.99 [Buy now and save at Amazon]
---
To see Cheyenne (Sean Penn) is to get a sense of his emotional state: a mass of wild black hair surrounds a pale face, with large expressive eyes and an attention-grabbing strip of dark red lipstick in the center. In the 1970s, he fronted the popular rock band Cheyenne and the Fellows, jamming with Mick Jagger and David Byrne, only to abruptly disband the group in the 1980s and move to Ireland, where he lives like a recluse, barely leaving the massive mansion he shares with his wife, Jane (Frances MCDormand). Despite offers from musicians and the music industry, Cheyenne is determined to remain in the personal funk he's occupied for nearly thirty years, but the death of his father brings him back to America, where he goes on a strange and unexpected mission of revenge.



What's most impressive about This Must Be the Place is how deftly Italian director / writer Paolo Sorrentino takes the key elements of three well-worn stories (a road trip of self-discovery through Middle America, a character confronting their own long-standing emotional wounds, and a character grieving an estranged parent) and blends them into an experience that is not just original and interesting, but surprisingly funny and light-hearted. It's rare that such dramatic story elements are treated with such warmth and understanding, but Sorrentino sands down the sharper points on these emotional beats until they feel optimistic rather than paintful. Too often, filmmakers want the audience to feel the same emotional turmoil as the characters, but Sorrentino's tactic is much more appealing.





It's almost curious in retrospect how many emotionally stunted film characters are prone to large-scale dramatic outbursts, but Cheyenne only has one, lasting all of maybe two minutes, in the entire 111-minute movie. Instead, this is a character that rarely speaks in a voice louder than a whisper, softly and timidly communicating with the people around him in short, occasionally broken sentences. It's an interesting performance for Penn, an actor well-known for his commitment but not necessarily his restraint. Despite the exaggerated appearance, Penn puts his energy into his eyes and the nuanced, subtle inflections he imbues each line reading with rather than more physical displays of emotion. Seemingly simple lines, like an off-hand philosophical observation he makes to Rachel (Kerry Condon), a bright but sad-eyed waitress, are devastating without any additional emphasis.





Rachel, who remembers when Cheyenne played with Mick Jagger ("Actually, Mick Jagger played with me") and has a son (Grant Goodman) who fears the water, is one of the many interesting people Cheyenne meets on his trip. Although characters like Rachel are playing a mechanical part of the story of Cheyenne fulfilling his father's wishes, they're fully formed people who fit into a more spiritual picture of the USA. It's particularly interesting that almost none of the people Cheyenne encounters in the entire movie has anything critical or close-minded to say about the way he looks. Even in a dingy dive bar full of 60-something men wearing trucker hats romancing 20-something women wearing cut-offs and tank tops, the bald, tattooed guy occupying the next seat at the bar is something of a philosopher. A person who would ridicule or reject Cheyenne for the way he looks would be a one-note character in Sorrentino's mind, and so instead, the people he meets are more nuanced and complete. Like a soft-spoken recluse rock star, they're an intriguing contradiction. The journey is also accentuated by its interesting visuals: a motel parking lot being consumed by grass growing out of the cracks in the pavement, a gigantic beer bottle tipped over the road, the world's largest pistachio (well, pistachio sculpture). The Grand Canyon's nice, sure, and the movie swings by there, too, but there's more of America's fringes in this than the normal scenery.





While the material in America is very compelling, some of the story threads in Ireland are more conventional. Cheyenne spends time with a young fan, Mary (Eve Hewson), even trying to fix her up with a clueless mall employee with a crush on her (Sam Keeley), but his relationship with Mary's mother (Olwen Fouéré) is confusing, with Sorrentino highlighting it as important without making it clear what that relationship is. The film also with a moment that is clearly intended to be positive, but can feel oddly negative at first, despite a set-up in earlier scenes. A clearer grasp on some of motivation behind the moment and the perspective of certain characters could really make the final beats of the film more satisfying, but This Must Be the Place is strangely comforting anyway.





Note: This disc contains the 111-minute "theatrical" cut of the film, and not the 118-minute cut that played the Cannes Film Festival with some additional and alternate material.





The Blu-Ray

The matter-of-fact but creatively underwhelming poster (a photo of Penn in full makeup) graces the cover of the Blu-Ray, plus a tagline that appears to have been added by an American distributor desperately trying to sum up the movie. The disc comes in a standard eco-friendly Blu-Ray case (the kind that uses less plastic, not the kind with holes punched through it), and there is no insert.





The Video and Audio

Anchor Bay's 2.35:1 1080p AVC presentation of This Must Be the Place is a legitimate show-stopper. Sorrentino shot Place on 35mm film, and the result is one of the most richly detailed presentations I've ever seen on home video. Every hair and line on a gallery of expressive faces, from Penn to McDormand to Harry Dean Stanton, is replicated here with dazzling clarity. A healthy amount of film grain gives the movie character and depth. Despite some monumental challenges (a dolly forward through a foggy parking lot just after dusk), I did not notice any instances of banding or artifacting. A remarkable Blu-Ray video presentation.





A 5.1 DTS-HD Master Audio track, interestingly, impresses in the opposite way. Sorrentino uses lots of diegetic music in the movie, and the shift of these songs and other sound effects across the speakers is subtle but really impressive. Right near the beginning, Penn leaves a room where a song is playing, and the lingering sound of it in the background is still noticeable. Obviously, given the film is about a musician, music in general sounds spectacular, including multiple tracks recorded for the film. Balance is good; I would've found it quite frustrating to have to keep playing with the volume in order to hear Penn's dialogue, but the volume required to hear his quietest mumbles is in keeping with everything else. Again, not as flashy as the picture, but still top-notch stuff. English captions for the deaf and hard of hearing and Spanish subtitles are also included.





The Extras

Sadly, none whatsoever, not even a trailer. Disappointing in principle, but even moreso when one considers the UK Blu-Ray, which offered two cuts of the film, interviews, and deleted / alternate scenes.





Trailers for Silver Linings Playbook and The Master play before the main menu.





Conclusion

This Must Be the Place arrives at a slightly perplexing ending, and it's an insistently oblique picture, but those with more adventurous movie tastes will be rewarded by the vast majority of this uniquely compelling and memorable movie. Although the disc is completely lacking in the special features department, it features a spectacular HD presentation. Highly recommended.
---
Please check out my other DVDTalk DVD, Blu-ray and theatrical reviews and/or follow me on Twitter.
---
C O N T E N T

---
V I D E O

---
A U D I O

---
E X T R A S

---
R E P L A Y

---
A D V I C E
Highly Recommended
---
E - M A I L
this review to a friend
Sponsored Links
Sponsored Links