Houston Story (Sony Choice Collection), The
List Price: $20.95 [Buy now and save at Amazon]
---
Typically minor Sam Katzman production: speedy, pulpy, thoroughly familiar entertainment...and that's good enough. Sony's Choice Collection vault of hard-to-find cult and library titles has released The Houston Story, the 1956 gangster/noir programmer from Columbia Pictures, directed by soon-to-be horror meister William Castle, and starring Gene Barry, Barbara Hale (even better looking as a platinum blonde), Edward Arnold, Paul Richards, Jeanne Cooper, and Frank Jenks. No noir masterpiece, that's for sure, The Houston Story sticks to its fast-moving, primitive storyline while leaving some intriguing thematic elements in the dust―but that doesn't mean you won't enjoy this nasty-edged little B. No extras for this pristine, anamorphically-enhanced black and white transfer.
Oklahoma wildcatter Frank Duncan (Gene Barry, doing well with an atypical anti-hero role), shacking up in Houston, Texas with childhood friend Louie Phelan (Frank Jenks), a none-too-bright cabbie, and his complaining wife, Clara (Claudia Bryar), sets the bait for an elaborate scam. Falsely identifying a local suicide as a missing showgirl―a lying, cheating showgirl who was married to Frank's best friend in the oil fields―Frank knows the papers will run the story, flushing out the real girl...and hopefully her connections with the criminal underground, as well. Sure enough, Frank is contacted by hood Chris Barker (Chris Alcaide). The real "Carrie" is now known as wowzer showgirl Zoe Crane (Barbara Hale; check out her sexy Put the Blame on Mame, Boys), and she and her boyfriend, mob "Combine" lieutenant/weakling Gordon Shay (Paul Richards), want to know what Frank's game is with the phony press story. Once Frank blows past ineffectual Gordy, he lays out his plan to the "Combine's" man in Houston, Paul Atlas (Edward Arnold, doing well what he could do in his sleep): hijack oil from existing fields with slant drilling, and pipe the crude to independent and foreign national buyers. Moving up quickly through the ranks of the "Combine," with his eye on running the whole Houston organization, ruthless Frank soon wants a taste of hard-bitten Zoe, as well―not welcome news to Frank's other girl, good-natured good-time-girl, Madge, played by Jeanne Cooper―before the inevitable double and triple-crosses endanger everyone's lives.
The Houston Story won't make any lists of "great" or "neglected" 50s gangster/noir titles, but its conventional pleasures―a zippy storyline filled with action, some pulpy one-liners, and good performances from a solid cast―are more than enough to recommend it to viewers who cotton to these kinds of efforts (like myself). The Houston Story is notable in the William Castle canon not as much for any clues to his later style, but for it being the last effort Castle directed for another producer (and certainly the last time he was forced by a limited budget to double for a stricken actor, as he did here for The Houston Story's original lead, Lee J. Cobb, who was eventually replaced by Barry after suffering a heart attack). After knocking out quickie genre programmers like The Saracen Blade and The Iron Glove, and lastly The Houston Story for producer Sam Katzman at Columbia, Castle, having learned first-hand from penurious Katzman how to make a buck with a low-budget effort, dumped his own money into a little horror flick called Macabre and cleaned up at the box office. No more anonymous, contract efforts like The Houston Story for Castle after that success.
Written by exploitation pro Frank E. Kent (Dick Tracy vs. Cueball, Don't Knock the Rock, Get Yourself a College Girl), The Houston Story doesn't waste time on character development or any complex motivations, sticking instead to a driving storyline that builds quite nicely through its familiar plot points as smart, ruthless Barry stays two steps ahead of his higher-ups...until he oversteps himself in the pursuit of power. Grafted onto its well-worn tale of a young, smart comer muscling his way to the top of a criminal organization, is the then-current notion in so many 50s noirs of organized crime mirroring and evolving into corporate entities, with meeting rooms and conference tables and discussions of percentages of profit that come straight out of a The Man in the Gray Flannel Suit context. Director Castle and scripter Kent don't comment on this development, unfortunately; it's utilized as merely a modern veneer to gussie-up the time-honored gangster plot.
That lack of an extra dimension in either examining and reinterpreting its genre conventions, or in adding complexity to the characters and their motivations, are the missing elements that keep The Houston Story strictly routine fare...no matter how entertaining it proves to be while you watch it. Aside from having nothing really new or interesting to say about the gangster/noir subgenre, thematic threads are left loose throughout the movie. We never get a clear picture of exactly how Barry connected up Hale with Arnold, a critical step in setting up our involvement with his scam. As well, Kent and Castle tease us in the beginning of the movie with a potential subplot concerning Jenks and Bryar that comes to nothing. Why is Barry so casually disposed to burning his childhood friend as the fall guy for his plan? He states he's going to use Jenks, but Barry never tells us why he'd be willing to let his good friend be jailed or killed. And why set up Bryar as having feelings for Barry, and not bring it into the story somehow? And speaking of vague, fuzzy relationships: what's with Arnold's devotion to Richards? A more subtle or better thought-out noir might have suggested a reason for such an intense friendship (Gilda, for example), but here, it's left entirely alone. The final confrontation in The Houston Story is indicative of scripter's and director's ultimately hazy focus. When Barry's fate is all but sealed and he dispatches the last of his enemies at The Derrick diner, we expect, we need, to see an ending to Barry that's fitting for his ambitious crimes and his outsized ego, such as Cagney's apocalyptic blow-out in White Heat, or Robinson gunned down like a dog in Little Caesar. SPOILER ALERT! Instead, Kent and Castle have Barry meekly giving up his gun before being cuffed and led away―a disappointing anti-climax that catches us off-guard (especially considering how sure-footed the other conventions of the genre have been trotted out), and that illustrates how disposable The Houston Story is in the end.
The DVD:
The Video:
The anamorphically-enhanced, 1.85:1 widescreen black and white transfer for The Houston Story looks swell, with deep blacks, crisp contrast, a sharp image, and no compression issues. Very nice.
The Audio:
The Dolby Digital English mono audio track is equally good: clean, with little if any hiss. No subtitles or closed-captions.
The Extras:
No extras for The Houston Story.
Final Thoughts:
Conventional but entertaining gangster/noir programmer. Director William Castle doesn't bring the panache and crude visual punch of his later horror films here, nor does scripter Robert E. Kent give us anything but surface machinations in the well-worn plot. Still...the acting is solid, the cinematography by ace Henry Freulich is fine, and most importantly, Castle keeps it all moving. Not a top-flight crime meller by any means...but a more than agreeable time-passer. I'm recommending The Houston Story.
---
Paul Mavis is an internationally published film and television historian, a member of the Online Film Critics Society, and the author of The Espionage Filmography.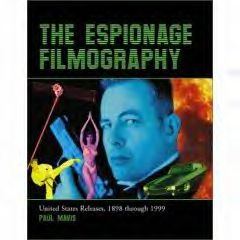 ---
C O N T E N T

---
V I D E O

---
A U D I O

---
E X T R A S

---
R E P L A Y

---
A D V I C E
Recommended
---
E - M A I L
this review to a friend
Sponsored Links
Sponsored Links