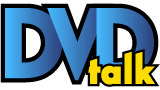 BBC Earth: Great Barrier Reef
List Price: $29.98 [Buy now and save at Amazon]
---

BBC Earth has produced more than their fair share of entertaining, insightful documentaries about the world around us, from broad productions like Life and Planet Earth to more specific efforts like Galapagos. Hosted by marine biologist (and former Royal Marine) Monty Halls, Great Barrier Reef (2012) provides an overview of the massive Australian ecosystem that's home to many vulnerable or endangered species. Previously aired in the US as a two-hour special on Animal Planet in September 2012, Great Barrier Reef can now be viewed domestically in its original, full-length format on Region 1/A DVD and Blu-ray.


Divided into three 60-minute episodes, Great Barrier Reef remains entertaining from start to finish. "Nature's Miracle" provides a broad overview of the Reef's form and functional elements, as well as the incredibly diverse inhabitants that call it home. Perhaps the most enjoyable segments are accomplished via time-lapse and macro photography, providing never-before-seen glimpses of what amounts to everyday occurrences within this unusual habitat. "Reef to Rainforest" focuses on GBR areas that are not peppered with coral reef (hint: there are more than you'd think), including swaps, underwater gardens, lagoons and an ancient jungle classified as the planet's oldest. Though different in tone than the first episode, it still emphasized the connection established between different parts of this ecosystem. Finally, "Reef and Beyond" expands this connection to other areas of the planet outside the GBR's boundaries, from global weather patterns to the migration of outside marine life. Overall, Great Barrier Reef is a nicely condensed production that, although limited in replay value, plays great the first time through.


All three episodes have been collected on this one-disc release; it totals more than three hours, in the unlikely event that you'd watch the entire production in one sitting. Though its source material is limited in certain respects, BBC's presentation of Great Barrier Reef looks and sounds fairly respectable in high definition. Even without the added benefit of special features, there's a decent amount of material to wade through here...but overall, this Blu-ray isn't quite well-rounded enough to justify a "blind buy".


Quality Control Department
Video & Audio Quality

Presented in its original 1.78:1 aspect ratio, this 1080p transfer looks solid under these circumstances. I've always been a little more lenient with the visual shortcomings of nature documentaries (especially those filmed in difficult places or climates) as, for obvious reasons, certain spontaneous takes can't be easily duplicated and weather's a tough customer. Most of what's here is quite watchable, boasting a naturally cool palette and a reasonably good amount of detail, especially during close up shots in well-lit conditions. Other sequences are plagued by problems such as light artifacts, banding and digital noise, which may stem from the original source material. Though not without a few problems, Great Barrier Reef is still a better-than-average production that features plenty of impressive images and compositions.

---
DISCLAIMER:
This images in this review are strictly decorative and do not represent Blu-Ray's fancy-pants 1080p resolution.
---

The audio aims a bit lower, though it remains 100% faithful to the documentary's original stereo roots. Presented in DTS-HD 2.0 Master Audio, this dialogue-driven production sounds crisp and clear every step of the way, whether we're listening to on-location footage, narrative bookends or the occasional interview segment. Though I'd imagine that most audience members would undoubtedly prefer a full 5.1 or 2.0 Surround audio mix, Great Barrier Reef routinely serves up a convincing atmosphere more often than it feels like we're missing out. Optional English SDH captions are included during the main feature.

Menu Design, Presentation & Packaging
Seen above, these plain-wrap menu designs aren't particularly stylish, but at least they're functional and easy to navigate. This release is housed inside a standard eco-friendly keepcase and includes a matching slipcover and a promotional insert for related BBC nature documentaries. The double-layer disc appears to be locked for Region A playback only. Unfortunately, no
Bonus Features
have been included.
Final Thoughts

Underwater-themed documentaries tend to bleed together after you've seen a few dozen, but Great Barrier Reef sticks its neck out on several occasions. From Monty Halls' lively hosting and narration to the stunning locales, all three of these episodes are of equally high quality...and as expected, they're perfectly accessible and suited for a wide audience. BBC's Blu-ray presentation is a little less praiseworthy, however: while the A/V presentation does what it can with certain scraps of limited source material, the lack of bonus features makes this a pretty tough "blind buy" recommendation for $30. Due to these sporadic shortcomings and a limited amount of replay value, Great Barrier Reef is destined to be more of a one-time weekend diversion than a permanent fixture in most collections. Rent It first.

---
Randy Miller III is an affable office monkey by day and film reviewer by night. He also does freelance design work, teaches art classes and runs a website or two. In his limited free time, Randy also enjoys slacking off, juggling HD DVDs and writing in third person.
---
Sponsored Links
Sponsored Links