Long Haul (Sony Choice Collection), The
List Price: $20.95 [Buy now and save at Amazon]
---
I live for these kinds of Bs--British noir, shot in widescreen black & white, and with those leads...how can it miss? Sony's increasingly valuable Choice Collection vault of hard-to-find cult and library titles has released The Long Haul, the 1957 British-made noir programmer released by Columbia Pictures, directed by Ken Hughes, and starring Victor Mature, Diana Dors, Patrick Allen, Gene Anderson, Peter Reynolds, and Liam Redmond. Nothing particularly new when it comes to story, The Long Haul makes up time with no-nonsense, energetic direction, evocative location shooting in England and Scotland, and typically enjoyable performances from those always-welcome pros. An original trailer (a nice bonus for these usually bare-bones Choice Collection outings) is included in this super-sharp anamorphic widescreen transfer (are you listening, Fox Cinema Archives?).
The 122 United States Army Transport Company, Bavaria, Sturnberg. G.I. dogface truck driver Harry Miller (Victor Mature) is finally out: his discharge has been processed and he's ready to take his family, including his British-born wife, Connie (Gene Anderson), and son, Butch (Michael Wade), back to America. His buddy, big talker Al, owns a canning business and on a previous visit, had promised Harry a job. Connie, however, wants to stay in England, close to her family in Liverpool, telling Harry that her uncle George Mills will get him a job driving a truck for his transport company. Harry reluctantly acquiesces, and takes the low-paying run between Liverpool and Glasgow. However, when he refuses to play ball with the return-trip hijackers set up by fellow driver Casey (Liam Redmond), he finds himself on the outs as far as driving assignments go, courtesy of big-wheel shipper/racketeer Joe Easy (Patrick Allen). Ticked-off at his wife's continued refusal to emigrate to America, Harry finds himself uncontrollably attracted to Joe's, um...rather impressive girlfriend, pneumatic blonde heartbreaker Lynn (Diana Dors). Any fan of noir should be able to fill in the rest....
Anyone even casually familiar with noir genre conventions won't be surprised by what they find in The Long Haul...but that familiarity certainly doesn't stop one from thoroughly enjoying it. Based on a novel by popular British crime novelist Mervyn Mills, and scripted by director Ken Hughes (The Trials of Oscar Wilde, Of Human Bondage, Casino Royale, Chitty Chitty Bang Bang, Cromwell), The Long Haul works not because there's anything remotely original in it thematically or structurally, but rather because of its speedy, slick professionalism. A combination of They Drive By Night, Thieves Highway, Hell Drivers, and even a little bit of The Wages of Fear at the end, The Long Haul's inherent derivativeness only serves to free us up to focus more closely on its various production elements―and they're all top-notch for a lower-budgeted B-noir. The location shooting looks right, as do the sets, while noted British "quota quickie" cinematographer Basil Emmott (I Was Monty's Double, The Breaking Point, and Curse of the Fly among many, many others) in conjunction with Hughes, creates a memorably rainy, dark, comic book panel-look here to the widescreen compositions.
Hughes, who knew how to deliver an entertaining picture regardless of the actual merits of the material, directs with a quick, sure hand, keeping the subplots, in various stages of credibility, moving along at a good clip (the whole Mature paternity angle, while a neat little plot twist, is less than convincing due to our never having seen on-screen the other involved party). Nicely pulpy at times, Hughes' script is overripe when it needs to be (Dors screaming silently on the other side of a glass door; Allen telling her, in so many words, that's she's a pig), and almost intriguing when you don't expect it (Mature vainly trying to stay "clean," professionally and morally). Hughes' action scenes are well-executed, particularly the final set piece involving all that Leyland Octopuss 8 truck porn, with the stout truck crunching and sliding over rocks and cliffs and streams, succeeding both as smasheroo finale and blatant commercial advertisement (that opening credit thanks to Leyland came at a price that doesn't hurt the movie at all).
Allen, just beginning his big-screen career and, despite his distinguished businessman make-up, not looking old enough to tangle with mature Mature, is just fine as the hard-charging, jealous mobster. Dors, hilariously slutty and pouty in her first shot, shows again here, in little peeks and glimpses, what a good actress there was under all the posing and the pulchritude (had she been given more quality material and someone behind the lens pushing her to excel). As it stands, her obvious, rutting carnality (my god that rack...) is more than enough resume for this particular job--what guy wouldn't (almost) leave his wife for her wondrously cheap, coarse, atomic-powered charms? Mature, just beginning to wind down his leading man days in these increasingly minor U.K.-based actioners, looks massive in that mackinaw, with his lined, tired, florid face perfectly set to "existential noir agony/sensuality." He's good with heaving, panting Dors, and better when playing the increasingly pressured, emotionally gutted husband and father; it's a typically accomplished turn―in an unexpectedly accomplished programmer―from an actor who never received the level of critical respect he deserved.
The DVD:
The Video:
Damn-near pristine. The anamorphically-enhanced, 1.78:1 widescreen black and white transfer for The Long Haul looks sensational, with deep blacks and a razor-sharp, almost blemish-free image. If Sony can come up with this kind of superior transfer for an admittedly minor B movie like The Long Haul, then why can't Fox's Cinema Archives do the same for "big" movies like Tender is the Night and Warlock? You tell me....
The Audio:
The Dolby Digital English mono audio is adequate, with a decent-enough re-recording level and little hiss. No subtitles or closed-captions available.
The Extras:
Nice--an original trailer is included (made me want to queue up and buy a ticket).
Final Thoughts:
Completely satisfying British B-noir. Sure the story is familiar, but it's handled with cold, professional skill. The performers are perfectly cast here. I'm highly recommending The Long Haul.
---
Paul Mavis is an internationally published movie and television historian, a member of the Online Film Critics Society, and the author of The Espionage Filmography.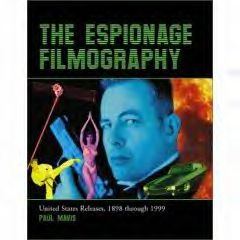 ---
C O N T E N T

---
V I D E O

---
A U D I O

---
E X T R A S

---
R E P L A Y

---
A D V I C E
Highly Recommended
---
E - M A I L
this review to a friend
Sponsored Links
Sponsored Links