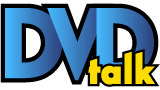 Great White Shark - A Living Legend
List Price: $19.98 [Buy now and save at Amazon]
---
The Movie:
The BBC's Great White Shark: A Living Legend was, before it hit Blu-ray courtesy of this new release, an episode of the ongoing Natural World series. This explains why it's roughly fifty minutes in length and self-contained, as opposed to some of the more 'epic' BBC Nature series like Planet Earth or Nature's Most Amazing Events.
The documentary introduces us to a man named Mike Rutzen who was born and raised in South Africa and who spent many of his formative years on the coast where he began to encounter large sharks. As he hadn't yet seen Jaws he didn't actually realize until after he'd become well acquainted with the species that he was actually interacting with Great Whites. By that point in time, he wasn't afraid of them, as he'd already been swimming with them. So with that in mind, Rutzen has made a bit of a name for himself as a naturalist who specializes in Great Whites and who will routinely swim with them without the aid of a shark cage or any sort of weapon.
How exactly Rutzen came to be this confident and this comfortable around one of nature's deadliest and most efficient killing machines is surprisingly simple: he watched them, he learned from them and he began to imitate them. Basically what this means is that while interacting with sharks in their environment, he behaves like one of them. He will move and contort his body into different positions and adjust his movements according to how he sees the sharks reacting. Given that he hasn't been eaten yet, his theories seem to be working quite well and as this documentary proves, he's pretty fearless when it comes to facing the sharks head on. With his methods established, we then follow Mike along the coast out to a remote island with a huge seal population. As such, this is a popular feeding ground for the Great White and it's here that Mike heads into the waters to witness, observe and document their behavior.
This is a well-made and at times surprisingly intense documentary but at only fifty minutes in length, it's on the short side for a feature. What makes it worthwhile, however, are two different aspects. The first is the footage. There are some amazing shots of Great Whites feeding on seals which often times results in them leaping out of the water, their massive frames twisting in the air in an attempt to catch their much smaller and faster moving prey. Shots like this have been seen in other shark specials before but stuff like this is just endlessly watchable and the footage, as captured in HD quality, is impressive even outside of the scope of the documentary. The second aspect is the tension that occurs whenever Mike heads into the water. Call him brave or call him insane but it takes a certain kind of person to float on over to a massive whale carcass floating in the ocean and head underneath to watch multiple Great White Sharks feast away at what's left of the blubber. Again, there's no cage, and he's unarmed and the very real possibility that he could be very seriously or even mortally injured at any time during these dives really does keep the viewer on the edge of their seat.
As far as what we learn about Great White Sharks, well, not as much you might hope. There isn't a whole lot of new information here to go over, and the emphasis here is on how Rutzen is trying to disprove some of the myths about them with his admittedly rather unorthodox tactics. He does seems to be able to prove that sharks are, to a certain extent, habitual and that you're not always in mortal danger in their presence, but this is one that you'll want to watch more for the visuals and for those fairly frightening sequences in which Rutzen faces his subjects on their terms rather than his.


The Blu-ray:
Great White Shark: A Living Legend is presented in AVC encoded 1080p high definition in 1.78.1 widescreen and the image is, for the most part, beautiful. Full of fantastic colors and impressive fine detail, the picture quality is such that you can count the hairs on a camel's hide or count the crevices in an aging Inuit's weathered face. Texture is excellent, from the fur of the animals to the fibers of the clothing worn by the humans in the film, while bright, natural colors frequently amaze such as in scenes where the waves of the ocean crash against the shore of a remote island covered in seals or where a mammoth Great White leaps out of the sea to catch its prey. There are no problem with serious compression artifacts or heavy edge enhancement and outside of some very minor shimmering here and there and a little bit of very minor banding there, Warner/BBC have delivered a superb looking release.
Sound:
Equally impressive is the DTS-HD 5.1 Master Audio mix that is included here. While this doesn't deliver the sort of all-encompassing surround experience that a modern action film might, this is still a very immersive mix that does a great job of mixing some beautiful orchestral music and ambient and background noise into the rear channels to really pull you into the viewing experience. The narration is well balanced and always crystal clear and it consistently comes through free of distortion or noise. There are moments where a decent bit of low end power pushes some of the more active scenes through your subwoofer to provide a solid backbone when called for: again, the scenes where the sharks jump out of the water are good examples here. There are a few spots where the less than ideal filming conditions result in a bit of background or wind noise but outside of that minute source related complaint, things sound excellent here and leave no room for serious complaints at all.
Extras:
Outside of menus and chapter selection, there's really only one extras here and it's presented in standard definition… Smart Sharks: Swimming With Roboshark. This is a fifty-plus minute long documentary narrated by David Attenborough that covers the development and deployment of a life sized mechanical shark designed by Andrew Sneath. The 'Roboshark' is used to get into places and situations under the ocean that might not be plausible or safe for human camera operators and this BBC special shows off some of the footage that it was able to capture. It's interesting enough and quite a neat piece to see just to admire the technology and it serves as a nice compliment to the feature attraction.
Overall:
While the BBC documentary Great White Shark: A Living Legend is more about Mike Rutzen than it is about the sharks themselves but that doesn't make it any less interesting. The documentary features some remarkable footage not just of the sharks doing what they do best but also of the South African coastal areas, meaning that this documentary offers up some serious eye candy. The high definition presentation is good, the audio as well, and the inclusion of the bonus documentary helps to add some value to the admittedly shorter feature presentation. Recommended for nature documentary enthusiasts, a solid rental for everyone else.
Ian lives in NYC with his wife where he writes for DVD Talk, runs Rock! Shock! Pop!. He likes NYC a lot, even if it is expensive and loud.
Sponsored Links
Sponsored Links