Five Golden Hours (Sony Choice Collection)
List Price: $20.95 [Buy now and save at Amazon]
---
Frequently charming little black farce whenever TV genius Ernie Kovacs, in his only big-screen lead role, is on screen. Sony Picture's fun Choice Collection line of hard-to-find library and cult titles has released Five Golden Hours, the 1961 British-Italian co-production released by Columbia Pictures, starring Ernie Kovacs, Cyd Charisse, George Sanders, and a wealth of familiar British performers lending comedic support, including Kay Hammond, Clelia Matania, Avice Landone, John Le Mesurier, Dennis Price, Finlay Currie, Reginald Beckwith, Sydney Tafler, Martin Benson, Ron Moody, and Leonard Sachs. It's a common thread of discussion among his fans and critics to dismiss Kovacs' forays into motion pictures as unsatisfying or beneath his considerable talents, and that indeed may be true...but there's no denying he's quite amusing here in what he himself considered his best big-screen performance. No extras for this sharp black and white transfer.
Professional Roman pall bearer Aldo Bondi (Ernie Kovacs) is floored when stunning widow Baroness Sandra (Cyd Charisse) lifts her veil. As he does with every widow, Aldo obsequiously grovels for forgiveness while offering any future solace she may require. With his life motto, "kindness and thrift," Aldo already has three cheerful, wealthy widows on the hook for lodgings and food and money--in exchange for his, um...companionship: Marta (Kay Hammond), Rosalia (Clelia Matania), and Beatrice (Avice Landone)...but surely he can make room for the Baroness, as well? The Baroness allows the desperate Aldo--desperate because he saw her insane body and her huge mansion--act as her butler one evening when several of her deceased husband's business associates stop by for dinner, including Raphael (Dennis Price), Gabrielle (Ron Moody), Alfredo (Sydney Tafler), and Enrico (Martin Benson). What Aldo discovers is that Sandra's husband ran a Ponzi scheme with their money, based on a non-existent "five golden hours" scam involving the time difference between the Rome and New York stock exchanges, and gambled it away. Later, Aldo vows to the beautiful Sandra that he'll save her mansion and jewels and get the 60 million lire she needs...which he does by pulling the same Ponzi grift on his three widows. However, when Aldo learns that Sandra was the true con, and his scheme is soon to be discovered, well, then...murder seems to be the only way out.
I hadn't watched Five Golden Hours since I was a kid (I was pretty fuzzy on it before this disc), but I had read about it often in relation to the research I've done on Kovacs over the years (apparently, it came out as the top of a double bill with William Castle's Mr. Sardonicus in October of 1961, about four months before Kovacs' fatal automobile accident) . As I wrote in my reviews of his television work (you can read those reviews here), Kovacs, perhaps more than any other early TV giant, rightfully deserved the too-often used label "genius," but that his mostly supporting movie roles, while still frequently funny, never really tapped into what he was capable of showing on television. That's probably a case of apples and oranges, however, since Kovacs never attempted an experimental movie that played like one of his TV specials: no plot, just surreal, bizarre sketches. All of the movies Kovacs appeared in were conventionally-structured narratives/entertainments, so to lament that the more restrained Kovacs of Five Golden Hours isn't, unfortunately, the delightfully unrestrained Kovacs of say, The Silent Show, is a case of mixing up terms--we shouldn't expect him to be that genius here. Five Golden Hours is a light trifle of a farce, and all that is required of Kovacs is to be amusing enough throughout its run to carry the picture--which he most assuredly does here. Indeed, this particular project may have been one of his later assignments he wasn't really invested in--something he felt he had to do, rather than something he truly wanted to do, when he was accepting more conventional projects to settle some of his more outstanding debts to the government.
With that said...Kovacs' turn as scheming Roman pall bearer Aldo Bondi is the best sustained performance he ever gave in a big-screen effort. Finally scoring the central lead character in a movie after years of backing up bigger stars like John Wayne and Jack Lemmon (even if it wasn't a big Hollywood comedy but an international pick-up intended for a double bill), Kovacs displays a deliciously off-handed confidence here, as indeed he did with all of his TV appearances, keeping his Aldo character just to the right side of "broad," while getting a consistent amount of laughs with that rubbery, expressive punim of his (watch his open-faced delight when he thinks he's being invited up to Charisse's bedroom...and then his little-boy petulance when he discovers he's not going to get anything). And a good thing that, too, since Kovacs is pretty much the whole show here. The multiple scams are cleverly set up by scripter Hans Wilhelm (The Prowler, A Scoundrel's Honour), with quite a few witty lines scattered about (a surprised Aldo compliments a widow with, "Your hair looks nice that way!" She quizzically answers, "It's always been this way," to which he immediately responds, "It always looks nice!").
However, director Mario Zampi (Too Many Crooks, Your Past is Showing), while certainly not ruining the piece (he mostly stays out of the performers' way), adds little else to the comedy, shooting Five Golden Hours with a flat, anonymous detachment that would be glaring without Kovacs' quicksilver energy (this was Zampi's last movie). Perhaps that hesitancy is the result of Zampi having to shoot every scene twice, first in English, and then in Italian for the Italian market, with Italian actors substituting for the likes of Price and Moody (maybe that explains why all those funny British supporting actors here have really nothing to do). Whatever the reason (and don't count on usually fine Charisse for help, either; she seems strangely distracted here), Kovacs' fast-talking machinations, George Sanders' easy, hilarious malice as a fellow debtor hiding out in an exclusive sanitarium, Kay Hammond's delightfully daffy widow, and a sprightly score by Stanley Black, keep Five Golden Hours moving along at a fun little pace. And that's good enough for some easy-going summertime viewing.
The DVD:
The Video:
Unfortunately not anamorphic, this 1.85:1 letterboxed widescreen transfer at least utilizes an excellent, sharp, black and white source element, resulting in a pretty nice picture (a little surprised here at Sony, not going the anamorphic route--normally, they're pretty good about this sort of thing for these Choice titles).
The Audio:
The Dolby Digital English mono audio track is fine, with relatively low hiss, and clean dialogue. No subtitles or closed-captions available.
The Extras:
No extras for Five Golden Hours.
Final Thoughts:
Ernie's best movie performance. Sure, the movies probably weren't the best format to showcase the incredible range of talents that Ernie Kovacs possessed (unless possibly he could have pulled a Chaplin or a Lewis and did everything himself), but even when the vehicle was iffy, Kovacs was entertaining. Here, in the light, sometimes charming Five Golden Hours, Kovacs gets a chance to lead, and he's the whole show (thankfully). I'm recommending Five Golden Hours.
---
Paul Mavis is an internationally published movie and television historian, a member of the Online Film Critics Society, and the author of The Espionage Filmography.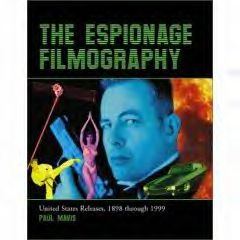 ---
C O N T E N T

---
V I D E O

---
A U D I O

---
E X T R A S

---
R E P L A Y

---
A D V I C E
Recommended
---
E - M A I L
this review to a friend
Sponsored Links
Sponsored Links