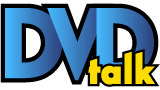 Fox // PG-13 // July 29, 2003
List Price: $29.98 [Buy now and save at Amazon]
---
Given the state of media reporting today, it's nearly impossible to go into a film without some prior knowledge of its contents. This "cultural baggage" phenomenon can be even worse if the film is based on a pre-existing source. Thusly, it was with great trepidation that I approached "Daredevil". As a former comic geek, I was afraid that the movie couldn't match the tone of the comics. To my surprise, "Daredevil" more than exceeded my expectations.




The Movie



"Daredevil" stars Ben Affleck as Matt Murdock, a lawyer who lives and works in the Hell's Kitchen area of New York City. As a child, Matt was blinded by biohazardous waste. However, this traumatic event augmented his other four senses, granting him with a radar-like vision, allowing him to "see" with sound. With his heightened senses, and his need to have justice fulfilled (stemming from his father's murder), Matt roams the streets at night as Daredevil, a masked vigilante who serves as judge, jury, and executioner. Matt's obsession with justice alienates him from others, even his law partner "Foggy" Nelson (John Favreau).




Matt's life changes when he meets the beautiful Elektra (Jennifer Garner). Matt is immediately taken by this strong, young woman who is an accomplished fighter. However, things go awry when Elektra's father is targeted by the ruthless Kingpin (Michael Clarke Duncan), a crime-boss who will stop at nothing to keep his empire intact. Kingpin dispatches the assassin Bullseye (Colin Farrell), who has the ability to make any object into a deadly weapon, to eliminate Elektra's father. Matt finds himself pulled into Elektra's world, but clearly only Daredevil can stop Bullseye and The Kingpin.




On paper, it didn't look as if "Daredevil" would work. I admire Ben Affleck's comedic roles, but I couldn't see him as Daredevil. Writer/director Mark Steven Johnson's previous credits included the "Grumpy Old Men" movies and "Simon Birch". Yet, it turns out that Johnson is a huge fan of Daredevil and the movie deftly re-creates the dark tone of the comic. (I actually pulled out my copy of Daredevil #181, and much of the dialogue from that comic is used in the film.)




Let's get one thing straight right off the bat: "Daredevil" is a very dark movie. Remember how dark and violent "Spider-Man" was? Well, "Daredevil" is darker, thus capturing the feel of the years that Frank Miller worked on the comic. (The movie had to be cut to avoid an R-rating.) While most of the Marvel Comics characters are tortured souls, Daredevil is an especially bleek character, and the movie does a fine job of presenting this. Whereas the comic is full of thought balloons in which the character expresses his innermost feelings, the film presents montages essaying his loneliness and bitterness. This is a man who is pissed-off at the world, and even when something beautiful such as Elektra comes along, it gets blighted.




Along with the tone of the film, Johnson provides a nice pace as well. The action scenes here are nothing new, but they are very well-shot and edited. The film does a fine job of balancing the exciting scenes with the more dramatic ones, and Favreau is even able to throw in a few moments of comic relief. For the most part, the special effects are good, although it's easy to spot the CGI Daredevil at times.




One of the film's biggest surprises is the performance by Affleck. Maybe it's the contact lenses that he had to wear to convey blindness, but he is very good as Matt Murdock, keeping his typically rakish behavior in check for most of the film. He conveys Murdock's deep-seeded issues, while (as in the Kevin Smith films) proving to be a great straight man for Favreau. Garner is impressive as well as Elektra, although I would have liked to have seen a costume that was similar to that in the comics. If this film has any weak links, it's the villains. The race issue aside (The Kingpin is white in the comics), Duncan plays the villain as too jovial, and is never very menacing. And honest to God, Colin Farrell is in another movie altogether. Despite the fact that "Daredevil" is about a man who is blind, but does back-flips off of buildings, it still presents a gritty realness. But, Farrell plays Bullseye fall too broadly and comes off as someone who should be in one of the "Batman" films.




As you no doubt know, there are more and more films based on comic books on the way, and if "Daredevil" is any indication of the future, than I say bring it on.




(Note to Parents: Even with the cuts, the PG-13 rating for "Daredevil" is questionable. Bullseye kills at least four people (I lost count), and while there isn't any blood, the movie is quite violent, once again, much more so than "Spider-Man".)




Video



Considering the fact that Disc 1 of this 2-disc set is crammed with six audio tracks and three sets of subtitles, it's amazing how good the video transfer is. Even with all of that, the bitrate hovers between 5-7 MBPS throughout the movie. The film has been letterboxed at 2.35:1 and is enhanced for 16 x 9 TVs. (A seperate full-frame version will also be available.) The image is very sharp and clear, showing only the finest amounts of grain at times. While the film has a very dark look, it is never too dark here, and the action is always discernible. The colors are fine, most notably Daredevil's red costume.




Audio



This DVD really shines in the audio department. The discs offers both a DTS 5.1 and a Dolby Digital 5.1 audio tracks. Both tracks offer clear and intelligible dialogue, with no hints of flaws. They both provide great surround sound, and an impressive amount of bass. But, the DTS track is the clear winner here. "Daredevil" sports fantastic sound design, and the DTS tracks really brings this to life, filling the room with hundreds of sounds. The soundfield is quite wide and the dynamic range is always stable.




Extras



This 2-disc set is loaded with extras. Disc 1 features an audio commentary with writer/director Mark Steven Johnson and producer Gary Foster. These two have worked together for years, and that comraderie shows here. They openly discuss their likes and dislikes about the film and give a great deal of insight into how the film was made, most notably with the location shooting. There is also a text commentary, which offers background info on the film ala subtitles. However, these factoids appear only occasionally in the film, and pale when compared to the text commentaries on the recent "Star Trek" DVDs. This disc also features an "Enhanced Viewing Mode", wherein an icon appears on-screen, which will take the viewer to a behind-the-scenes look at the film's special effects with Visual Effects Producer John Kilkeny. And in keeping with the "Daredevil" theme, Disc 1 also includes an audio track for the visually impaired.




As if that weren't enough to keep on busy for hours, we now move on to Disc 2, which is divided into two sections, "The Film" and "The Comic Book". "The Film" kicks off with the hour-long featurette "Beyond Hell's Kitchen: Making 'Daredevil'". This segment is better than your average making-of featurette, as it really goes in-depth into the filmmaking process, as it explores the film's inception, as well as costuming, set design, fighting, the characters, the visual FX, and the music. "Beyond Hell's Kitchen" offers a great deal of behind-the-scenes footage and interviews with the cast and crew, all of which stresses the amount of work which goes into making a film. As with the movie, this segment has an "Enhanced Viewing Mode", which offers even more behind-the-scenes goodies. The disc also offers "HBO First Look: 'Daredevil", 25-minute featurette hosted by Jennifer Garner. While this is good, it pales in comparison to "Beyond Hell's Kitchen" and has more of the "Electronic Press Kit" feeling.




We next have Jennifer Garner's screen-test, a 2-minute segment which is quasi-interesting. This is followed by "Multi-Angle Dailies", in which the viewer can watch two scenes from three different angles, using the multi-angle feature of your DVD player. In "Featured Villain: Kingpin", Michael Clarke Duncan gives an overview of his character. "Moving Through Space -- A Day with Tom Sullivan", is an 8-minute segment spotlighting the visually-impaired man who served as a consultant on the film.




Rounding out this section are the teaser trailer, and two theatrical trailers for "Daredevil", plus bonus trailers for "28 Days Later" and "The League of Extraordinary Gentlemen". There are three music videos; "Won't Back Down" by Fuel; "For You" by The Calling; and "Bring Me to Life" by Evanescence (this one is the best, as it does not use footage from the movie.). Finally, there are four still galleries, focusing on storyboards, costumes, set design, and production.




(It must be noted that there is no deleted scenes section here. A shot of Coolio appears in the teaser trailer, as an entire subplot with the rapper-actor was dropped from the finished film.)




"The Comic Book" section is dominated by "Men Without Fear: Creating Daredevil", an hour-long documentary featuring the likes of Stan Lee, Frank Miller, John Romita, Kevin Smith, and others who were instrumental in shaping the mythos of the "Daredevil" comic. "Shadow World" is a 6-minute montage comparing pages from the comic to the film. Finally, there are modeling sheets for the main characters from the comic.






While "Daredevil" may wander off into fanboy land at times (half of the characters are named after Marvel artists or writers), it is still a fine comic adaption and a solid action film. The DVD is a near-masterpiece, as it features fantastic audio and video, as well as a mountain of extras.
---
C O N T E N T

---
V I D E O

---
A U D I O

---
E X T R A S

---
R E P L A Y

---
A D V I C E
Highly Recommended
---
E - M A I L
this review to a friend
Sponsored Links
Sponsored Links