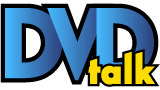 Fox // Unrated // January 7, 2014
List Price: $39.99 [Buy now and save at Amazon]
---
So, I'm looking down at the notes I jotted down while mainlining the fourth season of Archer on Blu-ray. Extended dog birthday flashback. Prehensile tail riff. 1970s USDA secretary Earl Butz. Crushing the Pope with a giant mirror. Rug prices. Peter Serafinowicz as hallucinatory cutrate James Mason. Voight-Kampff. Dinosaur tampon. Tentacle rape. The Wiz. The Shazam!/Isis Hour. Flinging molotov
[click on the thumbnail to enlarge]

cocktails with a makeshift lacrosse stick. Guest star Anthony Bourdain explaining that "aubergine" and "eggplant" are the same thing.



If I were reviewing...oh, I don't know, season one of Archer, I'd need to spell out the backstory and premise and generally try to sell you on the whole thing. This is season four, though. If you've been tuning into Archer up till now, all you really need for me to do is say "yup, still pretty much the best thing on TV", and then we can both move on with our lives. If you're uninitiated and clicked on this review thinking it was a season-long retrospective of Powell and/or Pressburger or the guy who's not Daniel or Midland, then maybe you should back up a few seasons.



There aren't as many stone-cold classics this season as there have been for the past couple of years, but every one of these thirteen episodes is still genius. The opener is meta enough that an amnesiac Archer has grown a moustache and set up shop at a burger joint with his new family, and if you don't get that extended gag, you haven't been paying attention. Archer tries to clear the name of his maybe treasonous one-time bestest friend, and along the way, he's offered a chance to get in on the ground floor at a B&B in Vermont, wonders if the Predator can hunt in snowy New England or if it's just a jungle thing, and maybe could have the mighty Ant-Krieger fighting by his side. There's a Sealab 2021 two-part crossover. Dogsitting in Morocco. Going undercover as waiters and chefs at a ritzy New York restaurant to stop an assassination. A buddy road trip thing with Archer and his Cadillac-shilling stepfather with spiderweb-eating and a truckful of trannies. Love it, love it, love it.



Yeah, so I don't have any scowly-faced criticism about this fourth season of Archer. Even if this run doesn't approach the same heights as the incomparably brilliant couple of seasons before it, Archer still outclasses just about everything else on TV and with a consistency that even the likes of Community can't touch. It does feel like Archer was getting to a point where it needed to be shaken up, and if you tuned into the season five premiere the other night, the new direction jabs a syringe of adrenaline straight into the heart of the series. This run is still a hell of a way to wave goodbye to ISIS, though. It's smart. It's vulgar. It's sexy. It's hysterical. It's witty. It's fat-packed with action. Its gunny sack of obscure, inspired references is better than yours. There's a word for shows like this, and it's Highly Recommended. Two words. Whatever.






Video



---

I made the mistake of tearing through this Blu-ray set and then watching the season premiere on cable. Charter overcompresses the holy hell out of FX-HD in my neck of the woods, so the colors looked a little off, the linework was awfully fuzzy, and basically everything about the season five premiere was riddled with nasty digital artifacting. Makes me clutch this Blu-ray set that much closer to my heart.



If you've already devoured the first three seasons of Archer on Blu-ray, you know what to expect here. These episodes are superhumanly sharp in 1080p, and the silky smooth linework isn't dragged down by any aliasing or stairstepping. Black levels are deep and inky, and colors pack more of a wallop than I'm used to seeing on FX. There aren't any sputters or stutters in the authoring.
The definition and clarity here far outclass anything DVD

(or even cable HD!)

could hope to deliver. There are all sorts of fine details that'd get lost in the shuffle on any other format. If you want a case in point, take a look at the texture of the rug in the background and all the stuff that's going on in that wad of hundreds that Cyril's holding here:






It's perfect, and when I use bold and italics like that, you know I mean it.



Thirteen episodes. Pair of dual-layer discs. Aspect ratio of 1.78:1. AVC encodes all around.






Audio



---

Once again, you're staring down the barrel of thirteen 24-bit DTS-HD Master Audio 5.1 soundtracks. That's a lot of numbers in a single sentence, and for that, I'm sorry. If I'd written more Archer reviews, I could probably just copy and paste stuff here; the story's pretty much the same as ever.



There's a strong sense of separation across the front channels, although Archer mostly shrugs off the sub and surrounds. Light atmospherics occasionally creep into the rears, but don't expect the whole 5.1 deal to ratchet up the intensity of the action or anything. The sound design doesn't aim for immersion or envelopment so much, with such limited surround usage that I double-checked to make sure all the
I know it's not representative or whatever, but this is still my single favorite image from the season.

[click on the thumbnail to enlarge]

speaker wire was still snug and secure. Bass response is decent but not exactly cinematic, even when you have eight hojillion gallons of water flooding into an undersea lab or a border patrol SUV flipping around over and over and over again. Whatever, though. I still can't get over the clarity and fidelity of every last element in the mix. Dialogue is consistently clean, clear, and flawlessly balanced. In fifteen years of writing these sorts of reviews, I don't think I've ever scribbled down how amazing a whistle sounds in my notes till now. You're not going to have waves of bass liquefying your innards or hear bullets pinging around every square inch of your living room, but as far as how Archer is presented on Blu-ray, these lossless soundtracks don't leave any room for complaint.



Sorry! No dubs, alternate mixes, or audio commentaries this time around. Subtitles are about it as far as other options go, and they're dished out in English

(SDH)

, French, and Spanish.






Extras



---

This season of Archer has what's pretty much my all-time favorite packaging. Y'see, BobArcher's moustache peels off Colorforms-style. Mustachioed! Clean-shaven! Mustachioed! Clean-shaven! Want to give him a Frida Kahlo unibrow or maybe a Maxie Zeus chinstrap? Go for it. The possibilities are endless. Maybe not endless, but there are at least five or six things you can do, and that's way more than most Blu-ray sets. It's a really sturdy cardboard slipcase with a fancy opening flap. Oh, and there's stuff on the discs inside that sexy box too.





Fisherman's Daughter (3 min.;

HD

): Shokushu goukan! Keying off a running joke this season, Krieger-san casts himself as the villain in a tentacle rape anime, and that's just about the greatest thing ever.




Archer Live! (20 min.;

HD

): The cast of Archer took their show on the road last year, and this featurette shows off some of the highlights from their stop at Irving Plaza. Interviews! Audience participation! All sorts of live shenanigans! Worth a look.


The Final Word
---

Wait, I had something for this. Oh, yeah: Highly Recommended.




---
C O N T E N T

---
V I D E O

---
A U D I O

---
E X T R A S

---
R E P L A Y

---
A D V I C E
Highly Recommended
---
E - M A I L
this review to a friend
Sponsored Links
Sponsored Links