Dr. Kildare Movie Collection (Warner Archive Collection)
List Price: $59.99 [Buy now and save at Amazon]
---
"Yes...the Dr. Gillespie killings."

Hedley Lamarr
"Paging Dr. Kildare! Paging Dr. Gillespie!" Warner Bros.' Archive Collection line of hard-to-find library and cult titles has released the Dr. Kildare Movie Collection, a five-disc, nine-title collection of Metro-Goldwyn-Mayer's popular, influential high-end B series, based on author Max Brand's character, and starring Lew Ayres and Lionel Barrymore, with able support over the years from series regulars Laraine Day, Samuel S. Hinds, Emma Dunn, Nat Pendleton, Walter Kingsford, Alma Kruger, Marie Blake (a.k.a. Blossom Rock), Frank Orth, Horace MacMahon, and George H. Reed. Titles in this collection include all the Lew Ayres-starrers: 1938's Young Dr. Kildare, 1939's Calling Dr. Kildare and The Secret of Dr. Kildare, 1940's Dr. Kildare's Strange Case, Dr. Kildare Goes Home, and Dr. Kildare's Crisis, 1941's The People vs. Dr. Kildare and Dr. Kildare's Wedding Day, and 1942's Dr. Kildare's Victory. Telling the multi-episode story of young, handsome, frequently rebellious Dr. James Kildare and his quest for medical insight at the feet of New York City's Blair General Hospital's master diagnostician--and all-around miserable S.O.B....with a heart of gold--Dr. Leonard Gillespie, the relatively cheaply-made Kildare movies were huge money-earners for M-G-M, while the series' rigorously-employed story formulas and character dynamics can still be seen in similar such medico projects today. This release from Warner's Archive Collection--exactly the kind of stuff they should be digging around for--fills in an important missing piece of Metro's B series catalog on disc, so fans and historians will take special note of this entertaining gathering. As well, original trailers for all the movies are included with these nice-looking black and white fullscreen transfers--along with a sweet surprise bonus that hasn't been seen in some time....
Back in 2010, I reviewed The Barbara Stanwyck Collection, which included Paramount's Internes Can't Take Money, from 1937, the first big-screen adaptation of Max Brand's pulp fiction character, Dr. James Kildare, with Joel McCrea playing the idealistic newcomer to the medical profession. A solid melodrama, particularly with Stanwyck's heartfelt performance, Internes Can't Take Money isn't usually regarded as part of the official Kildare series because it has little to do with the rest of the Metro entries, particularly with the absence of the Dr. Gillespie character. If Paramount had any initial idea of turning Internes Can't Take Money into a series, those plans were scuttled when box office returns proved unremarkable. Over at Metro, however, studio chief Louis B. Mayer, who also acted as head of production at Hollywood's most successful dream factory, must have seen potential in the Kildare character, based on his own notions of what constituted popular moviemaking. Mayer's own production instincts basically split along two lines: expensive, quality "showpiece" dramas and musicals intended to impress critics while commanding higher ticket prices at the better venues...and lower-priced comedies and particularly series which would keep his payrolled actors busy (along with all those salaried techs and craftsmen), while providing an inexpensive training ground for new talent. That second production model was particularly attractive by 1938, when Mayer had hit paydirt with the unbelievable success of his Andy Hardy movies. A series of low-budget B entries--Bs by Metro standards, that is; they would have been As at many other studios--featuring the all-American Hardy family anchored by whiz-kid Mickey Rooney, the Hardy movies had exploded into the American moviegoing public's consciousness, with Rooney fast on his way to being the world's number one movie star for three years running--a remarkable achievement starring in what Metro initially thought were going to be cheap, knock-off productions. With money like that coming in from the Hardys, as well as from other B series like Tarzan and The Thin Man, it's not surprising Mayer would seek out more such opportunities.
In Paramount's Internes Can't Take Money, Metro saw an opportunity to not only pick up an undervalued property that seemed perfect for serialization--Max Brand's Kildare character had proved quite popular in the pulps--but to also secure a long-term commitment from actor Lew Ayres. Ayres had catapulted to fame in 1930's All Quiet on the Western Front for Universal, the anti-war classic that for years sustained audience good-will for the soft-spoken, gentle, intelligent young star. However, his movie career proved spotty, bumping around from studio loan-outs in better movies than his subsequent Bs at Universal and Fox Films, to trying his hand at directing for Republic, before he was signed at Paramount...who loaned him out for Metro's big hit, Holiday, in 1938. Seeing a good fit between the calm, thoughtful (and handsome, for the ladies) Ayres, and the young, idealistic Kildare character, Metro pursued the reluctant Ayres (who was afraid of being typecast), eventually securing him for $35,000 a year (over half a million today). Backing him up (or perhaps more correctly, upstaging Ayres left and right), would be one of Mayer's personal favorites, Lionel Barrymore, from the famed theatrical family who had, like his siblings John and Ethel, turned into a bona fide movie star during the 1930s, winning an Academy Award in 1931 for M-G-M's A Free Soul. Playing the brilliant, crotchety, wheelchair-bound Dr. Gillespie, Barrymore seemed almost fated for the role, not only because he had an unusually close relationship with Mayer (who looked for roles to accommodate Barrymore), but also because the actor was largely disabled himself, due in part to crippling arthritis, but more so to two severe hip fractures that had left the actor, by 1938, in excruciating pain and unable to walk (a situation that remained for the rest of his life). With the second movie in the series, young Metro starlet Laraine Day was introduced as Dr. Jimmie's steady love interest, Nurse Mary Lamont, joining Ayres and Barrymore as a series lead, and balancing out these Bs with the audience-pleasing combination of medico-mystery drama, folksy, sometimes slapstick humor, and of course, romance.
As for what resulted, such was their overwhelming popularity from 1938 to 1942 (...before they morphed, sans axed Ayres, into the Dr. Gillespie series), the Dr. Kildare movies arguably defined the subsequent medico-drama subgenre. If you see a movie or TV show after 1938 that contains these elements--a young, dedicated, passionate doctor/nurse/medical student clashes with his or her grumpy, seemingly misanthropic, brilliant older doctor/nurse/medical professional mentor and/or boss over ethical/scientific issues; colorful, amusing side characters make a "home" out of an event-filled, fast-paced hospital; an intriguing, seemingly baffling medical emergency requiring said passionate young doctor/nurse/student to "break all the rules" and endanger his career to save the patient--then that movie or TV program owes a lot of its inspiration to these speedy, entertaining formula Kildares. With all nine of the Lew Ayres Kildares written by Harry Ruskin (King of Jazz, Andy Hardy's Blonde Trouble, Lost in a Harem, The Postman Always Rings Twice) and Willis Goldbeck (The Garden of Allah, Ten Tall Men, The Colossus of New York, The Man Who Shot Liberty Valance), and all but the final one directed by former assistant director Harold S. Bucquet (The Adventures of Tartu, Dragon Seed), there's a fairly consistent visual and tonal quality to the movies (let's just be kind and say Bucquet never met a static two-shot followed by a close-up he didn't like) along with a general sameness to their story construction--not unexpected in these series outings...and granted, not a difficult feat under the factory-like production techniques of the times. Throughout the Kildare series, certain scenes reappear with regularity (and frequently in the same general order): a patient with an annoying problem is told off by a mad-at-the-world Gillespie in the opening scene; Gillespie affectionately berates tolerant, understanding Kildare over Gillespie's phony insistence that Kildare doesn't know what the hell he's doing; a baffling case develops that involves Kildare's medico-sleuthing skills while also challenging his ethical standards; Gillespie does what he can to help the boy before firing him as his assistant, while the hospital throws up its hands with both of them; Kildare romances Mary and keeps promising marriage; Kildare gets sage advice from his parents on the matter; a resolution, usually both medical and legal, is arrived at with the secret help of Gillespie and his "stooges," consequently hiring Kildare back as his assistant; and inbetween, comic banter and slapstick gags amongst the various peripheral hospital staff are interjected throughout the story to keep everything moving along. "Formula," to be sure...but one that consistently worked (and still does, in one variation or another, particularly on TV, from Ben Casey to M*A*S*H to Medical Center to Marcus Welby, M.D. to St. Elsewhere to ER to House, M.D. to Gray's Anatomy).

YOUNG DR. KILDARE
In smalltown Dartford, Connecticut, country doctor Steve Kildare (Samuel S. Hinds) walks out onto his porch, and takes down the nameplate sign made for his just-graduated son, Dr. James Kildare (Lew Ayres), as the boy's mother, Martha (Emma Dunn), softly cries: young Jimmie won't be staying home and practicing medicine with his father, as his parents had hoped. He doesn't know what the world holds for him, but he knows he has to test himself in an arena bigger than Dartford, so he's off to New York City, leaving behind pretty Alice Raymond (Lynne Carver), to match wits against Blair General Hospital's master diagnostician, Dr. Leonard Gillespie (Lionel Barrymore), a wheelchair-bound holy terror who doesn't think twice about telling the whole world to p*ss off. Gillespie takes notice of the new intern the minute Kildare shows he's brave enough to pass Gillespie's first test: diagnose me, Gillespie...which Jimmie does. The diagnosis? Fatal melanoma. So Gillespie has to work fast to teach his new protege and personal assistant all the things he knows--a process made difficult because he keeps firing Kildare. When Kildare takes the rap for a patient dying (when slow-witted ambulance driver Joe Wayman, played by Nat Pendleton, doesn't follow Kildare's orders...although the movie is adept at mitigating any real blame, stating the patient would have died regardless of treatment), Kildare gets a second chance when he saves a would-be suicide victim, who turns out to be troubled, wealthy socialite Barbara Chanler (Jo Ann Sayres). Good will towards the young doctor quickly turns sour when he disagrees with the hospital's eminent psychiatrist about the girl's condition, and when he further refuses to reveal what he knows about the girl's case to Blair's patrician administrator, Dr. Walter Carew (Walter Kingsford). It will take some wise advice from Jimmie's mother, as well as help from the hospital crew, to keep young Kildare from losing everything.
The first in the series, Young Dr. Kildare necessarily spends more time setting up the basic story elements that will serve as a general framework for the subsequent entries. Thus, we get quite a bit of Andy Hardy-ish material at the front of the movie where Jimmie returns home and struggles with his decision to leave Dartford. This is the kind of simple, heartfelt Americana family drama that mother-idolizing Louis B. Mayer loved, and typically, it's pulled off here in the best Metro style: idealized, perhaps...but also sincere and quite lovely (there's a beautiful, lyrical sadness to that nighttime scene on the porch, with deep shadows and softly chirping crickets, as Mom and Dad Kildare--sweetly underplayed by pros Hinds and Dunn--take down that nameplate sign, knowing their boy is truly gone for good). Once Barrymore comes on the scene, though, the energy level is considerably raised, as the core central appeal of the series is immediately established: Ayres and Barrymore's duet of combative argument...underlayed by deep love and respect for each other. The chemistry between the two apparently was just as strong off-screen as it was on, and it aids the movies immeasurably: Ayres, quite and gentle and indulgent of his sputtering, dyspeptic idol, and Barrymore hamming it up something outrageously, acting the hell out of that wheelchair as he whines and thunders at the stupidity of man, the cruelty of sickness and death, and the beauty and honor of those who chose to fight both. It's a double act that already seems finely honed, remarkably, and while Barrymore will go even more over the top as the series progresses, he can pull it off because he's frequently hilarious...and very often the only source of real excitement in these Bs (when he practically screams, "Get your hand off my chair!" when someone tries to help him, Barrymore delivers this incredible combination of personal dignity offended--he won't be pitied--and a reassertion of his power, that's electric). By the movie's end, when Ayres and Barrymore, as themselves and in good, fraternal humor, step/roll out from behind a theater curtain and address the audience, telling them that they hope this first movie will be one of many starring that "hot-headed, impudent young squirt" and that "ruthless, bad-tempered old rascal," despite the tentative tone of their script, it's clear the two performers know they've hit on something. A solid start to the series, with almost all of the final elements in place.

---
CALLING DR. KILDARE
Back in Dartford, Connecticut, Dr. James Kildare's (Lew Ayres) mother, Martha (Emma Dunn), just doesn't seem to get it: he's not coming home to practice medicine, even if Jimmie's father, Dr. Steven Kildare (Samuel S. Hinds), has a tough case on his hands: the father of Jimmie's sweetheart, Alice Raymond (Lynne Carver), has a mysterious fever. Back at NYC's citadel of healing, Blair General Hospital, young Dr. Jimmie has enough troubles. His tormenting mentor, Dr. Gillespie (Lionel Barrymore), thinks Jimmie needs a little humbling, so he sends Kildare to the hospital's slum clinic, under the watchful eye of one of Gillespie's "stooges," wholesomely sexy Nurse Mary Lamont (Laraine Day). However, young Kildare's ability to get into trouble is by now legendary, and sure enough, he's almost immediately embroiled in a potential scandal: he's illegally treating gunshot patient Nick (George Offerman, Jr.) and hiding him out from the cops. You see...Nick is wanted for bumping off bookmaker Bootsy Garson, but Kildare instinctually believes Nick is innocent, a diagnosis no doubt affected by the presence of Nick's sultry, heavy petting-worthy sister, Rosalie (Lana Turner). It doesn't take long for Gillespie to figure out what's what, and as usual, he tries to help young Jimmie...but Kildare can't help himself, and sure enough, he's suspended again from the hospital. Now it's up to Gillespie and Mary to save young Jimmie's career...and extricate him from Rosalie's clutches.
Picking up the pace while ratcheting up the humor, Calling Dr. Kildare begins with a misguided bit of deja vu, having Jimmie's mother take down that nameplate sign again (if the character is supposed to be so understanding of her son...she can't see that dream is over?), before it largely ditches that hometown subplot and gets back to bustling Blair General. Not nearly as serious-minded as the first Kildare, events at Blair seem to be falling into two categories: amusing and heart-tugging (Bobs Watson's polio victim, played for sentiment bordering on the grotesque), and comedy-oriented bits inbetween the medico-mysteries. The humorous bantering between Nat Pendleton as trained ape Joe Wayman, and Blossom Rock's (Grandmama Addams!!) smart-assed Sally the switchboard operator, have a nice snap to them (her disdain for Joe, who "dunked a lamb chop" on their date, is pretty funny)...although I don't know how much longer they're going to be able to continue the gag of Kildare getting "aid" from Joe courtesy of a "tap from the "'Ol Lie Detector": a monkey wrench that Joe uses to bash anybody that gets in the way of Kildare's investigations. Barrymore didn't have far to go to cross over into "camp" even in the first movie, so it's quite enjoyable to see him really fly off the handle in this second outing. The kids must have loved this old codger using slang ("Say listen, beautiful...which one is this?" he inquires over the hospital phone), and keep a quick eye on him during a scene early in the movie where various people come in to say, "Good morning," to him; his clearly ad-libbed mimicking of them is one of the funniest things I've seen this year (that hilariously screamed, "Next patient!" is always good for a laugh, too). However, some touchy viewers are going to have problems now and in later entries with the character of Conover, Dr. Gillespie's personal slave orderly, played here by Clinton Rosemond before the funnier George Reed took over (as I've written before many times, and at greater length, the complicated reception today of racial humor in movies from this period isn't nearly as black and white--sorry--as some outraged critics would have everyone think. Besides...the Kildare series has a small but remarkable development in that area coming up in a later entry....).
The biggest boost to the series is the introductions of Alma Kruger as Chief Superintendent of Nurses Molly Byrd, a straight-talking, tough-but-fair foil to Dr. Gillespie, and the gorgeous Laraine Day as Kildare's new regular love interest, Nurse Mary Lamont. Kruger hits exactly the right note as a humanizing counterpoint to contemporary Gillespie, one who can easily trump him (or blithely ignore his edicts outright), but who can also make Gillespie more sympathetic to us (she calls him "Leonard" with ease, suggesting a past history we can only wonder about). Kruger, a former stage star like Barrymore, is perfectly cast here, adding a funny, kind dimension to Gillespie's character we couldn't have gotten solely from Kildare. As for the addition of Laraine Day, it just didn't work having Kildare's sweetheart, Lynne Carver, back in Dartford when Kildare needed to be romantic in New York City (although the way she just vanishes here is a bit puzzling). So putting the charming, talented Day in as Nurse Lamont was an inspired move, giving the series another central arc--Jimmie's and Mary's long walk down the aisle--that no doubt boosted the popularity of the subsequent movies (ironically, Day stated her nemesis Mayer put her in this B series as punishment; perhaps a little chase around the desk wasn't to this Metro starlet's liking....). As for the movie itself, aside from the fast-establishing motifs and conventions of the series as a whole, Calling Dr. Kildare is a typical B gangster outing morphed to a medico-mystery, with no surprises (that trick with Kildare cooking up a blood type with a flashlight and his pocket watch lens was pretty good, though). Future superstar Lana Turner, impossibly lush and alluring, displays without a bit of self-consciousness the destructive carnal quality of her eroticism (she should have done noirs only). As for that whiny socialist New Deal crap at the end, where Gillespie rages that all the resources of mankind are needed to guarantee man's health as a "right" (they made it just vague enough so well-known conservative Barrymore didn't choke on his words), well...it didn't work any better then than it does now, right folks?

---
THE SECRET OF DR. KILDARE
When Wall Street tycoon Paul Messenger (Lionel Atwill) asks Blair General Hospital's famous diagnostician Dr. Leonard Gillespie (Lionel Barrymore) to help his moody, hysterical, and sometimes almost blind daughter, Nancy (Helen Gilbert)--who refuses to see a doctor--Gillespie passes the case to young Dr. Kildare, who'll go undercover to see what's wrong with the gorgeous socialite. However, Kildare is disturbed by Gillespie's increasing weakness, due to his overwork with Jimmie on a cure for pneumonia, while he has the double worry of his real father's potentially fatal heart problem. Realizing that if he quits as Gillespie's assistant, the wheelchair-bound doctor will be forced to abandon the research and take a life-saving vacation, the selfless Kildare leaves, and pursues Nancy. Will he be able to save her in time, and will Gillespie ever forgive young Jimmie?
Spending too much time away from the hospital doesn't help. The Secret of Dr. Kildare seems like a small step backwards for the series, in that Kildare and Gillespie largely work separately from each other, splitting the audience's interest in this screen team they want to see together as often as possible. And frankly, Kildare without Gillespie isn't nearly as compelling as when he's being goaded and cajoled and praised by the curmudgeonly taskmaster (to be even more honest, by this point in the series...I'm not sure Kildare as a character is all that compelling no matter what's going on). None of The Secret of Dr. Kildare makes much sense, from that loopy research plan of Gillespie's (rent a plane to fly into an on-coming cold front in Canada--that seems like a pretty broad area--and then wait for people to get pneumonia, and then send back their blood?), to this world-famous diagnostician handling a simple pregnancy case (even telling off a drunk seems a waste of his talents...although it is bracing to hear Gillespie's, "If you drink, it's your fault!" after subsequent decades of pusillanimous palaver that says genetics magically make you bend your elbow). Gillespie's relationship with friendly nemesis Molly Byrd continues to amuse (apparently they did date once: lunch, 25 years ago). George Reed as Gillespie aide Conover has some funny scenes with Barrymore, too; particularly when they throw dice while fishing (racist? Well...it's Conover who gets the last laugh at Gillespie while he takes his money). Jimmie still relies on Mom to keep him on a straight course (she says she raised him with the power of prayer, and the back of a hairbrush), while his romantic pursuits take a firm second place to his medico-sleuthing (the whole Helen Gilbert--gorgeously stiff and distant--subplot about hysterical blindness is quite hysterical itself, in that now-wonderfully simplified, naive Introductory to Hollywood Freudianism: 101 approach). Some good bits here, but not as unified as previous outings.

---
DR. KILDARE'S STRANGE CASE
In yet another "loyalty test" to see if his boy really loves him, wheedling crank Dr. Gillespie (Lionel Barrymore) decides to further torture his ward, young Dr. Jimmie Kildare (Lew Ayres), by dangling a pre-arranged job offer at the Messenger Institute (yep, the rich guy from the previous movie). There, Jimmie will make $500 a month (mind you: well over 8 grand in today's money, and that still doesn't come close to what you got for your dollar back then), with the eventual option to run the joint, at over $300K a year (millions today). Oh, and he gets a fully-furnished mansion, too, free of charge. Now, you would think this is just what any young intern in the Depression would want...particularly if his P.O.A. girlfriend, Nurse Mary Lamont (Laraine Day) keeps getting told by her boyfriend that the only thing stopping him from marrying her, is money. But nope; true-blue Jimmie not only picks Dr. Gillespie, but also seems to indicate he has some sort of head trauma, because he's repeatedly going out of his way to help his main rival for Mary's love: brain surgeon Dr. Gregory Lane (Shepperd Strudwick). That's not as easy as it sounds, since lately, Lane's patients have been dropping like flies. When Lane, goaded into confidence by Kildare, seemingly blows it again with the patient waking up insane, it's up to young Dr. Jimmie through the miracle of insulin shock therapy to save Lane's bacon...for some reason of "honor," or something.
When the supporting players start outshining the lead...you're headed for problems. Dr. Kildare's Strange Case isn't silly because it features now-outdated notions about schizophrenia and insulin shock therapy ("Jelly sandwiches NOW!" Kildare cries in triumph)...or the various ways that Dr. Kildare breaks every ethical and legal standard in the book to prove that his romantic rival really isn't that bad of a brain surgeon. We don't expect logic from these kinds of movies. But the ridiculous lengths that the writers go to to prove Kildare's saintliness when it comes to romance is positively hilarious, and we don't buy for a second that audiences back then bought it for a second, either (I don't subscribe to the current notion that seems to be popular with every new crop of moviegoers that the previous crop of moviegoers were somehow more naive or dumber than the new crop of moviegoers). Still, that kind of chivalrous balderdash can make certain ticket buyers swoon, so.... However, there is a developing central problem with these ongoing Kildare entries that doesn't seem to be being addressed: Kildare is increasingly dull (even his mother seems to be repeating herself to him, to no avail. He just won't listen...). If the goofball medical storyline of Dr. Kildare's Strange Case is rot, and the romance is not hot, that leaves the comedy, and it's terrific...thanks to everyone but Kildare (they couldn't let Ayres be a little bit funny?). Indeed, Pendleton's and Rock's Joe and Sally steal the movie, with their common-as-muck courtship and lunkhead/smart-assed banter (how fun would a two-reeler series have been with them?). Of course the supporting players in a series are there to provide the same kinds of scenes that audiences want to see over and over again; the trick is to not become boring doing so, which Pendleton and Rock easily avoid. And there's no need to mention Barrymore here; he just has to wheel into the room and spit out an insensitive line to steal the scene ("I just left your patient--he's as mad as a march hare," he delivers with an evil smile). It's Ayres, though, that seems to be indifferently spinning his wheels at this point. Later in his career, Ayres made no bones about feeling this role didn't challenge him, and quite frankly, it shows by this point. He's sincere, and honest in his approach to the role...but also just the tiniest bit dreary, making us wish he's interact with Gillespie or Day more to juice up the proceedings (in his scenes with Day, she's trying, but she can't get a rise out of him). The least successful entry so far...until the next one.

---
DR. KILDARE GOES HOME
Today, young Jimmie Kildare (Lew Ayres) is a doctor. His internship over, he's been appointed to Blair General Hospital as a staff physician, complete with a plush, M-G-M-styled office and a read-made nurse, Mary Lamont (Laraine Day), assigned to him for his pleasure. However, his dream job is interrupted when he discovers something's wrong at home. In Dortford, Conneticut, Jimmie's dad Dr. Steven Kildare (Samuel S. Hinds) is working himself to death commuting to the nearby town of Parkersville where the mill has closed and sick people are out of work. Fearing he'll collapse from exhaustion, Jimmie stays at home to help out, causing his boss, Dr. Gillespie (Lionel Barrymore) to initially--and quite rightly--wonder what the hell's going on, until he gives his blessing to the boy. Lighting on an idea that could only work today under the Affordable Care Act, Jimmie aims to help Dr. Davidson (John Shelton) and two other interns set up a clinic in Parkersville where the community pays 10 cents a head a week, and gets free medical coverage! Sold! Only there's two problems: prejudice and tradition, says Dr. Gillespie; people don't trust such schemes (too right they don't). So it's up to our boy Jimmie to break all the rules and convince Parkersville head honcho George Winslow (Gene Lockhart) that it's a sound plan...before Winslow keels over dead from spinal meningitis.
Or...Mickey Rooney and Lew Ayres Put On a Backyard Socialist Clinic! It's never good when a Kildare spends too much time away from Blair General, and sure enough, the weakest entry in the series so far mostly takes place many miles away from those hallowed halls of healing. When we are there, we get Gillespie trying to butter up the seen-and-heard-this-bullsh*t-a-million-times-before Chief Superintendent of Nurses Molly Byrd: "You must have lost 15 pounds," "I've gained eight," she replies, "What do you want me to do that's illegal?" Or we get marvelously sexy Laraine Day breathlessly groan, "Oh, doctor!" when kissed (finally) by Kildare. Or we get one of Sally the Switchboard Operator's best personal phone conversation: "As I was saying, Mildred, it's not true that we treated a patient for appendicitis and he died of gallstones. When we treat a patient for appendicitis, he dies of appendicitis!" But once the talk turns to socialized medicine, albeit voluntary (it's not like they lived in a country back then where the government could actually make you buy something you didn't want, something that was actually worse than what you already had and were forced to give up...), Dr. Kildare Goes Homes becomes unbelievably plodding and strident (a neat trick), with nary a laugh to be found. The best Kildares stick to medical and romantic melodrama, plain and simple--the wonder of medicine beating back the darkness of illness, with love conquering all--with plenty of comedy stuffed in the cracks to smooth the whole thing over. Sending a bloated, humorless New Deal message about some cockamamie community-sponsored healthcare plan does not fit that construct (I take that back, there is one laugh associated with this main storyline--Kildare actually admits the plan only works...if nobody gets sick. Hee hee hee!). One message the moviemakers did send, a brave one, loud and clear, was to include a scene where Gillespie goes to observe a rare operation in a rundown section of town. Jimmie goes to investigate, and sees Gillespie watching a bent-over figure in surgical scrubs working on a child on a kitchen table. When the doctor stands up, we see the surgeon, Dr. Marsh (Jack Carr), is black. No mention is made of this, nor any ameliorating comments. Standing above Gillespie, he graciously accepts Gillespie's declaration of admiration for his talents. End of scene. Now...where did that rather remarkable scene come from? Whatever the reason...I can't think of too many Hollywood movies from any period prior to the late fifties that would have had such a character--a black surgeon not the equal of Dr. Gillespie, but the better-skilled (since so many "historians" who write about the movies rarely seem to have all that much movie-watching actually under their belts, I wonder how many of them even know about this scene?). All in all, it's too bad the moviemakers didn't just concentrate on the potentially rich material right in the title--Jimmie going home to take care of his father--and they might have had a winner here. Yakky, lugubrious misfire.

---
DR. KILDARE'S CRISIS
Wedding bells are sounding for our Dr. Jimmie Kildare (Lew Ayres) and his delicious dish of a nurse, Mary Lamont (Laraine Day). However, tainted blood may stand between them. Visiting from out of town is Mary's brother, Douglas (Robert Young), who quit his job at the bank to come to New York to convince a wealthy man to put up millions for trade schools to not only teach kids how to do jobs but also pay them while they study, with the rich reward of knowing that someday after laying out all that dough, those kids will graduate and not be able to find a job in the Depression. Sensing the power of this idea, Jimmie sets up a meeting for Douglas with old moneybags Mr. Chanler (Pierre Watkin). However, Douglas flakes on a planned meeting with Jimmie and Mary, and soon Kildare finds the once manically-possessed Douglas now despondent in his room, hearing voices. Seeing no empty gin bottles, Jimmie suspects epilepsy, a hereditary condition that causes insanity and "a wretched living death." When Mary finds this out, she refuses to marry young Dr. Kildare. Of course, it's up to Dr. Gillespie (Lionel Barrymore) to figure out what's really going on in everybody's noggin.
That original trailer included here says it all for Dr. Kildare's Crisis: they actually slap a "#6" on the top of the image and let it just roll. By this point in the Kildare series I suspect it was all about the numbers--grinding these out every 21 days with a max budget of $400,000, to be released on average every three months to an "X" number of dollars guaranteed profit for the studio (wait...every movie in Hollywood was about the numbers first). I also suspect by this point that if someone dared to speak up and suggest that a doctor of Jimmie Kildare's caliber might suspect a head injury right off the bat as the potential source of his future brother-in-law's epilepsy, they were told to pipe down and let the machinery keep rolling. Actually, it's too bad this B was made at Metro; the subject matter is potentially juicy (Mary's terror at the thought she'll go mad while married to Kildare is nicely evoked by Day), but Louis B. Mayer's absolute horror for anything distasteful like mental illness showing up in one of his family pictures means we don't even get to hear those voices of Douglas', let alone any other kind of expressionistic representation of his illness ("The mothers and grandfathers love to bring the kids to see our Dr. Jimmie...for that loyalty I'm going to give them filth?"). If Dr. Kildare's Crisis' depiction of epilepsy strikes you as hysterical and inaccurate, you wouldn't be the only one; apparently M-G-M received numerous complaints from medical organizations concerning the inaccuracies here. However, what really should offend you is the laziness of the screenwriters who fail to take advantage of the most obvious "dramatic" moment in the script: the final surgery on Douglas' brain. Shouldn't we have at least seen that? How about some last minute complications, before the all-clear horn is sounded? Nothing. Instead, Dr. Kildare's Crisis peters out to another promise of marriage for our young couple. Potentially ripe melodramatically, Dr. Kildare's Crisis pulls its punches.

---
THE PEOPLE vs. DR. KILDARE
Ice Follies skater Frances Marlowe (Bonita Granville) has her entire future ahead of her when she blasts through a rural intersection and gets T-boned by a truck. Good thing our Dr. James Kildare (Lew Ayres) and his fiancee Nurse Mary Lamont (Laraine Day) see the accident and lend aid. Despite expressions of doubt from onlookers, Dr. Jimmie knows what he must do when he sees Frances: an emergency operation right there on the road. Back at Blair General, Frances receives an additional blood transfusion; clearly, young Kildare saved her life. But when she wakes, she finds her leg is paralyzed, and she blames Jimmie's operation. Soon, he and Blair General are being sued for $100,000, and the hospital's attorney, Mr. Channing (Tom Conway), isn't sure things look too good for Jimmie.
Markedly better outing for the Kildare character (there's some snazzy new artwork for the title cards), chiefly because of the intriguing legal/ethical ramifications of the story. The People vs. Dr. Kildare certainly won't surprise anyone with its standard courtroom shenanigans, but within the conventional histrionics of objections and last-minute surprise witnesses, the facts of Kildare's case include two whoppers. First, had he done the morally unethical thing of rendering no aid to her and thus letting her die on the road, he would have escaped scot-free of any legal ramifications. And second, once the lawsuit was brought forth, had he settled the case as the hospital wished instead of fighting for his reputation, he would have had to admit no wrong-doing, and the hospital would not have suspended him. Those issues, along with plenty of bitching about the courts maintaining such cozy relationships between lawyers and judges, gives The People vs. Dr. Kildare a nice edge that I hadn't seen for awhile in the few previous entries. Of course that "edge" is a Metro-Goldwyn-Mayer edge, so things don't get too downcast; when the story must conclude with Bonita Granville revealing whether or not her second operation by Kildare has been a success, she doesn't just wake up from a coma and lift her leg--they have her skate out in a fabulous costume, a miracle on ice. I can't say I'm happy, though, that Nat Pendleton's Joe Wayman, Ambulance Driver character is now inexplicably M.I.A., but it is fun to see Red Skelton at the very start of his Metro career (his appearances in this and the following entry would catapult him into his starring comedy vehicles). Top laughs of course go to Barrymore, though, who has a field day hamming it up in the courtroom (his myriad facial contortions and grimaces stop just short of snorting like a wild boar and hawking back to spit in someone's face). A solid, entertaining entry in the series, getting things back on track.

---
DR. KILDARE's WEDDING DAY
No, this time we mean it: they are going to get married--Dr. And Mrs. James Kildare, M.D. (Lew Ayres and Laraine Day). And that means that Dr. Leonard Gillespie (Lionel Barrymore) won't have young Jimmie to kick around so much. Going to a concert, Gillespie notices that maestro Constanzo Labardi (Nils Aster) seems to be...off the beat, as it were. When he discovers that the conductor fears he is going deaf, that's just the sort of project Gillespie needs to avoid going to Dr. Lockberg's (Miles Mander) cancer treatment facility. Of course, young Jimmie will be needed to help Labardi, and that means he's going to miss some of the preparations for his wedding, including his bachelor party. But that's alright; Mary will attend. Or won't she?
Finally some real tragedy. This is what the Kildare series was missing all along: death. Real, tragic death with some heavy emotional consequences for the characters. Laraine Day made no secret of the fact that she hated doing the Kildare movies, and who can blame her, since she had almost nothing to do in them except look pretty. With Metro having achieved their goal of making Day the starlet into Day the star with this series, it was time to push her out of the nest into bigger A roles, and so...she gets flattened by a Mack truck here (in a momentary fit of perversity rare for Mayer's M-G-M, director Harold S. Bucquet pulls back for a moment and lets us get an eyeful of the gruesome spectacle). In the very best of the lush, ultra-romantic Metro style, Day's kiss-off scene is resplendent in its overripe melodrama. Shot in shimmering soft focus, Day whispers, "Do I have to die?" before sweetly, softly--through the excruciating, agonizing pain--intoning, "Poor Jimmie. This is going to be much easier for me than it will be for you." Finis. Lights out. I guarantee women in the movie theaters were weeping after that one. The big question here is: why didn't they do more of this kind of thing in the Kildares? The curse of being such a good doctor, apparently. As for the Nils Aster subplot with Gillespie, it's a completely superfluous time-filler after Day exits stage right. The only letdown, of course...is Ayres, who can't seem to play suicidal despondent to save his life (his first reaction to Mary's death in Mike's bar is faintly embarrassing, actually, in its amateurish tone of stumbling numbness). Too bad. Red Skelton makes his last appearance as bumbling orderly here (they give him lots of screen time padding...but the preview cards for the previous movie must have demanded it; he gets guest star billing this time out). This is the kind of Kildare they should have been doing several movies back.

---
DR. KILDARE'S VICTORY

Young-but-no-longer-innocent Dr. James Kildare (Lew Ayres) is grimly holding on to his medical practice, for it provides the only relief from his grief. Accompanying intern friend Donald Winthrop (Robert Sterling) on an ambulance call, Kildare tells the uncertain Winthrop to forget his meager pay and marry sexy Nurse Annabelle Kirke (Jean Rogers) pronto, before they split off: Kildare takes care of a choking baby, and Donald goes back with the ambulance to Blair General. Before he reaches base, though, he pulls a major boner: he transports mortally wounded socialite Cookie Charles (Ann Ayars) back to Blair...even though she's actually in another hospital's "territory." Kildare saves Cookie's life (a huge piece of glass pierced her heart), but Winthrop is out at Blair for breaking the rules. Meanwhile, Cookie starts charging hard to the hoop on our young Dr. Jimmie ("heart trouble," indeed), while Winthrop wants to go into private practice. That's going to be tough, though, because the money he was going to use from his girlfriend won't be coming, since she's fired for the same thing (reversed) he pulled. So, some complicated strings are pulled behind the scenes to help the couple, with Kildare caught in the middle.

Busy, busy, busy...but unfocused, too. The first major shake-up in the series' production crew happens here in Dr. Kildare's Victory, when heavyweight director "Major" W.S. "One Take Woody" Van Dyke II (Manhattan Melodrama, The Thin Man, Rose Marie, Tarzan, the Ape Man) steps behind the camera. There's a noticeable jolt in the blocking and camera movements, with a jazzy snap to the performances that also indicates someone new has come aboard. And that's fine...until you realize all the speeded-up action is an effort to cover up a story that's splintered. After Day was killed off in the previous entry, we should be concentrating exclusively on Jimmie's recovery through the romantic ministrations of Ayers (who, by the way, is a complete delight: sexually confident--watch her say, "I want you for Christmas,"--and quite flip with a line). Who cares about Sterling and Rogers, quite frankly...unless M-G-M was either deliberately making Ayres nervous ("You can be replaced, you know, Lew....") or actually fishing around for a suitable replacement, since at nine movies and counting, it was only inevitable that eventually, audiences would tire of "young" Dr. Kildare. The worst part of Dr. Kildare's Victory is how marginalized Gillespie is; with all that time cutting back and forth between Sterling and Ayres, we lose track of the guy we really want to see: Barrymore. And that's too bad, because he's at the very least amusing--as expected (watch him react to getting kissed at the end)--while a downbeat, distracted Ayres already looks like he knows what's coming next with his career (and it ain't good). Barrymore's reduced presence here just heightens the loose, uncontrolled feel Dr. Kildare's Victory has, but no one during production would have predicted it would be the very last Kildare outing...before the Gillespie series began in desperation (you want that story? Tell Warner's Archive Collection to release those movies next...).

The DVD:
The Video:
For the most part...quite good. The fullscreen, black and white 1.37:1 transfers for the Dr. Kildare Movie Collection sport sharp images, decent contrast, okay blacks, and relatively low levels of screen anomalies. They look the best I've ever seen them.
The Audio:
The Dolby Digital English mono audio tracks sound fine here: good re-recording level, with little fluctuation and low hiss. No subtitles or closed-captions.
The Extras:
Original trailers are included for all nine movies here -- very cool. As well, an original pilot for a proposed Kildare television series from M-G-M with Lew Ayres, not Richard Chamberlain, is included here. Dated 1960...it's a pretty drab affair, unfortunately (I can see why the networks passed). Still, an excellent bit of rare TV trivia.
Final Thoughts:
Essential Hollywood history. Certainly, not every entry in the Dr. Kildare series from Metro is perfect. However, most are pretty entertaining (and any time Lionel Barrymore is on camera, we're good), and anyone interested in that period of classic Hollywood moviemaking will find them fascinating (for what makes them work...and for what doesn't). I'm highly, highly recommending the Dr. Kildare Movie Collection.
---
Paul Mavis is an internationally published movie and television historian, a member of the Online Film Critics Society, and the author of The Espionage Filmography.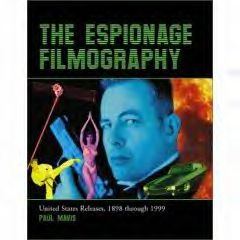 ---
C O N T E N T

---
V I D E O

---
A U D I O

---
E X T R A S

---
R E P L A Y

---
A D V I C E
Highly Recommended
---
E - M A I L
this review to a friend
Sponsored Links
Sponsored Links