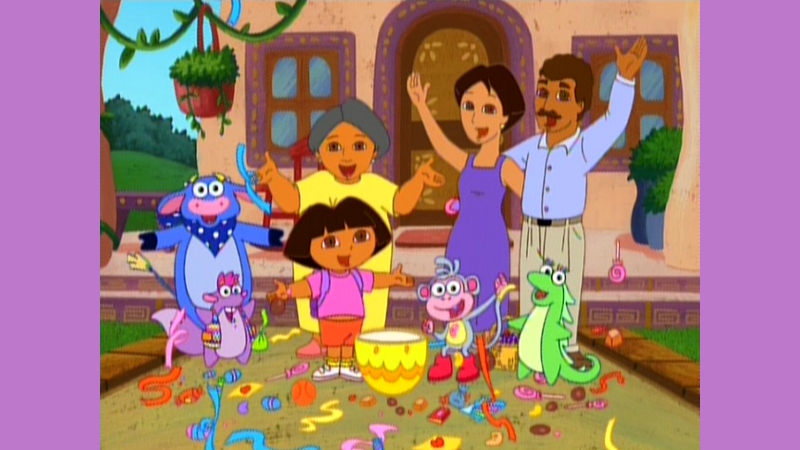 Originally released back in 2003, Dora's Egg Hunt serves up four episodes that originally aired during the series' first two seasons. The eponymous episode is the star of the show, in which Dora and Boots set off on a little Easter adventure to find 12 prize-filled eggs. Not surprisingly, this follows the same formula as pretty much every Dora episode ever conceived: you've got three destinations, interference from el zorro Swiper, a few bilingual vocab words, that annoying Map, etc., yet it's still a cute enough episode that most kids will enjoy. "El Dia de las Madres" is another Spring-centric episode that, likewise, follows Dora and Boots as they hunt for ingredients to make a special Mother's Day cake.
Short and simple, these two episodes are the main reason why this re-release of the exact same disc (which itself has been reissued at least twice, in 2004 and 2009) is part of the studio's "Essentially Spring" line of DVDs...but at this point, you'd think some sort of remaster or new extras would be included. Nope, it's the same exact product with a new slipcover disguise, for better or worse. Two Bonus Episodes are also included, and since they're not really Spring-related it's completely understandable. "Pablo's Flute" follows the duo as they search for a missing instrument, while "Dora, La Musica" finds our heroes leading a parade in protest of the nasty, music-hating Senor Shush. Like both main episodes, these music-themed adventures are enjoyable enough even if they don't exactly follow the main theme of this disc.
So yes, it's 2014 and Dora is still a popular series, so you'd think a broader Spring-themed collection would be offered instead of a recycled relic from 11 years ago. That's the main reason it's hard to recommend titles like Dora's Egg Hunt, even if the material itself would probably be enjoyed by most preschool kids. But let's take a closer look, shall we?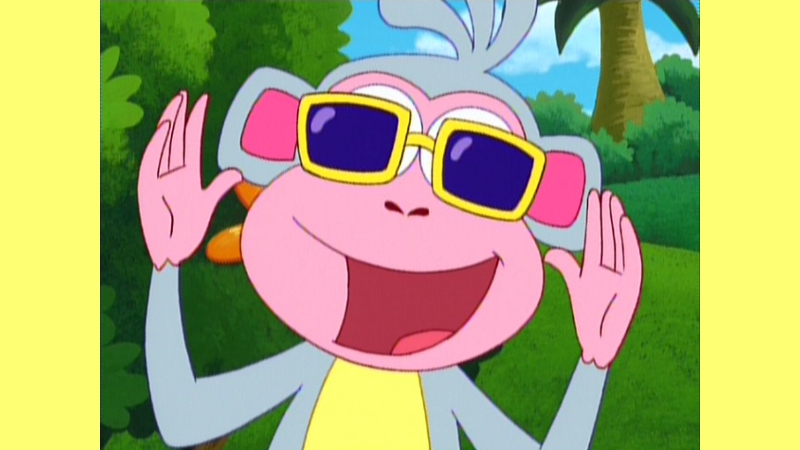 Quality Control Department
Video & Audio Quality
Nothing remarkable, though I'd imagine ten years ago this disc would've gotten an easy pass. All episodes are presented in their original tube TV-friendly 1.33:1 aspect ratio and look no better or worse than your animated series from this era ported to DVD. Image detail definitely runs a little on the soft side, while mild interlacing and motion blur can also be spotted on many occasions. Colors are relatively bold and bright, although the warmer colors are prone to bleeding. It's still a perfectly watchable presentation overall, at least enough so that young fans won't find much to complain about.
---
DISCLAIMER:
These compressed and resized screen captures are strictly decorative and do not represent this title's native 480p resolution.
---
The audio is presented in Dolby Digital 2.0 and sounds fairly good under the circumstances. Voices and music are relatively crisp and clear without fighting for attention, while a modest amount of channel separation gives many of the song-driven moments a little bit of punch. Optional Closed Captions have been included during the main feature only.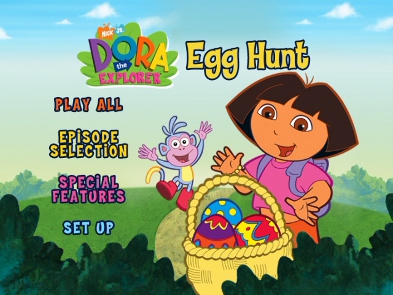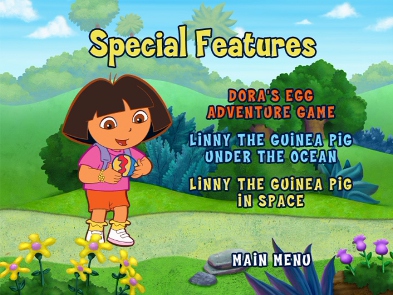 Menu Design, Presentation & Packaging
Seen above, the menu interface is basic, colorful and easy to navigate. As expected, several chapter breaks and a sea of recycled 2003 ads and warning screens are also part of the presentation. This single-disc release is housed in a silly eco-friendly keepcase; also wrapped snugly around the outside is a not-so-eco-friendly "Essential Spring" slipcover.
Bonus Features
Three extras have been recycled from the previous version(s) of
Egg Hunt
, including an on-screen
Egg Adventure Game
and two
"Linny the Guinea Pig" Episodes
(she of
Wonder Pets
fame), which run for less than three minutes apiece.
Final Thoughts
Not too much to say about this one. Dora's Egg Hunt has been released on DVD at least three or four times now...and since it's the same 2003 disc, you won't be getting any new extras or even a particularly strong A/V presentation. The episodes themselves are cute and harmless enough, but at this point only the newest of parents and their kids will be unfamiliar with what's on board here. Rent It or just buy one of the older (identical) editions for pennies on the dollar.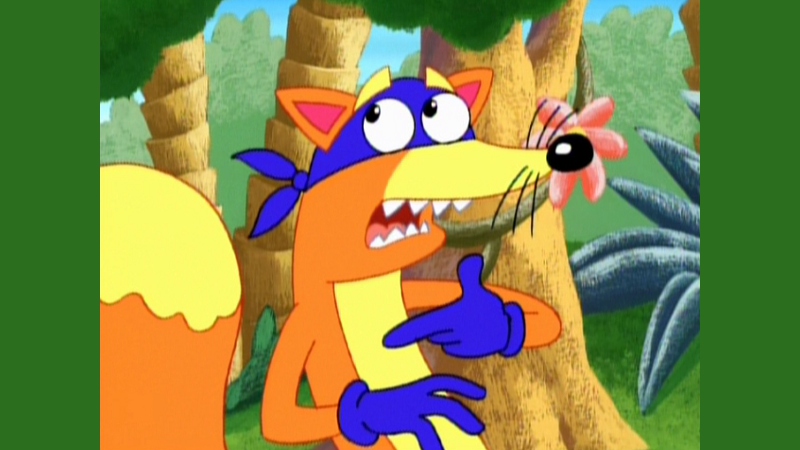 ---
Randy Miller III is an affable office monkey by day and film reviewer by night. He also does freelance design work, teaches art classes and runs a website or two. In his limited free time, Randy also enjoys slacking off, juggling HD DVDs and writing in third person.
---