Lady By Choice (Sony Choice Collection)
List Price: $20.95 [Buy now and save at Amazon]
---
Moderately amusing romantic comedy-drama. Sony Picture's Choice Collection line of hard-to-find library and cult titles has re-released Lady By Choice, the 1934 hit from Columbia Pictures starring Carole Lombard, May Robson, Roger Pryor, Walter Connolly, Arthur Hohl, Raymond Walburn, James Burk, and Henry Kolker. Clearly designed by Columbia to remind ticker buyers of the studio's previous year's huge hit with Robson, Lady for a Day, Lady By Choice isn't nearly as well-written or directed as its iconic inspiration...but it's mildly diverting, nonetheless, particularly when Lombard and Robson trade lines. No extras for this terrific 16 x 9-platformed fullscreen black and white transfer.
Judge Daly (Walter Connolly) has had it with drunken troublemaker Patsy Patterson (May Robson). Making her eighth inebriated appearance in front of his bench--this time for causing a melee in a restaurant when the soused senior citizen heckled the house singer for attempting M-o-t-h-e-r--the judge wants to know what connection Patsy's would-be benefactor, wealthy Johnny Mills (Roger Pryor), has with the recalcitrant old bat. Pryor tells the judge that his father, on his deathbed, asked Johnny to watch out for "old friend" Patsy, including providing a weekly stipend to keep her off the streets--an offer she's repeatedly refused. Facing no alternative, the judge sentences Patsy to an old folk's home, a compromise the angry, invective-spewing oldster dislikes just a little bit less than the alternative: prison. Fortunately for Patsy, notorious fan dancer, Alabam Lee (Carole Lombard), "The Human Heatwave," who had earlier laughed delightedly at Patsy's antics in the courtroom when Lee had her own tiff with the law concerning a pesky morals charge, needs some good publicity to keep her own self out of jail, and Patsy fits the bill. Lee's P.R. man, Front O'Malley (Raymond Walburn) has a sure-fire human interest story for the rags: Alabam will legally adopt an old dear at a local home for the aged on Mother's Day. Alabam's shifty manager, Charlie Kendall (Arthur Hohl), has to agree it's a great idea, and soon enough, Alabam is shopping for a mom at the local home...where she spies Patsy. Sold! Soon, Patsy's living it up at Alabam's swank uptown apartment, with the two finding themselves growing quite close to each other. However, Patsy's sincere efforts to be a "good mother" backfire when her pushing Alabam into being a "respectable" Broadway star fails. When Patsy sees an out-of-work Alabam latch onto rich "sucker" Johnny, she's determined to stop her...until she learns the two are really in love.
Although not a sequel in any way to Columbia's and Frank Capra's 1933 critical and box office smash hit, Lady for a Day, it's pretty clear that the studio intended Lady By Choice to be perceived by the public as some kind of unofficial follow-up to Capra's classic (and who can blame them, since Capra was almost single-handedly pulling the Poverty Row studio into respectability...along with scoring millions of ticket sales). After securing Lady for a Day's Best Actress Oscar-nominated break-out star, 75-year-old theatre treasure, May Robson, the studio then fashioned a story from Dwight Taylor (Top Hat, The Gay Divorcee, Follow the Fleet) that cherry-picked several Lady for a Day plot elements to give Lady By Choice a not-too-similar-but-still-familiar ring. "Apple Annie" would now be "Patsy Patterson," another senior citizen living in reduced circumstances on the streets. Instead of Apple's gambler patron, Dave the Dude, Patsy would have three benefactors: a judge, rich Johnny Mills, and her surrogate daughter, Alabam. Just like Apple Annie, Patsy would be whisked to the top of a penthouse for the purposes of a "front," in this case Alabam's P.R. stunt, where just like Apple, a transformation would take place--although in this movie, the attempted conversion is performed by Patsy on her backer, Alabam. And just like Lady for a Day, the wind-up of Lady By Choice needs an authority figure, in this case a judge, to step in and square away the comedic complications. Not missing a trick, Columbia assigned the final script to frequent Capra collaborator, pro Jo Swerling (Ladies of Leisure, Love Affair, The Whole Town's Talking, Pennies from Heaven), but left the directing to contract helmer, David Burton (Fighting Caravans, Confessions of a Co-Ed, Princess O'Hara). Received well-enough by the critics when released in October, 1934, Columbia's efforts to piggyback Lady for a Day's success worked, with Lady By Choice turning a nice profit for the studio.
Seen today, Lady By Choice obviously pales next to its inspiration (particularly its flat direction), but it's watchable, at least. As much a romantic drama as it is the comedy we're set up to think it will be, a big part of Lady By Choice's appeal depends on whether or not you first think it's funny to see Robson act like a rowdy, cussin', unrepentant hell-raiser, and second if you buy the broadly sentimental evolution to the story, where Robson and Lombard become "family," before the harder-edged romance between Lombard and Pryor. One could certainly be forgiven for assuming Lady By Choice was going to be some kind of screwball farce, with the opening scenes of Robson cat-calling a restaurant singer, baa-ing like goat, mouthing off to the judge in the packed courtroom, and sneaking drinks out of a hidden bottle in her petticoat. On that initial level, Lady By Choice is amusing enough. Sure, Robson is pretty unsubtle playing the rebellious alcoholic, but it's such an unfamiliar sight from that time period, when little old ladies were invariably portrayed as residing just this side of sainthood, that it's fun just to see how far they'll go in showing her cussedness.
Once Robson moves in with Lombard, though, right when we're expecting the laughs to really kick into high gear (is she going to empty that extensive liquor cabinet? Will she embarrass Lombard at some kind of social gathering? Are the two going to battle royale?), Lady By Choice goes sentimental, with Robson kissing Lombard's hand over and over again when she's told she's loved, segueing right into (relatively) good parenting mode as she tries to guide the faltering Lombard onto the right track (Robson still has time for the occasional crap game). We were primed for Robson's humorous problems adjusting to the rich life, and instead...she fits right in with relatively few hiccups (...or funny events). With the plot now switching more to Lombard's troubles, here's where Lady By Choice might have been genuinely interesting, chiefly in the glimpses of Lombard's grittier attitude towards love with Pryor. Reminiscent of stronger pre-Code works, Lombard, once she realizes she's out of work, sneers that Pryor is a "sucker," and "why shouldn't I take him?" The pre-determined, faux-convoluted resolution and happy ending eliminates any hopes we might have had for the story going further in this direction, while we also wonder why the story seemed to set up later, more concrete connections behind the implied suggestion that Robson somehow might have had a more direct relationship with Pryor than originally thought...like being his real mother, only to drop them (that certainly seemed to be the way the story was structured, before the script chickened out).
Whether these were tangents never explored in the script in the first place, or they were subsequently cleaned-up once the Production Code crack-down began in 1934, is hard to say (that criminally aborted 10-second fan dance of Lombard's looks pretty chopped up, too), but their inclusion could have only helped Lady By Choice's middling, unambitious concerns. Still...it's hard to complain about Lady By Choice when it's so fun to see Robson and particularly Lombard cracking wise here and there (or doing anything, in mesmerizing beautiful Lombard's case). Lombard had been on a steady career roll by Lady By Choice's 1934 debut (her same year's Twentieth Century would firmly put her in Hollywood's top ranks). Her Alabam's combination of brash, confident tough cookie and wounded, vulnerable tough cookie is irresistible, even if the sometimes wavering script and particularly David Burton's unimaginative direction, offer Lombard little help. Robson may have received the lion's share of attention from the critics at the time of Lady By Choice's release, but today, viewers will be watching--and enjoying--that most thoroughly modern of "old time" actresses, Carole Lombard.
The DVD:
The Video:
I didn't see the Carole Lombard in the Thirties set where Lady By Choice was originally released, so I can't say if this particular Sony Choice Collection transfer was utilized there...but it's fantastic, all the same. Uploaded to a 16 x 9-enhanced platform, the fullscreen, 1.37:1 image looks like it was shot yesterday, with fine picture detail, solid, glossy blacks, and few if any imperfections. Terrific.
The Audio:
The Dolby Digital English mono audio track is equally clean, with little if any hiss. No subtitles or closed-captions.
The Extras:
No extras, unfortunately, for Lady By Choice.
Final Thoughts:
Okay comedy/drama/romance, with Lombard and Robson stand-outs. Lady By Choice won't challenge its obvious inspiration, Lady for a Day, anytime soon, but it's genial enough, with Robson getting laughs and tears by equally broad means, and gorgeous Lombard fascinating us (as usual) with that strange, modern quality of hers. I'm recommending Lady By Choice.
---
Paul Mavis is an internationally published movie and television historian, a member of the Online Film Critics Society, and the author of The Espionage Filmography.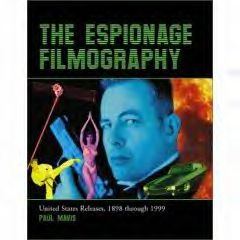 ---
C O N T E N T

---
V I D E O

---
A U D I O

---
E X T R A S

---
R E P L A Y

---
A D V I C E
Recommended
---
E - M A I L
this review to a friend
Sponsored Links
Sponsored Links