Cash On Demand (Sony Choice Collection)
List Price: $20.95 [Buy now and save at Amazon]
---
Tight, suspenseful chamber piece from Hammer...until everyone goes all silly beggars at the end. Sony Pictures' Choice Collection line of hard-to-find library and cult titles has re-released Cash on Demand, the 1961 thriller from U.K. Hammer Studios (distributed here in the States through Hammer's releasing partner, Columbia Pictures) starring Peter Cushing, Andre Morell, Richard Vernon, Norman Bird, Kevin Stoney, Barry Lowe, Edith Sharpe, Lois Daine, Alan Haywood, Vera Cook, and Charles Morgan. A trim, gripping little bank robbery outing, Cash on Demand sticks to a couple of claustrophobic sets and lets good actors Cushing and Morell and Vernon turn the screws on each other with memorable results--a winner, until the compromised end. No extras for this very nice anamorphically enhanced black and white transfer.
It's Christmas-time at the Haversham branch of the City and Colonial Bank, but that doesn't matter to Scrooge-like manager Fordyce (Peter Cushing). An obsessive, resolutely humorless scourge, Fordyce is more interested in quietly terrorizing his employees over the tiniest and pickiest of errors--the worn nib of a fountain pen is almost just cause for dismissal--than in getting to know them as human beings. Soft-spoken, long-time clerk Pearson (Richard Vernon) is a frequent target of Fordyce's ire, with Pearson's latest mistake--signing-off on young Harvill's (Barry Lowe) latest good-natured till imbalance--sure to get him fired. Pearson compounds this error by letting security chief Hepburn (Andre Morell) of Home and Mercantile Insurance back to see Fordyce without doing a routine check on his credentials. That's just as well, though...because Hepburn is actually a cold-blooded bank robber, and he has Fordyce's wife and child hostage at their home, with electrodes attached to Fordyce's wife's head, should Fordyce not do precisely what is asked of him. What follows is a tense battle of wills between the smooth, deadly Hepburn and the nervous, terrified Fordyce, with 93,000 quid as the prize.
Adapted from The Gold Inside, a 1960 U.K. Theatre 70 teleplay by Jacques Gillies, Cash on Demand was yet another effort by Hammer Film Productions' producer Michael Carreras to diversify the Hammer brand, then known internationally for its color-soaked, violence-filled horror outings like The Curse of Frankenstein, Dracula, and The Mummy. Shot on the cheap in black and white, on just a couple of small sets, Cash on Demand, at least in terms of box office, didn't do much better at accomplishing Carreras' expansion goals than similar suspense outings like Hell is a City, Scream of Fear, and Never Take Sweets from a Stranger. Released first here in the United States in the winter of 1961, on the bottom of a double bill with Columbia's unsuccessful Walk on the Wild Side, Cash on Demand didn't even see a U.K. release until 1963, where, like in the States, it garnered respectful notices...and few ticket buyers. It has since developed a minor reputation among Hammer aficionados who have since come across it--a position enhanced in that studio's oeuvre, no doubt, by its relative rarity of screenings over the years.
Which is probably the best way to discover a movie like Cash on Demand: by accident, unexpectedly, either by chance on television or when ticking-off unseen titles as they're released on DVD (I had long-read about Cash on Demand, but I hadn't had a chance to see it until Sony's 2007 Hammer Films: Icons of Suspense collection). Coming at it unexpectedly, its small-scale charms and accomplishments seem pleasantly magnified. An initially rewarding melding of Dickens' A Christmas Carol, a psychological duet between crook and victim, and a safe-cracking suspenser, Cash on Demand at first quietly grabs us with Peter Cushing's absolutely humorless, unsympathetic turn as Fordyce. A petty tyrant forever on the lookout for his hated staff's seemingly unending (in his mind) "fiddling misdemeanors," such as dull pen nibs and too many Christmas cards on their desks (an "undignified display of popularity," he tells poor Mrs. Pringle), Cushing is precisely the kind of sadistic boss anyone would like to see innocently, inextricably ensnared in an extortion and robbery scam. With his miserly, death skull, pinched face and his cold, soured, slit mouth, Cushing is thoroughly dislikable--the perfect Ebeneezer Scrooge who will never reform, because if there was ever any humanity in him, it was long ago driven out by the inconsequentialness of his daily grind.
When Morell then shows up as the dapper "gentlemanly" bank robber, we're already poised for some Hitchcockian reversals of moral allegiance as we quickly root for his smooth, accomplished cracker to not only get his money...but to thoroughly humiliate Cushing in the process (Morell and Cushing, who had worked together the year before in Hammer's entertaining The Hound of the Baskervilles, compliment each other beautifully here). Suave and amusing and assured, Morell's phony "Colonel Gore Hepburn" is so entertaining and commanding next to sniveling, weak Cushing (who actually cries when bitch-slapped by a disgusted, enraged Morell), that we don't think for a second about his (later-discovered empty) threat to electrocute Cushing's wife. All we can remember is poor, well-meaning Richard Vernon's certain sacking at the hands of callous, conspiracy-nut Cushing. We feel zero sympathy for Cushing's plight because he was shown to be such an unfeeling autocrat, while Morell steals five pounds to give to the employee's Christmas party inbetween amusingly cocky assertions about being "unable to suppress his natural charm"--"an uncommon thief...interested in the people he works with" (Morell's skill is such that we accept these cynical tauntings with more than a little weight).
As the clock ticks down, and the actual robbery commences, director Quentin Lawrence (lots of U.K. television, including the original The Gold Inside, along with The Crawling Eye and The Secret of Blood Island) does a commendable job of ratcheting up the suspense, keeping the dialogue to a minimum as he shows us the mechanics of Cushing and Morell cracking the bank's vault and getting out with the loot. At this point, one begins to think that the small-scaled Cash on Demand may be more than a minor gem...until everyone takes the Dickens' parallel too far for the frankly unmotivated, sadly unconvincing final twist. MAJOR SPOILER WARNING! David T. Chantler's (Follow the Boys, Hammer's She) and Lewis Greifer's (lots of U.K. television, like The Prisoner and Dr. Who) script should have had either Cushing's character be somehow instrumental in bringing down Morell's thief, thus earning his employee's respect (and gaining back his own), or the story should have stayed true to its Hitchcockian roots, with Cushing's "innocent" victim going down, unwittingly, for Morell's crime. Either resolution would have been worthy of what was built before it, rather than the inexplicable, cold bucket of water deus ex machina twist of having supposedly ruthless criminal Morell turn on a dime and take pity on an unworthy Cushing, letting him off the hook with the cops. Why should the awful Fordyce get off? Because he had been through hell...and then cried? Why would his sorely beleaguered employees take pity on this heartless despot so quickly, covering for him with the police (and thus setting themselves up for conspiracy) when they could merely let him get hauled off to the clink? And why in the world would the self-composed, sneering, cynical Morell ever exonerate an officious, whimpering coward like Cushing? As a whim? A Christmas present? Nonsense. It's an arbitrary, improbable, "feel good" solution to the almost-great Cash on Demand, that smacks more of Jingle Bells than the jugular.
The Video:
The anamorphically-enhanced, 1.85:1 widescreen transfer for Cash on Demand looks almost pristine, with a razor-sharp image, fine detail, and consistent gray scale and contrast. Very few screen imperfections.
The Audio:
The Dolby Digital English mono audio track is serviceable, with low hiss. No subtitles or closed-captions available.
The Extras:
No extras for Cash on Demand.
Final Thoughts:
Just enough of the devil...before the Dickens you say. Up until the last five minutes, the suspenseful, cynical, amusing Cash on Demand continues to impress the viewer with its small-scaled but impressively-executed charms. And then...someone tries to actually turn it into A Christmas Carol. Too bad. Still...for everything that proceeds that trite, unsound denouement--including Cushing's and particularly Morell's socko performances--I'm highly recommending Cash on Demand.
---
Paul Mavis is an internationally published movie and television historian, a member of the Online Film Critics Society, and the author of The Espionage Filmography.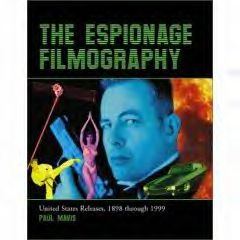 ---
C O N T E N T

---
V I D E O

---
A U D I O

---
E X T R A S

---
R E P L A Y

---
A D V I C E
Highly Recommended
---
E - M A I L
this review to a friend
Sponsored Links
Sponsored Links