Drive a Crooked Road (Sony Choice Collection)
List Price: $20.95 [Buy now and save at Amazon]
---
"When a little ugly guy like that gets hooked, he gets hooked deep."
Trim, downbeat little noir that spins out before the checkered flag. Sony Pictures' Choice Collection line of hard-to-find library and cult titles has re-released Drive a Crooked Road, the 1954 crime meller from director/writer Richard Quine and co-scripter Blake Edwards, starring Mickey Rooney, Dianne Foster (I'm feeling faint...), Kevin McCarthy, Jack Kelly, Harry Landers, Jerry Paris, Peggy Maley, and Paul Picerni. A thematically interesting but flatly executed noir that seems to have received an inordinate amount of praise of late (driven largely, I wonder, by viewers' surprise at seeing fireball Rooney so subdued), Drive a Crooked Road does have a clean, unpretentious approach that meshes nicely with Rooney's believably neurasthenic turn...but it downshifts in the final stretch. No extras ported over from Drive a Crooked Road's 2012 Film Noir Classics III release, but the anamorphically enhanced widescreen black and white transfer is super-nice.
Deathly quiet, pint-sized auto mechanic and amateur racer Eddie Shannon (Mickey Rooney) has nothing to his name except a crummy rented room, a small corner of which is filled with second-place trophies: no family, no friends...even the dog that welcomes him home every day isn't his. His loud, over-sexed co-workers at International Motors, with the exception of good-guy Ralph (Harry Landers), tease him relentlessly about his diminutive size and his lack of dates. But that's gonna change quick: unbeknownst to him, slick operators Steve Norris (Kevin McCarthy) and Harold Baker (Jack Kelly) have been watching Eddie...and they have plans for him. Step one? The dame: Barbara Mathews (Dianne Foster), 5 foot 8 inches of erotic, knee-weakening allure (does she have any idea what short shorts, a sleeveless blouse, and strappy shoes does to me? Of course she does...). The second she pays attention to cosmically alone Eddie--her Hillman Minx (hee hee!) needs a tune-up--he's hooked. Dismayed at how deeply nice-guy Eddie has fallen for her, Barbara tries to get Steve to call off his intended heist of the Palm Springs Bank, but silky-smooth Steve laughs off her bout of conscience. When Eddie is presented with the plan--Steve needs Eddie's expert driving skills to get the robbers from the bank to an abandoned mine, over a rough desert road, before the cops can follow--he rejects it outright...until Barbara suddenly develops a cold shoulder. Eddie finally agrees, and all systems are go, but the least of anyone's problems is the bank heist itself....
Drive a Crooked Road isn't exactly the minor classic so many reviewers seem intent on making it, but it is enjoyably low-key and dour noir. Adapted from a James Benson Nablo short story by director Richard Quine, Blake Edwards' script is admirably deliberate in setting up Mickey Rooney's lonely, damaged dreamer, and his painful courtship of Dianne Foster. This long, extended con is the best part of Drive a Crooked Road: a meditative, slow noir drumbeat of personal angst being methodically, cruelly exploited. I've written before about the vastly underrated Mickey Rooney, so I wasn't at all surprised by his ability here to precisely limn an unrelentingly sad, solitary character like Eddie, a classic noir dupe who half-knows he's being played, and who doesn't care...as long as some human contact--even criminal--is made (when he asks Barbara if someone's been tampering with her stalled-again car, watch how Rooney conveys that resigned Eddie knows something's fishy...but goes ahead with Barbara's phony set-up anyway). As discreetly compelling as Rooney's performance is, Foster's Barbara character is probably Drive a Crooked Road's most interesting tangent. Far from the cliched "femme fatale" noir spider, whom we know is "bad" through and through, with no possible moral redemption, Barbara's agonizingly conflicted moll is a masterful series of mixed signals. Just when we think we have the character pegged, she switches back, putting Eddie--and us--on an uneven keel. Critical to this emotional wavering being believable is Dianne Foster's solid turn here; we buy it that she truly feels sorry for "lonesome little animal" Eddie...at the same time that we accept as true that she wants money first and foremost for a "good life," no matter if that harsh, "immoral" reality hurts Eddie. Bouncing between Eddie and McCarthy's Steve (beautifully slimy and smooth, as always), she seems genuinely moved by the little squirt...and equally "moved," sexually, by Steve (all he has to do to quiet her moral objections is to kiss her, and she's compliant again). By the end of Drive a Crooked Road, our "femme fatale" has transformed into an equally divided "good girl" whose SPOILER ALERT! conscience has gotten the better of her: she spills the beans about the scam, but interestingly, she doesn't go over to Eddie's side (even though we anticipate her finally expressing deep feelings for Eddie, she flatly tells him she's never loved him). She feels terrible about what they did to Eddie, and she despises McCarthy...but she's still staying with him.
Unfortunately, once it has established this depressing, intriguing little triangle, Drive a Crooked Road drifts off-course when it tries to fulfill its action conventions. I'm all for nerve-deadened, existential noir romances, but a crime meller like Drive a Crooked Road has to have some kind of kinetic movement to justify its framework, and here, Edwards and director Richard Quine drop the ball. After the long, long build-up to the bank robbery, Quine inexplicably parks his camera on extended reaction shots of McCarthy and Rooney in the getaway car waiting for the hold-up to end, rather than focusing on the job itself. Even more distressing is the central action crux of the picture: Rooney's mad dash across the desert. Throughout the first half of the movie, we're constantly primed as to the importance of Rooney getting that car across the desert in under 22 minutes. However, as staged by Quine (or Blake, if you believe some reports about the second unit work here), the getaway is an anticlimactic let-down. Nothing spoils or alters their plan; the getaway comes off without a hitch...and without much excitement, either. Couldn't something have gotten in their way? Couldn't there have been some complication that jeopardized everything? With this desultory action, you can try and make a case that Quine and Blake are saying the relationships here are more important than the deemphasized bank job and car dash, but that won't fly in a B meller that's expected to deliver thrills first, and thoughts later (check out Don Siegal's The Lineup, where equally "pointless" action is both cognitively resonant and smashingly entertaining. Indeed, look how much more exciting his car dash is in The Killers--ripped off directly from Drive a Crooked Road--an action sequence that's really no more thematically "important" to that noir thriller than this one is).
Quine's too matter-of-fact approach spoils Blake's equally too reserved finale. Quine, a competent director of mostly pleasing but largely unchallenging studio fare (My Sister Eileen, Bell, Book and Candle, The Notorious Landlady, Hotel), was better known for working with his actors than for any particularly interesting pictorial sense. And Drive a Crooked Road is no different, with its flat, boring, straight-ahead widescreen visuals--neither pretty or informed--that have little if anything to say on the stimulating thematic elements occurring in the script and between the characters. Failing to insist on a noir visual schematic, Quine's clumsily-staged finale comes out of the blue and lands like an afterthought. There's simply no fatalistic power to the abrupt denouement that's interesting, maybe, from a removed thematic standpoint (I like how we're not sure if SPOILER ALERT! Rooney deliberately shot McCarthy, or if he's just predictably hapless), but unsatisfyingly experienced as a noir thriller pay-off. This lack of conviction from Edwards' script and Quine's direction noticeably damages Rooney's character development, too--there's no satisfying arc to his character's evolution. He's a dupe, he finds out he's a dupe...and then he just seems to stumble into ultimately eliminating his enemies. There's nothing explosive or cathartic about this too quickly settled destruction, nor is there anything particularly deep or significant about his own downfall (and there should be some kind of release for the audience after the extended, low-key build-up here). As careful and thoughtful as the first half of the movie is, Drive a Crooked Road's wrap-up is distressingly unsatisfying.

The Video:
The anamorphically-enhanced, 1.85:1 widescreen black and white transfer for Drive a Crooked Road is pretty sharp, with solid image detail, a sharp picture, good blacks, and only a few isolated contrast issues.
The Audio:
The Dolby Digital English mono audio track is serviceable, with low hiss. No subtitles or closed-captions.
The Extras:
No extras ported over from the previous release of Drive a Crooked Road.
Final Thoughts:
Runs outta gas by the final lap. Drive a Crooked Road's long, slow build-up is quite absorbing, with Mickey Rooney and Dianne Foster enacting a beautifully sick game of abject, terrifying aloneness and twisted, conflicted guilt. However, scripter Blake Edwards and director Richard Quine mishandle the necessary action elements of this noir meller, delivering a weak central robbery and chase scene, and an unconvincingly staged finale, that rob the movie of any true, lasting power. A shame, too, because Rooney and Foster are terrific together. For their performances, Drive a Crooked Road is still "recommend" for fans of the genre.
---
Paul Mavis is an internationally published movie and television historian, a member of the Online Film Critics Society, and the author of The Espionage Filmography.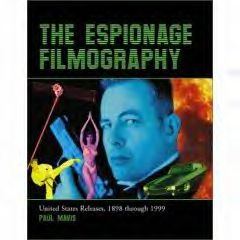 ---
C O N T E N T

---
V I D E O

---
A U D I O

---
E X T R A S

---
R E P L A Y

---
A D V I C E
Recommended
---
E - M A I L
this review to a friend
Sponsored Links
Sponsored Links