Local Boy Makes Good (Warner Archive Collection)
List Price: $20.95 [Buy now and save at Wbshop]
---
"He seems kinda goofy."
Some pre-Code enforcement sex talk enlivens this genial college comedy. Warner Bros.' Archive Collection line of hard-to-find cult and library titles has released Local Boy Makes Good, the 1931 comedy from First National Pictures (really Warner Bros.), directed by Mervyn LeRoy, and starring Joe E. Brown, Dorothy Lee, Ruth Hall, Edward Woods, Edward J. Nugent, Wade Boteler, John Harrington, and William Burress. Ditching his usual brash rube shtick to play a shy botanist here, Brown gets quite a few low-key laughs dodging sexy Lee's Freudian advances, all the time being oblivious to beautiful Hall's encouragement. An original trailer is included in this fair-to-good fullframe black and white transfer.
As the young, wealthy, gay happy juniors of Ohio University enjoy their prom, shy, owlish botany major John Miller (Joe E. Brown) sits forlornly up a tree, wistfully observing them. Suddenly realizing the time, John races across campus to feed his Zinnia Coptafeel, before re-reading all the unsent love letters he's written to his romantic crush, Julia Winters (sexy, funny Dorothy Lee), a bathing beauty socialite with whom John has become infatuated through her numerous newspaper clippings. Interrupted in his reveries by the dorm maid (Maude Eburne), he doesn't notice that she spies a solitary letter on his desk, and whisks it away to be mailed. Meanwhile, gorgeous would-be librarian Marjorie Blake (sweet, beautiful Ruth Hall) has been given a job, as part of her studies, at the University Bookstore, where tyrannical little despot Colonel Small (William Burress) runs roughshod over timid, bookish employee John. Marjorie is sympathetic and encouraging to John, but he only has thoughts for Julia. However, when he receives a note back from Julia, who's under the impression that John is a dreamboat star athlete--she's under that impression because John lied about himself in those letters--he's faced with a terrible dilemma. Julie is coming to see him run at the track meet, so in desperation, he tries out for the team. Almost killing star athlete/punk Spike Hoyt (a sneering Edward Woods) with a wild javelin, John shows amazing speed on the track as he outruns a murderous Spike. So now it's up to Coach Jackson (John Harrington) to get the scared John back on the cinders...and he's going to do that with the liberating sexual psychoanalysis of amateur Freudian head shrinker Julia.
Even with classic movies and television playing all day and night at my house, I quit asking my kids a long time ago if they knew a certain star or actor when, after even multiple titles and many years, they couldn't correctly identify big stars Bette Davis or Clark Gable or Steve McQueen (the only two they always get right? John Wayne and Jerry Lewis. Go figure). So I didn't even bother with Joe E. Brown when a trio of his movies showed up at my door this weekend. I grew up near Brown's hometown, where back in the early 70s he was still a small source of local pride (there's a park dedicated to him there...but I wouldn't try and go there at night, kids). A few of his better-known comedies like Alibi Ike and Elmer, The Great still played on afternoon movie shows back then, and chances were your grandparents, if they were around, might sit down and watch them with you, telling you how Brown "was just like them"--a regular guy with no airs, who simply made them laugh. A huge star in his day (he made the Quigley exhibitor poll's Top Ten box office stars list three times during the 1930s), Brown's Midwest upbringing, varied career (everything from kid circus performer to pro baseball player to star of Broadway, vaudeville, radio, and movies), and his homely, homey demeanor endeared him to hinterland and city folks alike--but particularly to the then still-sizeable rural audiences--during the Great Depression, when they rooted during those dire times for the funny star who looked and sounded like them, to persevere in his comedies (the title of this movie sums up his common appeal quite nicely).
Based on the play The Poor Nut by J.C. and Elliott Nugent, scripted by Robert Lord (Five Star Final, 20,000 Years in Sing Sing, Black Legion), Raymond Griffith (The Yankee Consul, Bought!), and future director Ray Enright, and directed by Mervyn LeRoy (who had two other major hits in 1931: Five Star Final and the iconic Little Caesar), Local Boy Makes Good doesn't feature Brown's better-known persona from this time period--the boasting, cocky small-town braggart rube who can usually back the talk up--but it's a good showcase for Brown's varied comedic talents: he could get laughs playing small or big. College comedies like Local Boy Makes Good were already old hat by 1931 (certainly movie fans will make the connection here to Harold Lloyd's silent, The Freshman), where the format, by this point (still early talkies), was often restructured into musical comedy outings. So there's nothing terribly original about Brown's bookish underdog here--a bookworm we know is eventually going to turn, evolving through some catalyst (fear of humiliation from his object of desire finding out he's a fraud, competing against his fear of humiliation out on the race track, in front of thousands) into a hero who gets the girl (of course his jersey number is first "13"...then "0").
A deliberate pace set by director LeRoy (a trait that would dog him throughout his career) takes its time in setting up Brown as a hopeless, dorky milquetoast who eventually overcomes. With Brown's careful, soft diction here, soulful double takes, and his overly precise movements (watch him unlock those three boxes where the love letters are hidden), he gets chuckles just from his earnest, sincere longing, when either talking about his beloved plants or his unrequited love for Julia. When it's time for Brown to be more animated, such as his well worked-out sight gag of trying to hide from Julia behind a push broom as he washes a store window, or his try-out for the track team, his odd little running steps and Brown's patented yelp still gets laughs (when LeRoy caps the tryout with a seemingly defeated Brown running through the fence like a frenzied animated character, he immediately follows with a funny fade-up to a dejected Brown reading Famous Suicides in History). While certainly amusing, none of this physical comedy is particularly noteworthy--it's when sex is discussed that Local Boy Makes Good gets a jolt.
With the Production Code given merely unenforced lip service at this point in Hollywood's history, it's not surprising that Brown's plant, Zinnia Coptafeel would get by First National's own censors unchallenged. Later, school chums Lee and Hall whisper about a case study in Lee's psychology class (Freudian thought still considered new and titillating to Middle America) who dreamed of selling giant watermelons (after hearing what the dream meant, an aghast Hall counters, "She should be ashamed of herself!"). Going further, the script has Hall practically seduce Brown into telling her his psycho-sexual secrets ("I know you'll...yield to me....First you must tell me about your sexual problems," from the deliciously serious Hall), before she insists his libido needs to be turned "outward." "Libido?" a terrified Brown counters. "Outward?" he gasps (the movie even links sex and other bodily functions: when amateur shrink Lee insists to him that Brown's "inferiority complex has impeded the natural function of your ego," a thunderstruck Brown weakly offers, "I eat lots of vegetables.... "). By the movie's finale, Brown, terrified of getting spiked on the track by evil Spike, refuses to help his team win the final race. Lee tries again to flick his switch on, but instead it takes "good girl" Hall to liberate Brown's id--SPOILERS ALERT! with the aid of a kiss and a pint of alcohol, Brown becomes a fiend on and off the track, winning the big race (so much for the usual "clean living" message in most sports movies) and becoming the BMOC of O.U. (too bad the movie didn't visualize all the crazy escapades she describes Brown decending to). The sight of a cocky, confident Brown, duded up to the nines in a snazzy outfit, greeting people in a new, deep voice as he strides over to Hall to take what's his (and that would be her, is a late-coming but priceless pay-off for Local Boy Makes Good's familiar but entertaining--and slightly naughty--premise.

The Video:
There's noticeable print damage from time to time (scratches, mostly) to the fullscreen, 1.37:1 black and white transfer of Local Boy Makes Good...but it's nothing worse than anything I saw back on television in the early 70s. Otherwise, it's a solid presentation, with good blacks, usually nice contrast, and a relatively sharp image.
The Audio:
The Dolby Digital English mono audio track is just fine, with surprisingly low hiss. No subtitles or closed-captions are included.
The Extras:
An original trailer is included.
Final Thoughts:
Familiar-but-funny '30s college comedy is jacked up by some slightly risque sex talk in Local Boy Makes Good, a Joe E. Brown comedy that finds the usually brash comedian in a quieter vein--and to good effect. His two supporting actresses are talented dolls (Lee's little baby voice and serious face are quite amusing), while the movie wraps up in an entirely satisfactory manner. Not the best Joe E. Brown...but not the worst by any stretch, either. I'm recommending Local Boy Makes Good.
---
Paul Mavis is an internationally published movie and television historian, a member of the Online Film Critics Society, and the author of The Espionage Filmography.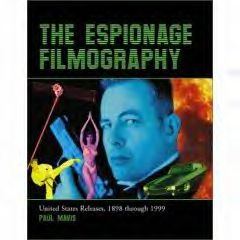 ---
C O N T E N T

---
V I D E O

---
A U D I O

---
E X T R A S

---
R E P L A Y

---
A D V I C E
Recommended
---
E - M A I L
this review to a friend
Sponsored Links
Sponsored Links