Raffles Double Feature (1930, 1939 Warner Archive Collection)
List Price: $21.99 [Buy now and save at Wbshop]
---
A charming early talkie caper featuring the prototypical "gentleman thief"...and its lesser remake. Warner Bros.' Archive Collection of hard-to-find library and cult titles has released the Raffles Double Feature, a single disc, two movie collection that includes the 1930 version of Raffles, starring Ronald Colman, Kay Francis, and David Torrence, and its remake, the 1939 version starring David Niven, Olivia de Havilland, and Dame May Whitty. Based on E.W. Hornung's short stories and play, Raffles, The Amateur Cracksman, the Ronald Colman Raffles is smooth and speedy for an early talkie--and a tad more interesting due to its Pre-Code time frame--while Niven's surprisingly jumbled Raffles (in certain places a virtual shot-for-shot copy of Colman's), is distressingly cleaned up for the good of the viewers' morals. No extras for these nice fullscreen black and white transfers.
RAFFLES (1930)
London, 1930. The notorious "Amateur Cracksman," A.J. Raffles (Ronald Colman), a gentleman thief, has left his final calling card at his final boost because he's fallen in love with beautiful Lady Gwen (Kay Francis). Returning to his comfortable flat, however, Raffles is alarmed to find his public school chum Bunny Manders (Bramwell Fletcher) locked in his bathroom, passed out from a suicide-by-gas attempt. Raffles brings him around and finds out his old friend is gambling again, with a 1,000 pound debt he can't repay. Torn between loyalty to his friend and his own resolution not to steal again, Raffles sides with friendship and decides to steal the fabulous Melrose diamond necklace, which is located at the Melrose country estate...where Bunny just happens to be going for a weekend in the country. Raffles tags along, using his cricketing prowess as a passport--much to the delight of bumbling old Lord Melrose (Frederick Kerr), whose cricketing skills left him some time ago. Tart-tongued, amorous Lady Melrose (Alison Skipworth) knows a strapping English gentleman when she sees one, and she likes what she sees in Raffles, with whom she flirts outrageously during the weekend. However, Raffles' plans to lift the necklace are complicated by another gang of thieves who plan on boosting the ice, as well as the arrival of Inspector McKenzie of the Yard (David Torrence), a shrewd, arrogant Scottish detective who's out to get the necklace's thieves...no matter who they are.
It's been years and years since I've read the Raffles short stories by E.W. Hornung (back in college, when I went through a period of watching everything Ronald Colman was in), but I do remember that Hornung--if he didn't invent the form outright--made the literary antihero "gentleman thief" character widely accepted with his hugely popular turn-of-the-19th century stories (from what I've read, his works were second in sales only to Sherlock Holmes...written by his brother-in-law, Sir Arthur Conan Doyle). In other words, anytime you've seen any movie that features a suave, sophisticated rogue who delights in living a secret life devoted to crime for pleasure and profit (and how many hundreds of those have you seen)--from Simon Templar to Sir Charles Litton to Thomas Crown to those ridiculous Ocean movies with faux-"charming" Clooney and beyond--they're all just a variation on Hornung's original creation. Modeled very loosely on real-life cricketer and Cambridge-educated criminologist George Cecil Ives, Hornung's Raffles was considered quite revolutionary--and not in a good way--when it first appeared back in the early 1890s; some critics, including his brother-in-law Doyle, were perturbed at the moral implications of Hornung making his hero an unrepentant criminal (Doyle may not have liked Hornung taking his Holmes and Watson duo and basically turning them on their criminal ear, while Raffles' comments about class conflicts and financial inequalities in Victorian Britain probably didn't endear him to establishment critics, either). Readers and then later theater and moviegoers didn't seem to mind, though, as Raffles showed up in his own play and several subsequent cinematic adaptations (there were four previous Raffles movies, all silent, including one starring John Barrymore, prior to Colman's outing). By the time Ronald Colman's Raffles--still generally regarded as the definitive interpretation of the character--came along, Hornung's very British concerns about wealth and class distinction were eliminated in favor of an emphasis on Hollywood romance and humorous adventure (in this movie, Raffles is an equal in terms of class to the high society types he associates with...and robs; in the short stories, he was not considered so).
There used to be an unfair, generalized stereotype of early talkies being stiff, creaky affairs (probably due as much to the fact that so few have been seen by the people writing about them, as for any perceived technical limitations), but Raffles works quite well in its own smooth, easy-going fashion. Written by Sidney Howard (Arrowsmith, Dodsworth, Gone with the Wind), who had just penned Colman's first talkie smash, Bulldog Drummond (a hit that inspired producer Sam Goldwyn to craft the Hornung project specifically for his British contract star), Raffles cleanly mixes equal doses of humor and criminal derring-do, along with potent dashes of "Colmanized" romance for the actor's core female audience. In the movie's first act, Colman's unparalleled ability to project an intense, almost mystical romanticism is given free rein, first on the dance floor with Kay Francis (on loan from Paramount and beautifully chic), where he parries with a wary Francis, and then in a particularly well-designed scene in the back of a taxi, where only the sound of the engine is heard (possible a dubbed scene from the alternative silent version that supposedly was shot simultaneously?) as Colman whispers playfully and snuggles with the clearly smitten Francis. It's the kind of simple scene that can't be done anymore in today's too cynical, too fatally ironic times, but it's a quietly powerful reminder of how potent those early silent stars could be--of which Colman was most certainly one of the best--in expressing emotions that now often get cluttered up with unnecessary, clunky dialogue.
Since this was written and shot prior to the enforcement of the Production Code, there's an enjoyably tolerant (and modern feeling) looseness to the Raffles character that's buttoned back up for the Niven remake. The insouciant "gentleman thief" who cracks a safe in top hat and tails, and then leaves a smart-assed note behind for his own amusement, only suffers qualms about his illegal activities when they clash with his resolve to "go straight" in order to marry Gwen. The actual act of stealing itself produces no moral quandary for him (nor does it--unknown to Raffles until the end--for Gwen, who couldn't care less that he's a thief). Going back on his own pledge to himself is the only ethical violation that troubles him. When Raffles finds Bunny almost dead from a suicide attempt in his bathroom, the kind, concerned Raffles is only upset that his friend would do something so stupid when he should have known that he, Raffles, would have helped him no matter what--there's no moral judgment whatsoever on his part for what Bunny actually attempted (compare that scene with the one in Niven's version for the post-Code clamp-down on such plot points). Nor does he upbraid his friend for relapsing with his gambling problem; what matters to Raffles is only that his friend is in trouble, and he has to help him. If stealing will get that done, then so be it, and the movie doesn't ask us to say, "That's wrong."
Once Raffles moves to the Melrose country house, the pace picks up and laughs come at a steady rate, particularly any time Alison Skipworth and Frederick Kerr as Lord and Lady Melrose are on hand (it's hard to say who directed what in Raffles, since Harry d'Abbadie d'Arrast was replaced by George Fitzmaurice early in the production). With her two pugs named "Whiskey" and "Soda," Skipworth looks at her doddering old fool of a husband Kerr and then eyes the dashing Colman in his cricket whites...and fairly licks her chops; when Colman gallantly (and with humorous self-awareness since he plans on robbing her) pledges never to leave her side, she belts, "There's a brave boy--England is proud of you!" (we know exactly what Howard was getting at when the movie's biggest laugh comes at the sight of Skipworth asleep and dreaming in her bed, moaning, "Oh that dear Mr. Raffles!"). The long jewel theft section gives Howard more opportunities to show the egalitarian Raffles off as a class act (Raffles robs the robber who snatches the necklace...and then wishes him better luck next time as he tries to help the robber escape), a situation that's repeated in the movie's final act, where Raffles first subdues then aids the vengeful robber, with no thought of aiding the police. Indeed, at the finale, SPOILER ALERT!, we're guided into cheering on Raffles' one-upmanship of the wiley, arrogant Scottish Inspector McKenzie, as he confesses to his crimes (to let Bunny collect the reward before Raffles skips out)...and enlists a totally compliant, on-board Gwen to meet him later in Paris (even the bested McKenzie laughs and admits, "Well...one can't help liking him,") The charming criminal gets the girl, and gets off scot-free...with the implication that there's nothing stopping him from starting up again his felonious lifestyle. That wouldn't be allowed in '39....
---
RAFFLES (1939)
Gentleman thief A.J. Raffles (David Niven), after stealing a painting for the fun of helping out a retired actress he once admired in his youth (he mails the painting to her, so she can collect the reward and pay her bills), now sets his sights on stealing something for himself...since his bills are long-past due, as well. However, when it's finally determined that he will indeed marry his best friend Bunny Mander's (Douglas Walton) sister, Gwen (Olivia de Havilland), he sends the bracelet back to Mackenzie of the Yard (Dudley Digges) in a cigarette packet that unfortunately has the impression of Lord and Lady Melrose's (Lionel Pape, Dame May Whitty) new phone exchange on it. By chance, Raffles will be going to the Melroses because he's decided on one "final performance": he's going to steal the Lady's famed necklace to pay for Bunny's gambling debts. And not by chance, Inspector Mackenzie will be going as well, to trap Raffles, whom he suspects of being the "Amateur Cracksman."
A dulled, surprisingly choppy disappointment. There are a lot of stories out there about the production of this Sam Goldwyn remake, including one that has a pathetic, stumbling F. Scott Fitzgerald working on it (it sounds like he was hired and fired fairly close together), and an uncredited William Wyler stepping in to help ailing director Sam Wood (who was run down from helping an equally exhausted Victor Fleming on Gone with the Wind). But the one that matters most here is that, regardless of whether you believe the one about producer Sam Goldwyn trying to somehow keep contract actor David Niven "in line" by giving him this role (Goldwyn kept actors in line by not working them), the production was rushed through on double time to get Niven's scenes in before he was to report for active duty overseas. Niven, lone among the "Hollywood Raj" who went back to England to actually put his life on the line for his country, was given a 21-day leave to make Raffles, so the notion that Goldwyn was somehow trying to hang on to Niven with a new contract is suspect. More than likely, Goldwyn was trying to squeeze every last minute out of Niven's current contract before the war took away one of his prized products, so this cobbled-together remake of the prior Ronald Colman hit no doubt promised a quick return on an already paid-for advance.
With a screenplay officially credited to John Van Druten, some sources put at least nine other uncredited writers on the script, large chunks of which are already lifted directly from Sidney Howard's 1930 screenplay. It certainly shows in the scrambled final product, because what has been changed here in the storyline, isn't for the better. At first, one thinks this Raffles is going back to its literary origins, with Raffles' Robin Hood element of his personality on display when he swipes a painting to help an old actress pay her bills. However, this return of the loot is just the first salvo in actually reforming the "gentleman thief" along the now strictly-enforced Production Code stipulations--and that's no fun. It's bad enough that most of the changes not dictated by the Code come off so badly. Instead of unquestionably, un-judgmentally helping his friend Bunny, Raffles now seems to be helping Bunny more because he's Gwen's brother, rather than out of loyalty to a friend. And yet, the romantic implications of that shift--Raffles works to save not his friend' reputation but rather his fiance's brother's reputation--aren't mirrored in Niven's chilly clinches with de Havilland (who looks hot as hell...and bored to tears). These scenes are played strictly for laughs, rather than the swoony, dreamy, quiet passion of Colman and Francis (you can really see this in this version's taxi ride scene, which is crudely mounted for giggles, not the 1930's hushed words of genteel, ultra-civilized desire). Niven, whom I adore in just about everything he ever did, unfortunately falls back on his easy, glib mannerisms here, playfully dancing around Digges' more bumbling Mackenzie; however, that jokey, inconsequential tone robs the movie of any potential threat. We have no doubt at all that this Raffles is going to beat out this particular Mackenzie. Certainly one of the biggest disappointments is the reimagining of Lady Melrose, who has been changed from Colman's hilariously hot-to-trot society dame, into Whitty's matronly, kindly, ineffectual old biddy who doesn't give the faintest indication that she's ever even had sex...let alone the yen to suggest unbridled lust for Niven (Pape's Lord Melrose is written as a boring non-entity here).
Worse still are the restrictive Production Code provisos. Bunny doesn't try to commit suicide here, he merely threatens it, which evokes an immediate stern, disapproving response from Raffles--hardly the reaction Colman's kindly, understanding, non-condemnatory Raffles provided to his friend in need. Colman's class act thief helped not once but twice the thief that robbed Lady Melrose, but here, Niven does no such thing at the Melrose country house. SPOILERS ALERT! Most distressing, at the movie's finale, it's implied that Raffles will actually give himself up for his crimes at a later date, and that Gwen will wait for him--a complete reversal of the original Raffles' nose-thumbing at society's law and order. This hazy, hit-and-skip reassertion of moral rectitude is amplified by the incredibly choppy structure of Raffles. Directed (mostly) by Sam Wood, Raffles' scenes--lifted one and new ones--are awkwardly set-up and executed compared to director George Fitzmaurice's simple yet elegant 1930 design. With the moodiness and atmospherically dark lighting of the 1930 version swapped here for an over-bright, blown-out look (check out the too-bright lighting of the house during "the middle of the night" when all the theft shenanigans are going on), the chipper tone here is strangely contrasted by some of the most atrocious editing I've ever seen in a major Hollywood studio movie from this time period. Medium to close-up shots don't even match during the dance and taxi ride scenes, while scenes begin and end in their middles, with no visual set-up or satisfying dramatic pay-off (I've seen this before in other Sam Wood outings...). The final scene is a particularly egregious example: right when we're trying to figure out if Raffles is really going to get de-balled, the movie chickens out and fades to black. Poof. The end--and a particularly hasty, unsatisfying resolution it is, too, for this chaotically-prepared and too hurriedly executed disappointment.
The Video:
The fullscreen, 1.33:1 black and white transfer for the 1930 Raffles does have scratches and other screen imperfections, but it for its age, it's not bad, with decent-enough blacks, reasonable contrast, okay image detail, and a sharp-enough picture. The fullscreen, 1.37:1 black and white transfer for the 1939 Raffles is in much better shape, with a cleaner, smoother image and better contrast--but it does at times look a little blown out. Imperfections are minimal.
The Audio:
The Dolby Digital English mono audio track for the 1930 Raffles has a fair amount of hiss...but who wasn't expecting that for this early talkie? Dialogue is fine, though. The Dolby Digital English mono audio track for the 1939 Raffles has less hiss, with both movies having decent re-recording levels. No subtitles or closed-captions for either title.
The Extras:
No extras for either Raffles.
Final Thoughts:
Not twice the fun, unfortunately. This double feature of gentlemanly Raffles thievery starts off well with the stylish, elegant 1930 version starring the incomparable Ronald Colman. Equal doses of humor and romance, aided by a pre-Code enforcement looseness makes this one a winner. 1939's remake of Raffles, with David Niven, suffers from a "helpfully" cleaned-up script and a continuity/editing scheme apparently designed by Mr. Magoo. So...splitting the difference overall, I'm going to recommend the Raffles Double Feature.
---
Paul Mavis is an internationally published movie and television historian, a member of the Online Film Critics Society, and the author of The Espionage Filmography.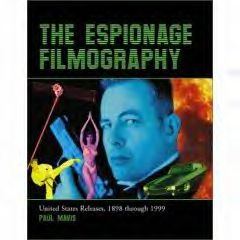 ---
C O N T E N T

---
V I D E O

---
A U D I O

---
E X T R A S

---
R E P L A Y

---
A D V I C E
Recommended
---
E - M A I L
this review to a friend
Sponsored Links
Sponsored Links