SpongeBob SquarePants: SpongeBob, You're Fired!
List Price: $14.98 [Buy now and save at Amazon]
---
Solid collection of the toon's never-fail set-up: SpongeBob loses it at work. Nickelodeon and Paramount have released SpongeBob SquarePants: SpongeBob, You're Fired!, a single disc, 14-episode animated compilation of some of SpongeBob's best work-related freak-outs. Episodes included here are the title entry, SpongeBob, You're Fired!, Neptune's Spatula, Welcome to the Chum Bucket, The Original Fry Cook, Le Big Switch, Model Sponge, Employee of the Month, Bossy Boots, Krusty Dogs, License to Milkshake, Help Wanted, Wet Painters, Krusty Krab Training Video, and Pizza Delivery. How much you want to buy this--as opposed to just catching the toons on cable where they'll be re-run into eternity--will depend on how devoted you are to collecting everything you can about the plucky little yellow sponge. I can't say I'm happy with the disappointing transfers here--widescreen entries presented flat with no enhancement--but kids probably won't mind. No extras for this collection.
Having reviewed 24 SpongeBob SquarePants discs over the past eight years here at DVDTalk, there isn't a thing I could possibly add to an overall appreciation of the series, that I haven't already written. I know it's funny, regardless of the inevitable artistic ups and downs any long-running series experiences over the years, and you know it's funny (I know you watch it...so just admit it). So let's just get to the toons. First up is the title toon, SpongeBob, You're Fired!, which originally aired last November...and which, unbeknownst to me at the time, apparently caused some phony outrage and controversy from clueless liberals, media cretins, and professional shake-down artists (just say, "Al 'Tawana Brawley' Sharpton," to save time) who accused the writers of attacking people on welfare benefits. Of course the story here doesn't do that at all, but it does commit the cardinal sin in today's benefit-loving, lazy-assed America of showing a go-getter like SpongeBob horrified at the prospect of being out of work--a thought-crime in today's Orwellian nanny state, punishable by a personal phone call from Nancy Pelosi (god save your soul...). Lots of solid gags here, including Mr. Krabs' reason for firing SpongeBob (it nets him an extra five cents on the books), SpongeBob chained to a wiener steamer ("I'm pretty sure this is illegal,") and SpongeBob's "pizza patty" at the Pizza Pie Hole restaurant ("It's an abomination!" his boss cries; "Yeah...of deliciousness!" SpongeBob counters). Neptune's Spatula benefits from John O'Hurley's beautifully smarmy voice performance as King Neptune, who can't believe an unimposing "commoner" like SpongeBob could have pulled out "The Golden Spatula," which was encased in a concrete-like grease blob. When O'Hurley sees barbell boy Larry the Lobster and cries, "You have the physique of Atlas! Make poses with me!", it's quite funny. A good underdog SpongeBob entry, with some amusing sight gags (Neptune eating SpongeBob's patty...and then vomiting it back up to eat again is the highlight). Welcome to the Chum Bucket finds SpongeBob working for Plankton when Mr. Krabs "loses him" in a poker game. The series' record of reliable song interludes continues here with SpongeBob's and Krabs' catchy, This Kitchen is Not the Same Without You ("This grill is not a home, it's just a greasy spoon without you!"), prompting Plankton--the voice of reason--to sneer, "What's with all these show tunes and the tears?" Classic bit with SpongeBob making Plankton move the heavy grill around the entire kitchen ("A little more to the left..."), before SpongeBob becomes a spoiled brat with Mr. Krabs ("Don't back-sass me! ").
The Original Fry Cook could have been nudged over into series' best status had someone other than Patton Oswald voiced Jim, The Krusty Krab's original fry cook (a predictably flat delivery from a reliably unfunny "comic"). Otherwise, it's a memorable entry, with an increasingly agitated, paranoid SpongeBob obsessing about "The Before Time" when Jim was the cook. Two fantastic montages--a Zen-like trip-out of SpongeBob tasting one of Jim's patties and being transported cosmically into another dimension (he becomes his own Krabby Patty and eats himself), and a hilarious montage of Jim teaching SpongeBob how to cook, which culminates in a customer's eyes bugging out at the sight of a screaming SpongeBob running out of the bathroom stall, the toilet overflowing with his discarded, defective patties--are rounded out with a funny flashback of the Krabby in "The Before Time," where it's the 1970s, complete with funky drive-in intermission music and Mr. Krabs in a turtleneck and a dollar-sign gold medallion. Making fun of the French is always good for a laugh, and in Le Big Switch, it works well with this fast-paced entry where a money-desperate Krabs initiates a chef exchange program, with snotty, disdainful French chef Le Schnook coming to the Krab, and SpongeBob going to his restaurant. Le Schnook kills when he arrives and his first words after being welcomed to the Krab are, "I find you disgusting." Classic (and his "kiss kiss spit spit" tops that intro). SpongeBob's new French boss is just as funny, slapping everyone in the face after insulting their culinary talents (his verdict? "I wouldn't wipe my bottom with that!"). Krabs' hilarious gentle crying at the end, when he realizes he misses SpongeBob, put me on the floor. Model Sponge is a terrific "gross out" SpongeBob episode (apparently there are fans out there on the internet who actually object to these deliberately nauseating efforts. Weird.), where SpongeBob thinks he's fired and goes out and finally gets a job acting in a TV commercial. The German-accented director looking at SpongeBob for the first time and immediately screaming, "Lose the pants!" may be this disc's best moment, while the live-action hand using SpongeBob to scrub the filthy kitchen and bathroom gets big laughs (and if you're a fan of SpongeBob's repulsive crying/whining jags--which I am--his bout here is sickening).

Employee of the Month is an early effort with a simple set-up: SpongeBob is worried that couldn't-care-less Squidward is going to win the "Employee of the Month" award, so he sets out to sabotage him. Not a particularly strong outing...although I did like Squidward's magazine: Frown Monthly. Much better is Bossy Boots, where Mr. Krabs' daughter Pearl comes to work at the Krab during her vacation. A threatened Squidward vows sabotage to SpongeBob ("We'll work together to save our pathetic positions!"), but SpongeBob takes to Pearl's new ideas, including the new Krab uniforms (a paisley onesie) and the restaurant's new name (The Kuddly Krab). A sound entry, with a funny shot of the deserted Krab (cobwebs and a skeleton), and another smart-assed throwaway (the best parts of the series) when a passing motorist insults a costumed SpongeBob ("Hey, buddy! Need a ride? I was just on my way to the 'Big Dufus Convention!'"). Krusty Dog would seem to be a sure-fire set-up: SpongeBob develops the "Krusty Dog" made out of leftover ingredients ("Now I'm impressed!" cheapskate Krabs exclaims), and it's such a hit that Krabs ditches SpongeBob's beloved Krabby Patty. And yet...the laughs are pretty tame here, with not enough made of the fact that the customers will pay double for the same-tasting Dog. License to Milkshake is slim on potent gags, as well (how many things can you do with SpongeBob making a shake?), nor is helped by a total mismatch between the formidable character design of Captain Frostymug and the weak, ineffectual voice work of Michael McKean (the Top Gun parody is pretty funny, though). Help Wanted was the very first SpongeBob episode, and it still works, particularly the impressive "anchovy attack," where the Krab is overrun with a sea of the pesky fish (SpongeBob's weightlifting agenda--a barbell with two stuffed animals on its ends--with the "I 'Heart' Pain" banner behind him, sets the tone for the entire series). Wet Painters is a one joke toon--SpongeBob and Patrick have to paint Krabs' place...without spilling one drop--but it works, thanks to nicely-escalating gags (when SpongeBob makes the ancient joke about "hanging around," Patrick appropriately boos him). Krusty Krab Training Video is a series' best, where all those workplace training videos you had to watch are mocked, as SpongeBob navigates through his first day on the job (the kids think the "P.O.O.P." motto--"People Order Our Patties"--is the episode's best joke, but it's really during the background on Krabs, when they show him completely despondent, sitting on a cot like a P.O.W., while the narration brightly intones, "After the war, he stayed in a deep, secluded depression that seemed endless." Priceless.). And finally, Pizza Delivery's appeal eluded me (my kids said the key was SpongeBob singing that Krusty Krab pizza song over and over and over again), but as soon as Mr. Lawrence showed up as an increasingly ticked-off customer ("Where's my drink? My diet Dr. Kelp drink?!"), it sold me.
The Video:
I was surprised at the iffy transfers here. It's bad enough that the two newer widescreen efforts (SpongeBob, You're Fired! and License to Milkshake) were presented flat letterboxed (why not upload all the shorts here, including the older fullscreen toons, to an enhanced anamorphic platform?), but the level of jigger and ghosting for all of them was surprising (the older toons looked a little faded, as well). A disappointment.
The Audio:
The Dolby Digital English stereo audio mix is healthy, with discreet separation effects, and no hiss. Clean. Closed-captions are available.
The Extras:
No extras for SpongeBob SquarePants: SpongeBob, You're Fired!.
Final Thoughts:
It gets the job done. SpongeBob SquarePants: SpongeBob, You're Fired! collects mostly winners here, all revolving around the series' best comedic set-up: the workplace violence of SpongeBob's dedication to his job. For fans of the series, they may already have these toons in the complete season collections; that doesn't stop the SpongeBob SquarePants: SpongeBob, You're Fired! disc being recommended.
---
Paul Mavis is an internationally published movie and television historian, a member of the Online Film Critics Society, and the author of The Espionage Filmography.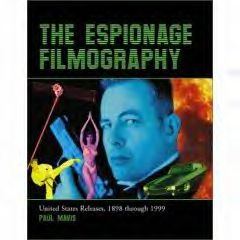 ---
C O N T E N T

---
V I D E O

---
A U D I O

---
E X T R A S

---
R E P L A Y

---
A D V I C E
Recommended
---
E - M A I L
this review to a friend
Sponsored Links
Sponsored Links