Adventures of Marco Polo (1938, Warner Archive Collection), The
List Price: $21.99 [Buy now and save at Amazon]
---
Frequently amusing comedy/romance masquerading as a big-budget swashbuckler. Warner Bros.' Archive Collection line of hard-to-find library and cult titles has released The Adventures of Marco Polo, the 1938 Samuel Goldwyn Company production (released through United Artists), written by dramatist Robert E. Sherwood, directed by Archie Mayo (replacing a fast-canned John Cromwell), and featuring Sigrid Gurie, Basil Rathbone, George Barbier, Binnie Barnes, Ernest Truex, Alan Hale, H.B. Warner, Lana Turner, with Gary "The Montana Mule" Cooper starring as the legendary 13th-century Italian merchant who opened up Chinese trade with the West. Reportedly a massive, expensive flop for Goldwyn, and a major career embarrassment for Cooper (who was somehow personally taken to task for his miscasting), The Adventures of Marco Polo's subsequent critical reputation has suffered accordingly, while it's rarely rerun. However, seen outside of that negative context today, it's an agreeably light, silly adventure, beautifully mounted and briskly handled, with a bemused, cynical sense of humor to its sexual bantering that's quite charming (thanks in no small part to the pro cast). No extras for this good fullscreen black and white transfer.
Venice, Italy, 1273. Importer Nicolo Polo (Henry Kolker), determined to open a exporting pipeline for the riches that lie in heretofore closed-off China, sends his adventure-loving son, Marco (Gary Cooper), to the mysterious Orient to secure the trade contracts. Accompanying him is timid, exhausted "guardian" Binguccio (Ernest Truex, reliable yocks), who thought he was well-rid of the sexually voracious Marco, of whom Binguccio was constantly charged with tracking down in one beautiful woman's or another's quarters. Arriving in the bustling Peking, Marco is befriended by scientist Chen Tsu (H.B. Warner, doing last year's Lost Horizon bit), who is familiar with Western teachings. While showing Marco the Eastern wonders of spaghetti, coal, and black powder, he also clues Marco in on China's political situation: the emperor Kublai Khan (George Barbier, hilarious), of whom Marco has a letter of introduction, is secretly being undermined by his foreign advisor, the Saracen Ahmed (Basil Rathbone, perfectly sinister). When Marco is admitted to the palace, he wins over Kublai Khan but not Ahmed, who knows a threat when he sees one. To make his point, Ahmed shows Marco his private quarters, where vicious chained vultures and ravenous lions (hidden below a trap door) underscore Ahmed's political methodologies. And what ambitions he possesses: he plans on pushing Kublai Khan into an ill-advised war with Japan, with the hopes that the emperor's million-man army will be destroyed by typhoons, while Ahmed claims the throne...and Khan's beautiful daughter, Princess Kukachin (Sigrid Gurie). Sensing that Marco could throw a monkey wrench into the works--particularly when Ahmed sees Kukachin falling for Marco and vice versa--he manipulates Khan into sending Marco on a mission to assassinate the Tartar Kaidu (Alan Hale, adorable). The only thing Marco nails there, though, is Kaidu's gorgeous wife, Nazama (Binnie Barnes)--and with Kaidu's full blessing...since Kaidu made the, um, arrangement in the first place--but he eventually finds an ally in Kaidu when it comes time for a showdown with Ahmed.
Normally when I'm writing a review about a title that features a historical character, I'll spend a few minutes refreshing my memory by reading up on that person, just to see where the movie falls in terms of historical accuracy (...and what a waste of time that is when we're talking about Hollywood biopics). I didn't do that, however, for The Adventures of Marco Polo, because I just knew this effort probably had absolutely nothing to do with "fact"...and everything to do with patently phony entertainment. And thank god for that (besides...does anybody even agree on the validity of Polo's self-expressed adventures?). A major release in its day that has remained largely anonymous over time, I suppose it was inevitable that its apparent total failure with critics and audiences back in '38 would shunt it into the historical background, particularly when another similar swashbuckler--Errol Flynn's The Adventures of Robin Hood--was the fourth most-popular movie of 1938, before becoming an iconic classic over the decades when it was repeatedly re-run on television. Why discuss a "loser" like The Adventures of Marco Polo, with a miscast Cooper, when you can write reams about one of the greatest examples of the genre, starring that genre's unquestioned preeminent interpreter?
Critics, if they do reference The Adventures of Marco Polo, often use the terms "epic" and "swashbuckler" in describing it, but watching it this week (to my surprise, I quickly realized that I had never seen it before), I was struck by how those elements weren't nearly as prominent as those qualifiers would have suggested. Yes, the movie does follow a often-used swashbuckler framework in that Cooper's Marco is an adventurer who becomes involved in a political struggle (due to a romantic complication) that climaxes in a large-scale action finale. However, aside from that end set piece (and some fun H. Rider Haggard comic book intrigue in Rathbone's deadly lair)...there's not a whole lot of "swash" in The Adventures of Marco Polo's "buckle." Humorous banter and romantic interludes far outweigh action here, nor is the movie particularly "epic," either. Certainly the sets are expensive and expansive for the time (it looks like Art Moderne meets Panda Express), but most of the movie is made up of dialogue scenes (some sexy and most at least amusing) between the characters. Any attempts at "epic" moviemaking are exceedingly brief...and not particularly successful (just three blink-and-you'll-miss-them mock-ups of Marco at sea in a storm, crossing a desert in a sand storm, and traversing a snowy Himalayan pass, constitute the movie's so-called "epic sweep").
No, The Adventures of Marco Polo's romantic comedy elements outweigh its period actioner components, with a decidedly jokey, knowing tone that's as unexpected as it is accomplished. Scripted by noted playwright, screenwriter, and Algonquin Round Table wit Robert E. Sherwood (Idiot's Delight, Rebecca, The Best Years of Our Lives), The Adventures of Marco Polo lets us know we're in for a goof right from the opening title card; some flowery description of Marco's legend is put forth, before Sherwood tags on, "He was also the first traveling salesman..." So much for historical gravity as Sherwood references countless dirty jokes in setting up his Marco Polo as an insatiable rascal whom women found irresistible (when Truex goes looking for Marco, he travels down the Venetian canals, making one stop after another at various beautiful women's apartments, before finding Marco gambling with his friends, a gorgeous looker draped over him). The Adventures of Marco Polo was designed as a star vehicle for women to swoon over Cooper even more than it was crafted as a sweaty swashbuckler the men in the audience would cheer for (and that's probably why it failed--both potential audiences probably assumed the movie was more suited for the other). Amid wry commentary on Western man's devotion to the "golden rule," which Warner's Chen Tsu says he admires so much (Marco agrees Western man lives by it...when convenient), and amusing looks at the cynical weariness of Kublai Khan's political maneuverings (when greeting the Persian ambassador, Khan suddenly cuts off his own florid return salutation with an abrupt, "What's the complaint today?"), Sherwood keeps inserting sexually suggestive scenes of seduction that are alternately risque and quite romantic. When Khan must pick suitable "escorts" from a bevy of beautiful women, Marco steps in with his own "test," as he whispers to each one a question, separating them into three groups based on their whispered-back answers (we think it's salacious, until we learn it's a nonsensical question...with the group answering, "I don't know," deemed "honest and reasonable"). In the movie's most titillating (and funniest) subplot, Marco is "given" to Kaidu's suspicious wife Nazama, to keep her "occupied" while Kaidu plays around with hand maiden Lana Turner, with the Production Code somehow satisfied by showing Cooper merely rubbing noses with Barnes on their first "date" (Hale gets the movie's biggest laughs here, mugging his way through his Kaidu character, which he plays like a harassed, henpecked, shifty-eyed Tartan husband, his hand caught in the cookie jar--and what a cookie jar stacked Lana Turner makes--bent on fooling his nosey wife).
On the opposite end, Cooper's love scenes with Sigrid Gurie are sweet and charmingly playful--thanks to Sherwood's frisky dialogue, Gurie's strange beauty and halting presence, and Cooper's easy-going and attractively detached manner. Just prior to the release of The Adventures of Marco Polo, a lot of negative ink was apparently spilled over Sam Goldwyn's botched publicity stunt of promoting new discovery Gurie as "The Siren of the Fjords" and "the Norwegian Garbo;" when reporters found out Gurie was actually born in Flatbush, New York, all hell broke loose. This fuss over nothing (what Hollywood star bio back then wasn't a complete phony?)--particularly since Gurie was born here...but raised in Norway since the age of two--unfairly put a black mark on the actress which, combined with the movie's failure, severely hampered her career before it started. And that's too bad, because she's quite good as the beautiful princess. Her hesitant delivery (either by design, or inexperience) matches her character perfectly, while her distinct, striking features are mesmerizingly captured by cinematographers Rudolph Mate and Archie Stout (there's a scene where the key lighting on Gurie's eyes is so arresting that it achieves an almost hypnotic effect). Cooper took the brunt of criticism for appearing in a role deemed by many as unsuited for his established screen persona (he didn't voluntarily take the role; it was worked out between his studio Paramount, and Goldwyn, who was owed Cooper's participation). However, if you reject the "coulda shoulda woulda" second-guessing of getting someone like Errol Flynn or even Ronald Colman for Marco, you quickly see how gently charismatic Cooper comes over here, always with a slight smile on his face, as he expertly delivers Sherwood's light, crisp seductions. In a delightfully extended sequence, a calm, confident Cooper--who can't believe his luck--introduces Gurie to the art of kissing; when he first kisses her, she doesn't know what comes next, asking innocently, "But what do I do?" Cooper takes a pro's two-beat pause and offers, "Well...you'll decide for yourself about that later." By the time witty, romantic scenes like this increasingly roll around, you pretty much forget about The Adventures of Marco Polo's pretensions to swashbuckle.
The Video:
According to reports, The Adventures of Marco Polo's original release prints were sepia-toned (apparently, this was considered a next-best option when limited Technicolor stock, originally planned for the production, proved unavailable). This fullscreen, 1.37:1 transfer is in black and white, with a reasonably sharp image, expected grain, good contrast, and some unfortunate screen anomalies from time to time (big scratches during some important love scenes).
The Audio:
The Dolby Digital English split mono track is serviceable (some of that wonderful Hugo Friedhofer score sounds unnecessarily muted), with low hiss. English subtitles are available.
The Extras:
No extras for The Adventures of Marco Polo.
Final Thoughts:
Light, crisp nonsense, with just the right tone of self-mockery. The Adventures of Marco Polo, if it's mentioned at all, is usually passed off with just a sentence or two about its failure at the box office and the inappropriateness of strapping Gary Cooper in the role of the Venetian explorer. However, if you check your swashbuckler expectations at the Great Wall, you'll find it a charming, amusing little piffle (...that's been gussied up to luxurious levels), with all the stars properly aligned. I'm highly recommending The Adventures of Marco Polo.
---
Paul Mavis is an internationally published movie and television historian, a member of the Online Film Critics Society, and the author of The Espionage Filmography.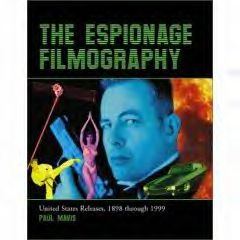 ---
C O N T E N T

---
V I D E O

---
A U D I O

---
E X T R A S

---
R E P L A Y

---
A D V I C E
Highly Recommended
---
E - M A I L
this review to a friend
Sponsored Links
Sponsored Links