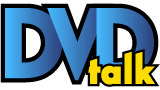 American Movie: Special Edition
List Price: Unknown [Buy now and save at Amazon]
---
The Movie:

What an amazing little film. It may be called "American Movie", but it really should have been called "American Dream". A small documentary about a filmmaker who simply wants to make a film, we're introduced to director Mark Borchardt, who wants nothing more to do in his life than to make movies. He goes after this dream with almost psychotic intensity, and this documentary takes a look at Mark trying to put together his dream film, "Northwestern".

The audience may tend to look at this man from Wisconsin as a bit of a loser, making micro-budgeted films with friends and associates at the age of 30. When you look at the intensity that he takes on this quest though, I have to admire the guy. He sits in production meetings for the movie and acts out scenes and discusses his vision with an unbelivable amount of energy.

The trials he has to deal with are many that other low-budget filmmakers have had to deal with - there's not enough money, he owes a ton of money, can't find a cast, and production money runs short. There's even more than that in "American Movie"; he constantly looks to his 82 year old uncle for additional cash; his friend and composer is Mike Schank, who looks consistently drunk. When "Northwestern" doesn't work out, he decides to go after his other feature, "Coven" and finish that instead - any profits will go towards the making of "Northwestern".

Even though it gets a little long at times, "American Movie" never fails to be engaging when Borchardt is on-screen cause he's such a wild character, running this way and that to try to make his dream come true.


The DVD

VIDEO: For a film with low-budget origins, "American Movie" doesn't look bad at all; the full-frame image is, if not sharp, at least crisp and clear. Detail is generally pleasing, but not great. Colors are accurate and natural, but never really bold or impressive. Occasionally the image has a bit of grainy look, but it's never distracting.

SOUND:"American Movie" offers an extremely basic soundtrack, with simply dialogue and a slight score. No distortion or problems are present, and the general quality is very clean.

MENUS:: Basic, non-animated main menus that use film-themed images.

EXTRAS:

Commentary This is a commentary from director Chris Smith, producer Sarah Price, Mark Borchardt and Mike Shank. The group chats about the history of the film, frequently going into great details about each scene, and who all of the people were that were involved in the production.

The stories included are quite interesting to listen to, as well, including Borchardt talking about how he's still in debt, as well as quite a few tales about working with the actors on his production. The commentary goes a little slowly at times with Smith and Borchardt doing most of the chatting, but after listening to it, the discussion does given a further insight into Borchardt's history and views on movies.

Trailers: Trailers are included for American Movie, Crumb, Welcome To The Dollhouse, SLC Punk and The Opposite of Sex.

Deleted Scenes: 22 deleted scenes are included; many were probably taken out due to the film's running time, but are still interesting to take a look at.

Also: Also, last but not least, we get to see Mark's short film "Coven".


---
C O N T E N T

---
V I D E O

---
A U D I O

---
E X T R A S

---
R E P L A Y

---
A D V I C E
Recommended
---
E - M A I L
this review to a friend
Sponsored Links
Sponsored Links