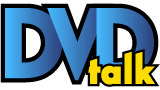 List Price: $26.99 [Buy now and save at Amazon]
---
The Movie:
One of the most prominent criticisms directed to Boulevard is that its premise about an old gay man struggling with his true identity while married to a woman is dated, and belongs to another time. Perhaps some of those critics would have been more content if the film was a period piece, like Todd Haynes' superb Far From Heaven, which used a similar premise to mimic a Douglas Sirk melodrama. Yes, there have been tremendous advancements towards LGBT rights in recent years, and the general public's view of LGBT people who are proudly out of the closet is much more favorable than it was as soon as a decade ago.
However, that doesn't mean that the tens of thousands of people who decided to hide their sexual orientation in a time when it wasn't favorable will instantly jump out of the closet as soon as they see the high ratings for Glee, or find out about the recent SCOTUS marriage equality decision. It's hard to leave an established life, one that might have been molded over decades, no matter how much it might have been based on a lie. Severing ties with one's established lifestyle and restarting a brand new life is an idealized realization of personal freedom, but it requires a tremendous amount of bravery, especially if the one's in the twilight of one's years.
Nolan (Robin Williams) is such a person. He's been married to a loving wife, Joy (Kathy Baker), for most of his life. He's been working the same job at a bank for 25 years, in a position that might not fulfill him but keeps him comfortable, just like his emotionally close but physically distant relationship with Joy. He's a soft spoken and loyal man, still frequently visiting his estranged father in a nursing home even though we not only find out that the two never really got along, but we also get the feeling that Nolan's father might have been instrumental in making sure he never got out of the closet.
One night, Nolan almost hits a male escort named Leo (Roberto Aguire) with his car, and eventually ends up paying him for his time. The initial scenes between Nolan and Leo are truthful, tender, and as far from sensationalized as you can get. Even though Nolan is past 60 and should be completely aware of his sexual needs, Williams' insightful and heartbreakingly empathetic performance communicates a man who's still unsure of his desires, and even feels awkward acting on them. He doesn't want to have sex with Leo, he just wants to look at him naked and admire his body, somehow making himself believe that not touching is not cheating. Eventually, he begins to obsess over the deeply troubled young man, an obsession that might finally force him to face his true self.
Even though the two films share a premise, Boulevard works like the anti-Far From Heaven, rejecting the melodramatic possibilities of every dramatically heightened situation and opting for a subtler, sadder, and eventually more human approach. There's nothing wrong with a good melodrama, and Far From Heaven pulls it off perfectly, but director Dito Montiel wants the audience to empathize with this character on as much of a realistic level as possible, so that we may understand that people like him still exist in the real world. One example for the film's unpredictably subtle approach to situations that another director might have milked for sensationalized dramatics comes when Joy finally confronts Nolan about his extramarital affair. The scene isn't filled with the predictable shouting match and over the top Oscar-bait moments. It merely ends with Joy asking questions to Nolan about Leo in a calm and collected way. Of course she knows who Nolan is, and in a way, she's been living in a dream world more than he has.
The Blu-ray:
Video:
Boulevard has a digital cinematography that takes full advantage of the story's rawness and communicates it perfectly to the screen. The film is full of faded yellows and greens, an unattractive look overall, perhaps in an effort to desexualize the subject matter as much as possible. The 1080p transfer stays loyal to the film's look, is crisp and clean, and doesn't show any obvious video noise.
Audio:
The DTS-HD 5.1 track might as well be stereo, and that's perfectly understandable. Boulevard is a very subtle, dialogue heavy film, and even when the understated score kicks in, the sound mostly stays in the front channels. That being said, the dialogue can be heard clearly and the score shows a lot of depth.
Extras:
We get absolutely nothing, not even a trailer.
Final Thoughts:
More than anything else, Boulevard filled me with sorrow, because it's the final on-screen performance of a true legend. Sure, Robin Williams played understated and introverted characters before, but there's a level of sadness and emotional depth here that I haven't seen from him in a long time. His performance in Boulevard almost signals the beginning of a new era for him, one that could have been filled with wise and world-weary characters in the latest stages of their lives. Unfortunately, that's not going to happen, but Boulevard is a more than fitting swan song for a man who had talent enough to fill a thousand lifetimes.
Oktay Ege Kozak is a film critic and screenwriter based in Portland, Oregon. He also writes for The Playlist, The Oregon Herald, and Beyazperde.com
---
C O N T E N T

---
V I D E O

---
A U D I O

---
E X T R A S

---
R E P L A Y

---
A D V I C E
Highly Recommended
---
E - M A I L
this review to a friend
Sponsored Links
Sponsored Links