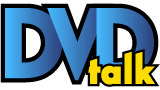 List Price: $39.99 [Buy now and save at Amazon]
---
The Movie:
The D Train deserves at least some praise for attempting to break new ground on the bromance genre by letting the homoerotic overtones of films like I Love You Man and pretty much any movie starring Seth Rogen take a crucial step forward: What if the two bros at the center of the story actually slept with each other? And what if the character development still focused on the friendship instead of letting the sexual connection pull the tone towards a more traditional gay romance territory? This approach leaves a lot of interesting themes to be mined for a movie, themes that can be perfectly ripe for an intelligent and insightful comedy.
Unfortunately, directors Andrew Mogel and Jarrad Paul fill their film with too many unnecessary sub-plots, as well as a more traditional comedy of errors approach that doesn't fit the film's other, more daring themes about male camaraderie and sexuality. Still, there's enough in The D Train to satisfy fans of smart indie comedies at least one time around.
Dan Landsman (Jack Black) is an obnoxious Pittsburgh man in charge of getting alumni to show up for his old high school's 20th reunion party. He tries so hard to look hip and energetic that he repels pretty much everyone around him, which explains why others in the reunion committee consistently ditch him when it's time to grab some drinks. Dan looks at the reunion as his last chance to becoming popular, and is desperate to find anyone cool to invite to the party. The answer comes in the form of a suntan lotion ad on TV, where Dan recognizes his old high school "buddy" Oliver (James Marsden) in the lead. Dan's plan is to get Oliver to come to the reunion and be branded the new cool guy, so he flies to LA in order to entice him.
Once the two hit it off, Dan practically worships Oliver's breezy attitude and reckless lifestyle, but Oliver's just as much as a loser in LA as Dan is in Pittsburgh. They're both small fish in a big pond, it's just the size of the pond that differs. After a coke-fueled night out on the town, Dan and Oliver have sex, which might not sit well with Dan's supportive wife Stacey (Kathryn Hahn). Apart from the infidelity issue, the one-time affair creates a lot of question in Dan's head: Is he forming romantic feelings for Oliver, or does he feel as nonchalant about their night as Oliver does, yet still has a yearning to become his friend in order to satiate his need to be loved and appreciated?
This predicament becomes more serious when Oliver decides to come to the reunion after all and starts to crash at Dan's house, instantly hitting it off with the reunion committee, who still shun Dan despite Oliver's presence, and hooking up with beautiful women, which fuels Dan's jealousy and confused feelings towards Oliver. All of this rising inner conflict leads to an explosive third act that stays away from the kind of empty shock value such a premise could have contained, and creates cringe-worthy moments that respect the character arcs while still holding onto a light tone.
The problem with The D Train is the lazy writing surround the sub-plots that involve Dan taking advantage of his technophobic boss Bill (Jeffrey Tambor) in order to score free tickets to LA, and Oliver giving Dan's son Zach (Russell Posner) advice on how to handle his first threesome. Dan pointlessly conning his boss for the ticket snowballs into Bill believing that his company scored a big deal, and these scenes have all the predictable elements of a bland comedy of errors. The teenage threesome stuff, on the other hand, comes off as crass and blunt.
The Blu-ray:
Video:
Staying true to the American indie comedy style, despite the presence of some A-list actors, The D Train has a slightly more muted look than the usual bromance. Of course that doesn't mean that we're in for a contrast and grain-ridden aesthetic. The 1080p transfer is very clean and doesn't show any video noise.
Audio:
The DTS-HD 5.1 track comes to life when the 80s new age throwback score occasionally kicks in. Otherwise, this is a dialogue-heavy deal, and the front-heavy mix does a good job representing the film's original mix.
Extras:
Gag Reel: A three-minute blooper reel with the usual flubbed lines, nothing really funny here.
Deleted Scenes: Seven minutes of deleted material that can be watched one by one, or within a Play All option. The final film itself is full of unnecessary sub-plots, so the deleted material is that much less interesting.
Final Thoughts:
Instead of filling the typical odd couple connection between two friends who are trying to form a close bond with each other with lame homoerotic jokes many bromances tend to do, The D Train tries to deal with that inherent homoeroticism in an adult and levelheaded way. The film shines whenever the relationship between the two protagonists is developed, but the directors' desire to inject more lowbrow comedy elements creates an atonal feeling. Regardless, The D Train is worth a rental.
Oktay Ege Kozak is a film critic and screenwriter based in Portland, Oregon. He also writes for The Playlist, The Oregon Herald, and Beyazperde.com
Sponsored Links
Sponsored Links