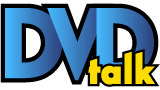 List Price: $19.98 [Buy now and save at Amazon]
---
The Movie

Director Quentin Tarantino apparently experienced a political awakening, when he recently appeared at a Black Lives Matter march in New York City, where he and many others protested the killings of African Americans by police officers. Tarantino, the director of countless racially-tinged revenge fantasies since the beginning of the New Millennium, would be the last person you'd expect to grow a political conscience, especially since his films lack any depth beyond their surface level cleverness and lack also an awareness of the larger world that informs his N-word laden films. While promoting his revenge fantasy Django Unchained in 2013, Tarantino incorrectly bemoaned the portrayal of Native Americans and other non-whites in the Westerns of John Ford, taking special aim at The Searchers. Tarantino derided Ford for treating the Indian characters in his films as one-dimensional savages, "zombies," in his words, that only existed on screen to be killed by John Wayne. Film scholar Kent Jones, writing for Film Comment several months later, responded to Tarantino's accusations that John Ford's films were racist by writing in his article, "To look at Stagecoach or Rio Grande or The Searchers and see absolutely nothing but evidence of the promotion of Anglo-Saxon superiority is to look away from cinema itself," and also, "Do those films provide the models of racial enlightenment that we expect today? Of course they don't. On the other hand, they are far more nuanced and sophisticated in this regard than the streamlined commentaries that one reads about them, behaviorally, historically, and cinematically speaking..." In his article, Jones asks, "Why do we keep insisting on the de-complication of history if not to justify our own tastes and abolish our discomforts?" Tarantino's newly discovered political activism and Jones' article about the Pulp Fiction director's lack of historical insight are useful for examining Walk Tall because, to view the film's obvious stereotypes of Indians and its broad strokes that are meant to represent American history, doesn't allow the viewer to watch the film as a pop culture representation of American mythology, a work that is sympathetic towards the plight of Indians, and, as Jones explains regarding the work of Ford during his lifetime, a movie that is in dialogue with its time and place.



Walk Tall is a little-known Western from 1960 that runs at just an hour long, and is oddly sympathetic towards its Red Face Native American characters/stereotypes in a way that Tarantino, and others who view history through a privileged, Liberally enlightened lens, may not understand or approve of. The film is evidence enough to refute Tarantino's assertion that Westerns, before the Sixties Cultural Revolution, were consistently about white cowboys killing what he called "faceless" Indians and shooting their way across the American West in the name of Manifest Destiny. The film opens with Ed Carter (played by Kent Taylor, whose insidiously justified reasons for killing Indians in the film are chilling for the way he plays his role so nonchalantly) and several other men massacring a Shoshone village to collect bounties on Indian scalps. A gory close-up shot of Carter's fist clenching a bloody scalp after the raid is jarring because the film was made during a time when blood and graphic violence were seemingly non-existent in American movies. The close-up of the bloody scalp appeared just eight years before the violence of Sam Peckinpah's bloody, bullet-riddled masterpiece The Wild Bunch. The pastel redness of the blood renders the violence and gore of this shot surreal.



Army Captain Ed Trask (Willard Parker) is charged with tracking down and capturing Carter to bring him to justice. The Shoshone chief Black Feather (Felix Locher, an elderly white actor speaking in stereotypical pidgin English), pleads with Trask to find Carter, and warns that Carter's actions will ignite a war between the whites and the Shoshone. Soon, Trask finds Carter, 'cuffs him, and sets out to return him for a trial.



Meanwhile, Carter's gang is searching for their leader. Tensions between whites and Indians are further underlined when Trask and Carter witness a Shoshone war party attacking a wagon of white settlers. After an astonishing sequence in which a covered wagon on fire barrels across an uninterrupted panoramic shot of a California valley, Sally Medford (Joyce Meadows) is rescued from its wreckage by Trask, who then brings her along with him on his journey to bring Carter back for a military trial.



The attack on the covered wagon is portrayed as a justified response to the senseless killing perpetrated by Carter and his gang -in contrast to the blood-thirsty savage movie stereotype in which Indians simply kill because it is part of their nature. But now that blood has been spilled on both sides, Trask tries to quell further violence. Sally spews racial hatred towards Indians, which Carter then feeds into with his causal asides in which he mentions that he won't stop killing until every Indian is dead. Trask becomes a kind of mediator between the whites and the Indians. Not only has Carter committed a crime, but Trask wishes to bring Carter to justine to prevent an uprising among the Shashone against the US. What is noteworthy about this conflict, given the time period in which the film was released, is the imperative for peace and an understanding between cultures in order to prevent violence. Unlike the revenge fantasies of Tarantino, the notion of vengeance is tied to the real-life effects it has on people and is shown to have negative consequences.



Like many forward-thinking Westerns of the 1950s and '60s, Walk Tall has a contradictory mixture of racial/cultural stereotypes and platitudes about the mistreatment of Indians by whites, in which the Indian characters (almost always played by white actors) are viewed as victims of American expansionism. As Jones noted in his response to Tarantino's over-generalization about the depiction of Native Americans in movies, Walk Tall's shortcomings about the nuances of race relations because the film is a reflection of its time and place. Walk Tall's director, Maury Dexter, only had then-common perceptions of Native Americans and the mythological American West to work with, including all of its broad stereotypes and racist depictions, simply because the mythology of the West and its people are reflections of then-current views of American history. However, the film stands out from other B-Westerns because, among its broad stereotypes and simplification of history, the film still manages to bring out its humanistic qualities by showing the effects that violence and revenge have on people and their psyches.



In light of Tarantino's oversimplification of the Western genre and his body of work, in which black characters are often portrayed as violent criminals, his penchant for telling revenge stories that lack any depth or human quality when it comes to portraying the effects of violence and vengeance, and the use of the N-word among many of the white characters in his films, his political activism seems short-sighted and ill-informed, much like his opinions about the Western genre. Having written and directed films that lack depth beyond their surfaces, Tarantino is probably unable to connect the killing of African Americans by white police, to the culture that informs his racist works(at the NYC protest, Tarantino held a sign in support of Mah-hi-vist Goodblanket, A Native American kid killed by police). By his standards, a film like Walk Tall would be racist, which it is in many of its aspects, but still has at least enough insight to subvert the commonly-held racist views of its time to show the consequences of violence and revenge.



The DVD:

Video:

Walk Tall would have languished in obscurity if 20th Century Fox hadn't pulled it out of its archives for re-release. The transfer to DVD, especially its 2.35:1 CinemaScope aspect ratio, have been beautifully re-mastered. The coloring process used in 1960, by DeLuxe, has also been nicely re-mastered. The pastel-like colors are vivid, and, as stated, give the film an unintentionally surreal quality.


Audio:
The soundtrack is in mono, but it's clear and well-balanced on multispeaker systems.


Extras:

The disc has no extras.


Final Thoughts:

Most Western made after the 1960s are revisionist in nature, and often have the views of current political correctness imposed on them. But as Kent Jones stated in his Film Comment article, privileged views of modern society cannot be imposed on broadly told mythological stories that are often informed by ugly stereotypes and misrepresentations of American history. Such viewpoints lack the nuances of the particular time and place in which films like Walk Tall were made. Walk Tall, while typical of many B-Westerns in the way it used racist stereotypes of Indians, was informed by then-current views of Native Americans and of American history. However, it used its stereotypes and broad portrayal of Western expansion to still show the negative effects of vengeance and of violence between whites and Indians on the Western frontier.
---
C O N T E N T

---
V I D E O

---
A U D I O

---
E X T R A S

---
R E P L A Y

---
A D V I C E
Recommended
---
E - M A I L
this review to a friend
Sponsored Links
Sponsored Links