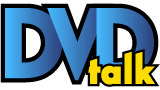 List Price: $21.99 [Buy now and save at Amazon]
---
The Movie:


Irene Dunne was one of the few leading ladies of Hollywood's golden age that could pull off appearing patrician and sexy at the same time. Her charm is one of the few distinctive things about Never a Dull Moment!, a limp comedy from late in her career. Produced by RKO in 1950, the film is one of several obscure Dunne vehicles getting released on made-to-order DVD from the folks at Warner Archives. Here, Dunne gets to flirt shamelessly, take pratfalls like a pro, act concerned, even warble a few songs in her pleasant soprano. What's not to like? Eh, I'll explain later.


Never a Dull Moment! was based on a memoir by Kay Swift, a Broadway tunesmith who briefly gave up Manhattan's glitterati for life as a ranch wife after impulsively marrying a rodeo rider in 1939 (Swift wrote the songs which Dunne, as Swift's movie doppelgänger, sings in the movie). Dunne's Kay Kingsley is an honored guest at a rodeo competition - an odd setting for a cultured, witty woman, yet she is immediately taken with one of the ropers in the ring. Played by a somewhat miscast Fred MacMurray, Chris is a plain-spoken widower who has the same ease with roping runaway cattle as Kay does with her music. The two click - and, against a typical Hollywood montage, their oil-and-water culture clash leads to love and marriage. In a plot development that prefigures TV's Green Acres, being Mr. and Mrs. means that Kay must give up her plush Manhattan life and make do with Chris's cattle ranch. With no electricity, primitive facilities, and hours of grueling housework, how will Kay adjust?


Boosted by Dunne's ebullience, Never a Dull Moment! nevertheless is a routine, strangely laugh-free story dogged by bland characters and a poky pace. MacMurray had already appeared in a similar movie, The Egg and I with Claudette Colbert, although unlike that film there are no vivid Ma & Pa Kettle types for the leads to bounce off of. Instead, we have Dunne gamely attempting to win the affections of MacMurray's spunky daughters (Natalie Wood and Gigi Perreau) while the newlyweds battle a crotchety neighbor (William Demarest) over the water rights to their property. Water rights! If there was ever a rip-roarin' comedy made on the subject of water rights, please show it to me right now.


This movie played to Irene Dunne's strengths as a pert, affable light comedy actress. She's attractive, youthful (I would have never guessed that she was past fifty years of age at this time), and personable despite the lack of spark between her and MacMurray. Unfortunately, the script is dull as dishwater and, in the hands of journeyman director George Marshall (Destry Rides Again), blandly visualized. Marshall's forte is apparently the standard two-shot, done with zero flair. There are a couple cute segments with the gossipy women in this movie's fictional community being shown as floating heads atop telephone wires. More typical of Marshall's non-style is the treatment of Demarest's character, mean Mr. Mears, who barely registers in the story because he never gets a single close-up. Old movie buffs might enjoy Andy Devine, typecast as MacMurray's coarse best pal, although as with Demarest the character gets treated like colorful wallpaper.


Neither an outrageous comedy nor an earnest drama, Never a Dull Moment sits there in a forgettable muddle of a middle. The movie's sole novelty lies in it being produced by a woman - Harriet Parsons, daughter of gossip queen Louella. Regardless of the outcome, you can bet it got some good press in the Hearst papers back in the day.





The DVD:

---
Video:


Warner Bros. secured a good, relatively pristine print for their made-to-order DVD edition. The 1.37:1 black and white image is stable and moderately clean with the slightest amount of specks and debris. The light balance levels seemed too much on the wishy-washy side, however, with a low amount of contrast.


Audio:


The mono soundtrack is also a decent-sounding effort with no huge flaws, despite the source print's limited dynamic range. Dialogue is clearly delivered with little of the distortion one usually expects from vintage '50s films. No subtitles are provided.


Extras:


None. The menu is a simple deal with "Play" as the sole option.


Final Thoughts:


Wholesome, forgettable comedy is served up in Never a Dull Moment!, perhaps the most deceptively titled film ever made. While the concept of Irene Dunne's big city sophisticate falling in love with ruddy rancher Fred MacMurray brims with possibilities, the end results are as lively as the corpse of the steer Dunne accidentally shoots dead. Skip It.



---
Matt Hinrichs is a designer, artist, film critic and jack-of-all-trades in Phoenix, Arizona. Since 2000, he has been blogging at Scrubbles.net. 4 Color Cowboy is his repository of Western-kitsch imagery, while other films he's experienced are logged at Letterboxd. He also welcomes friends on Twitter @4colorcowboy.
Sponsored Links
Sponsored Links