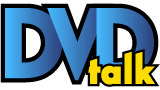 Kino // Unrated // November 15, 2016
List Price: $22.99 [Buy now and save at Amazon]
---
Cosmos, the final film by Polish filmmaker Andrzej Zulawski, is a dizzying, head-scratching journey into some sort of comic, existential nightmare. Adapted by Zulawski from the 1965 novel by author Witold Gombrowicz, the film (as far as I can tell) takes the basic story and characters from the source material and transports them to the present day, along with an injection of cinematic playfulness that could not have existed in print. The finished product is a heady blast of strange behavior, witty dialogue, and heavy examination of sexual, violent, and angry expression that flies at the viewer without pausing to let them collect their thoughts. On one hand, it's the kind of movie I have to confess I didn't fully understand, but then again, perhaps the movie's meant to be more felt than understood.



The film follows two young men, Witold (Jonathan Genet) and Fuchs (Johan Libereau), who are looking for a place to stay while Witold studies for a law exam he previously flunked. They settle on a tiny inn run by Madame Woytis (Sabine Azema) and her husband Leon (Jean-Francois Balmer). Although both Madame Woytis and Leon are wild eccentrics, Witold and Fuchs' stay would likely have been uneventful were it not for Madame's daughter, Lena (Victoria Guerra), whose beauty and attitude set off something in Witold's brain the moment he lays eyes on her. Between Lena and the disturbing sight of a sparrow, hanging from the neck like a lynched human, on a wire outside the building, Witold starts straying from his exam and into a state of perpetual emotional torture.





One of the first things that stands out about Cosmos is how wildly and vividly alive it is. Zulawski's most famous film, 1981's unrelentingly intense Possession, has a manic energy that brings together heightened performances and striking camerawork. Directors whose famous work is stamped by a certain kind of energy often find themselves struggling to recapture that energy later in their careers, but despite the fifteen-year gap between 2000's Fidelite and Cosmos (and a 14-year gap between Fidelite and Szamanka), Cosmos crackles with kinetic energy, the camera swooping about as the cast's eccentric performances bounce off of one another. The film's editing is deliberate and precise, contriving a moment where it looks like Witold is choking a cat between his legs, or the careful disorientation of reverse angles between Witold in bed and the inn's maid, Catherette (Clementine Pons) that don't quite match up. The manic nature of the film underlines the film's comedic notes, from Genet's surprisingly spot-on Donald Duck impression to Libereau's slightly wounded Charlie Chaplin imitation.





Whether it stems entirely from the book or whether it comes from Zulawski, the movie is steeped in references to literature and philosophy that pile up, rapid fire. It's quite a bit to take in, but for the most part it's another layer that adds to the characters' more accessible emotional states, which Zulawski highlights with visual and verbal puns, unexpected fantasy sequences, and curious parallels and contradictions. Witold and Fuchs head to the beach in the rain, with Witold huddling under an umbrella while Fuchs dives into water that must be freezing cold. Later, Witold wades into the waves, screaming "I am afraid of the water!" Throughout, Witold talks about authors, which Fuchs misinterprets as friends or famous filmmakers. Fuchs is fixated on Catherette and the way her lip appears to fold over itself ("above and below"), while Witold's subject of obsession, Lena, is found sleeping on the frame of a bed, mattress pushed to the side, forming a faint visual symmetry. Madame Woytis is plagued by an affliction where intense emotional states cause her to freeze in place, yet is discovered one night smacking a stump with an axe to relieve tension, while Leon comments on the ease of his life, while enduring frequent mood swings. Meanwhile, more hanged items appear around the inn, including pieces of wood and a teapot. Witold, who is most determined to solve the mystery of who is doing it, also happened to write a novel in which the main victim was hanged, causing the protagonist to fixate on the details. Fuchs asks him what it means, and Witold never answers.





To describe Cosmos as a series of pieces that ought to be put together feels like a misread of Zulawski's intentions. The eccentricities of the inn's inhabitants build up quickly, each one indulged in with great intensity, until the cacophony of neuroses, fears, desires, and passions turn into a suffocating din that is simultaneously funny and recognizable but also hard to deal with. In a way, the oppressiveness of the characters feels like an existential commentary, with Lena screaming a silent scream as Witold hovers beside her, his obsession clear to her. Furthermore, as the film draws to a close, Zulawski increasingly highlights the artificial nature of the film, reminding the viewer that they are seeing his expression of an idea. Whether or not we understand exactly what he means by that expression seems to be less important than the strange, chaotic energy with which he was able to express it.





The Blu-ray

Cosmos comes to Blu-ray via Kino Lorber with its poster art intact, depicting Guerra's silent scream, superimposed upon a black-and-white silhouette of a tree, with the hanged bird that torments Witold visible in the corner. The one-disc release comes in a translucent gray Viva Elite case, and inside the case, there is a booklet with an essay on the film by critic Glenn Kenny.





The Video and Audio

Presented in 1.85:1 1080p AVC and DTS-HD Master Audio 5.1 (French with optional English subtitles), Cosmos is crisp and beautiful on Blu-ray. Colors have an extremely vivid, natural pop, with lush greens of the forest that surround the inn, and accurate pink skintones of the characters who inhabit it. Fine detail is excellent, and there are no instances of noticeable compression. Sound is mostly dialogue but much of it has an authentic environmental feel, whether the characters are indoors or out. Music is rendered vividly, and some element of surround immersiveness is present even though it's far from a priority for Zulawski.





The Extras

First up is an introduction (7:32) from a film festival featuring producer Paulo Branco and Zulawski, along with other members of the cast and crew. Here, one gets the sense that processing the film in a traditional manner is beside the point, and that the movie is an "experiment" the audience needs to give themselves over to.





A "Making-of Featurette" (7:43) is a random collection of B-roll moments from the set, edited together more or less at random, without any interviews or commentary by the cast and crew. Feels fitting, for a film like Cosmos.





Also included are a Video Essay (12:18) by filmmaker David Cairns, and an audio commentary by film historian Daniel Bird. Both supplements are worth a look, especially Cairns' humorously sympathetic video essay, but as part of the joy of Cosmos is trying to puzzle through or come to a conclusion of their own, I will avoid detailing their analysis(es?) of the film.





Two original theatrical trailers are also included, for the International and domestic releases.





Conclusion

Cosmos is a conundrum, about conundrums. It is a film that challenges while also being almost pointedly playful, diving into deep philosophical ideas through exaggerated comic performances. It is simultaneously confusing and strangely recognizable, both a wail and a laugh. Many viewers will be confounded and frustrated by it, but even when his meaning is obscure and hard to grasp, the movie is vibrant and alive in ways that many straightforward films are not. Recommended.
---
Please check out my other DVDTalk DVD, Blu-ray and theatrical reviews and/or follow me on Twitter.
---
C O N T E N T

---
V I D E O

---
A U D I O

---
E X T R A S

---
R E P L A Y

---
A D V I C E
Recommended
---
E - M A I L
this review to a friend
Sponsored Links
Sponsored Links