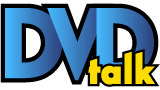 List Price: $24.96 [Buy now and save at Amazon]
---
Described as a romantic comedy but really more of a drama with humorous moments, Made for Each Other (1939) teams Carole Lombard with Jimmy Stewart, and their performances, along with those of the supporting cast, sell this simple story, and make its outrageously over-the-top last act palatable. The script, credited to Jo Swerling with uncredited contributions from Frank Ryan and perhaps others, also deftly allows for Stewart's character to be weak and unassertive, without causing the movie audience to resent his failings.



The new Blu-ray is mastered from a composite of elements; the first reel is in pretty poor shape, but most of the remainder of the picture looks quite good.








Aspiring New York City attorney John Mason (Stewart) returns from a business trip to Boston with news that while there he met and immediately married Jane (Lombard). This comes as a shock to his elderly mother, Harriet (Lucile Watson), who expected her son to marry Eunice (Ruth Weston), the daughter of the Judge Doolittle (Charles Coburn), the nearly deaf head of the firm.


John and Jane's obvious deep love for one another is continually tested. Their honeymoon is ruined when John's called back on a case, a maneuver possibly engineered by conniving colleague Carter (Donald Briggs). Harriet needles Jane mercilessly at home, passive-aggressively complaining about absolutely everything. After Jane gives birth to a baby boy, the bills begin to stack up, but John is too timid to assert himself at the office. When a junior partnership is awarded to Carter instead of John, Jane resents her husband's behavior and he, unable to adequately provide for his wife, feels unworthy of her devotion. Can their marriage survive?


Made for Each Other might have been insufferable had its script made John appear any weaker than he does in the story. Already a Mama's Boy, John allows Judge Doolittle and even Carter to take advantage of his hard work and obvious desire to move up the company ladder. He won't stand up to his mother's subtle digs at Jane's housekeeping and child-rearing skills, though her manipulation is subtle just enough to appear unresolvable.


The clever script has John not so much as continuously cave-in to the firm's unreasonable demands but rather put him in positions where he has little choice but to acquiesce. When John works himself up to storm into Judge Doolittle's office to demand a raise, the old man surprises John by informing him that everyone in the firm will have to take a (Depression-era) pay cut.


Stewart, not fully-formed yet as an actor, is fine, and his screen chemistry with Lombard is great, but it's her Jane that holds the picture together. Both project the kind of passion and deep devotion one associates with young marrieds, and her growing but repressed resentment toward him and his mother is entirely believable. Equally adept at comedy and drama, Lombard, as always, is luminous: sexy yet not exotically so in the Dietrich and Garbo manner. She's uniquely beautiful, but in an approachable, identifiable way, and movie audiences could certainly relate to and empathize with their everyday problems, and are rooting for their eventual happiness.


They also help sell the out-of-left-field third act, with faint echoes of Only Angels Have Wings. One wonders if this part of the film was heavily reworked on orders from producer David O. Selznick. A critical dramatic moment for Stewart's character here actually occurs offscreen, during a phone conversation between John and a pilot (Eddie Quillan), which never once cuts to the picture's star, nor do we even hear his voice. Was this a deliberate decision by director John Cromwell, perhaps wanting the audience to imagine what he's saying at the other end of the line, or was this a last-minute change, by which time Stewart was long gone from the production?


A first-class production, the film features especially good cinematography by Leon Shamroy, production design by William Cameron Menzies, and music (uncredited) by Oscar Levant. Before he became typecast as a wily old codger, Charles Coburn is effectively intimidating as Judge Doolittle, and Lucile Watson is appropriately subtle as the needling mother-in-law.


Video & Audio


Apparently in the public domain for many years, watchable video masters of Made for Each Other were hard to come by, but this new release is a vast improvement over earlier home video releases. As noted above, the first reel is not in great shape. Distributor Kino notes a new 2K remaster from a fine-grain source, and visually the image improves markedly after, with a few dodgy moments here and there, but overall the results are very good. The mono audio is fine, and optional English subtitles are provided to this region "A" disc.


Extra Features


Supplements include a trailer and an audio commentary by film historian Lee Gambin.


Parting Thoughts


Charming for its stars and supporting cast, and its first-rate production values, Made for Each Other is Highly Recommended.




Stuart Galbraith IV is the Kyoto-based film historian largely absent from reviewing these days while he restores a 200-year-old Japanese farmhouse.
---
C O N T E N T

---
V I D E O

---
A U D I O

---
E X T R A S

---
R E P L A Y

---
A D V I C E
Highly Recommended
---
E - M A I L
this review to a friend
Sponsored Links
Sponsored Links