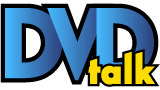 Cloverfield 3-Movie Collection, The
List Price: $26.98 [Buy now and save at Amazon]
---
THE FILMS:
The original Cloverfield blew me away when I saw it in theaters back in 2008. This found-footage horror film was shrouded in mystery before its release, and turned out to be a lean, intense science fiction-tinged thriller. Written by Drew Goddard, produced by J.J. Abrams and directed by Matt Reeves, Cloverfield benefitted from genre talent behind the camera, and up-and-coming actors Lizzy Caplan, Jessica Lucas and T.J. Miller gave committed performances on screen. This is how you do a found-footage movie, and it inspired numerous imitators. Cloverfield unspools as footage from a camcorder recovered by the United States Department of Defense in an area "formerly known as Central Park." Contained within is an 85-minute, nonstop rush, as several friends go from attending a farewell party to fighting for their lives as New York City comes under attack from unknown enemies. An eerie, highly advertised image of the Statue of Liberty's head landing on a city street is an effective moment.
This movie works because it features likeable characters who behave in believable ways. Reeves and company stock the film with talent and throw them into breathless, frenetic action. The effects are nuanced and integrated effectively, and, when Cloverfield opens up from its early, intimate drama, it does so in a spectacular way. This film, unlike its latest pseudo-sequel, knows that the unknown is often the scariest antagonist, and the film wisely avoids showing its cards too early. It does show them, eventually, and its monsters are formidable and destructive. Viewers care about the game's players, and they care about the New York City battlefield. Cloverfield is a ride, and it remains effective eleven years on. Cloverfield: ****1/2 out of *****.
I did not expect a follow-up to Reeves' film eight years later, but Paramount did an interesting thing when it purchased a spec script titled "The Cellar" and, with the help of Bad Robot Productions, tweaked the material to integrate the story into the Cloverfield universe. Damien Chazelle, on the eve of his Whiplash high, rewrote the script by Josh Campbell and Matt Stuecken and crafted a tricky, entertaining character piece with larger ambitions. After fleeing a break-up, Michelle (Mary Elizabeth Winstead) is involved in a wreck, the force of which obliterates all memory of the vaguely apocalyptic news reports on her car radio. She awakens in a locked cellar room and meets Howard (John Goodman), who tells her an attack on the Earth's surface necessitated them going underground and that she has been locked up for her own safety. Fearing that she has been kidnapped, Michelle initially tries to flee, but discovers horrors do await on the surface. She soon meets fellow survivor Emmett (John Gallagher Jr.), who says he worked for Howard and begged him for shelter before the life-altering event.
The majority of 10 Cloverfield Lane is spent in the company of Goodman, Winstead and Gallagher Jr., and Goodman absolutely makes this movie. His performance is layered, and he plays Howard like a chameleon, shifting from devious to unhinged to paternal at will. Michelle and Emmett fear the daughter Howard claims to have had is actually a local girl who went missing several years earlier, and Howard begins distrusting Emmett as he grows closer to Michelle. Scenes in the bunker are rife with suspense, humor and intrigue, and the integration into the Cloverfield universe is far more satisfying here than in The Cloverfield Paradox. This is a great character drama with an interesting science-fiction twist, and the three lead performances alone are worth the price of admission. 10 Cloverfield Lane: **** out of *****.
Unlike 10 Cloverfield Lane, The Cloverfield Paradox fails to join this cinematic universe in an organic way. Distributor Paramount took an unrelated sci-fi production and decided to make another Cloverfield sequel mid shoot, before selling the wayward film to Netflix for domestic distribution. You know from early scenes that something bad is happening on Earth, and it becomes very evident later that the filmmakers simply shot random inserts to tease a connection to the mysteries of Cloverfield. A crew of scientists and engineers mans the Cloverfield space station in Earth's orbit. They are working to end a global energy crisis by activating a particle accelerator, to little success. Two years into the mission, the crew creates a stable beam, but, after a power surge, they realize the Earth has vanished from view and things are amiss around the space station. Everyone knows you do not f**k with alternate dimensions, which is the immediate fear here. The movie earns its title from a theory that the particle accelerator could open portals to alternate universes or dimensions and allow whatever horrors await back into ours.
There are some pretty nifty sequences involving an autonomous arm, featured heavily in the Super Bowl preview Netflix dropped on an unsuspecting public, but The Cloverfield Paradox is surprisingly dull considering the canvas on which it can draw. The drama on the space station is enough to sustain a movie, and it would have been much more effective to keep the situation on earth at arm's length. The characters are completely fungible, and the storyline becomes muddled and repetitive in the second act. The most interesting part of this saga is that Netflix proved you can make an event movie out of anything, even a pieced together dud that likely would have cost its distributor serious cash if given a traditional theatrical release. The Cloverfield Paradox: ** out of *****.
THE BLU-RAYS:
PICTURE:
This three-disc set recycles previous releases of Cloverfield and 10 Cloverfield Lane and adds a new disc for Paradox. The 1.78:1/1080p/VC-1-encoded image on Cloverfield is from the early days of Blu-ray but holds up pretty well. Given the intended look of the film, this disc handles the frenetic action with ease. Detail and clarity vary from scene to scene, but none of this is the fault of the transfer. I noticed some mild noise and ringing, but saw no issues with edge haloes or digital manipulation. 10 Cloverfield Lane's 2.40:1/1080p/AVC-encoded image is solid, and provides a clear, detailed presentation marred only by a bit of digital noise. Skin tones, black levels and color reproduction are good, and textures and fine-details are evident in the cellar surroundings. The Cloverfield Paradox's 2.40:1/1080p/AVC-encoded transfer improves on the Netflix streaming experience with picture-perfect clarity and detail. The entire presentation is sharp and clear, with light, filmic grain and excellent delineation. Colors are perfectly saturated, and interior shots reveal abundant detail in the space station. Wider shots are clean and well resolved. Skin tones and highlights are spot-on, and blacks are inky. I did not notice any technical hiccups with this image.
SOUND:
The 5.1 Dolby TrueHD mix on Cloverfield is a stunner, even at 11 years old. I remember finding it to be one of the most impressively immersive surround mixes I'd ever heard after purchasing the Blu-ray, and the mix continues to impress. Dialogue reproduction is good despite the chaotic environment, and action effects are absolutely stunning. Jets roar through the surrounds, the sub bangs in appreciation of the extraterrestrial visitors and New York City comes to panicked life around the viewer. 10 Cloverfield Lane has a subtle, effective Dolby Atmos mix, which I sampled as a 7.1 Dolby TrueHD soundtrack. This dialogue-heavy mix benefits from excellent clarity and range, and there are plenty of sound pans and cellar-environment effects to awaken the surrounds. This is a prime example of good sound mixing, as the various elements just work together to create a wholly immersive experience. The Dolby Atmos Soundtrack for Paradox is theatrical and totally immersive, with excellent effects panning, perfect dialogue reproduction and plenty of LFE muscle. Although the movie is subpar, this soundtrack certainly is not. Environmental effects are subtle and constant, and action effects make full use of the entire sound field. The soundtrack is layered appropriately, and both range and clarity are excellent. Each disc offers plenty of alternate language sound mixes and subtitle options.
PACKAGING AND EXTRAS:
This three-disc set is packed in a hinged Blu-ray case that is wrapped in a slipcover. There are no new or exclusive extras for the first two films, but this is an economical way to own the franchise if you choose. Cloverfield extras include an Audio Commentary by Matt Reeves; Special Investigation Mode, a relic from interactive Blu-rays; Document 01.18.08: The Making of Cloverfield (28:22/HD); Cloverfield Visual Effects (22:32/HD); I Saw It! It's Alive! It's Huge (5:53/HD); Clover Fun (3:56/HD); Deleted Scenes (3:25/HD); and Two Alternate Endings (4:29/HD). For 10 Cloverfield Lane you get An Audio Commentary by Director Dan Trachtenberg and Producer J.J. Abrams; Cloverfield Too (9:07/HD); Bunker Mentality (3:48/HD); Duck and Cover (1:44/HD); Spin-Off (3:52/HD); Kelvin Optical (6:07/HD); Fine Tuned (6:42/HD); and End of Story (3:19/HD). Extras for Paradox include Things Are Not As They Appear: The Making of The Cloverfield Paradox (14:23/HD) and Shepard Team: The Cast (14:48/HD).
FINAL THOUGHTS:
This three-disc collection offers two great films and one lousy one, and will likely only be of interest if you do not yet own Cloverfield or 10 Cloverfield Lane. For fans looking to pick up all three movies at a reasonable price, this set is Recommended.
William lives in Burlington, North Carolina, and looks forward to a Friday-afternoon matinee.
---
C O N T E N T

---
V I D E O

---
A U D I O

---
E X T R A S

---
R E P L A Y

---
A D V I C E
Recommended
---
E - M A I L
this review to a friend
Sponsored Links
Sponsored Links