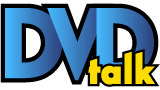 Kalifornia (Collector's Edition)
List Price: $34.93 [Buy now and save at Amazon]
---
THE FILM:
I am sure Dominic Sena's Kalifornia feels safer today than it did upon release in 1993, when it bombed at the box office. Starring a young Brad Pitt, Juliette Lewis, David Duchovny and Michelle Forbes, the film takes viewers on a cross-country journey with a serial killer and his child-like girlfriend. Strong performances buoy a fairly standard narrative in a film with uneven pacing. The interplay between the four leads is impressive, and Lewis, especially, gives a startling performance. These people should never have been in a car together, much less on a days-long drive From Louisville, Kentucky to Los Angles, California. Released on Blu-ray by Shout! Factory as part of its "Shout Select" line, Kalifornia unspools with one new bonus feature and attractive packaging.
Grad student and journalist Brian Kessler's (Duchovny) article on serial killers was noticed by a publisher and he looks to move with photographer girlfriend Carrie Laughlin (Forbes) to California to jumpstart their careers. Brian is going to expand his article into a book, and the pair plans to stop at famous murder scenes and allow Carrie to take photographs during their cross-country trip. With little cash on hand, Brian posts a notice on campus offering a ride share to California, which is noticed by parolee Early Grayce (Pitt). After murdering his landlord, Grayce takes his girlfriend Adele (Lewis) and joins Brian and Carrie for the trip. Carrie is initially apprehensive after seeing the rough-around-the-edges strangers, but Brian pushes her to accept the company. The foursome then begins a journey of murder and betrayal that will drive wedges between each couple.
While Kalifornia lets you know quickly that Early is a killer, it keeps closer to the vest secrets of what sets him off. This helps build tension during the next 90 minutes, as viewers are on edge wondering when and where Early will kill next. This is an early example of Pitt's range, and most viewers were likely not expecting the superstar to deliver this creepy of a performance after Thelma & Louise and A River Runs Through It. Lewis is also great, and her performance as emotionally and developmentally stunted Adele is haunting, infuriating and captivating. Early beats Adele when she steps out of line, but, as Adele reveals to Carrie, he treats her much better than the men who gang-raped and abused her as a teen. Duchovny gives the least memorable performance of the leading four actors, though it is certainly not bad. Forbes's work is more impactful, as Carrie serves as the viewer's conscience, watching in horror as events unfold before her that she cannot control.
This was Sena's theatrical directing debut, after a successful career shooting music videos, and some of that frenetic editing and directing bleeds through into Kalifornia. The pacing is somewhat uneven, as large sections of the first half meander through occasional bouts of violence and character development. There is also some dark humor at work here, and elements of Kalifornia, including Pitt and Lewis's gee-golly Southern demeanors, border on parody. But even with a few flaws, the film hits home dramatically as the couples turn inward then outside of their relationships to deal with the stress of what Early has done to them. This is an interesting look back at the early careers of these four actors, and it holds up well enough to warrant a recommendation 25 years later.
THE BLU-RAY:
PICTURE:
The 2.35:1/1080p/AVC-encoded transfers for the unrated and theatrical versions appear to be recycled from a previous MGM release but hold up reasonably well. Fine-object detail and texture are largely impressive, and, while some establishing shots exhibit softness, the majority of the transfer is tight and well defined. Black levels are generally good but waver at a few points, and there is some black crush in nighttime scenes. Grain is reasonably well defined, and the image looks good in motion. Contrast pushes toward hot on the open road but everything is kept in check. The print is in great shape, and this image is pretty good considering the lack of a new 4K scan.
SOUND:
The discs include 5.1 DTS-HD Master Audio mixes (and 2.0 DTS-HD Master Audio stereo mixes if that's your jam). Dialogue is clean and presented appropriately. Light ambience is frequent, and the sound field comes alive during a wave of violence set during a thunderstorm. The soundtrack is layered appropriately, and I noticed no issues with clipping or distortion. English SDH subtitles are included.
PACKAGING AND EXTRAS:
This two-disc Collector's Edition arrives in a standard case with two-sided artwork that is wrapped in a slipcover. The Unrated Cut (1:58:15) appears on Disc 1; the theatrical version (1:57:27) is on Disc 2. The differences between the two are negligible. Extras include Going to Kalifornia (24:36/HD), a newly shot interview with Sena that provides good insight into the film; a Vintage Behind-the-Scenes Featurette (5:22/SD); Brad Pitt and Juliette Lewis Interviews (2:35/SD) and Trailers and TV Spots (5:50/HD). By my count, Shout! is getting a little loose with their "Collector's Edition" designations with only a half-hour of new bonus material here.
FINAL THOUGHTS:
Now over twenty-five years old, Dominic Sena's Kalifornia holds up thanks to strong performances from Brad Pitt and Juliette Lewis. This uneasy serial-killer road trip earns a new edition from Shout! Factory that is decidedly lacking in new bonus content. Even so, Kalifornia is Recommended.
William lives in Burlington, North Carolina, and looks forward to a Friday-afternoon matinee.
---
C O N T E N T

---
V I D E O

---
A U D I O

---
E X T R A S

---
R E P L A Y

---
A D V I C E
Recommended
---
E - M A I L
this review to a friend
Sponsored Links
Sponsored Links