Attack of the Killer Tomatoes - 25th Anniversary Edition
Rhino // PG // September 23, 2003
List Price: $24.95 [Buy now and save at Amazon]
---
"The first thing you have to realize is Attack of the Killer Tomatoes has absolutely no socially redeeming value whatsoever."
- Director John DeBello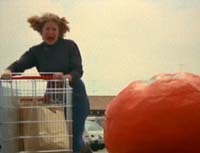 I grew up thinking that Attack of the Killer Tomatoes had to be the worst movie ever made. I hadn't actually seen it, of course, but I'd heard the movie bashed frequently enough that I eventually sort of accepted that as truth. Oh, but then one blissful morn' twelve years ago, I spotted a double feature of Attack and Return of the Killer Tomatoes on cable. As I sat there, perched on my couch, I was almost instantly smitten. I quickly recorded a followup USA Up All Night double feature that I wound up watching until the tape was worn thin. Of the innumerable videos I had littering my family's garage, official releases of the first two 'Tomatoes flicks were the only videos I carried with me to college and remain among just a handful I keep on-hand today. My family was an early adopter of the Laserdisc format in the '80s, and out of the dozens upon dozens of Laserdiscs I collected over the years, I've only kept Killer Tomatoes Strike Back and Killer Tomatoes Eat France with me. Six and a half years ago, I even created the first Killer Tomatoes site on the web. I guess what I'm very slowly lurching towards is that if you were gleefully anticipating some vitriolic rant about how unredeemably awful a movie Attack of the Killer Tomatoes is, you'll have to turn to...well, pretty much any other review website.

Attack of the Killer Tomatoes is, not surprisingly, about these killer tomatoes that...attack... The government is trying to squash this newfound red menace before the public at large catches wind. As Press Secretary Jim Richardson (George Wilson) tries to give the situation the best spin possible and even turns to a manipulative marketing firm for some much-needed assistance, a crack team of operatives is assembled to stamp out the seeds of terror. The group is led by Mason Dixon (David Miller) and the parachute-parading Lt. Wilbur Finletter (J. Stephen Peace), who risk life and limb to uncover the dark forces pulling the strings. It's a mystery! It's an action flick! It's a...musical!

Attack of the Killer Tomatoes isn't as bad as you've heard, though that's not to say that this is a stunningly brilliant film or anything. Despite its near-legendary status, Attack... is firmly entrenched as my third favorite of the series, ranking only above the borderline-unwatchable Killer Tomatoes Strike Back. I freely admit to having a soft spot for the movie, but I'll concede that it's rather unremarkable in a lot of ways. Attack of the Killer Tomatoes is referred to at a couple of different points throughout the extras as "Airplane! with a budget", and that's a fairly accurate comparison. Both movies have a similar approach to spoofing particular genres, but Attack... lobs its jokes off at a much more relaxed pace. As is the case with ZAZ's style of humor, it's kind of hard to do it much just in a review: the gags either don't translate well to plain-text at all, or the writer runs the risk of spoiling some of the best parts of the movie. To rattle off a few regardless, there's a seemingly-inept master of disguise who sets out to infiltrate the tomatoes' camp, a low-speed car chase, a jab at the innumerable corporate sponsors of news broadcasts and at marketing in general, nods to oodles of TV shows and movies, and an onslaught of corny puns and sight gags. Even though I've seen Attack of the Killer Tomatoes more times than I'd really care to admit, I still found myself laughing at some of my favorite jokes. The movie's most glaring flaw is that there just aren't enough moments like that. Attack of the Killer Tomatoes is classic camp with an unforgettable title, but the plodding pace and sparse humor dull its effectiveness. Return of the Killer Tomatoes (my personal favorite of the series) and Killer Tomatoes Eat France are much more highly recommended, but cult cinema enthusiasts with a passion for campy comedy owe it to themselves to check out Attack of the Killer Tomatoes at least once.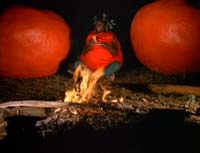 Fans of the series may recall that Buena Vista Home Video released a "Director's Cut" on VHS in the mid-'90s (although, as noted on that video, the version released theatrically already was was a director's cut). Anyway, among other changes, that new cut of the film gutted one of my favorite sequences, "The Mindmaker Song". This DVD appears to include the theatrical version, with "The Mindmaker Song" presented in its entirety. The transfer may be based on the director's cut at least in part, though, as there's kind of an awkward edit in the newspaper office where an insert was added in that 1995 cut of the film. I don't have a third copy of the film on-hand to use as a point of comparison.

Rhino Home Video is churning out two separate Attack of the Killer Tomatoes DVDs. That may sound like overkill for a title most would consider to be astonishingly marginal, but I think it's a really smart move. For the folks who have heard about the movie and are interested in picking it up out of curiosity or for novelty value, there's a relatively feature-free edition with a $14.95 list price, meaning most retailers will probably stock it around the ten dollar range. For the truly depraved, Rhino and Four Square Productions have assembled an unbelievably loaded special edition, and that's what I'm reviewing here.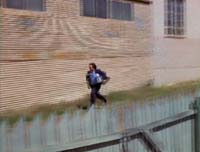 Moire effects in the metal siding of this building are about the biggest gripe I have about the presentation, and it only lasts for a couple of seconds.

Video: Attack of the Killer Tomatoes is presented full-frame. I'm not sure what at aspect ratio the movie was exhibited theatrically, and at least as far as I'm aware, there's never been a widescreen home video release. There's often a noticeable amount of dead space on the frame, though it's not always evenly dispersed. This could be chalked up to poor framing during principal photography, but that coupled with the height at which some of the text is overlaid on the screen would seem to indicate that this is an open-matte presentation. Much like Return of the Killer Tomatoes, which was also given the full-frame treatment on DVD, this is the way I've always seen the movie in the shamefully large number of times I've watched it over the past twelve years. Widescreen would've been nice if that was indeed the original intention, but open-matte is tolerable.

The visuals are about what you'd expect for a $90,000 production shot on questionable 35mm stock a quarter-century ago. Similar to previous home video releases, there are some small specks and thin, translucent vertical lines throughout, but nothing particularly severe or intrusive. Digital artifacting is also not an issue, though one shot is marred by heavy moire effects. The image exhibits some mild grain, and crispness and clarity are unimpressive, presumably limited by the original photography. I compared a few sequences back and forth with the director's cut on VHS, and the DVD is incrementally sharper. This isn't a revelatory transfer and doesn't strike me as any sort of monumental improvement over previous releases, but I don't have any substantial complaints and at least don't have to worry about wearing my tapes down anymore.

Audio: Attack of the Killer Tomatoes sports a Dolby Digital 2.0 mono track, encoded at a bitrate of 224Kbps, and it too is reasonably close to what I recall from earlier releases. Much of the on-set audio, dialogue in particular, sounds rather dated, but Foleyed sound effects, looped dialogue, and the musical numbers fare a bit better. There are no pops or crackles, and whatever hiss may have been present was minimal enough that it slipped under my radar entirely. Pretty much what I went in expecting.

There are no dubs, subtitles, or closed captions on this release.

Supplements: This special collector's edition of Attack of the Killer Tomatoes has its extras divvied up across several different submenus. There are a few different options available when playing the movie: its original audio, of course, as well as an audio commentary and a "Tomato Mode". The commentary brings together writers/producers/actors John DeBello, Costa Dillon, and Steve Peace. Most of the chatter revolves around how they tried to work around a threadbare budget, as well as how San Diego has changed over the past couple of decades. Other topics of discussion include the origins of the title, the foam recipe for a killer tomato, and various homages that hopefully no one would have much difficulty picking out: The Six Million Dollar Man, Jaws, various overwrought disaster flicks, and Superman, as well as less obvious ones like Gorgo and, at least to me, Donnie Osmond. And, yup, there are the obligatory tales o' production, such as a prop guy being dragged to the police station when he was stopped with a sword and a machine gun belt in his backseat, and how one of the effects wizards from the film had also logged some time building explosions for Star Wars. It's a laid-back, chatty commentary that fans of the film are sure to enjoy. There are some odd buzzing noises for a few seconds starting around the 9:40 mark, but they aren't a pervasive problem.

When watching the movie in "Tomato Mode", various icons -- tomatoes, trash cans, bags o' popcorn, helmets, and probably some other stuff I should've jotted down -- pop up on the screen, and when selected, the disc uses extended branching to insert additional footage. They range from related clips from the original Super 8 flicks, a random culinary clip also lensed on Super 8, and comments from future Tomatoes villain John Astin.

The "Special Features" options begin with a set of featurettes. "Legacy of a Legend" (14:13) is a collection of interviews, including comments from John DeBello, Costa Dillon, film critic Kevin Thomas, fans Kevin Sharp and Bruce Vilanch, future Tomatoes mainstay John Astin, and actors Steve Peace, Jack Riley, and D.J. Sullivan. They run from the Attack of the Killer Tomatoes' origins as nothing more than a title, the response from critics and some of the movie's more enthusiastic fans, and its influence on movies like Airplane!. The cast and crew chat about some of the stupid things that happened throughout the course of filming, from the destruction of a miniature set, capturing the unintended crash of a helicopter on film, and nearly maiming another of its stars. They even talk a bit about the bloated big-budget future of the franchise. Alongside the interviews are some excerpts from The Tonight Show. The helicopter crash is revisited in "Crash & Burn" (3:40), an intermingling of interviews and vintage news footage. The last of these featurettes, "Famous Fowl" (2:21), has the San Diego Chicken reminiscing about his role in Attack of the Killer Tomatoes.

There are also three deleted scenes that run a little over six minutes in total, featuring audio commentary by John DeBello. The footage appears to have its original audio, and that it can only be heard buried under the commentary is a mild disappointment. The scenes include "Meeting Mason Dixon", a lengthier intro to the character that was dumped and covered in the span of fifteen seconds, "The Plan", faux-dubbed footage from the director's cut released on VHS a while back, and "Public Service Announcement", a not-particularly-PC alternative to one of the movie's more notorious moments.

On the promotional end of things is a full-frame theatrical trailer (2:11), as well as a pair of radio spots (2:02) that play over a clip from the film. Finally, "Production Design" is a set of six images painstakingly created to lend a classic art appearance to the film.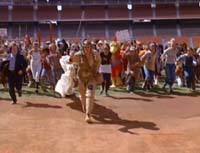 A number of the disc's extras didn't warrant the "Special Features" label, instead deserving to be classified under "Bonus Materials". The first of 'em is "Killer Tomatomania" (4:33), a smattering of interviews with random people on the streets of Hollywood about the flick. "Where Are They Now?" (2:51) fills viewers in on what the cast and crew have been up to over the past couple of decades, with a couple -- Twin Peaks' Dana Ashbrook and drummer Matt Cameron -- even managing to eke out a career in the entertainment industry afterwards. "We Told You So!" (3:07) takes a hard-hitting look at the conspiracy of silence surrounding the real-life horror of killer tomatoes.

There are also two "Super-Duper 8 Prequels" from the early '70s, including Attack of the Killer Tomatoes (17:35) and Gone with the Babusuland (32:28). Attack of the Killer Tomatoes is a greatly condensed version of the feature film, featuring a lot of the same gags with some of the same actors but none of the characters they'd go on to play. Gone with the Babusuland is a tomato-less action-comedy cobbled together for a Kodak film festival, pairing Steve Peace as Wilbur Finletter and a slimmer David Miller. Both shorts are accompanied by audio commentary with John DeBello, Steve Peace, and Costa Dillon. The original audio track is present for Attack of the Killer Tomatoes, though it may be worth noting that the background audio in Attack... is really out of sync in the commentary. Gone with the Babusuland was shot silent and accordingly can only be heard with commentary, though there are some sound effects and music mixed in.

"Sing-Along" begins with comments from John DeBello about the immortal theme song and some impromptu renditions from hapless victims on the sidewalk, continuing with bouncy-ball-over-lyrics-thingies for the main theme, The Mindmaker Song, Tomato Stomp, Puberty Love, and the Love Theme. "Tomato Trivia" is a kinda-sorta-interactive game with nine trivia questions, and "Killer Stuff" is a gallery of props from the film alongside some shamelessly plugged merchandise. Last up is "Slated for Success", an homage to Beth Reno, who clacked the slate at the beginning of each and every take and went on to become the chief financial officer of Four Square.

There are also at least two Easter Eggs, including some comments from a deeply apologetic Lloyd Kaufman and the San Diego Chicken.

These extras are, as you could probably guess from the exceptionally long list I've rattled off, fairly comprehensive. One noticeable omission was the intro that preceded the Director's Cut on VHS, though portions of it were used in the "Where Are They Now?" featurette. It would also have been nice to have the full text of some reviews from the movie's original theatrical release, notes about the sequels and animated series, the merchandising, and all, but...yeah, this is still a hell of a release and much more than I ever would've realistically expected.



Click on the graphic above to get a closer look at the packaging and its assorted goodies.

The DVD isn't locked in your usual keepcase. The front portion of the box has an interesting texture; it's soft, rather than the expectedly cheap cardboard, and the tomato graphic is embossed. Tucked into the packaging is a folded reproduction of the theatrical one-sheet, as well as an insert with a set of black-and-white stills and a list of fifteen of the movie's chapter stops. (There are actually thirty chapters or so, but only fifteen are listed on the insert and on the scene selection menus.) Pre-orders placed through the official Killer Tomatoes site will be shipped with a signed poster, a Killer Tomatoes comic book, and a yet-to-be-announced collectible.

Attack of the Killer Tomatoes features a set of 4x3 animated menus, with various snippets of music playing underneath.

Conclusion: Though this hopefully isn't a comparison that's tossed around all that often, the appeal of Attack of the Killer Tomatoes isn't far off from that of Citizen Kane. Quite a number of people were familiar with Citizen Kane's stellar reputation and the praise that's so frequently lavished upon it, and, even if they knew little else about the film going in, that was enough to warrant a purchase for them. Attack of the Killer Tomatoes is obviously on the polar opposite end of the spectrum, but the same basic idea still applies. Its DVD releases will probably sell reasonably well, due more to its somewhat-undeserved reputation as one of the worst movies ever made than much of anything else. Viewers with more of a casual interest would be better off shelling out ten bucks for the standard release, and established fans of the series and/or the deeply deranged will find this disturbingly loaded special edition well worth the extra few dollars. Recommended.

Related Links: The Killer Tomatoes fansite I cobbled together in 1997 has thankfully disappeared into the ether, but the official Killer Tomatoes site should have all the information you could possibly need about the series, along with some video clips for viewers who want a quick taste before plunking down their credit cards.

---
C O N T E N T

---
V I D E O

---
A U D I O

---
E X T R A S

---
R E P L A Y

---
A D V I C E
Recommended
---
E - M A I L
this review to a friend
Sponsored Links
Sponsored Links