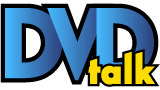 List Price: $19.99 [Buy now and save at Amazon]
---
THE MOVIE



The game is afoot in director Barry Levinson's and writer Chris Columbus' Young Sherlock Holmes, an original story (not based on any of Sir Arthur Conan Doyle's writings) about how Holmes and Watson met for the very first time. Although this film never caught on with audiences upon its release back in 1985, it's become quite the cult hit – although sadly it hasn't been given much respect from Paramount with this bare-bones DVD release.



The movie is told through the eyes of a young John Watson, who arrives at an all-boys school in London and meets up with Holmes for the very first time. Almost immediately, Watson sees the young sleuth at work, as Holmes is able to deduce a great many things about Watson just upon first glance.



Although intended as a kids movie, there is a great deal of depth to the characterizations, that fans of Sherlock Holmes will appreciate. In one of my favorite early scenes in the film, all the boys of the school are sitting at dinner discussing what they want to be when they grow up. When it comes Holmes' turn to speak, he looks longingly outside at Elizabeth, the niece of one of one of Holmes' mentors on campus and states "I never want to be alone." Knowing that this is exactly the fate that Holmes will face in his adult years makes this one of the movie's most touching and heartbreaking moments.



The plot of Young Sherlock Holmes revolves around an ancient Egyptian cult and murders that have been occurring, in which the victims hallucinate objects around them coming to life and attacking them. This is where the special effects come into play – in what was most likely an attempt to make this film more appealing to the Indiana Jones crowd. The film doesn't really need them (they are more of a distraction from the story than anything else), but film scholars should note that Young Sherlock Holmes marks the first movie in which CGI effects were used…from an up and coming company named Pixar.



Young Sherlock Holmes dives deeper into Indiana Jones territory when Holmes and company locate the base of the Egyptian ceremonies – which is a blatant rip-off (or homage, depending on your point of view) to the Kali cult from Indiana Jones and the Temple of Doom.



But the real heart of the film is in the growing relationship between Holmes and Watson, played wonderfully by young (at least they were in 1985) English actors Nicholas Rowe and Alan Cox (who is the son of famous English actor Brian Cox). So good is Rowe, in fact, that it's a bit of a surprise that he hasn't gone on to become a bigger star.



On somewhat of a side note, viewers will want to make sure to sit through the end credits of the film, as the final shots of the movie reveal the beginnings of yet another notable piece of the Sherlock Holmes legacy.



THE DVD



Video:

Although the movie is thankfully presented in 1.85:1 anamorphic, it appears that Paramount has done little else to the transfer. The picture has a lot of obvious dirt and grain in the print, and the picture is noticeably "soft" in context. The fact that many of the scenes in Young Sherlock Holmes take place at night only adds to the disappointment, since many of these scenes could have looked a lot better with a sharper transfer.



Audio:

Viewers will have the option of listening to the film in a 5.1 Dolby Track, or in 2.0 Dolby. The 5.1 Track isn't particularly aggressive, but it does sound nice and crisp, and Bruce Broughton's great score (one of the real highlights of the film) has never sounded better on home video. There's also a French Mono track for those interested.



Extras:

This is where the real disappointment comes. Other than a chapter selection, there are no extras whatsoever on this DVD. Not even the original theatrical trailer, which Paramount usually includes on even those most bare bones of discs. I seem to recall at least one TV special on the making of this movie during the time of its release, and I would have loved to hear a Barry Levinson and/or Chris Columbus commentary track after all these years. The good news is that the DVD's price reflects the lack of bonuses…and most will be able to find this disc for under $15 on various online retailers and in stores.



THE BOTTOM LINE



Despite the fact that the overall DVD is less than impressive, the quality of the movie itself is enough for me to recommend this one for purchase. If there was a chance that Paramount might release a Special Edition in the future, I would advise a rental and a wait and see attitude, but since chances are better that the film won't even be repressed when current stock runs out – be sure to pick up a copy now while it's available.
---
C O N T E N T

---
V I D E O

---
A U D I O

---
E X T R A S

---
R E P L A Y

---
A D V I C E
Recommended
---
E - M A I L
this review to a friend
Sponsored Links
Sponsored Links