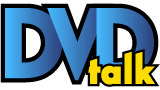 As Time Goes By - Complete Series 6
List Price: $24.98 [Buy now and save at Amazon]
---
The Movie:
I watch a lot of DVDs, and sometimes it can get a little difficult rate a movie or show.  Often one aspect is of a high quality,
while another fails miserably.  How do you rate an excellent actor
who has a horrible script?  Reviewing comedies are somewhat easier
because I have a simple rule:  If I laugh, the movie works. 
The sixth season of As Time Goes By works for me.  This quiet
comedy offers a few touching moments separated by many deep laughs.

Jean (academy award winner Judi Dench) and Lionel (British TV mainstay
Geoffrey Palmer) were lovers when they were younger, many years ago. 
She was a nurse, and he was an officer in the Army.  After a whirlwind
romance, he gets transferred to Korea.  He writes a letter to his
love, but she never receives it.  Each thinking that the other has
spurned them, they go on with their lives.  Then they accidentally
meet one day, forty years later.

That was the premise that started the show, and after five seasons,
the show is still about Jean and Lionel's relationship.  Some things
have progressed in that time, of course, but the show still has the same
feel, remarkably, as when it first started.

It's a character driven show, revolving around Lionel, Jean, and her
daughter Judy.  The other two main characters are Jean's secretary
and lodger, Sandy, and Lionel's publisher and Judy's sometimes boyfriend,
Alistair.  There plots are simple, but tightly woven and not outlandish. 
The action may focus on the dread one feels when a nosey relative comes
to visit or how hard it is to spring a surprise on someone.  Each
show starts off low keyed but gets funnier and funnier as it goes on.

The shows in this season are:

Episode One – Someone may be stalking Sandy, and Lionel wants to find
out who and confront him.  But while Lionel is tailing Sandy, Jean
contacts Alistair who wants to solve the problem with his friend 'Nails.' 
Judy decided to break up with Alistair.  A little darker than usual,
but still an amusing show.

Episode Two – Jean's office is running very smoothly.  So well
that she's thinking of retiring.  But will that mean that she's useless?

Episode Three – Jean's chatty sister-in-law, Penny, and her husband,
Stephen, come for a visit.  But Lionel and Jean have a plan so that
the conversation won't be dominated by Penny.  One of the funniest
discussions in any television show.  A great episode.

Episode Four – Jean and Lionel take a visit to their country house and
the housekeeper, Mrs. Gale, is acting very out of sorts.  Jean tries
to figure out what's wrong, and Lionel gets sick.  A cute episode,
but not the strongest in the series.

Episode Five – Judith is shocked and dismayed when Alistair announces
that he's engaged to be married.  The whole family goes out to dinner
to meet his new fiancé, Mercury.  Easily the best episode of
the season, and one of the best in the show's run.  Both touching
and laugh out load funny.

Episode Six -  Penny and Stephen drop in again, to announce that
they are planning to move next door!  Priceless episode.

Episode Seven – Jean laments that there is no excitement in her life,
so Lionel plans to surprise her with an overseas vacation.  
Only it's harder than he thinks.  He also visits the War Museum and
finds something surprising.  A great episode to end the season, it
would have made a great end to the entire series as well.  A funny
episode with a warm and touching ending.

 

This sereis has some top notch actors in it.  Judi Dench and Geoffrey
Palmer both have impeccable comedic timing and wonderful expressions. 
Just the looks they give each other in the sixth episode are hilarious. 
They have a wonderful screen chemistry, which makes the series seem very
relaxed and natural.  The show wouldn't be nearly as memorable without
them.

The writing is very good too.  The banter seems less like written
lines and more like people talking.  I like the fact that the series
has continuity also.  They refer to things that happened in previous
shows, even years before. The bugle that Lionel accidentally buys in the
first show is seen as a knick-knack in the rest of the episodes. 
I love touches like that.

The only real complaint I have is with the character of Alistair. 
He is wonderfully played by Philip Bretherton, but it's not the acting
that I dislike it is the character himself.  He's just too wild and
wacky, and doesn't fit in with the rest of the cast.  When the series
started and Alistair fit in because he was so unlike Jean and Lionel. 
It was amusing to laugh at the  madcap guy who happened to be a rich
and powerful publisher.  Now that Lionel's book is out there is no
real reason for him to hang around, and his romance with Judy seems very
unrealistic.

This is a very funny and charming series.  They haven't slowed
down in the sixth season at all.  If you've never seen the show before,
this would not be a bad place to start.  If you've seen the other
seasons, this is one of the best.

The DVD:
---
Audio:

The English 2.0 track is quiet acceptable and the disc has an interesting
mix.  The dialog doesn't have much in the way of stereo effects, but
the laugh track is mixed so that different laughs come out of each speaker. 
It gives the show a bigger feel.  Like you are sitting in a large
audience.  The audio level to the menu (and skipable commercials that
automatically run when the disc is inserted) is much louder than the show
itself.  It's very irritating to adjust the volume on the menu only
to find that the program is much too quiet.  So you turn it up a couple
of notches,  but when the show is over and the menu pops back up,
it is blaring.  Can't the people who authored this DVD read VU meters?

Video:

Presented in full frame format the video quality is good.  About
what you'd expect from a recent show that was filmed on video tape. 
There colors are slightly wan, but only to a small degree.  There
is a bit of aliasing when the camera moves past diagonal straight lines,
but nothing too distracting.  Details are lost in dark areas and on
black clothing.  Unfortunately, the people who authored the disc were
liberal with the edge enhancement.  Most of the people look like they
are surrounded by very thin black or white halos (depending on the color
of the background.)  It probably will not be apparent on a smaller
screen, but the addition of so much EE actually hurts the image quality. 
The video rating loses half a star for that alone.

The Extras:

The only extras on this disc are short cast biographies and a few trailers
to BBC shows on DVD.

Final Thoughts:

This is a charming, touching, but above all very funny show.  
While most comedies start to slow down after five seasons, this one keeps
going strong.  A superb cast and tight scripts make this a show to
see.  Highly Recommended.
---
C O N T E N T

---
V I D E O

---
A U D I O

---
E X T R A S

---
R E P L A Y

---
A D V I C E
Highly Recommended
---
E - M A I L
this review to a friend
Sponsored Links
Sponsored Links