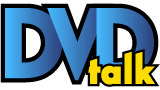 List Price: $29.95 [Buy now and save at Amazon]
---
The Movie:
Setting animation
to classical music may have been unique in 1940 when Walt Disney released
Fantasia, but by the late 70's it wasn't new or inventive.
But that didn't stop Italian animator Bruno Bozzetto's from revisiting
the idea in his 1977 feature length film Allegro Non Troppo.

This film starts with a framing sequence, shot in black and white.
A promoter is telling the audience how great the film is going to be.
He mentions the exquisiteness of classical music and the astounding beauty
of animation. The promoter continues to wax enthusiastically about the
production when the phone rings. It someone from Hollywood who tells
him the idea of setting animation to classical music has already been done.
Enraged, the promoter denies that anyone has ever come up with such an
original idea, and hangs up. He turns to the camera and relates how
the caller said that someone named Pisney, or possibly Grisney, had already
done something similar.

He then introduces the orchestra, composed of old ladies, the animator,
who is supposedly drawing the cartoons in real time, and the regal conductor.
They then present several pieces of music with accompanying animation.
In between the songs there are slapstick bits involving the orchestra,
animator and conductor. Not having a suitable ending,
the promoter calls up the prop department and asks them to see if they
have a good conclusion laying around.

Though the idea is very similar to Fantasia, the two films are almost
total opposites in execution. Both in style and content, Bozzetto's
work almost consciously avoids looking or feeling like Disney's film.
Where as Fantasia tried to be colorful and bright with cutting edge
animation, Allegro Non Troppo is flatter and duller, with an older
style of animation. Bozzetto's looked like he was trying to give
everything a two dimensional look. Most of Allegro was filmed
on simple watercolor backgrounds that lacked details, as opposed to Disney's
striving for depth in his movies.

The storys
in Allegro dealt with things that Disney and other animators usually
avoided. Sex, war, evolution, and even religion are fair game in
Bozzetto's work. Sometimes they are funny, sometimes touching, but
always interesting.

In the first piece, Debussy's "Prelude a l'Apres-midi d'un Faun," an
aging satyr is trying to woo one of the young nubile (and nude) women who
populate the forest. Both funny and heartbreaking, this is a theme
that Disney would have never touched.

There are several very humus pieces. Dvorak's "Slavic Dance No.
7" tells the story of a innovative man who is always aped by the uncreative
hoards. They do whatever he does and it aggravates him to no end,
until he comes up with an idea.

The endings that the prop department comes up with are the most humorous
parts of the entire movie. Several very short jokes rammed together,
it had the most laughs per minute of any part of the film.

Stravinsky's "Fire Bird" told the tale of Adam and Eve, but this time
they both refused the apple. The snake ate it himself, and saw what
the future would be like. A great piece, and one of my favorites.

Sibelius's "Valse
Triste" told the story of a cat who lives in an abandoned building that
is falling down. He walks through the rubble, remembering happier
times when he was a house cat for the family that lived there. Very
touching and incredibly moving. An extraordinary piece that fits
the music very well.

The absolute best piece was Ravel's "Bolero." This piece is worth
the price of the DVD. Some space travelers leave a soda bottle on
a planet. From the contents spring up simple life, an amoeba.
It splits, multiplies and evolves. Soon there is a stream of creatures
walking to the beat. As the music progresses and gets stronger life
evolves faster. Birds and fish and other creatures. An ice
age comes, volcanoes erupt, and life marches on. An astounding and
impressive piece.

As for the framing sequence, it started off funny. The overenthusiastic
promoter and the orchestra composed of octogenarians in 1920's flapper
outfits was very humorous. After the first cartoon though, the live action
segments relied too heavily on slapstick which wasn't as funny as it should
have been. Some of the gags were very inventive though, such
as the bit were the animator drew a man on a piece of paper and sent him
over to steal some food. But the trite parts outweighed the inventive
and humorous bits by quite a margin. By the end I found these live
action segments dull and way too long. They may have played better
back in 1977, but today they are very outdated.



The DVD:
---
Audio:

The audio is presented in the original Italian, with a two channel mix,
and optional English subtitles. There is little, if any use of the front
soundstage with all of the music and dialog centered in the middle.
It was easy to tell that this audio track was from an older film.
It was not dynamic and lacked punch. The bass in the music and sound
effects, like when a rocket launches in one cartoon sounded flat and thin.
There was also a low hiss present that wasn't too loud, but was noticeable
in the quieter areas.

Video:

The video was presented in a 1.33:1 ratio. The disc is advertised
as having a new transfer, but I wasn't too impressed with the video quality.
Don't get me wrong, it wasn't bad, but it wasn't spectacular either.
The black and white framing sequence was rather dark, you couldn't see
the folds in people's clothes, and the black tuxedos that several characters
wore disappeared into the background, making it look like they were floating
heads. You couldn't make out any details in the fur on the ape that
appears about half way through.

As for the animated sections, they looked better. The colors were
not very bright, but that could be the way the movie was filmed.
There were a few instances of aliasing, but there were not a large number
of digital defects. An acceptable transfer, but not great.

The Extras:

There are two very nice extras on this disc. The first is entitled
The Best of Bruno Bozzetto. It is about an hour long, and
includes ten short Bozzetto films: Baby Story, Sigmund, Grasshoppers,
Striptease, Self Service, A Life in a Tin, Big Bang, Dancing, Baeus, and
Mister Tao. These were very good. I especially like Baby
Story, a tale of how eggs are fertilized and the development of a child
in the womb. It was accurate (for the most....I don't think sperm
actually carry umbrellas) and humorous. Grasshoppers was a
look at warfare throughout history which was sobering and entertaining.
My favorite short was definitely Dancing, about a guy on an island
who dances his life away. This was a great collection that added
greatly to the value of the DVD.

The other extra was The World of Bruno Bozzetto a 45 minute Italian
TV documentary. This show tells Bozzetto's story from his start in
animating, the creation if Mr. Rossi, and his feature films. For
viewers who are unfamiliar with Mr. Bozzetto's other work, this is a great
introduction.

These extras are what I look forward to on a DVD. They add value
to the disc, instead of just taking up space like so many bonus features
do. Great stuff.

Final Thoughts:

This movie is more than just parody of Fantasia. It is
an interesting experiment that works for the most part. Though I
found the live action framing sequence to be dull and tiring as the movie
wore on, the animated segments more than made up for it. The extras
are excellent on this disc, which makes it highly recommended to fans of
animation. Even if you are not a cartoon fan, their is something
in this show for just about everyone. Recommended.
---
C O N T E N T

---
V I D E O

---
A U D I O

---
E X T R A S

---
R E P L A Y

---
A D V I C E
Recommended
---
E - M A I L
this review to a friend
Sponsored Links
Sponsored Links