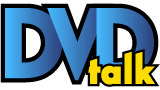 Green Slime (Ganmaa dai 3 go uchu dai sakusen), The
List Price: $44.00 [Buy now and save at Yesasia]
---
Note: This is an import title in NTSC format from Japan. Though available online and at many specialty shops throughout America, a region-free or Region 2/NTSC player is required when viewing this title.

Director Kinji Fukasaku always said that when he made The Green Slime (Ganmaa dai 3 go uchu dai sakusen, or "Gamma No. 3 -- Big Outer Space Military Operation," 1968) his aim was to draw parallels to the Vietnam War, and that its story of a space station overrun with monsters might be likened to an America military in way over its head fighting in the jungles of Southeast Asia. Maybe so, but the charms of The Green Slime lay not in its lofty ambitions, which are almost invisible, but rather in its eminent, almost endearing goofiness.


When a runaway asteroid threatens earth, retired astronaut Jack Rankin (Robert Horton) is ordered to take command of Space Station Gamma 3. At the expansive outpost, populated by a large contingent of soldiers and medical personnel, Rankin runs into old girlfriend Lisa (Luciana Paluzzi) and her fiance, Commander Vince Elliot (Richard Jaeckel), formerly Rankin's best friend. Rankin, Elliot and some men launch a rocketship toward the asteroid, laying charges there to blow it up before it reaches earth. The mission is a success, but a green, globby liquid is brought back to the station unnoticed, and, rising from the soapy green suds, little creatures grow and spread like a virus, creating hoards of clumsy but electrified and tentacled monsters!


Until the monsters show up, The Green Slime is cheap (probably made for around $750,000) but effectively made. As was often the case with Japanese genre films of the 1960s, an absurdly inadequate budget is nearly overcome through the sheer bravado of its filmmaking. Fukasaku infuses the film with determined energy, keeping everything moving at such a pace audiences (he hopes) won't have time to notice that the space station's support beams look like cardboard tubes, or that the tractor used to bore holes in the asteroid is so flimsy one questions whether it could even drill through a Kleenex.


The miniatures are toy-like, more so than those seen concurrently on Thunderbirds or in Eiji Tsubuaraya's spfx extravaganzas produced at rival Toho, but they are also shot and edited in such a striking, dramatic fashion they almost become acceptable. The opening shot, for instance, is like something out of 2001: A Space Odyssey: on the widescreen frame, the sun (or maybe the Milky Way) is in the center of the frame, and gradually a slowly rotating earth enters from the extreme right of the frame, which is then followed by the introduction of Space Station Gamma from the extreme left. Though not especially convincing, the effect is almost epic. Similarly, the final seconds leading to the destruction of the runaway asteroid is extremely well edited, almost Eisensteinian in its cutting.


But the monsters are outrageously silly, somewhat resembling Billy Crystal's one-eyed Mike Wazowski character in Monsters, Inc.. When they attack en masse, it's rather like watching costumed revelers at Macy's Thanksgiving Day Parade. It's as if somebody prepared a list of components monsters were expected to have -- one big eye, tentacles, lots of little eyes, green skin, lobster-like pincers -- and threw it all together without ever considering how silly it might look. Making matters worse is the incessant squeaking noise the creatures make, like millions of rubber duckys suddenly crying out in terror.


Both Horton and Jaeckel phone in their performances, while Paluzzi seems lost. The real fun, acting-wise, is watching the rest of the cast, non-professional actors living in Japan, taking obvious delight appearing in what amounted to a Big Break, a Hollywood-style movie working alongside recognizable names. Fans of Japanese films will note the presence of Robert Dunham, whose good Japanese won him steady work in such films as Fukasaku's High Noon for Gangsters (Hakuchu no buraikan, 1961) and a leading role alongside Yosuke Natsuki in Dagora, the Space Monster (Uchu daikaiju Dogora, 1964). William Ross is there, as is Kathy Horan (or Cathy Horlan, nobody seems to know for sure), the latter familiar for her role as the widow in Goke, Bodysnatcher from Hell (Kyuketsuki Gokemidoro, 1968). One has to feel sorry for Linda Miller, though. After starring in the Fay Wray part in King Kong Escapes (Kingukongu no gyakushu) only the year before, she's reduced to a mere extra with no lines at all in The Green Slime, a shame.


The Japanese version of The Green Slime differs from the American one in at least two respects, both improvements. The U.S. version ran an hour-and-a-half, but Fukasaku's cut clocks in at a brisk 77 minutes, some 13 minutes shorter. This reviewer hasn't seen the American version in many years, but Fukasaku seems to have mainly trimmed the labored and cliched conflicts between Rankin and Elliot, and the result is a film of almost non-stop action. The first act race to stop Flora leading up to its destruction has real energy in both versions, but afterwards the U.S. cut gets quite sluggish while Fukasaku's version keeps that frantic pace up for the rest of the picture.


Charles Fox rescored much of the film for its release in America, most notoriously adding a lively but alarmingly inappropriate title song. The Japanese score, by Toshiaki Tsushima, is a melange of pounding military marches and the like, and better suited to the material.


U.S. home video versions of The Green Slime are panned-and-scanned, but Toei Video's widescreen DVD does Fukasaku and DP's Yoshikazu Yamasawa's compositions and blocking justice. Shot with all the vitality of the Battles without Honor and Humanity films, The Green Slime's roving, striking compositions and taut editing give the film some terrific momentum, and make a nice contrast to the stately, technophilic compositions of Ishiro Honda's outer space melodramas (Battle in Outer Space, Gorath, etc.).


Conversely, the entire film, including the visual effects sequences, is egregiously over-lit. Modern Japanese favor unsubtly bright rooms in general and this seems to have been carried over for the lighting scheme of Space Station Gamma. Bad as the monsters are, had they been kept in the shadows the film might have worked a lot better, perhaps along the lines of the original Thing (from Another World). Even the miniature spaceships are too bright, so much so that they look more like plastic and lacking in detail than they need to have been. In this regard, the film seems to have used George Pal's Conquest of Space as a guide as much as Tsuburaya's work. Some sequences are very imaginatively conceived, but others are too ambitious for what money and time allowed. One shot of the green slimes clinging to the hull of the space station looks as if it were done with finger puppets. For the record, the picture's visual effects were done by Japan Special Effects Movie Co., Ltd. (Nippon Tokusatsu Eiga Kabushikigaisha), the same people who did The X from Outer Space (Uchu daikaiju Girara, 1967) at Shochiku, and Gappa, the Triphibian Monster (Daikyoju Gappa, also 1967) at Nikkatsu.


And for all of Fukasaku's ambitiousness, The Green Slime's fate in Japan was, arguably, even worse than its campily promoted American release. In Japan it went out as part of a package of features and shorts called Toei chibi-ko matsuri ("Toei Little Children's Festival"), topping a bill that included the animated Pinocchio in Outer Space.


Video & Audio


Toei Video's DVD of The Green Slime is presented in 16:9 anamorphic format, preserving its original Toeiscope (2.35:1) original aspect ratio. Warner Bros. currently holds distribution rights on this title in the United States. They've previously released a panned-and-scanned VHS video version, but to my knowledge the title has never seen a widescreen American release ever. The color is a little thin, though possibly an accurate reflection of the original release, and the source elements are free of dirt and scratches. Overall the image is sharp and generally pleasing.


Unfortunately, the DVD is in Japanese only, with no English audio or subtitle options. Like all the major studios (including Toho and Shochiku), Toei stubbornly refuses to English-subtitle any of their in-house catalog titles, even though there is certainly a market for them both in and outside Japan. Despite this, The Green Slime's story is very easy to follow, especially in Fukasaku's action-heavy cut of the film. The Dolby Digital mono, for what it's worth, is clean and clear.


Extra Features.


The best of the supplements is an eight-page, Full Color Booklet, which includes numerous photos and poster reproductions, as well as a snapshot of the original script, which bears the English working title Battle Beyond the Stars. The text is in Japanese, of course, but it includes background on the film and an interview with chief assistant director Kazuhiko Yamaguchi. He discusses the inherent difficulty of a Japanese crew working with an all-foreign cast, he speaks fondly of Richard Jaeckel, and recalls his first job in the industry: spinning a miniature globe of the earth on the special effects stage of Prince of Space (Yusei oji, 1959).


Also included is the original theatrical Trailer, along with a separate No Super (i.e., textless) version of the same preview. A Photo Gallery rounds out the extras.


Parting Thoughts


Supremely goofy but action-packed and crammed with sci-fi hardware and imagination throughout, The Green Slime is perfect Saturday matinee fun.


Stuart Galbraith IV is a Los Angeles and Kyoto-based film historian whose work includes The Emperor and the Wolf -- The Lives and Films of Akira Kurosawa and Toshiro Mifune. His new book, Cinema Nippon will be published by Taschen in 2005.
---
C O N T E N T

---
V I D E O

---
A U D I O

---
E X T R A S

---
R E P L A Y

---
A D V I C E
Recommended
---
E - M A I L
this review to a friend
Sponsored Links
Sponsored Links